LG "debranding" hack; NoDo to follow?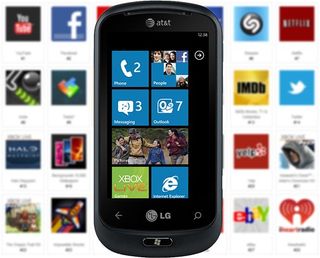 As we reported earlier, the NoDo update started pushing out yesterday, starting with unbranded phones, and members of the ChevronWP7 Team (Chris Walsh and Raphael Rivera) posted a hack to "debrand" HTC phones in order to get the update early. Now another hack has surfaced; this time for LG phones. Unlike the HTC hack, LG phones do not have to be "dev unlocked." So far, the hack has allowed users to get the pre-NoDo update, but has not yet been proven to result in getting NoDo. If you're feeling antsy, here's how to do it:
Source: WMPowerUser
Get the Windows Central Newsletter
All the latest news, reviews, and guides for Windows and Xbox diehards.
Fail:Please check above input values or data type

Got it working. Instead of putting in a blank, put in an empty space.Also, if you want to re-brand your phone after the update for AT&T your input should be ATT-US

I removed my branding like you suggested, and I still haven't received my update. Did you get the update after you removed the branding?Just to verify, when you say "empty space" do you mean entering a space into the input data field?

sorry, empty space means " " without the quotes.Also, I'm not getting the NoDo Update but the February pre-NoDo update.

Ah.. I thought you got the NoDo update after doing that. I already had the Feb update.

Just FYI, this worked on my phone. No NoDo, but I finally got the patch (now 7008, was 7004). Frakin' AT&T. Thank you very much sir to your correction to the instructions.Also, the article says "The tool will say fail but it really did set correctly." Mine didn't say fail, it worked just fine.I also did a power cycle before plugging it into my computer, just to be safe.Do you, or anyone, know of any adverse effects of doing this? (i.e. voids warranty if they ever find out, no access to carrier specific apps, etc.)

I did this earlier today, and I received the 7008 update, and since then I have no data connection anymore :-/ I have reset, pulled the battery, and even had AT&T resend phone initialization information and nothing is working. I'm now a bit concerned about this and don't know where to turn :-/ I'm not too crazy about doing a hard reset as I don't want to lose everything on there.Jason

Nevermind I got it working. I wonder if I happened to select a different network profile while in the mfg app. Hopefully nodo comes down soon :)Jason

Oh, also my phone is an LG Quantum. Apparently I can't edit my previous post...

My LG Optimus 7 isn't branded etc but I still don't have the update. So even all the unbranded/unlocked phones don't seem to be getting this update yet.

Same with GP07 here.. No update yet.-optimus 7, unlocked unbranded hong kong

OK, so the phone tells me an update is available but now Zune doesn't recognize the phone being attached. Hmmm! Update: After zune reinstall first got 801812C1 error, followed instructions and am now getting Feb update. So far so good!

I'm really starting to wonder if they're not just releasing it per device one at a time to make sure they catch any problems like with the first patch and Samsung phones. Otherwise the patch went out quick to lots of people

ok, did it with the space "" idea and it worked.IIt's unbranded, but still no update. previously branded as Vodafone Romania - VFR-RO (LG Optimus 7).

I haven't noticed any adverse affects. Even without re-updating the carrier, I still have access to to the AT&T and LG apps in the marketplace.

Did it on my Quantum, updated to 7008 and no further updates.

No NoDo still. I'm guessing that the Quantum is going to be dead last in the roll out. Meanwhile, the registry editor built into the MFG app has given me sometihng fun to play with! Even though I can't just browse the registry, thanks to all those HTC guys who went through all the trouble of dev unlocking their phones we know what most of the important keys are! (Such as muting camera shutter sound.)

I got the February update fine, but when I went to re-brand my phone, it didn't work. Every time I try to check my data usage via text message, it says "(deactivated)" and gives me the same number of Mb used. I tried using the ATT-US input for my AT&T LG Quantum and that doesn't work. Any suggestions?

what was the Bell Quantum value identifier for this? Example: AT&T was ATT-US, so what is Bell's?