Hack for unlocked HTC phones gets NoDo right now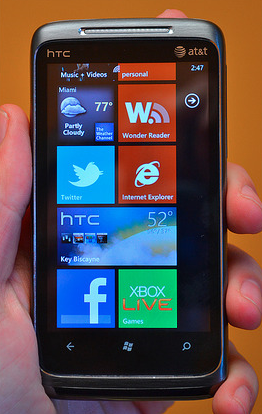 We now know that Microsoft is doing a controlled, phased roll-out of 'NoDo', starting with unbranded phones evidently in Europe. That means a potentially prolonged delay for many users (and between us, we've just heard that AT&T users have a looong wait).
The good news is there is a 'hack' that can be done for HTC phones that will basically "unbrand" them allowing them to get 'NoDo', well, right now. Coming from some of team ChevronWP7 (Chris Walsh and Raphael Rivera) is a tricky edit that will enable this to be done:
Your device needs to be dev-unlocked for this to work. Sorry folks.
Download this zip file and deploy the 3 xap files onto your device.
Run the ChevronWP7.Ringtones.xap and wait till it displays "Ringtones added… and CustClear.provxml underneath"
Run the TouchXplorer app, navigate to My DocumentsMy Ringtones click on CustClear.provxml and select Copy from the Application Bar.
Navigate back inside TouchXplorer to the Windows folder.
Select paste from the Application Bar, this should scroll right to the bottom and put a copy of CustClear.provxml in the Windows folder.
Now run the Connection Setup application and click on the Ok button (it's the one with the tick).
And now you're done and free to re-connect to Zune and check for updates.
Now there is one caveat here we can think of: T-Mobile HD7 users may want to hold off. That's because that device has the special T-Mo bands and radio while the unlocked HD7 does not (or at the very least, could complicate things), so you may want to consider that if you're in that situation. Still, for the AT&T Surround users, sounds like you could do this, assuming you've jailbroken your phone for one last hoorah.
Update: Chris Walsh lets us know T-Mo HD7 users are good to go (hey, that rhymed); the update only modifies the OS, not the radio.
Update 2: Bad news is we're hearing non-Euro users are only getting the pre-NoDo update with this technique :-/
Source: My Coding Adventures (blog); via @ChrisWalshie
Windows Central Newsletter
Get the best of Windows Central in in your inbox, every day!
Daniel Rubino is the Editor-in-chief of Windows Central, head reviewer, podcast co-host, and analyst. He has been covering Microsoft since 2007 when this site was called WMExperts (and later Windows Phone Central). His interests include Windows, laptops, next-gen computing, and for some reason, watches. Before all this tech stuff, he worked on a Ph.D. in linguistics, watched people sleep (for medical purposes!), and ran the projectors at movie theaters because it was fun.
Care to dish a bit more on the at&t delay? T-Mobile as well?

No idea on T-Mo; just heard from someone that "May or June" was likely. Not sure if I believe it or want to believe it...

That sounds harsh! Any reason given, givng preference to the iphone 5 launch maybe?

If it is may or June lets chalk one up to capitalism! They're probably waiting for the HD7S to release first to try and sell as many of those as possible. Just a thought.

Oh man. You had to mention T-Mobile HD7 users, didn't you. I read through that and almost just started doing it w/out finishing the whole article. Then I read that last paragraph and my heart sank. :(

I have a HTC HD7 from T-Mobile BUT it is UNLOCKED, so i got it from T-Mobile but i unlocked it to use it on another carrier. Can i do this process????? or do i have to wait???

Update: Chris Walsh says it's okay, only updates the OS, so go for it!

Hey all, tried this on my unlocked (but not unbranded) HTC Surround. The process went as its described and was actually very easy if you've deployed .xap files before. Unfortunately I was unable to get NoDo. This Surround had never received the pre-update so rather than NoDo this process pushed the pre-update...

seriously if that may/june time is even close I'm done with this. I dont care if its ATT holding it up or not. This is getting pretty dumb.

Well, remember, it's unsubstantiated so far, hence why I didn't do a separate post--but it is one of those things you could *imagine* happening, right? Lets just hope it's bogus.

If AT&T delays the update they will have a bunch of people with pitch forks and torches at their doors. Espcially how Microsoft and AT&T talked about how they have really worked with AT&T to automate all testing to reduce any delay in release of the update. This update has been ready since Janurary so that has given them about 2-3 months for testing. That should be fine. I will be very disapointed and I see alot of hate forums going up on the AT&T forums.

F%$& AT&T. I am so tired of their BS. Guess I am going to get myself a developers license for $99 and then find a way to reimburse myself (at least) that much in services from AT&T. I have "definitely" purchased my LAST branded phone. Carriers can all go ****

is there a way to brande a phone

Have a branded T-Mobile HD7 and I did this, got the pre-nodo update. Tried doing it again (because on re-boot, your phone re-locks) without any success. Says version is up to date even when using this technique after the pre-nodo update is installed.

I have an orange uk branded mozart, which i flashed the rom last week with the leaked htc update from xda, alarm bug is still there, had no other issues yet, may test to see if orange have released the update officially

Well that's bad news. Guess HTC does have the worst software developers in the World. Why am I not surprised. So when is that first Nokia going to be released.

It's also possible to unbrand an LG device and the best part is you don't have to be developer unlocked. Steps are as follows:1. Enable the MFG application by going to the dialer and dialing ##634# then pressing call.2. Launch the MFG application and enter 277634#*# when prompted for a password.3. Select the Engineer Menu item.4. Select the Other Setting menu item.5. Select the Edit registry menu item.6. Set the input boxes on this menu as follows: Select ROOT_PATH: HKEY_LOCAL_MACHINE Input SUB_PATH: \System\Platform\DeviceTargetingInfo\ Input KEY: MobileOperator Data Type: STRING7. Select Query and write down the result in case you need to re-brand for some reason.8. To debrand just enter the same information above and leave the input data field blank. The tool will say fail but it really did set correctly.You can now connect to Zune and check for updates, this hack enabled me to get pre-NoDo but NoDo is not available for me yet :(credit to Rafael Rivera for the registry key location.

I did this on my LG Panther and it still says my 7003 is up to date. I'm 99% sure now that I will not be getting any updates.

worked Perfectly on my Tmobile HD7

Did it give you nodo, or pre-nodo? Also, are you in the US?

when you use ChevronWP7 to put the hone in developer mode... how do you deploy the 3 xap files onto your device and run them? i'm not a devloper but i need the nodo update to fix a bluetooth probleme....

You've got to download the official Windows Phone Developer Tools from Microsoft. It lets you deploy .xap files directly to the phone, if you have it developer unlocked (ie: ChevronWP7)

I think I did every thing corectly but still no update, il's a T-mob HD7 but I'm in canada, rhe phone is unlock...this is will not remove the t-mob logo at the strat???

Not working on my O2 HD7 :(
Windows Central Newsletter
Thank you for signing up to Windows Central. You will receive a verification email shortly.
There was a problem. Please refresh the page and try again.