LG Optimus 7 is the top 100 smartphone in Italy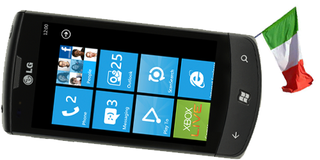 When people say LG and Windows Phone 7, one remembers the comments made about the platform by the device vendor, which explained how they had high expectations but were utterly dissapointed from a consumer perspective. Advancing months into the future and here we stand with Wired Italy awarding the LG Optimus 7 as best smartphone for value. Not bad, eh?
Stated on the article is an interesting claim that the device is a best-selling model. Are you an owner of the Optimus, and if so how are you finding the experience?
Source: Wired.it; via WMPU (opens in new tab)
Windows Central Newsletter
Get the best of Windows Central in in your inbox, every day!
Rich Edmonds was formerly a Senior Editor of PC hardware at Windows Central, covering everything related to PC components and NAS. He's been involved in technology for more than a decade and knows a thing or two about the magic inside a PC chassis. You can follow him on Twitter at @RichEdmonds.
Good WP7 news? Naw, can't be real.

I love my LG, battery life is nice with about 36 hours with my use, which beats my old HD2 and Galaxy S by about 12 hours. I also love that they keep renewing the apps they offer for free, and the fact that it comes with the PlayTo app. That should be standard for all WP7 phones imo.The only bad thing I have to say about the phone is the 3 buttons, not the most responsive buttons I've seen and it reduces the quality feeling alot.

My wife owns an LG Optimus 7 and loving it.The size is not bulky and yes, the battery life is great.

that's strange.. LG optimus 7 is the worst of all my phones (bb, android, wm) in terms of its battery life. it only last for less than 20 hours with normal use (rarely use data connection). I bought and use it in Hong Kong with 3G network. But I realized after looked at the box, it is intended to use in European countries, although it has another sticker label that stated certified to use in HK. I wonder if this affects anything about the battery life. I like the buttons though, it's very classic. Not so many phones have this kina buttons these days i guess.One drawback I felt is the size and the weight. When I switch holding to my ipod touch, I realized that Optimus 7 is one hefty device. Well, not really good comparison since ipod is not a phone. But you know what i mean. And can be quite uncomfortable after a while holding it. IMO, the width is not sufficient for holding it with both arms. It's a bit narrow. And not a very nice experience holding it with one arm too, as it's slippery and the dimension of 800x400 makes this device a very portrait-oriented, which makes a quite travel for your thumb (if you holding it with one arm) to go up the screen and to the three buttons down.Apart of that.. I love it.

I've got it on Telus in Canada.Free apps that LG is providing are great. Front buttons are great. I played with a few phones and found I much preferred the physical buttons here.Build quality feels more solid than any other phone I've held, similar to holding an iPhone.Friends often comment on how thin it is, how solid it feels, how nice and big the screen is. Like the previous commenter, I find that's it's noticeably heavier than other phones when directly compared. That said, it's got a bigger screen than a lot of other phones. Unlike the previous commenter, I don't find this weight noticeable in regular use. It's not uncomfortable at all. It's not "slippery" to me, and my hands are large enough that I have no problem using just my thumb for texting or using apps.The worst part about it is the screen brightness. LG simply didn't make the settings have enough difference between low, med, high. Low is higher than many other available phones. I never put it above that, and I wonder how much battery life could be saved if I could lower it to more reasonable levels.

I'm loving my LG as well but I've noticed a weird bug and I'm wondering if it's just me? I've woken up to find the phone has "crashed" the screen is off and won't come back on, so I have to take the battery out.From the checks I've done it seems to happen at random times but always before the alarm goes off, since I use my phone as my alarm to wake up as well. It's now happened around 5 times since I got it at the start of January. Anyone else have this problem?

Love my Optimus Prime! :)samcode7: Try disabling the GPS, that should help the battery life.GP07: Nope, never had that problem. You should probably get it replaced.

Nah, i've had it too long and I can't exactly return it since I bought it unlocked. It's not something that happens often and it doesn't seem to be the hardware so I think it might be some bug that will get fixed with the next update.

Im in mexico and have the lg optimus as well.I've been really enjoying it. I like the "real" buttons on it, and battery life is what i expected. Very good phone, i must say.
Windows Central Newsletter
Thank you for signing up to Windows Central. You will receive a verification email shortly.
There was a problem. Please refresh the page and try again.