LG's new all-in-one Windows PC is ultrawide and curvy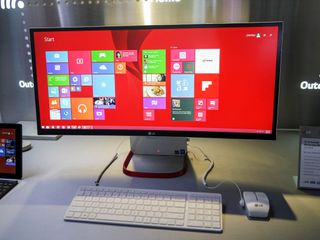 LG probably isn't the first name you think of when shopping for a new Windows PC, but at CES 2015 the Korean manufacturer is here showing off a new all-in-one with a curved, ultrawide display with a 21:9 aspect ratio.
So, the first thing to notice is the display. While it's not anything crazy like 4K or even QHD, it is big, and it is bright. It's a 29-inch IPS display with a 2560 x 1080 resolution. And with the curve it's really nice to look at. Pictures can't really show it, but with a display this wide even a curvature this subtle it makes a real difference in use.
Inside it's packing some pretty decent hardware. It's powered by the latest 5th generation Intel core i processors, with i3, i5 and i7 models available. Graphics wise it's housing NVIDIA GT840M and naturally it runs Windows 8.1.
Otherwise it's got the sort of ports you'd expect to find, including HDMI, USB and full size SD card slot, and comes with a nice chiclet keyboard and a slightly odd shaped, yet still quite comfortable mouse. It's not the first time LG has done an ultrawide all-in-one, but with the new chips from Intel in there and a curved display, it's a welcome upgrade. Pricing information wasn't available at the time of writing.
Windows Central Newsletter
Get the best of Windows Central in in your inbox, every day!
Managing Editor - Tech, Reviews
Richard Devine is a Managing Editor at Windows Central with over a decade of experience. A former Project Manager and long-term tech addict, he joined Mobile Nations in 2011 and has been found on Android Central and iMore as well as Windows Central. Currently, you'll find him steering the site's coverage of all manner of PC hardware and reviews. Find him on Mastodon at mstdn.social/@richdevine
Looks awesome. Any news on price?

Not to lie, but this LG all-in-one monitor/computer is ugly as fuck. Too fucken glossy, I rather have it matte plastic, magnesium, or aluminum(my preference).

When "fuck" has became ugly?

@Alec Kong - "ugly as fuck" - well, we are sorry your sexual encounters are so traumatizing to you. Maybe you should aim for a different type of lovers, mate! :))

"Pricing information wasn't available at the time of writing."

Where's my windows smart tv....?

Xbox One, Intel stick, Lenovo Tiny, Miracast, etc.

windows based smart tv with 4K support - that will be nice. xbox is as not a bad option - it's quite good, but I wish to see a good TV with nice simple design with windows 8.1 on board, that can run programs from my TV signal provider (via CI) and that can run smothly files from my LAN - from PC, from, NAS and others devices, from could and so on. these days so called "smart-tvs" are really bad.

Why would you waste your money on a Smart TV? They are expensive outdated TV in 3 months. Posted via the Windows Phone Central App for Android

If you get a 4K tv with smart features, the apps on the tv, like Netflix and amazon instant, yiu

Because if you get a 4k tv, the smart apps on it like Netflix and amazon instant, you can watch 4k content, versus the Xbox one only goes to 1080p.

4k tvs have decent upscaling and MS made the Xbox to support 4k out of the box. Some games are lower than 4k but run better vs PS4 losing frame rates.Xbox is easier to upscale on a 4k tv.

The last line of the post...

Would love LG to release a tower version of this

Then it really wouldn't be an all in one. Kind of like wishing for the coupe version of a motorcycle.

Is the HDMI input or output? I'd love to use the all-in-one as my secondary PC while letting my custom rig do all the heavy lifting when it comes to video rendering and gaming.

Honestly I don't know. I'm assuming output but there wasn't an LG rep at hand to ask. I'll see if I can swing by tomorrow.

Well, apart from the seemingly black bezel and red(??) base, then yes, it looks white. I honestly don't understand why it even has a bezel. Modern TV's are virtually bezel less, why can't this be too? The red base is just weird, imho, and matte white would have looked nicer, I think. Having said all that, I think that a 21:9 screen is intriguing and almost has me considering an all-in-one. I have just the spot for it, but it may not be for everyone, of course. Maybe next years model will be thinner as well as bezel less...

You're right. Most awesome things are black

It's *sniffle* :') so beautiful

MTE. This thing is gorgeous. :0 SO MUCH WANT.

I have an Asus 21:9 29" monitor and I love it. I so wish I were curved. An all in one should have VESA mounting holes.

I actually thought it was one of them ball-mouses. It is fugly indeed.

Thats what I thought also lol. Looks like old IBM ball mouse.

Its so ... Wiiiiiiiiiiiiiiiiiiiiiiiiiiiiiide

Ok where is the rest of the specs, and I also see a coaxial cable on the back which means it's also a TV?!

I see what appears to be a coax port ,not an actual coaxial cable. This would be a nice feature though.I would appreciate knowing the model #,if it has TV tuner,Bluetooth, blue ray or DVD player,and of course any other specs' pertaining to being a PC as well as the pricing if available. I have had good luck with LG products which makes this a very interesting machine to me. Thanks! ​ ​ ​ ​

O please. It's good. Posted via the Windows Central App for Android

No, it's not. under same dpi, bigger is better. My 19" monitor, same resolution with this one. It doesn't look very good on my monitor because DPI is low. 29"? It won't look good. Who said it is good is lying.

Desktop monitors are lined
looked at from bigger distances than phones, laptops and tablets. Pixels don't matter in terms of arcminute size on screens this big with huge tiles and icons.

The title makes it seem like my wife..

I'll forward this post one to Mrs. Toes

But then again, LG doesn't even try to make a Windows phone

I love my WP but more money in PC LG is rumored to be working on a new WP

So?? No phone no tv?? Xd such fanboy logic

Not really fanboyism, but it's something I'd like to see, you guys are unbelievable sometimes

Beautiful, with the right price this could be the must have desktop computer for the average home. I guess is not touch and I'm curious about the SSD/HD capacity

Generally much cheaper to replace hdd with an ssd ourselves, so let's hope this comes with an hdd to keep the price down. :)

I was wondering the same thing, but my guess is no.

"I like my computers as I like my women. Extra wide and curvy. New LG all-in-one."

Umm dual boot tv(different sizes) with built in Xbox One/ PC hackable will be the downfall unless MS could really secure the XB portion. Like a kill switch if messed with. Also TOUCH Screen and built in Kinect!

Makes a difference in use how exactly? (not snark, I'm genuinely curious, haven't used a curved screen before)

What versions of i5(i3, i7) ?

As it says in the post...5th Gen

Seriously...did you read the post or the comments even?

Well I'll just give out an estimated price for three models (i3 to i7) Seeing as how the LG 29um65 is around 600$ (ultrawide 29 inch 2560x1080) the i3 will go for about 1.2k, the i5 1.4k and the i7 1.8k

One of the best looking all in one PCs yet. Nice work LG.

top work LG, W10 upgrade for me maybe one of these ..

That keyboard!! Macintosh anybody??

Or ms wedge keyboard. The mouse is clearly not apple

Is it coming to the U.S.? I was checking out their lightweight laptops, asking a bunch of questions, then finally the LG guy was like, "well, these models wont be coming to the U.S. market..."

Why is it that if you want a AIO for gaming, you have to go for a super ugly iMac or a super ugly MSI pc :/

The iMac is gorgeous... Are you on drugs?

Not to my eyes. Electronics in my house a black. Well most of it is. The ones that are not, like my DS213j, sits well hidden from sight. I could never have that iMac monstrosity sitting on a desk a taking up so much attention.

Because, you can't upgrade the internals of an AIO. That's why most prefer custom rigs. And if you are still interested, there is more than just MSI and iMac. Try digging a little deeper. :-)

The marked in Europe is very sparse if you want something beyond a GT850. I could go for a ASUS but the run AMD graphics and not even the top range. I really love the Dell models but they cap a GT750 :P

Sorry... My 27" Imac is beautiful.. This is butt assed ugly. Yes the keyboard is eerily apple like. Posted via the Windows Central App for Android

Here we go again with the curved screen from LG :P

Looking good. What about the performance?

NVIDIA gt840m? They shout have given gtx series graphic card in this.

I can't deny it I like it a lot

So it doesn't have a name?

Really love the white elegant keyboard.

What's the advantage of a curved screen? I don't get it.

Next year, they will make a circle screen, you sit in the middle. I know why they are doing that, but it is stupid. Also for that size, the resolution is too low for a computer, maybe good for a TV.

What's the actual name of the PC??

You just know that it will be overpriced. If 200 $ is correct, then yeah!

This has a graphics card instead of an Intel HD ome

Till I went to a 4K display, I was very very happy with my AOC 21:9 display (same size as this one but no silly curve). It completely removes the need for multiple screens for most people that use them.
Windows Central Newsletter
Thank you for signing up to Windows Central. You will receive a verification email shortly.
There was a problem. Please refresh the page and try again.