Pros
+

Extremely thin and light

+

Gorgeous OLED gets plenty bright

+

Great battery life

+

Numeric keypad

+

Quiet fans
Cons
-

No touchscreen

-

Audio isn't great
Why you can trust Windows Central Our expert reviewers spend hours testing and comparing products and services so you can choose the best for you. Find out more about how we test.
As we all know, laptops come in various sizes, features, and performance abilities. Some dominate the market with their power, while other less performance-focused models impress us with their reliability and affordability. Either type has its place and can benefit a user as long as it meets their needs.
For the last three weeks, I've been using the LG gram 15.6-inch SuperSlim OLED as my work laptop and the device I use in my free time to surf the web, work in Photoshop, and watch shows. While not a powerhouse, this extremely thin laptop has proven that it's a great choice for anyone looking for a work laptop that's easy to transport. It's one of the best laptops for people who often work in spreadsheets or other horizontally long documents.
LG gram SuperSlim 15.6" OLED (15Z90RT): Price & availability
LG gram SuperSlim 15.6" OLED (15Z90RT)
Price: $1,799.99
CPU: Intel 13th Gen Core i7 Evo
GPU: Intel Iris(R) Xe
RAM: 16GB LPDDR5
Storage: 1 TB NVMe M.2 SSD
Display: 15.6-inch OLED, FHD (1920 x 1080)
Battery: 9 Hrs 10 Mins
Size: 14" x 8.95" x 0.43"~0.49"
Weight: 2.18 lbs (0.98kg)
There are three configuration options of the LG gram SuperSlim 15.6-inch OLED available. Each one has the same CPU and GPU. It's just that the amount of RAM and SSD storage changes between the three SuperSlim 15.6-inch options, which affects the price. The version with 16GB RAM and 512GB SSD has an MSRP of $1,699.99. Meanwhile, the version I tested, the 16GB RAM and 1TB SSD, sells for $1,799.99. Lastly, the 32GB RAM and 2TB SSD's MSRP is $1,999.99. Honestly, each of these configurations is a bit expensive for what is offered, but the laptop works well.
Outside of the SuperSlim 15.6-inch OLED laptop, LG also offers several different LG gram models in various configurations, screen types, and sizes. You can check out the LG website to see all of the gram laptops available.
LG gram SuperSlim 15.6" OLED (15Z90RT) Recommended Configuration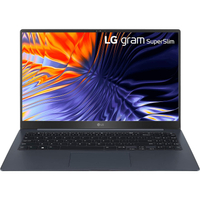 Intel 13th Gen Core i7 Evo | Iris Xe | 1TB SSD
There are three configuration options for the LG gram SuperSlim 15.6" OLED, with the differences revolving around RAM and storage. The 16GB RAM, 1TB SSD configuration I tested is the one I recommend the most. This gives you plenty of space to work with and keeps the laptop in a good price range.
LG gram SuperSlim 15.6" OLED (15Z90RT): Design & build
Overall, the LG gram SuperSlim OLED is a very impressive laptop that will be especially helpful for those who work within numeric spreadsheets and need a laptop on the go.
When I first lifted the LG gram SuperSlim out of the box, I was immediately struck by how thin it was. The name had given me a reason to assume this laptop wouldn't be very bulky, but feeling the extremely lightweight 2.18 lb (0.98kg) device and seeing the 15mm thick frame for myself had a powerful effect. I don't think I've ever seen this big of a laptop with this slim of a casing before. In some ways, it's easy to forget it even is a laptop due to how light it feels in my hands.
To make this extremely thin casing possible, a few things had to be left out. There are no HDMI ports, microSD card slots, or USB-A connection points. This rather minimalist laptop features only three USB-C ports (two Thunderbolt 4 with power delivery and display port) and a headphone jack. However, a numeric number pad makes it rather useful for people who deal with numbers and will be working in spreadsheets.
The first time I opened the laptop and got a good look at it, I thought the display looked a little squat and long (it's 16x9, whereas most new laptops have shifted to a taller 16x10 aspect ratio). This is due to the inclusion of the aforementioned numeric keypad, which extends the base keyboard space (and thus extends the panel width to meet it). The display is also much wider than it is long compared to other more square-shaped displays, but this is once more a very helpful trait if you've got work documents open and are filling rows in with lots of data as it allows you to see more horizontally before you need to scroll. At any rate, doing other activities like browsing the internet, playing games, or watching shows on this panel doesn't look strange.
Something that I really like about LG is its Smart Assistant, which allows me to easily adjust various settings to get the laptop running just the way I like it. I can change how fast the fans are moving, quickly turn on Dark Mode, adjust display brightness, make the laptop focus on extending battery life, adjust the AI microphone's noise-canceling abilities, and much more, all from LG Smart Assistant's intuitive layout.
LG gram SuperSlim 15.6" OLED (15Z90RT): Performance
Image 1 of 3
While the ultra-slim casing of the LG gram is impressive, it made me assume that some concessions had to be made in the way of performance to get this laptop to be as thin and lightweight as it is. This turned out to be true. While it's perfectly suited to handling simple office work, you shouldn't plan on running more demanding programs on it.
The LG gram SuperSlim houses an Intel Core i7-1360P CPU (12 cores, 5.0GHz), which works alongside an Intel Iris Xe GPU. Neither of these is really all that powerful, but they offer steady and stable performance to handle day-to-day, general office tasks very well. During my PCMark 10 testing, which measures how well the laptop performs while doing general office tasks like browsing the internet, running video calls, and opening programs, the LG gram SuperSlim scored a modest score of 5,328, which puts it about the same as the Surface Pro 9's score of 5,333. Meanwhile, when put through Geekbench 6 testing, it earned a respectable single-core score of 2,608 with a multi-core score of 9.832, which places its performance where I'd expect it between the Samsung Galaxy Book3 Pro and the ThinkPad X1 Yoga (Gen 8).
Image 1 of 4
More Laptops
- Best Windows laptops
- Laptop review and buying guides
- Lenovo Yoga Book 9i preorders
- Dell XPS 17 (9730) review
- Lenovo ThinkPad X13s review
However, during CrystalDiskMark testing, which measures the laptop's sequential read and write speeds, the LG gram proved to be one of the fastest laptops I've ever seen (just below the latest Dell XPS 17 and Dell XPS 15) with a truly impressive read speed of 7,070 MB/s and a write speed of 6,395 MB/s. This means it opens programs and saves data very quickly to reduce load times, which I definitely experience myself while working in various programs, opening files, and saving projects.
The LG gram keeps up with my Photoshop needs as long as I don't have too many projects open at once and even handles some simple gaming thanks to the Iris Xe Graphics it employs. However, don't expect to use it on more graphic-intensive tasks like video editing and the most demanding games. Photoshop gets rather slow if I have too many files open or multitasking between various programs simultaneously.
Additionally, when I attempt to play Cyberpunk 2077 on the LG gram, the laptop stutters and cannot keep up a decent frame rate even on lower settings. But this isn't one of the best gaming laptops, so that's to be expected.
The benchmark testing further illustrates the LG gram SuperSlim's lower graphical performance. In 3DMark Time Spy, a software that tests GPU and CPU performance while running a demanding sequence, the LG gram only scored a very low 1,254. Performance-wise, this puts it between the Surface Laptop 4 and the Asus Zenbook 14 OLED that I recently reviewed. Later, when I ran the laptop through Cinebench testing, which checks the system's rendering performance, the LG gram earned a single-core score of 1,531 and a multi-core score of 5,715. Neither of these is very impressive, but it's where I expect the laptop to be.
At the end of the day, the LG gram 15 OLED is specifically meant for light office tasks like video calls, spreadsheets, general programs, internet browsing, and video streaming. It can serve you well if you don't intend to run intensive programs and demanding games (although Xbox Cloud Gaming is always a nice option).
LG gram SuperSlim 15.6" OLED (15Z90RT): Display
There's something to be said about laptops that make the jump to OLED. They almost always offer amazing color accuracy and contrast. If you're curious, you can learn more in my OLED vs. QLED vs. AMOLED vs. Mini LED guide. But the long and short of it for LG gram SuperSlim is that the 16x9 full HD (1920x1080, non-touch) display looks phenomenal.
When doing my colorimeter test, it produced 100% of sRGB, 98% of AdobeRGB, and 100% of P3. This isn't surprising since I've constantly noted its crisp depictions and vibrant colors.
Swipe to scroll horizontally
| Setting | Brightness | Black | Contrast | White Point |
| --- | --- | --- | --- | --- |
| 0% | 4.0 | 0.00 | 0 : 1 | 6700 (0.310, 0.322) |
| 25% | 28.5 | 0.00 | 0 : 1 | 6700 (0.311, 0.323) |
| 50% | 97.7 | 0.00 | 0 : 1 | 6600 (0.311, 0.324) |
| 75% | 215.2 | 0.00 | 0 : 1 | 6700 (0.310, 0.323) |
| 100% | 407.0 | 0.00 | 0 : 1 | 6900 (0.308, 0.321) |
As expected with OLED displays, this one achieves true black, which allows darker visuals to pop with plenty of detail rather than getting everything muddled with IPS glow or other distracting display issues. Whenever I watched a show or played a game, everything looked amazing, with a great contrast ratio and plenty of vibrancy.
I was surprised to find that unlike many other laptops on the market today, this one doesn't have a touchscreen. It's not the end of the world or anything. It just makes it so that the display might not be as convenient as it could be.
LG gram SuperSlim 15.6" OLED (15Z90RT): Battery life
As part of being designed around ultra-portability, the LG gram SuperSlim offers great battery life. With the display at 50% brightness and running everyday office tasks like attending video calls, browsing the internet, running programs, and multitasking, the LG gram lasted for a total of nine hours and 10 minutes. It's not the longest battery life I've seen, but it can get you through a workday easily enough.
Of course, the battery life of any device always depends upon the temperature of its location and what programs it is running. More demanding programs and extreme climates will drain the battery much faster. As such, I conducted my battery testing while in a cool, dry room. If you think you'll be using the laptop outside in the elements or you might have more demanding software running, then you can expect the laptop not to last as long.
LG gram SuperSlim 15.6" OLED (15Z90RT): Keyboard & touchpad
I personally really love it when a numeric keypad is on a laptop, as I find this so much more appealing to use than the thin line of number keys along the top of the main keyboard. The LG gram's keys feel good to press, delivering subtle resistance for a satisfying tap each time. For the most part, the keys are all spaced out well and are easy to reach.
I love the location of the power button on the upper right corner of the number pad, and I find the various function shortcuts allow me to access the tools I need very quickly. There are the usual brightness, volume, and mute keys as well as a button that adjusts keypad backlighting brightness, a key for toggling Reader Mode (which reduces blue lighting), an Airplane mode key, a Display settings key, and a convenient function key to reach LG Smart Assistant.
However, my one problem with the layout is that the backspace button feels a little small. I tend to tap the keys around it when reaching for it accidentally, but this will improve with practice for anyone who buys the laptop. Additionally, unlike many other laptops, the LG gram does not offer a fingerprint reader, so you cannot unlock the computer or sign off on things that way.
LG gram SuperSlim 15.6" OLED (15Z90RT): Camera, mic, & audio
A Full HD 1080p webcam lies nestled in the top middle of the display bezel. While it isn't anything amazing, it does pick up good colors and works well even in somewhat darker rooms. It's plenty good enough for work meetings or video calls with family and friends. You don't have to worry about the mic performing badly, either. Whenever I attended video conferences using the LG gram, I was told that my voice came through clearly and without any distracting noises.
As far as audio goes, the LG gram SuperSlim harbors two 2W stereo speakers with Dolby Atmos, but the sound quality that comes through is subpar. The volume gets decently loud but not as loud as some might like. While listening to various music tracks or playing games, the music came through sounding muddled and fuzzy, that's definitely not the way I want to jam out to my favorite beats. If you care about audio, you'll want to attach one of the best computer speakers to the laptop (or use the best PC gaming headset).
LG gram SuperSlim 15.6" OLED (15Z90RT): Competition
There are increasingly more 16-inch Windows laptops, but few, if any, even approach the thinness and lightness of LG's gram-series.
Regarding matching the LG gram SuperSlim's CPU and GPU, the HP ENVY 2 is a FHD 15.6-inch touchscreen laptop that offers the same Intel Core i7 evo processor and Iris Xe graphics card. It might not be as thin, but it is a reliable device that can be found selling for a decent amount cheaper than the LG gram SuperSlim.
But probably the best premium alternative is Samsung's excellent Galaxy Book3 Pro 16-inch. It's over a pound heavier at 3.4 lbs (1.56kg). Still, you get Samsung's outstanding 3K AMOLED screen, a number pad, metal chassis, much better audio, and better interoperability with your Android Samsung phone (assuming you have one). We recently reviewed the smaller Samsung Galaxy Book3 Pro 14", which is basically the same, and loved it. Pricing starts at $1,749.
Let's not leave Acer out. The company announced the Swifte Edge 16" back in October, and it features a higher-resolution 3840x2400 16x10 OLED display, and it weighs just 2.58 lbs (1.17kg). While that's technically heavier than the LG gram SuperSlim, it's not by much! However, instead of Intel, that system ships with various AMD Ryzen processors, including up to the powerful Ryzen 7 6800/6850U processors (up to 4.7GHz). Pricing starts at $1,299.
If you want something with even more screen real estate, we also love LG's gram 17, which has that taller 16x10 display. We last reviewed it a few years ago, but LG has been consistently updating it with the latest specs, including Intel 13th Gen processors. (There is also a smaller 14-inch model, too).
You can see our best laptops with number pads guide if you want more choices.
LG gram SuperSlim 15.6" OLED (15Z90RT): Should you buy it?
Image 1 of 5
You should buy this if...
You want the lightest 16-inch Windows laptop available
You need a work laptop for spreadsheets, writing, and other basic tasks
You're looking for an OLED laptop display that shows off shows and visuals to amazing effect
You're looking for an extremely light and thin laptop
You should not buy this if...
You like to multitask between several programs and need something with a lot of processing power
You need a laptop with extra long battery life
You want something that doesn't cost as much
With its extremely lightweight build, this 15.6-inch laptop is a great device to use on the go. The wide OLED display is especially suited to handling work documents with tons of data and combined with the numeric keypad. It's a spreadsheet user's dream setup. LG Assistant makes it easy to adjust the settings to just how you want them, and the laptop runs relatively quiet overall so that it won't distract you or those around you.
However, while the LG gram is great at handling video calls, general office programs, writing, internet surfing, and video streaming, it cannot handle more intensive programs. It's also priced higher than I would expect for the components it uses. But if you're simply looking for a laptop that can handle your basic work needs, while also being the lightest available in its class, then the LG gram is a great way to go.
LG gram SuperSlim 15.6" OLED (15Z90RT):
This LG gram SuperSlim laptop offers a gorgeous 15.6-inch OLED display that shows off colors and contrasts to a beautiful degree. With its number pad, it's perfectly suited to handling everyday office tasks like typing, video calls, and internet browsing.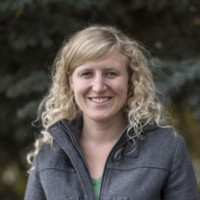 Self-professed gaming geek, Rebecca Spear, is one of Windows Central's gaming editors with a focus on Xbox and PC gaming. When she isn't checking out the latest games on Xbox Game Pass, PC, or Steam Deck; she can be found digital drawing with a Wacom tablet. She's written thousands of game guides, previews, features, and hardware reviews over the last few years. If you need information about anything gaming related, her articles can help you out. She also loves testing game accessories and any new tech on the market.
$1,800.00 for a 1080 screen is shameful. It's pathetic that this is what is required for a Windows laptop to have decent battery life, but still lags behind a Macbook Air ($999 on sale).

Reply