With its light build, gorgeous OLED display, and amazing battery life the Zenbook 14 OLED is the perfect on-the-go laptop for busy professionals, students, and creatives.
Pros
+

Lightweight

+

Beautiful OLED panel

+

Astounding battery life

+

Great performance
Cons
-

Case smudges easily

-

Loud fans
Why you can trust Windows Central Our expert reviewers spend hours testing and comparing products and services so you can choose the best for you. Find out more about how we test.
A few weeks back, I had the pleasure of testing the latest Asus Zenbook S 13 OLED laptop, and then a few weeks later, I got the chance to check out the new Zenbook 14 OLED. They might sound somewhat similar in name, but they're very different regarding their abilities.
Asus makes reliable devices, and now that I've spent over a week with the Zenbook 14 OLED and used it for over 30 hours, I can say it's a very solid laptop. Its unique features, OLED display, extra-long battery, and small size make it an excellent laptop for carrying around at school, for work trips, or creatives on the go.
Asus Zenbook 14 OLED: Price & availability
Asus Zenbook 14 OLED (UM3402)
Price: $869.00
CPU: AMD Ryzen 7 7730U Mobile Processor
GPU: AMD Radeon Graphics
RAM: 16 GB
Storage: 512GB PCIe 3.0 x4 NVMe M.2 SSD
Display: 14-inch, OLED 2.8K
Battery: 14:02
Size: 313.62 x 220.63 x 16.9 mm
Weight: 3.06 lb (approx.)
This configuration of the Asus Zenbook 14 OLED (UM3402) that I tested sells for $869.00 at Walmart and features the AMD Ryzen 7 7730U, 16GB of RAM, and 512GB of storage. There is also a less expensive configuration for $699.00, which features the AMD Ryzen 5 7530U, 8GB of RAM, and 256GB of storage.
Asus has several different sizes and versions of its Zenbook laptops available on its website and via major retailers such as Amazon, Best Buy, Walmart, and more. So, if you're interested, it could be worth looking at all the different variants, including the base OLED, Flip OLED, Pro OLED, Duo OLED, and non-OLED options.
Asus Zenbook 14 Recommended Configuration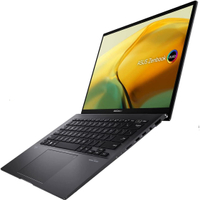 AMD Ryzen 7 | AMD Radeon | 512 GB SSD
The configuration of the Zenbook 14 OLED that I tested is also the one that I recommend to most people. The 512 GB SSD gives you plenty of room for saving projects, and the slightly more powerful CPU with its two additional cores can help perform tasks more quickly.
Asus Zenbook 14 OLED: Design & build
The Zenbook 14 OLED is a very nice-looking laptop thanks to its minimal bezel around the display and the classy hinge that holds it in place. It looks very chic whether sitting open or closed shut on my desk.
The hinge can be reclined so that the keyboard section and display are basically flat on a table, which opens up possibilities for different viewing angles without having to worry about straining the laptop. At only 3.06 pounds, it's also light for having a 14-inch display and is easy to bring wherever I go.

As far as connections go, the Zenbook 14 OLED includes a 3.2 Gen 2 USB-A port, a 3.5mm headphone jack, two 3.2 Gen 2 USB-C ports, a microSD card slot, and an HDMI 2.0 port. Everything works as expected here and allows me to connect to accessories and other devices as I want them to.
My biggest grievance with the Zenbook 14 OLED is in regards to the casing — whatever material this is made of is very prone to fingerprint marks. When I first get a laptop to test, I'm very careful to wash my hands before touching it to ensure I get fingerprint-free pictures. However, even after washing my hands thoroughly with soap, I found I was leaving fingerprint marks all over the Zenbook 14 OLED.
A few days into testing, the laptop lid, touchpad, and the area around the keyboard were very smudgy looking. Not a very attractive look for a laptop. I found myself compulsively trying to clean off these fingerprints throughout my time using it, which was somewhat frustrating.
Asus Zenbook 14 OLED: Performance
Image 1 of 3
The Zenbook 14 OLED won't blow you away with its performance, but it won't disappoint you either. The AMD Ryzen 7 7730U Mobile Processor was easily able to keep up with my day-to-day tasks, assisted by the AMD Radeon Graphics card. While working in Photoshop, attending work meetings, running programs, and browsing the internet, it always worked well, though maybe not as fast as some other laptops, and never caused me any issues.
When I ran a PCMark benchmark test to check its performance, the Zenbook 14 OLED scored 6,022, putting it around the same as the Dell Inspiron 16 Plus (7620) and the Lenovo ThinkPad Z13, which is where we'd expect it to be. After running a Geekbench 5, it scored a respectable 6,699 and proved to have decent reading and writing speeds in our CrystalDiskMark testing, scoring 3,406 MB/s and 1,825 Mb/s, respectively.
Image 1 of 4
As someone who always wants a laptop that can handle at least a little gaming, I also played a few graphically intensive games on it and ran a couple of GPU tests on the Zenbook 14 OLED to see how it would do. As expected, it doesn't play the most demanding games at a high frame rate, but it can easily handle mid-level graphics (or lower).
When running the Cyberpunk 2077 in-game benchmark with high graphics at 1080p, the laptop only managed an average of 6.57 FPS, which was very choppy and hard to play. To further demonstrate, the Zenbook 14 OLED's 3DMark Time Spy score was only 1,341. But, then, this laptop isn't meant for gaming, so these results are expected. As I said, it's still plenty good enough for working with creative software like Photoshop.
Asus Zenbook 14 OLED: Display
Having an OLED touchscreen makes this a very convenient laptop to use as I can both use the touchpad to move the cursor around and can tap on the screen to open programs or switch tabs. In the past, I have had issues with my cat swiping at the display while I'm using a touchscreen laptop and making it hard to use. So, if something like this happens to you and you don't want the touchscreen abilities, you can always go into Windows display settings and turn them off.
Swipe to scroll horizontally
| Setting | Brightness | Black | Contrast | White Point |
| --- | --- | --- | --- | --- |
| 0% | 4.6 | 0.00 | 0 : 1 | 7000 (0.307, 0.317) |
| 25% | 26.7 | 0.00 | 0 : 1 | 6800 (0.309, 0.319) |
| 50% | 84.2 | 0.00 | 0 : 1 | 6700 (0.310, 0.321) |
| 75% | 187.0 | 0.00 | 0 : 1 | 6700 (0.310, 0.320) |
| 100% | 365.7 | 0.00 | 0 : 1 | 6700 (0.310, 0.322) |
As is expected from an OLED panel, colors come through extremely vibrantly, and the image quality is very crisp. Not to mention, black comes through as true black instead of that light grey you get from other displays. It truly is beautiful to look upon. In my SpyderX colorimeter testing, the Zenbook's OLED panel produced an impressive 100% of sRGB, 96% of AdobeRGB, and 100% of P3, further showing that this is a really nice OLED screen.
Asus Zenbook 14 OLED: Battery life
One of the areas in which the Zenbook 14 OLED shines is its battery life. If you tend to be in situations where you're away from outlets, you'll appreciate using this laptop. Via PCMark 10 battery life testing, I found that it lasts 14 hours and two minutes when unplugged, at 50% brightness, and while running everyday office tasks. These tasks being surfing the web, participating in video calls, and running various programs.
Because of this, it always lasted me through my workdays when unplugged and never made me go scrambling for an outlet. If you tend to travel for work or tend to use your laptop on the go, then the Zenbook 14 OLED is a great fit.
Asus Zenbook 14 OLED: Keyboard & touchpad
More Laptops
- Best Windows laptops
- Laptop review and buying guides
- Lenovo Yoga Book 9i preorders
- Dell XPS 17 (9730) review
- Lenovo ThinkPad X13s review
The keyboard feels good and is well-spaced enough that it feels comfortable to use, even after I've been typing for a very long time. As is usually the case, there are several helpful function keys along the top row which include the ability to mute music quickly, adjust volume, change display brightness, turn off the touchpad, alter key backlighting levels, bring up the Display menu, mute the microphone, turn off the camera, open the Snipping Tool, and bring up MyAsus. Altogether, this makes for some very convenient options without diving into menus.
The touchpad responds precisely as I want it to when navigating the cursor around the screen and is a good size to make this an easy task. Thanks to its ErgoSense abilities, the touchpad also works with a few multitouch gestures. For instance, swiping up with three fingers opens Windows, swiping down with three fingers shows the desktop, and swiping left or right with three fingers makes the laptop flit between open windows. Using these quick gestures helped save me a little time and made the Zenbook more appealing as long as you don't accidentally activate them. This sometimes did happen to me, but I got more used to the controls as time went on, and it happened less.
A unique thing about the Zenbook 14 OLED is that it has the Asus NumberPad 2.0, which basically means a numeric pad can be made to appear on the touchpad by tapping the icon in the top right corner. Meanwhile, tapping the button in the upper left of the touchpad adjusts NumberPad brightness, and swiping sideways on this same button quickly brings up the calculator, which is very convenient.
Regarding the function of the NumberPad, I have mixed feelings. On the one hand, I love tapping on numbers easily within the numeric keypad layout without resorting to the top row of the keyboard. However, it can also be somewhat awkward jumping between using the touchpad as a cursor navigation area and a number pad. Plus, when I was first getting used to it, it didn't always seem to respond to me accurately in NumberPad mode — sometimes failing to make a key appear or making several of the same numbers appear after I thought I'd only tapped it once.
As I spent more time with the laptop, I got better at using the NumberPad accurately. So if you think you would use the number pad, it could be helpful. Just be prepared to spend time adjusting to it.
Asus Zenbook 14 OLED: Camera, mic, & audio
The FHD 1080p camera displayed me well in all of the work meetings I attended. While not the most impressive option on the market, it does a good job accurately capturing colors and providing a clear image even when I'm not in the most well-lit rooms. My voice also carried through in meetings nicely and clearly thanks to the built-in array microphone. It even supports Cortana and Alexa voice recognition if you find that you like to utilize voice commands.
Regarding sound quality, the Zenbook 14 OLED features a Harman Kardon-certified Dolby Atmos sound system with two built-in speakers that produce a good range of sound while getting loud. To make the most out of it, I downloaded Dolby Atmos and adjusted EQ for more customized audio. As is the case with any laptop or computer. If you want to improve the sound experience, then you'll want to hook up some external computer speakers or one of the best headsets.
Asus Zenbook 14 OLED: Competition
If you like the idea of the Zenbook 14 OLED but want to save some money, you could always go for a previous year's laptop model. As I said previously, there are also plenty of other Asus laptop models out there to choose from, whether you want the latest versions or not. Older models won't be quite as powerful and modern, but they will be less expensive.
On the other hand, if you want something with a bit more oomph, you should consider other laptops within the Zenbook line. As you can see in my Zenbook S 13 OLED (UX5304) review, It's a little smaller but also more powerful thanks to its Intel Core i7-1355U CPU and the Iris Xe GPU it uses. The trade-off is that this smaller laptop does cost more than the Zenbook 14 OLED.
Outside of the Asus brand, the laptop that is probably most similar to the Zenbook 14 OLED is probably the Dell Inspiron line. The best Dell laptops are known for being reliable and classy-looking devices; the same is true of the Dell Inspiron 14, which also uses an AMD Ryzen 7 7000 series processor and an AMD Radeon graphics card.
Asus Zenbook 14 OLED: Should you buy it?
You should buy this if...
You want a 14-inch laptop that still has a number pad.
You'd like a beautiful OLED display.
You're looking for a laptop with extra-long battery life.
You should not buy this if...
You want a dedicated number pad rather than one built into the touchpad.
You'd prefer a laptop with quieter fans.
You're looking for a laptop that can handle demanding and graphically intensive video games.
Thanks to its small build, convenient controls, long battery life, and gorgeous OLED display, the Zenbook 14 OLED (UM3402) makes for a very convenient laptop on the go. If you're in school, tend to travel for work, or like taking your laptop wherever you go, this will be a great companion. It's powerful enough for creative work like photo editing or video editing but doesn't take up a lot of space. Plus, that NumberPad on the touchpad can make it easier to work with spreadsheets or other numerically heavy projects.
However, the fans can come blasting on rather easily and are rather loud when performing certain tasks, which might not be ideal for some people. My only real complaint is that the casing attracts smudges and fingerprint marks far too often. Still, it's a great laptop that functions well and is easy to use.
Asus Zenbook 14 OLED (UM3402)
With its slim, lightweight design, gorgeous OLED display, and reliable performance, the Asus Zenbook S 13 OLED is a fantastic laptop for anyone. Thanks to its small footprint, it's very easy to transport and doesn't take up much desk space.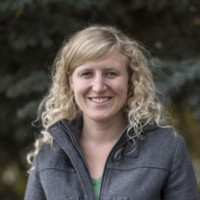 Self-professed gaming geek, Rebecca Spear, is one of Windows Central's gaming editors with a focus on Xbox and PC gaming. When she isn't checking out the latest games on Xbox Game Pass, PC, or Steam Deck; she can be found digital drawing with a Wacom tablet. She's written thousands of game guides, previews, features, and hardware reviews over the last few years. If you need information about anything gaming related, her articles can help you out. She also loves testing game accessories and any new tech on the market.