With its reliable performance, amazing battery life, and gorgeous OLED display the Asus Zenbook S 13 OLED is a great laptop for most people. However, the fans can get rather loud and the speaker is rather weak.
Pros
+

Extremely light

+

Amazing battery life

+

Excellent performance

+

Gorgeous OLED display

+

Chic lid design
Cons
-

Extremely loud fans frequently turn on

-

Speakers aren't very loud
Why you can trust Windows Central Our expert reviewers spend hours testing and comparing products and services so you can choose the best for you. Find out more about how we test.
When your schedule requires you to be on the go for long stretches then it's nice to have an ultraportable laptop that can last a long time and perform well while doing so. This is exactly what the Asus Zenbook S 13 OLED was designed for.
I've been testing this thin, lightweight laptop for over a week and it's proven to be an excellent companion, both plugged and unplugged. With longer-than-average battery life, a truly gorgeous OLED display, and reliable performance it's the perfect mid-range laptop to buy.
Asus Zenbook S 13 OLED: Price & availability
Asus Zenbook S 13 OLED (UX5304)
Price: $1,399.99
CPU: 13th Gen Intel Core i7-1355U 1.70 GHz
GPU: Intel Iris Xe Graphics
RAM: 32GB
Storage: Up to 1 TB PCIe 4.0 x4 NVMe® M.2 SSD
Display: 13.3-inch, OLED 2.8K
Battery: 12hrs 41 mins
Size: 296.2 x 216.3 x 10.9 mm
Weight: 2.2 lb (approx.)
Asus sells the Zenbook S 13 OLED for $1.399.99, which is a reasonable price compared to other 13-inch OLED laptops with a similar configuration on the market today. It features an Intel Core i7-1355U as well as an Intel Iris Xe Graphics card to handle everyday office tasks and popular creative programs with ease.
The Zenbook S 13 OLED can be purchased from a number of retailers including Amazon, Best Buy, and the Asus website. It's also worth noting that Asus sells several variants on the Zenbook including the base OLED, Flip OLED, Pro OLED, Duo OLED, and non-OLED options. You can check out these models on the Asus website to see what they offer.
Asus Zenbook S 13 Recommended Configuration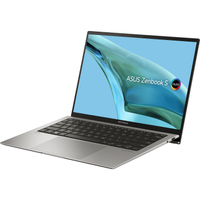 There is one other Asus Zenbook S 13 OLED configuration out there, but for most people we recommend the one that we reviewed. As it is, this 13-inch laptop offers longer-than-average battery life and strong performance in a light design, making it a great buy.
Asus Zenbook S 13 OLED: Design & build
Image 1 of 2
I love the small and lightweight design of this laptop. At just 2.2 pounds it's so easy for me to carry around and doesn't take up a ton of room on any surface I place it on. Something else I really like is that due to the way that the display connects to the base of the laptop, the keyboard tends to tilt up at a slight angle for a more comfortable typing experience when used at close quarters on my lap. It also just makes for an intriguing design that I find fascinating to look at. In that vein, the design on the back of the Zenbook S 13 OLED's display stands out from other laptops and is easy to identify with its chic texture and lines.
The Zenbook S 13 OLED has all of the main ports I need to connect with my modern devices and monitors. There are two Thunderbolt 4 USB-C ports with full-range charging on the left side along with an HDMI port. Meanwhile, the right side features a USB-A 3.2 port as well as a 3.5mm headphone jack. These ports made it easy to connect the laptop to another monitor I have lying around, and I didn't have any issues with my headset, mouse, or other accessories that I plugged into it.
It would have been nice if the Zenbook S 13 OLED included a microSD card slot as well, but considering this is intended to be a small and lightweight laptop used on the go it's not surprising to see it wasn't included.
Asus Zenbook S 13 OLED: Performance
Image 1 of 2
The Zenbook S 13 OLED is marketed first and foremost as an ultraportable laptop and is not intended to be a powerhouse for gaming or other strenuous programs. To test how well it ran, I used the laptop for over a week while engaging in both work and personal endeavors. I found that it does perform very well when dealing with everyday tasks like streaming videos, playing music, attending video calls, and running traditional programs.
This is thanks in part to the Intel Core i7-1355U processor that it utilizes. It even scored a decent 5,301 in the PCMark 10 benchmark, which tests how well a device performs when running modern office tasks. Typically, you want something that can score 3,450 or higher as this tends to show a laptop can offer reliable system performance and the Zenbook was able to do better than that. The fans do tend to come on and blast hard at little provocation, which can be upsetting, but I didn't notice any negative performance issues when this occurred.
After running a Geekbench 5 benchmark test, the Zenbook S 13 OLED scored a 7,265 multi-core score which places it just below the Razer Blade 15 (2021) and above the Lenovo Legion 5 Pro. While not super powerful, this is a respectable processor power score and the laptop proved to run very smoothly during my time with it. This laptop also turns on, opens programs, and saves very quickly as shown by its CrystalDiskMark scores — 5,177 MB/s writing and 6,792 MB/s reading. I personally never encountered any stuttering when running programs and applications always opened quickly after I clicked on them.
Image 1 of 5
However, you should not plan on doing any intensive gaming on this laptop. The Intel Iris Xe Graphics card can only handle simple game graphics and will not be able to handle the latest AAA games like Star Wars Jedi: Survivor nor will it handle the upcoming PC game, Diablo 4.
This is further demonstrated by its lower 3DMark Time Spy and Cinebench R23 benchmark results, which are good in that they are where we'd expect them to be based on the processors used but further illustrate that the CPU and GPU just weren't designed for graphics-heavy programs. The laptop should be able to handle visually simple games like Among Us, Stardew Valley, or retro classics relatively easily, though.
Asus Zenbook S 13 OLED: Display
As I expected, the 16:10, 2.8K, 13.3-inch OLED panel is absolutely beautiful to look at and displays vibrant and clear imagery. It offers up to 2880 x 1800 resolution and can reach up to 550-nits allowing it to get rather bright. As is usually the case, I simply go into the settings menu or use the convenient brightness function keys to quickly adjust the dimness level.
In regard to color and details, black hues come through very deep on this OLED display and it's easy to see color in darker scenes without any cloudiness like you get on LCD panels. It offers up to a 60Hz refresh rate, which is nothing astounding but fits in line with the laptop's configuration and should serve you well.
Swipe to scroll horizontally
| Setting | Brightness | Black | Contrast | White Point |
| --- | --- | --- | --- | --- |
| 0% | 0.9 | 0.00 | 0 : 1 | 5300 (0.337, 0.343) |
| 25% | 24.5 | 0.00 | 0 : 1 | 6700 (0.311, 0.320) |
| 50% | 80.2 | 0.00 | 0 : 1 | 6800 (0.390, 0.319) |
| 75% | 192.0 | 0.00 | 0 : 1 | 6900 (0.308, 0.317) |
| 100% | 379.5 | 0.00 | 0 : 1 | 6800 (0.310, 0.319) |
After running a colorimeter test on the OLED display, I found that it produced 100% DCI-P3 just like Asus advertised. It also displays 100% of sRGB and 96% of Adobe RGB, which are very good scores and proves that the panel does an excellent job displaying color and light across the spectrum.
Unlike many other displays these days, the Zenbook S 13 OLED's is not a touchscreen, so don't expect to be able to tap on applications and browser tabs with your fingers.
Asus Zenbook S 13 OLED: Battery life
These days, a good laptop should run for eight to 10 hours when unplugged and starting at full battery. I was happy to note that the Zenbook S 13 OLED ran a good amount longer than this. It reached 12 hours and 41 minutes in my testing when at 50% brightness and while performing various modern office tasks like taking part in video calls, running applications, opening web pages, and watching videos.
Asus states the laptop can last for up to 14 hours and this is likely the case when the display is at its lowest brightness setting. However, humidity, temperature, and the intensity of any running programs will also affect battery life.
While not the longest amount I've seen in a laptop, this is very respectable and longer than average. It once more lends to the Asus Zenbook S 13 being an excellent on-the-go laptop that will serve you well anywhere you are regardless of if there is ample outlets to accommodate it.
The included charging cable is a 65W fast charging adapter, which allows the Zenbook S 13 OLED to quickly replenish itself. To test its recharging speed, I let the laptop's battery deplete to the point that it wouldn't turn on and then plugged in the adapter and kept track of time. It reached 70% within roughly 45 minutes and got to 100% at about an hour and 15 minutes.
Asus Zenbook S 13 OLED: Keyboard & touchpad
I have absolutely no complaints regarding the keyboard and touchpad. The keys click in nicely with a satisfying springiness and the touchpad is very large allowing me to easily navigate where I want to without it taking longer than necessary. The right and left click buttons on the touchpad feel good to press and the design made it so that I never accidentally clicked with my wrist when typing on the keys, which sometimes happens with other laptops I've tested.
As is usual, convenient function keys share the space of the number keys along the top of the keyboard. Here I can find buttons that quickly adjust speaker volume, mute the laptop, change brightness, disable the touchpad, adjust keyboard backlighting, bring up the display settings menu, and open the Snipping Tool. It makes it very easy to use the laptop and access these frequently used options.
There is also a fingerprint reader button to the right of the number keys, and this was very easy for me to set up in just a couple of minutes. Being able to unlock the laptop simply by putting my hand on that button is very convenient. If you don't want to use this fingerprint unlock ability, then you don't have to.
Asus Zenbook S 13 OLED: Cameras & audio
In addition to the function buttons, I mentioned earlier, there's also a button that toggles whether or not the camera turns on. That way, I can feel more secure knowing that I'm not being captured without my knowledge when the camera is toggled off. I was also able to get facial login set up very easily via Windows Hello and worked well each time I used it after that.
As far as camera quality goes, the Zenbook S 13 OLED is phenomenal, picking up colors and details crisply. This is partially due to the FHD 1080p camera but is helped immensely by Asus AiSense camera effects like background blur, lighting correction, motion tracking, eye correction, and more that improve video quality to show me off to my best advantage. For instance, despite being in a relatively dark room, the camera was able to lighten the scene and focus on me if I moved away from the center of the shot.
The Zenbook S13 OLED video call abilities are further advanced with the help of the noise-cancelling microphone, which does an excellent job of cutting out background sounds like the whirr of my robot vacuum to hone in better on my voice.
The two built-in speakers enhanced via the Dolby Atmos sound system play plenty clearly and manage to hit a good range of notes. After downloading the free Dolby Access app, I was able to customize sound settings further. However, the speakers don't get as loud as some other laptop speakers I've heard. But if you really care about sound quality, you'll have to purchase external speakers as is usually the case with laptops.

Dolby Access | Download free from Microsoft
Get your Dolby speakers to sound just how you want them by adjusting specific settings or choosing from different presets. It's super easy to use and is designed to work with the Zenbook S 13 OLED's Dolby speakers.
Asus Zenbook S 13 OLED: Competition
If you're looking at the Zenbook S13 OLED, then you're likely interested in an ultraportable laptop, of which there are many awesome options on the market. We really like HP's offerings and as noted in our HP Pavilion Plus 14 review, this particular "mid-range laptop punches above its weight." It offers a 90Hz OLED display and there are three CPU classes to choose from when selecting your configuration and pricing options.
Of course, if you like the look of the Asus Zenbook, but want to peruse more options then you can check out the base Zenbook, premium Zenbook S, professional-grade Zenbook Pro, 2-in-1 convertible Zenbook Flip, or the foldable Zenbook Fold. All of these options offer different configurations but are ultimately designed around portable performance.
Asus Zenbook S 13 OLED: Should you buy it?
You should buy this if...
You want a laptop that's small and easy to carry around with you.
You'd like an OLED panel that shows off visuals to stunning effect.
You're looking for a laptop that can last a long time unplugged.
You should not buy this if...
You don't want to hear fans come on that regularly.
You'd prefer a laptop that has loud speakers.
You want a laptop that can handle intensive gaming.
If you're looking for an easily portable laptop that will last you a long time each day when uplugged then the Asus Zenbook S 13 OLED is a fantastic choice. While not the most powerful laptop on the market it offers very good performance and will handle video calls, basic programs, web browsing, and music/video streaming with ease. The OLED panel really shows off imagery in a beautiful way and the camera is designed to make you look good in any video calls you attend. Plus, being small and extremely lightweight makes the Zenbook S 13 easier to carry around whether you're taking classes, are on a work trip, or are traveling for fun.
The biggest problem is that the audio is rather underwhelming and doesn't get very loud compared to other laptops I've tested. However, it will get the job done if you're sitting right in front of the laptop to watch a movie or listen to music. Another part of the sound quality is that the laptop's fans tend to blast on with little prompting, so it can be rather loud.
Still, it's a well-priced, ultraportable laptop that will be a great choice for anyone wanting a sleek OLED display and long battery life.
With its slim, lightweight design, its gorgeous OLED display, and its reliable performance the Asus Zenbook S 13 OLED is a fantastic laptop for anyone. Thanks to its small footprint, it's very easy to transport and doesn't take up a ton of desk space.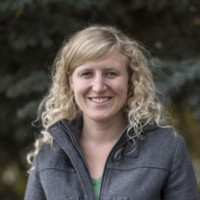 Self-professed gaming geek, Rebecca Spear, is one of Windows Central's gaming editors with a focus on Xbox and PC gaming. When she isn't checking out the latest games on Xbox Game Pass, PC, or Steam Deck; she can be found digital drawing with a Wacom tablet. She's written thousands of game guides, previews, features, and hardware reviews over the last few years. If you need information about anything gaming related, her articles can help you out. She also loves testing game accessories and any new tech on the market.