LifePay allows mobile payments in Russia with their new Windows Phone app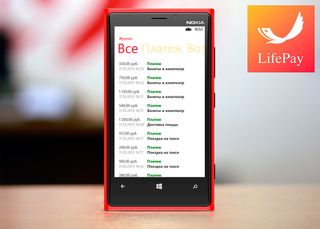 Here in the United States, Square is a very popular solution for business owners wanting to accept credit and debit cards using their smartphones. They've got an app on both Android and iOS, but no love for Windows Phone. Our friends in Russia though just got a very similar app for the platform called LifePay. Let's check it out.
LifePay is a company out of Russia that allows users to make and accept mobile payments. It's a convenient and fast way to receive payments from users on your smartphone by using a card reader. Their new app for Windows Phone lets you take their card reader to create a mobile point-of-sale (POS) terminal anywhere you are to accept credit cards.
According to the app description, it works and meets the PCI DSS requirements and the rules of both VISA and MASTERCARD. When you make a transaction using your Windows Phone and the card reader, the payee will then sign their signature on the touchscreen. After that they can choose to receive a receipt via SMS or email.
LifePay already has an app out for Android and iOS, so it's nice to see them create one for Windows Phone. It's also not completely surprising to see a service like this launch in Russia for Windows Phone. It was just two months ago that Nokia (aka Windows Phone) passed Samsung in market share in Russia. We don't speak Russian around here nor do we have access to their card reader, so we won't be seeing a review anytime soon. But check out the video below to see it in action on Windows Phone.
Find youself in Russia wanting to learn more about LifePay and details on how to get the card reader? Check out the website for LifePay to get all those details and more.
In Russia and want LifePay for Windows Phone 7.x or 8? Get it for free in the Windows Phone Store, use the QR code below, or swipe to the right in our app.
Windows Central Newsletter
Get the best of Windows Central in your inbox, every day!
Is there any app to use a credit card reader (in US) with the 3.5 mm plug. E.g. The PayPal payment system.

I've sent multiple messages to pay pal over the last several months and they have no intention of releasing their reader for WP.

People are still not taking WP seriously.

No surprises here. Nokia is widely advertised in Russia. Even the Droider show which is a weekly hitech news podcast got a segment of WWP(World of windows phone), bet this app will come in their highlights next monday if not already. So yeah good news. One day I am planning to go down there, since it seems like my family is slowly migrating down there.

@Down there? I always thought Russia was "up there" lol :-P

Perhaps he's Scandanavian? ;)

That's pretty cool for me.Russia is a very good place to spend some time of your life.I'm in Russia now and the girls are just pretty awesome.

The words 'life' and 'pay' paired in a single one sound terrible to me.

Quite appropriate, since most people exchange their life for money :P

I've seen more Lumia phones than iPhones in my recent trip to Russia!