LINE messenging app update now suppports chats of up to 200 people at once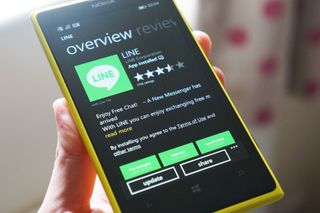 The popular LINE messaging app has been updated for Windows Phone and Windows 10 on PC and Mobile. The new version allows support for chatting with up to 200 people at once.
In addition to the huge update in chat numbers, the new version 5.4.1 of LINE shows previews of URLs that are shared in chats. LINE says there are also some improvements for sending and playing animated GIFs in chats. PC and tablet users will now be able to send and save original photos in chats with this update. Finally, there are some minor, but unnamed, improvements with this new version.
Download LINE from the Windows Store (opens in new tab)
Windows Central Newsletter
Get the best of Windows Central in your inbox, every day!
There's group call feature in this version too.
I'm curious about other platform. Can original photo size be uploaded in iOS and android?

Just installed... Out of curiosity. Haven't tried this for a long time

In my country, this app is big. Nobody is using messenger, WhatsApp, WeChat because of this app.

I am in Thailand and everyone uses this app. Nice to see it still gets updates on Windows.

This app is good for people who want to stay anonymous while chatting to others. A lot of negative uses of this app I have seen in Asian countries. Don't want to go into details but you know what I mean. That said, I use it every day for talking to my Game of War alliance. This way we can talk as well as stay anonymous. I think this, and other similar reasons/uses, is why Line got famous and draws in crowd.

Not that really. It is the way of life here. It's simple, connected automatically with everyone you've got the number. You can play games plus all other things in LINE. It's like a platform in my country.

And last, i hope the update is makes beautifull

Quite a bit more weChat users than Line in my neck of the woods.

ProShot, Facebook & Twitter are receiving latest updates.

And Snapdeal and Xodo PDF Reader and Editor

From the beginning I have been unable to buy anything from the Line store... Even unable to log in there :( If I change my account to an Android phone then everything works perfectly. That sucks, I hope they fix this soon, it's been a long time. They should include the store in-app already u.u. I even sent support emails, they gave me a generic answer and didn't even read what I wrote wtf

Will this let you delete chat history/conversations? Will it let hiu set it yo never savr chat conversations/history?

Never tried this before, how's this different from WhatsApp and WeChat?

Line and wechat are superior in terms of ui in windows mobile compared to watsapp

LINE is probably mostly known for their biggest sticker store of any messaging app. There are even LINE Stores to sell products of their original cartoon characters.

WhatsApp is the sole app in my country, Bangladesh.

Now waiting for WeChat to update because I still can't open red packets and set privacy for my text posts on Moments. Both functions have been on iOS and Android for probably 3 or 4 years now.

John, you have 3 Ps in the title. Can you correct it, please?

That headline is the only thing Callaham wrote. The rest was copy/pasted off a news release. Tech "journalism" at its finest.

There aren't 200 people using LINE on a Lumia device anywhere in the world.

Why show a Windows 8 phone?

On iOS they can hold the chat and read it without ever opening the message. They need this for Windows Phone