Liquid Daffodil updates and re-releases their popular app Add to Contacts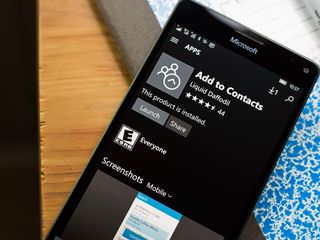 Add to Contacts is a popular Windows 10 app from Liquid Daffodil that enables you to add local, worldwide and Cortana search results directly to your Windows 10 contacts. The app was recently updated and re-released in the Windows Store, delivering many user requested features.
Add to Contacts automates the process of copying and pasting individual fields from a search result to your Windows 10 contacts. Key features of the app include:
Edit contact details before they are added.
Add information directly to your contacts with a simple tap.
New contacts are saved with all the important information, including contact images and business hours.
Automatically add contacts to your Office 365 contacts.
Add to Contacts supports local, worldwide and Cortana searches. From the results, you can populate contact fields, edit as needed and then export the information to your Windows 10 contacts. Searches can be initiated through Cortana by saying "Add to Contacts find…" or through the app itself.
Add to Contact is currently priced at $1.99 and is a handy app to have around if you are tired of the old copy and paste style of adding contacts. Add to Contacts is available for Windows 10 PC and Mobile, as well as iOS and Android platforms.
George is the Reviews Editor at Windows Central, concentrating on Windows 10 PC and Mobile apps. He's been a supporter of the platform since the days of Windows CE and uses his current Windows 10 Mobile phone daily to keep up with life and enjoy a game during down time.
Wow, this guy is a long time and dedicated developer. I remember him from WP7.0 days. Ahh memories.

Yes! I may be one of the few still around since the beginning, and we are still actively developing, but mostly corporate apps as well as iOS and Android. Thanks for being such a supportive fan! #WindowsForTheWorld

Glad you still around man, you give us the hope Microsoft lacks.

Where's Rudy? Do you collaborate with him?

Rudy took a job with Microsoft some time back.

Yes he is... Nice to know he's still around.. Now, where's Rudy? We need some updates.
I hope that gig he got with MS isn't taking all his time from Windows development
Well, it's most likely iDroid that's taking his time from Windows development.

Tell me about it... What happened to the Universal 6tag app?? Is it still happening?

I don't think so...but who knows....

I'm pretty sure he's a full time employee with Dropbox now and has been for some time. One of the reasons that app is so nice. He's missed in general though, he could build anyone's app and better. He just kept getting shut down. Disappointing for him I'd say.

Wow! How awesome would it be to finally have Cortana available in my region! But by now I also have the feeling, it will never happen on Windows Mobile 10.

BTW, you can easily use Add to Contacts without Cortana...super easy from within the app itself. Enjoy!

BTW, for those of you who want Add to Contacts on iOS or Android, here are the links: iOS
https://itunes.apple.com/us/app/add-to-contacts/id1240360026?ls=1&mt=8&a... Android
https://www.windowscentral.com/e?link=https%3A%2F%2Fwww.anrdoezrs.net%2F... Enjoy!

NOTE: There is also a new Cortana Skill available for Add to Contacts. If you want to be part of the BETA just email us at the support address via the app. Enjoy!

Please make a Tinder app. Lol.
I've "met" so many "ladies" on there I should have aids😲😲😲😲😲😲😲😲
But, seriously😐

I guess we need to add a trial back in...since we totally re-created Add to Contacts fresh for all platforms we just got it out there for all our existing users who wanted it now that they were on iOS and Android as well. I'll add Trial version functionality some time next week and do an update. Sound good?

Buying... Still have three Original installed.

Excellent. As a note, we have had a few original users have issues on upgrade as the platform is totally different, so if you get any weird behavior you can just uninstall, restart your device, then reinstall. Enjoy!

Sounds awesome sauce! Thanks. It's got a 2 star rating, albeit from only one review, on the Canadian Windows Store so I'm just a tad wary paying up front.

Does this app let me add businesses and locations in the map app directly to the contacts app?

It will in the next update via Share in the Map app. We removed it from this release because Microsoft changed what go sent over in the share content, but look for this feature (for the Windows version) around Friday.

Damn.... MS doesn't know exactly what they had with the WP community. Granted, with a Surface Phone, MARKETING, and a few other OEM'S on board, they could at least get back to where they were.... And, to tell you the truth, where they were was just fine for me. Third party devs like LD, and Rudy, held us down, and major apps were coming in as market share very slowly rose... But, we were on the uptic... I hope we can at least get back there... Don't give up Liquid Daffodil!!!

I just want to say that while I love Saw's Juke Joint, I really like Golden rule on Hwy 31 the best. BBQ sandwich with inside meat and extra pickles please.

Too bad I owned when it was for Windows 8, I guess the license doesn't carry over to Windows 10.. 😢

It's a brand new app. Completely redeveloped and redesigned. I don't think it should carry over. He needs payed for his work.

Now we just need Local Scout! 😉

Awesome! I loved this app for Windows Phone 7/8. Wondered why my old license didn't carry over but paid for it anyway because it's so useful.

Any chance for a mention for my UWP? "Contacts Transfer", copies your contacts from Google and Yahoo to Outlook.com. For mobile and desktop...

I'll have to check it out!

I have purchased this app because I thought it could be very useful. At this stage it has crashed constantly 😣☹

No crashes on Mobile at all. Only one crash for me on pc

Go grab the latest update and you'll be all fixed up!

Go grab the latest update and you'll be all fixed up, AND you can now share directly from Maps. Enjoy!

Addition to my prior content. App was terrible when downloaded as it crashed constantly but has had a few updates this week after my comment and is going well now. Thanks guys, makes me feel like you are listening even if it was a coincidence. 😀
Windows Central Newsletter
Get the best of Windows Central in in your inbox, every day!
Thank you for signing up to Windows Central. You will receive a verification email shortly.
There was a problem. Please refresh the page and try again.