List of The Division 2 known bugs and launch issues
Let's hope they fix everything soon.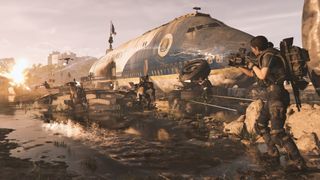 (Image credit: Ubisoft)
One of Ubisoft's most-anticipated new titles is The Division 2, the sequel to the popular first game that launched back in 2016. The Division 2 is a third-person military shooter which tasks you with stopping malicious forces from seizing control of the government in the District of Columbia. It's unclear how the rest of the country is affected at this point.
As with any online game, The Division 2 has a number of issues. You can read about all of them below alongside potential fixes.
Known issues
Update your graphics drivers
When you are on PC update your graphics card drivers to the newest version.
Deactivate DirectX 12 on crashes
It has been reported that DirectX 12 causes crashes, turn it down to DirectX 11.
Audio problems
The Division 2 team is aware of numerous reports regarding audio issues within The Division 2. They are currently working to resolve these issues as soon as possible.
Disappearing enemies
Some users are reporting that sometimes enemies disappear while still shooting at you.
Missing language packs
Some physical copies in select regions like Russia don't seem to have local langauge packs.
Incoming fixes
Implemented a fix that should reduce occurrences of client crashes when using skills.
Fixed an issue where players could be stuck in the wrong World Tier if they completed Strongholds without meeting the required Gear Score while in a group.
Fixed an issue where players wouldn't be able to talk to agent Kelso at the Castle Settlement.
Fixed an issue where players could obtain multiple Ivory Keys from the same source.
Fixed an issue where map progress would not be saved when completing Open World activities and Side missions in another players' instance.
Fixed an exploit that allowed players to loot Supply Drops multiple times.
Fixed a bug where players could buy blueprints repeatedly at the vendors by logging out and back in.
Fixed an issue where combining the Dialed in talent with the Emet Mask could lead to greatly increased Accuracy and Stability.
Unlike Anthem or Fallout 76, The Division 2 has very few problems. The fact that the performance is solid on consoles also helps.
Have you encountered any other problems? Let us know.
Save the American government
(opens in new tab)
The Division 2: Ultimate Edition
The continuation of a popular franchise

One of Ubisoft's most-anticipated new titles is The Division 2, the sequel to the popular first game that launched back in 2016. The Division 2 is a third-person military shooter.
Asher Madan handles gaming news for Windows Central. Before joining Windows Central in 2017, Asher worked for a number of different gaming outlets. He has a background in medical science and is passionate about all forms of entertainment, cooking, and antiquing.
The issues I've encountered is the 4 player party isn't balanced correctly with the enemies. It's better with 2 player than 4 player. 4 player party enemy balance in Division 1 was much better even on Legendary than it is in Division 2. Also, when you use your skills they immediately disappear however the cool down time to recall them is like 15 seconds but that doesn't help if you can't use them. Seems the drone and chem launcher last the longest. On Tuesday and Wednesday when the game launched for those who pre-ordered it worked fine, but after Friday's launch it didn't work right. Others in my part started noticing it with their skills to.

Besides the bugs and still lousy drops, I was disappointed to find out that Div2 does away with the special ammo/Consumables radial and dumbs them down to just immediate use and we now only get one type of nade depending on which specialization we have. Why they made these changes is beyond me - other than they wanted to give us less choice and wanted a more arcadee feel. My only gripes I had about Div1 were the convoluted build mechanic and the lousy drops. Those are all Ubisoft should have changed in Div2.
Windows Central Newsletter
Thank you for signing up to Windows Central. You will receive a verification email shortly.
There was a problem. Please refresh the page and try again.