Little Acorns going nuts on Xbox Live for Windows Phone this week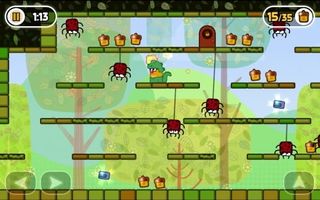 iOS version
If there's one thing we love in the gaming division at Windows Phone Central, it's bringing our readers exclusive news about upcoming Xbox Live releases. Once again we have the scoop on this week's new Xbox Live game: Little Acorns from Chillingo.
Little Acorns is a traditional 2D platformer starring a squirrel who reportedly enjoys acorns. In fact, the goal of each level is to recover all of your stolen acorns and then reach the exit. That's just a 'basic clear' though. To fully clear the level, you must also gather five fruits that appear after the acorns have been collected plus finish under the speedrun time.
The fruits unlock clothing for your squirrel, and fully clearing levels also contributes to several Xbox Live Achievements. Speaking of which, several of the Achievements have extremely vague descriptions, so let's hope they're easy enough to figure out during gameplay.
Controls
One area of concern with mobile platformers is that of controls. With no physical d-pad or buttons to rely on, developers basically have to choose between either virtual or tilt controls. Mush recently used tilt controls quite effectively. Little Acorns however relies on touch-screen buttons for movement and jumping. Reportedly the controls work quite well on iOS, so they shouldn't be much of a problem on Windows Phone either.
Priced
Little Acorns comes to Microsoft's mobile platform with a disadvantage over the iPhone version, though: price. On iOS it has always cost 99 cents, but it will be $2.99 on Windows Phone. The higher price point is surprising given that Chillingo's last game, physics puzzler Feed Me Oil launched on WP7 at 99 cents. Perhaps Feed Me Oil didn't sell in large enough numbers to justify the higher price. I keep saying we have too many physics puzzlers on Xbox Live…
At any rate, Little Acorns should provide plenty of fun when it launches on Wednesday, August 15. With 80 levels and 3,000 acorns to find, that squirrel's going to be busy!
Paul Acevedo is the Games Editor at Windows Central. A lifelong gamer, he has written about videogames for over 15 years and reviewed over 350 games for our site. Follow him on Twitter @PaulRAcevedo. Don't hate. Appreciate!
$2.99... nooooooooooooo
Having said that, I hate platformers so it'll have to be a very engaging demo to get me to purchase.
Hopefully the acievements are not as glitchy as Sally's Spa...

I feel that for Microsoft to entice people to switch they really need to focus on getting app prices to the same levels or lower as other platforms. It's hard (and costly) enough rebuying all your apps when switching from ios or Android, but having to pay more for them is just another barrier to entry that a growing platform doesn't need.

I personally do not mind the price, but your point is accurate. WP needs to have similar prices when compared to ios and android. Paying 3x what ios prices the same games because of a leaderboard and achievements does not hold weight to the majority of smartphone users. The Majority of users do not care what the cost is to port from other os's. I hope wp8 brings a more competitive marketplace for the finicky phone users out there. My ios and android devices always have sales what appear to be daily and quality titles. EA games are always on sale on my iPad. I want wp8-w8 to be successful but there are some basic things holding them back, pricing and marketplace is one.

Definitely a no go for me. Meeeh.. Well, looking forward to next week then. Shoot 1 Up.

Chilling, WE NEED CUT THE ROPE, in WP7 and not just in WP8 and W8!!!! Please!!

I love cut the rope. My kids play that constantly.

Really need better games on WP, especially when they want to charge more than other platforms.

Omg, so cool. The game is really good. Good call I can afford it!

I there with you on the platformer thing. I just wish that more shooters or something from adult swim would be cool. Can't wait for that one shooter coming at the end of the month.

True. When discussing WP live titles with people they want to see something similar to xbla, and big names in the likes of halo, gears, etc. Not necessarily shooters, but a game based on those franchises. Halo wars rts game would be great, and about any xbla game would as well. I am ok with the current marketplace, but I also expect an improvement in titles and something that compares to xbla.

Castle crashers is what we need.... Nuff said

No cool xbox live week...again! Microsoft shows little love to serious gamers. By the way: Still no word on last weeks missing dotw....thats just not acceptable

They want to charge more? Fine... But look at our Pitfall for $2.99 and the iPad for $.99. I'd rather they just punched mr in the face than insult us like that. Disgusting

I'd rather prefer the controls to be touch anywhere (right side, left side, upper side) than virtual keys. Well, maybe it's not so bad.
Mobile phone which try to mimic games with proper control devices are going to fail. I read about these Halo or Gears on a phone... It would be awful and it would destroy the I.P..

Damn, I was counting on $0.99 on this one. At $2.99 it's an easy pass for now. Oh well, with last weeks DotW going AWOL and this achievements-not-syncing-correctly debacle, I'm very happy to not give MS any money.
6 months ago they were doing so well. Lots of price drops to $0.99, I thought things were looking up. But in the last week they've really dropped the ball (IMO)

I will be getting this but seriously where the hell is Sonic 4 ep.2?
Every week since July i've been hoping.
SEGA has ignored every email ive sent!

+1 ... i mailed sega tons of mails ... no reply :( sonic cd ...sonic4 ep2 .... i think sega has cancelled the games for windows phone 7 and wait for wp8 ...

Oh yes. No Sonic has been a major gripe for a while.

I've been promising an update on btoh Sonic games for a while, and it is still coming. Just waiting on SEGA to return their part of the interview.

As this is a thread related to games I shall reiterate my often asked question.
Where is Sonic 4 Episode 2 and Sonic CD?
This little lack of more blue hedgehog running jumping and smacking robots to free small animals coupled with a constantly disappearing keyboard on my Omnia 7 is making the Galaxy Nexus look mighty tempting.

Different week same ol comments.

Would hate to be a developer releasing anything now considering all the problems everyone is having with their achievements not registering properly. I wonder how many gamers will hold back from buying this, or any other Live game. I for one am...

Over reacting much? One game.

Umm, no, if you read the forums over at 360a you will know that it's happening across all Live games, old and new so get your facts right before attacking me and saying that I'm 'over reacting' its only ' one game '.

I just completed Mirror's Edge 10 minutes ago, you can check my profile. That's called facts, not internet bs.

Going off topic but hey, what the heck I'm in a sharing mood. Really excited about Sleeping Dogs, just ordered it along with Prima's Guida both items for 55 EUR, not too shabby... wish I could play it today. As it is, guess I'm going to do the last Achievements of Deadlight, and tomorrow Spec Ops fubar run. Tough, but fair.

Really, did you check the forums??? And why is it happening to so many WP users, including myself?? Not internet bs, fact!!! Why don't you ask Paul then, and see who is bs, douche!!!

Name calling... classy. Paul is on my friends list, he unlocked a shit load of Achievements of Dust today, and a couple os Asphalt yesterday, the only problem is with some of Sallys.
Anyway, going to play Deadlight. And chill, it's bad for your skin. Check my profile!

Dust isn't a WP game is it. You finished mirrors edge, well done, I guess you didn't unlock 2 achievements one after the other, hence this is where the problem lies. For some reason if you get two achievements one after the other then one if them remains locked on your profile, but not in game. But if you had checked the forums you would've known that. And btw, Paul is on my friends list too and I asked him earlier this week if he could investigate to see what was happening... Peace...

Let's not fight, guys! And yes, that is a real phenomenon and it will hopefully be fixed soon.

Concerning the problem of achievements not appearing on XBL, I encourage everyone to post in the support thread http://forums.xbox.com/xbox_forums/xbox_support/f/1017/t/307213.aspx . It can only help escalate the issue and get the problem resolved as soon as possible.
Windows Central Newsletter
Thank you for signing up to Windows Central. You will receive a verification email shortly.
There was a problem. Please refresh the page and try again.