Livelock will see futuristic machines fight each other on the Xbox One and PC in 2016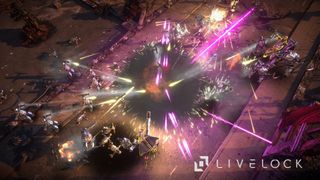 Fans of top-down shooters should be on the lookout for Livelock. The futuristic-themed game was announced by publisher Perfect World Entertainment, and will be released in 2016 for the PC, Xbox One and PlayStation 4 platforms.
The game is being developed by Canada-based Tuque Games. This is the first "buy-to-play" game from Perfect World; they normally release online "free-to-play" MMOs such as Neverwinter and Star Trek Online. Here's the quick breakdown of Livelock:
Source:Perfect World Entertainment
Windows Central Newsletter
Get the best of Windows Central in your inbox, every day!
Oh boy, for a moment I thought that was about Live Lockscreen. Idk why.

Me too. And the Picture also looks like LiveLockscreen's analogue clock in PC. :p but after reading the post I realize. Lol its a game.

Looks like my kind of game.

Damn, I misread the title as something regarding the live lock screen app....

At first glance, I thougt it was a game about fighting off Identity Theft...

Aww, lame. At first, I was hoping we would be getting something to fill the gap long left open by the loss of MechAssault, one of the first Xbox LIVE games. I miss that, the closest we seem to ever get is playing in that Mantis vehicle in Halo. I'd sure like another true mech game of that nature, not this skinned top-down shooter.

That was a fun series. So was Crimson Skies. I'd like a MechAssualt on the One too.