Lock Buster updated to v4 on Windows Phone 8, brings the power of Nokia's Imaging SDK and more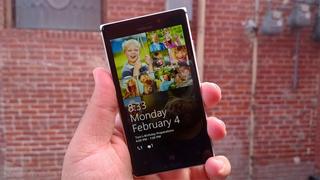 In the Windows Phone community there are a handful of devs we all seem to know on a first name basis. Add Andy Stumpp to that list, he's the developer of a handful of apps you use and love. He was one of the first devs to take advantage of the Nokia Imaging SDK with OneShot. He's also made two very popular lockscreen apps – Lock Buster and Hello Friends. He's just updated Lock Buster to version 4.0, let's see what's new.
Lock Buster is an app that lets you use images from your picture library to decorate your Lockscreen. We last saw Lock Buster get updated to version 3.0 in early April. That update brought two features, the ability to display the weather or the current battery level. Here's what is new in the latest version:
Filters
Collage sharing
Instant refresh
Overlaid fader
Other improvements
The first addition to Lock Buster comes from the experience Andy had in creating OneShot. The app will now tap into the Nokia Imaging SDK and use a filter of your choice across the various photos in your collage/Lockscreen.
Next up is the ability to share the collage you've created. After you've created the collage within Lock Buster you can share it. Output options include basically any app that can share, like Bluetooth, Messaging, Email, and other any app you can think of.
Instant refresh is a new feature that should be pretty useful. How does it work? After you've created collage in Lock Buster you can pin a tile to your Start screen that will instantly refresh the collage. Depending on how you've set up a particular college it might refresh at various intervals throughout the day. But if you happen to see a current Lockscreen collage you're not happy with you can refresh it with a single tap.
The bottom of the collage is where the various system info is presented on the Lockscreen. Things like the time, date, and notifications appear down there. New in v4 of Lock Buster is the ability to set different shadings for the bottom portion of the collage. So you might have it darker to improve legibility or decrease it depending on your tastes.
The app also includes various improvements that you as a user might not see or notice right away. For example, the background refresh process has been tweaked and optimized to improve memory consumption while improving reliability.
Lock Buster is available for Windows Phone 8 devices. There is a trial that lets you try the app out for three days with few limitations. Otherwise it goes for $1.49 in the Store.
Interested? Pick it up in the Windows Phone Store, use the QR code below or swipe to the right in our app.
Via: Andy Stumpp
Get the Windows Central Newsletter
All the latest news, reviews, and guides for Windows and Xbox diehards.