Logitech MX Master 2S review: the most productive mouse you can buy
The new MX Master 2S from Logitech improves upon its predecessor in many ways, making it still king of non-gaming professional mice on the market.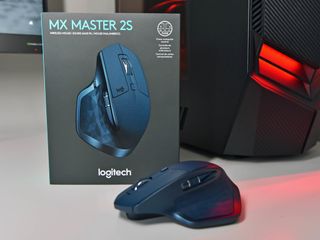 Few names carry as much weight as Logitech when it comes to computing peripherals, especially PC mice. The company has over 80 wireless mice in its catalog, and the MX Master series is its premium experience.
The MX Master 2S is priced at $99, but it brings to the table a comprehensive assortment of features and options aimed directly at the productive power-user. I've spent the last week with it and here is what I like and what I don't.
About this review
The Logitech MX Master 2S for this review was purchased on Amazon for $99.99 in midnight teal. The graphite edition (a.k.a. black) is $11 cheaper at $89.
See at Amazon (opens in new tab)
dark lasers
MX Master 2S features and specifications
The MX Master 2S utilizes Logitech's Darkfield high-precision laser for its sensor. Compared to traditional laser sensors, Darkfield not only sound intense but allows you to use the mouse on surfaces typically not laser-friendly, e.g., clear glass or plastic.
Mouse sensitivity for the MX Master 2S ranges between 200 and 4,000 dots-per inch (DPI) with user customizability at 50 DPI increments.
Swipe to scroll horizontally
Category
Specification
Colors
Graphite, Midnight Teal, or Light Grey
Sensor
Darkfield Laser high precision
200-4,000 DPI (increments of 50 DPI configurable)
Sampling
Up to 210 inches per second
50 G acceleration
1,000 Hz polling
Wireless tech
Bluetooth Low Energy
Advanced 2.4 GHz with Unifying receiver (dongle)
Distance: 10m
Buttons
Seven including Back/Forward and middle click
Gesture buttons
Scroll Wheel
Main wheel with auto-shift
Secondary thumb wheel
Customization
On-The-Fly Sensitivity Adjustment
Software
Logitech Options and Logitech Flow
Dimensions (L x W x D)
0.7 in (18.4 mm) x 0.6 in (14.4 mm) x 0.3 in (6.6 mm)
Weight
145 g / 0.32 lbs (Excluding cable)
Battery life
Up to 70 days
Battery
Rechargeable Li-Po (500 mAh) battery
Micro-USB charging (cable included)
Besides the nifty laser sensor, the MX Master 2S also features seven buttons and a rather large 500 mAh battery, which likely contributes to its hefty 145g weight. That battery should last around two months of regular usage and is fast rechargeable through an included four-foot micro USB cable. Logitech claims that just a three-minute charge is enough to last an entire day.
When it comes to wireless technology Logitech offers you the choice of using their proprietary 2.4GHz Unifying Receiver USB dongle (which can work with multiple Logitech devices, including mice and keyboards) or Bluetooth Low Energy.
An assignment button on the bottom the MX Master 2S lets you pair up to three PCs or Apple Mac computers using the 2.4GHz dongle or Bluetooth. By tapping the button, users can dynamically switch between devices, which is excellent for those who like to use the same mouse on their laptop as their desktop.
Compared to the original Logitech MX Master (now $62 on Amazon (opens in new tab); see our review) the MX Master 2S bumps the DPI from 1,000 to 4,000 for smoother tracking and the battery life has almost doubled from 40 to 70 hours. Otherwise, the mice are mostly the same for overall design and features.
Quality build
MX Master 2S design and feel
Logitech has a lot of experience with mouse ergonomics, and that is exemplified with the MX Master 2S. Built for right-handed users, the MX Master 2S is easily the most comfortable and natural feeling mice on the market.
The MX Master 2S features Logitech's famous thumb-wing, as I like to call it, that lets your thumb be cradled and carried by the mouse during movement. The design also lets you quickly access the two thumb buttons (back and forward, by default) and the dedicated thumb wheel. Those two buttons are layered on top of each other, which is unusual, compared to other mice who offer a horizontal pairing. Despite the unique format I quickly picked up the differences between the buttons without having to look, owing credit to Logitech's design team.
The thumb wheel is a very smooth and almost silky. How you utilize that unique button for input is up to you. Logitech lets you assign the thumb wheel scroll for horizontal scroll (default), forward/back, increase/decrease brightness, volume, switch applications, tabs, or even zoom. It's a smart design and while it took time to get used to it's a great option to have available.
Turning to the top of the MX Master 2S there are the familiar two buttons with the main scroll wheel and a gesture button. The main left and right buttons have very loud clicks that are very noisy. Some users like very audible clicks and you get that with the MX Master 2S. I would have preferred them to be a bit more muted.
The main scroll wheel is outstanding. By default, it's a step wheel with discernable clicks between each scroll step. However, Logitech also brings its "speed-adaptive scroll wheel" tech to the MX Master 2S that auto-shifts from click-to-click to hyper-fast scroll. How this works is if you are in a long document or web page and you scroll, it acts like in a step fashion, but if you spin the wheel very fast, it removes that step click and switches over to fast scroll. Once the wheel slows down again, it shifts back to click-to-click. Of course, by depressing the top middle button (a.k.a. "gesture button") you can permanently toggle between fast scroll and click-to-click as a preference. Finally, that wheel acts as middle-click too for those who use that option.
The gesture button is also user assignable. It's called a gesture button because as you hold it down if you move the mouse in one of four directions, it engages a new function. For instance, if you hold the button down and move the mouse forward it can bring up the Windows Start menu. Pressing the button and moving the mouse back can minimize all your opened apps to show the desktop. Options for this button include virtual desktops, windows management (Windows Snap, maximize window), media controls, zoom/rotate, and more, all making the MX Master 2S a highly efficient peripheral. These gesture movements do take time to normalize into your workflow so expect a mild learning curve.
Unfortunately, Logitech did not opt for a cradle pocket for its Unifying 2.4GHz receiver. That means if you want to use the MX Master 2S with your laptop you need to be careful during transport that you do not lose it. While not having a compartment lets Logitech utilize a larger battery and have a more consistent design this lack of compartment is annoying, to say the least.
Of course, you can just use Bluetooth instead and forget the dongle ever existed.
Finally, for overall design, the MX Master 2S comes in three colors including graphite (black), midnight teal, or light gray (white). The version evaluated here is midnight teal, and while not ostentatious it does add some pizzazz to your desktop. For some reason, the teal and white editions are almost $11 more than the black and gray MX Master 2S. While the MX Master 2S is plastic, it feels like a hybrid between plastic and soft-touch paint with some very neat (and comfortable) angular grips for the sides and thumb area.
Killer software
Logitech Options and Logitech Flow
Plugging in the Logitech Unifying USB receiver or pairing via Bluetooth was instant with the MX Master 2S requiring no separate software installation (Windows 10 automatically configures the mouse with no user input).
However, users are strongly encouraged to download Logitech Options, which lets you set up the mouse's buttons and behavior. Compared to Logitech's software for its gaming mouse, which is atrocious, Logitech Options is a dream. The app scales for high-resolution displays and is easy to understand, navigate, and it just looks fantastic.
Image 1 of 2
Besides letting users configure movement (pointer speed, scroll wheel direction, wheel sensitivity, etc.) users can set each of the seven buttons and check the battery. The battery meter is not very precise with just a three-bar graph that says "good" when you hover over it.
The killer bit about Logitech Options is Logitech Flow. Flow lets you use the MX Master 2S on two PCs at the same time. For instance, if you are working on your desktop but have your laptop nearby you can mouse to the laptop from the desktop. Not only is that convenient, but it lets you copy and paste text and images between devices. The whole thing sounds like a commercial implementation of Microsoft Garage Mouse without Borders (opens in new tab), and while bizarre to use (at first), it's an ingenious and useful feature.
Image 1 of 2
You'll need to have Logitech Options installed on both PCs, be on the same network, and obviously have the MX Master 2S paired to both devices (doesn't matter if 2.4GHz or Bluetooth), but it worked marvelously. Besides mice, you can also use Logitech Flow with a handful of Logitech wireless keyboards too letting you mouse and type on two PCs at the same time. That's awesome.
I usually don't gush about mouse software, but in this case, Logitech Options and Logitech Flow are so good that I consider them a selling point of the MX Master 2S.
Slight adjustment, but worth it
Logitech MX Master 2S is still fantastic
When I first started using the MX Master 2S, I was coming from the new Razer Lancehead. The Lancehead always felt natural to me from the moment I first used it with an overall excellent tactile response and a brilliant design. The MX Master 2S took me a bit longer to adjust, but I think that change may be worth it if gaming is not your priority.
The MX Master 2S's scroll wheel is slightly larger than what I would like, and button clicks would match nicely with a mechanical keyboard with Cherry MX switches, but not for someone who prefers quiet peripherals. There is also a slight rattle to the mouse when if you lift and place it down, which is annoying. Nonetheless, these are minor quibbles. The MX Master 2S does so many other things right that it is hard to ding it for much.
When it comes to wireless technology, the 2.4GHz option is more accurate and preferred, but Bluetooth is more convenient for laptop and results in a longer lasting battery.
The MX Master 2S button layout compliments the software reconfigurability giving users a very powerful toolset for doing a lot without many clicks. While I wouldn't protest higher DPI settings (the Razer Lancehead goes has four times the DPI at 16,000), I didn't have any issue using it on the Microsoft Surface Studio with its nearly 5K display. Accuracy was also decent, but obviously, gaming mice – either laser or optical based - tend to beat out productivity ones, and I found that to be the case here as well.
Finally, the main selling points for the Logitech MX Master 2s are its super comfortable grip, excellent button layout, and software combination, and that laser sensor which works on any surface including glass. The $100 price-point puts this in the premium range of mice, but for professionals who want a non-gaming mouse with a bevy of useful features, there does not seem to anything better on the market today.
See at Amazon (opens in new tab)
Pros:
Super comfortable grip and cool design.
Excellent scroll wheels and button options.
Outstanding support software.
2.4GHz or Bluetooth options with a multiple device pairing button.
Cons:
No storage compartment for the 2.4GHz dongle.
Slight rattle and loud mouse clicks.
DPI settings are decent but not outstanding.
Windows Central Newsletter
Get the best of Windows Central in in your inbox, every day!