Logitech's C922 Pro Stream Webcam is made for serious video streamers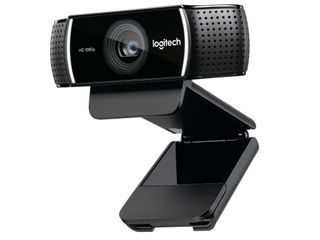 Logitech has announced its C922 Pro Stream Webcam, designed as a successor to its popular C920 webcam. It includes a background replacement feature and can stream or record video at 60fps at 720p or 30fps at 1080p.
The older C920 webcam has been a popular choice for both game streamers and YouTube vloggers. Logitech's press release says the new C922 webcam uses "intelligent shape recognition" so those streamers can get rid of the background in their videos and overlay the gameplay footage behind them:
The webcam comes with a tripod and also a free three month XSplit Premium license that will allow game streamers to quickly set up and stream their videos with a number of features. The Logitech C922 Pro Stream Webcam is on sale now for $99.99 (opens in new tab).
See at Logitech (opens in new tab)
Windows Central Newsletter
Get the best of Windows Central in your inbox, every day!
yes. https://www.ptgrey.com/flea3-88-mp-color-usb3-vision-sony-imx121-camera

Thats gonna look bad on top of your monitor though, and good luck uploading it on your home broadband :)

Windows Hello compatible?

No. It's just a regular webcam.

Just came to wonder but shouldn't a RealSense or Kinect Camera technically offer the best "background removal" technic?
I mean it's not limited by guessing the background color and then remove it - Because of DoF it knows what the background is, no?

You're not incorrect, but there are already software solutions that can offer a similar background removal feature, albeit not quite as effective. I've tried one called TriDef Smartcam and it's decent for 10 bucks but pretty CPU intensive. Will be interesting to see how good Logitech can do it in software.

The Creative's version of the SR300 should be out in a few weeks. you can get the same version as a Developer's Kit on Intel's site.

The Razer Stargazer should also be out at the same time.

I need to check on UK pricing for this. If it's reasonable I can abandon my idea of using an Xbox One Kinect w/ PC Adapter....It's a bit massive to mount on top of a monitor just for Hello.

Looks to be a reasonable price direct http://uk.creative.com/p/web-cameras/blasterx-senz3d

Thank you that's not bad! The alternative is a used Kinect (cheap) and the PC adapter, but they are sold out at MS UK so about £37 from other sites. Probably looking at £30 for a used Kinect, so it IS half the price but the creative can completely replace my Logitech C920, I don't think the Kinect can be used as a webcam on PC and might not be that good anyway

Yeah I got the Razer Stargazer, it has active Background Removal, better for streaming. Posted via the Windows Central App for Android

Has (or can) someone compared this model to the Microsoft LifeCam Studio? I use two of those plus a LifeCam Cinema in my netcast. I absolutely LOVE the LifeCam Studio, and I can't imaging a Logitech camera meeting or beating that performance, but I'm open to pursuasion. Also, I'm looking for a newer camera that has impressive zoom capability. Right now, not even the LifeCam Studio can zoom in very far if you are using it in a big room.

Shame W10 dropped support for Webcams.

Umm, my webcam, a Logitech C920, works just fine with W10.

Gah Logitech, make a camera that's worthy of an upgrade to the c920 that has windows hello will ya????