Looking for Laika is an absolutely brutal arcade game for Windows Phone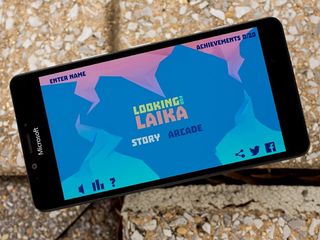 Looking for Laika, from the Windows gaming giant Game Troopers, puts you into the role of a spaceman whose puppy's been kidnapped by aliens, and you're on a quest to rescue it. To get your loyal companion back, you have to navigate across a challenging maze of rotating planets littered with a multitude of dangers.
Looking for Laika has two gaming modes that can be brutal, along with simple controls and catchy graphics. It is not a Windows Phone game for the light-hearted, but if you're looking for a painfully difficult arcade game, Looking for Laika may fit the bill. The only downside to the game, asides from being brutally hard, is the lack of a trial version.
The main menu for Looking for Laika is somewhat minimal with options to jump into gameplay, mute the sound, view the online leaderboard and access the help screen. You will also find options to share the game, visit the game's Twitter or Facebook pages and set your screen name for the leaderboard.
The two gaming modes with Looking for Laika include "story" and "arcade". Story's a multi-level game with twenty-five worlds to conquer; it has you navigating through the maze of planets, avoiding dangers, collecting keys and ultimately reaching the exit portal. Arcade, on the other hand, is an endless runner-style game where you jump from planet to planet and see how far you can travel. The maze of planets changes with every game, keeping things from growing monotonous and predictable.
The mechanics of gameplay are consistent regardless of the gaming mode. Your spaceman will start out spinning from a planet that is at the left of the gaming screen. When the timing is just right, tap the screen to have your spaceman jump from one planet to the other. If you need a boost, you can tap the screen a second time to activate your jetpack for a short burst.
There will be objects between the planets you can use to bounce off and objects that will be disastrous if you hit them. Should you miss landing on a planet, your spaceman will fall to his fate.
There are a few gameplay differences in the two gaming modes, as you might expect. In Story mode you have three lives to work with. Lose one life and you return to the last planet to which you were safely attached. Lose all three lives and you restart the level from the beginning. You also will find hearts that can be collected for extra lives and diamonds to give your score a boost. The game is timed and the faster you collect the key and make it to the exit, the better your score.
Arcade Mode, again, is an endless runner style game where you jump from planet to planet and see how far you can survive. Where in the Story Mode you can always jump back to a planet, with the Arcade Mode once you leave the planet it bursts like a balloon. You are only afforded one life in the Arcade Mode.
In either game mode, timing is key. Jump too soon and your find your spaceman slam into an obstacle, jump too late and your spaceman simply flies straight up or backward. The latter can be fatal in the Arcade Mode in that once you leave a planet it is removed from play and you may not have a safe place to land.
A fun but but brutally difficult game
Looking for Laika has a lot of positives going for it. The graphics are a bit on the minimal side but work well. Game mechanics are simple, one-touch controls and gameplay is very challenging.
This Windows Phone game also has a few negatives going for it. While gameplay is challenging, don't be shocked if it continuously kicks your butt. If you have a fantastic sense of timing, you will still find gameplay challenging. The other negative is the game lacks a trial version and when the two are combined, I can see some regretting making the purchase due to the difficulty of gameplay.
Looking for Laika is a great game but really needs a trial version to let those of us who struggle with timing games see if it's worth the investment.
Negatives aside, I do think Game Troopers has added another hit game to their portfolio. It has an addictive quality that will keep you coming back for punishment and when you do make it to an exit portal, you feel as though you have accomplished something. If you like challenging, brutal puzzle games Looking for Laika is right up your alley.
Looking for Laika is available for both Windows Phone 8.1 and Windows 10 Mobile with support for low-memory devices.
Download Looking for Laika for Windows Phone ($1.99)
Windows Central Newsletter
Get the best of Windows Central in in your inbox, every day!
George is the Reviews Editor at Windows Central, concentrating on Windows 10 PC and Mobile apps. He's been a supporter of the platform since the days of Windows CE and uses his current Windows 10 Mobile phone daily to keep up with life and enjoy a game during down time.
Waiting for myappfree again

It's not sad. Why pay for something you may not like? People always say "oh it's only the price of a cup of coffee" but at least you get to drink the coffee. If you paid for a game and hated it it's like throwing the coffee down the drain. Trials are completely necessary.

And then people still expecting developer to create apps for Win10.

Most people have to wait for apps to be free because they are in a country where Microsoft Store doesn't support any form of payment. So before you speak, understand first.

MS needs to be able to create a system where people can trial games without the developer having to have to come in and do extra work just for a trial version. I think Google is doing that now, everything is apparently capable of being trialed, not sure if it has rolled out fully though as I haven't logged into my android for a while.

Google play has no trial, you have to buy the game then you have few minutes (30?) to ask for refund.

A nice homage to the real Laika. *hat tip*

I've already beat it, good game. Here is my review https://m.youtube.com/watch?v=CiVnm3-z-UM

Again no Achievements? :-(

I'm the one that ported this game to windows phone and we had xbox achievements running but at the last moment Microsoft decided we couldn't become a "Xbox" title so had to rip the xbox part out of it now it only has local achievements :(

Wow, that sucks :(
Why would MS do that?

This game is for John Wick

Hey Microsoft, please sell Windows Store gift cards here in India. Make purchasing apps convenient for users :/

One more paid game well looks like one day even fb will be paid also

Do you think that the devs get their rent and food for free? If you work you get paid, and so are de devs.
Windows Central Newsletter
Thank you for signing up to Windows Central. You will receive a verification email shortly.
There was a problem. Please refresh the page and try again.