Lost Odyssey can now be played on the Xbox One, but only if you have the disc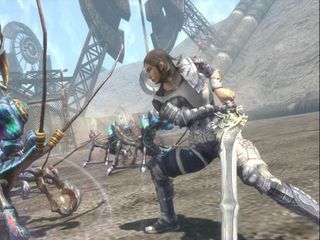 Microsoft updated its list of Xbox 360 games that can be played on the Xbox One via its backwards compatibility feature today. The latest update includes the classic fantasy RPG Lost Odyssey, but that game is only available in disc form.
Yes, Lost Odyssey is one of the few games on the list that is not available digitally via the Xbox Store. The development of the 2008 fantasy RPG from developer Mistwalker was headed up by Final Fantasy creator Hironobu Sakuguchi and published by Microsoft on four discs. If you want the game Amazon is currently selling a new copy for $78 98 (opens in new tab), or you can get a used version for a much cheaper price
See Lost Odyssey at Amazon (opens in new tab)
The other two new additions on the list include the movie-based family game Toy Story 3 and Guwange, a Japanese top-down shooter from developer and publisher CAVE.
Windows Central Newsletter
Get the best of Windows Central in your inbox, every day!
Such a great game. We dont get RPGs like this anymore

Yeah, it was a fantastic game!

This is by far my favorite JRPG ever. I played over 100 hours and got every achievement with exception to getting every treasure chest. I may have to play it again. Hopefully they make it digital at some point.

This is the best news! Lost Odyssey has forever destroyed my standards - now most other rpg storylines/characters pale in comparison.

Xbox doesn't get jrps at all..

I'm very happy about this.

One of my favorite games of all time. I may have to break this gem out and play on the One.

Toy Story 3! Awesome! My son has that on 360, now he can finally play on the One.

Why wasn't it every available digitally, and is there any chance they'll do so now?

I'm guessing at the time it was due to size, that's the only thing I can think of.

There are a number of 360 games that are not available on digital. King of Fighters XII and the GI Joe Movie game are two more examples. I believe the Captain America movie game as well.

Technically, they did release it digitally for Xbox One. It's just unavailable for purchase.

i don't think they will release it digitally , it was only available on disk on xbox 360 no digital version , sad

They will, check Phil Spencer twitter

I might actually be able to get around to finishing it now, I'm so close to the end.

Oh god please tell me they won't do the same for Blue Dragon, i'm afraid this might happen.

Noooo! My disc 3 is broken. I still have never finished htis game. lol This breaks my heart everytime I think about this game.

I have understood that for games that come in multiple disks, you only need to put the disc 1 on the Xbox One to play it. During the game, do not ask you to change it.

That would be true if all the discs are installed to the hard drive. I'm guessing he doesn't have that. Though if he could rent it somewhere it would get around the issue...

Xbox One doesn't run Xbox 360 from the disc, it just checks if you have it. It downloads an even bigger version from XBL.

Your good. Only disc 1 needed.

My disc 4 never loaded, this is great news that I might actually be able to finish it, now!

I made it about halfway if I recollect correctly; I remember being stuck in a maze of sorts, between this and Skyrim re-release I'll be a hermit for some extent of time.

I never played Skyrim because of how badly it ran on 360. I'm scared.

Oh nice. I might just get back to finishing this game.

Gives me hope we might see Blur one day. Love that racing game.

I snagged this from GameStop once news broke. It was $9.99 on their site at noon but then a few hours later when I had time to have it reserved at the store they marked it up to $14.99 (savages!)

Soo happy with this! Just put my disc in! Friday evening sorted :P

I've been waiting for this game to go BC. I'm gonna break out my copy and get it installed tonight.

Oh sooo happy just made an hr drive to the only GameStop that had a copy so worth it.

I never could start disc 4 as it was damaged and finally after eight years I can finish it.. Also just pop in the first disc and a 21gb download will follow

If a digital verssion needs to be downloaded to play why can it not be digital only?

Dont need the disc anymore