Let us know if you love or hate the new Start screen in Windows Phone 8.1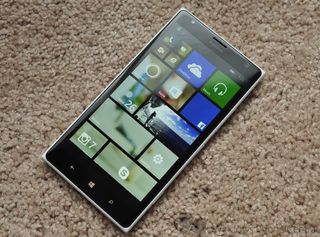 We are now less than a week from officially seeing Windows Phone 8.1 for the first time. The unveiling is happening next week at Microsoft's Build conference in San Francisco. Not only do we get to see the new mobile operating system from Microsoft, but Nokia is expected to announce two new Windows Phone 8.1 devices – the Lumia 630 (Moneypenny) and the Lumia 930 (Martini).
We've seen quite a bit of Windows Phone 8.1 over the past few weeks. Generally we've seen the Windows Phone community pleased and excited about all the upcoming changes. But there's one feature that has a lot of you divided. That's the new Start screen on Windows Phone 8.1. We've all wanted a little more customization options for the part of Windows Phone we spend a lot of time looking at. Microsoft is adding background image support, but in a way not a lot of people expected. Do you like it?
Check out the image above. That's how the Start screen will look when you select an image to it. A lot of people were hoping to be able to set backgrounds on the Start screen as you would in Windows 8.1. Right now in Windows Phone 8, you're able to select either a light theme or dark theme for your phone. The light theme gives a white background upon which your Live tiles sit atop, while the dark theme makes that space black. A lot of folks had hoped to replace that black (or white) space with the image of their choice.
That's not exactly how the new Start screen works in Windows Phone 8.1. Instead, you'll be able to have your image on the Start screen, but it'll show through the various Live tiles that can be set to transparent. It also animates really nicely thanks to a parallax effect. You can see it in action below.
Your turn
We've seen the community passionately divided on the upcoming change. Some users love it, while others are opposed to it. Thankfully this is just an option and not something you'll have to endure if you don't' like it. Personally, most of us here love it. It looks beautiful. Your turn. Share your thoughts in the poll below and in the comments.
Reading this in one of our apps? You'll want to head to Internet Explorer to take the poll m.wpcentral.com/love-or-hate-new-start-screen-windows-phone-81
Get the Windows Central Newsletter
All the latest news, reviews, and guides for Windows and Xbox diehards.