Lumia 1320 now available in the United States through Cricket Wireless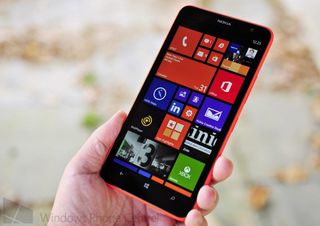 There's a new Windows Phone available in the United States. Head to the Cricket Wireless website today and you'll be able to grab the Lumia 1320! The phone packs a 6-inch HD display into an affordable package.
The Lumia 1320 was announced alongside the Lumia 1520 over six months ago at Nokia World in Abu Dhabi. It's now available for the first time in the United States thanks to Cricket.
Here are some of the features you'll be getting with the Lumia 1320:
6" Clearblack HD display with better outdoor viewing
Added protection with Corning® Gorilla® Glass 3.0
1.7 GHz dual-core processor
5 MP camera and HD video recording with Nokia Lenses to create perfect photos & videos
Windows Phone 8 with live tiles to customize what's important to you
3,400 mAh all-day battery*
4G LTE enabled
All of this is available for just $279.99 on Cricket. A nice bright orange is the color you'll be getting with the Lumia 1320.
Anyone thinking of picking this up? Sound off below!
Source: Cricket (opens in new tab), Nokia
Windows Central Newsletter
Get the best of Windows Central in your inbox, every day!
Good reminder,,,, I guess.

Yaaaaaaaaaaaayyyy!! I got an email with your reply to my comment!!! It's working again❕❕

http://m.wpcentral.com/introducing-hidden-gems-our-new-app-series-window...

"Juicy Chicken, Rice a Roni, Peanut Pot Pie"

Is it just me, or are articles repeating themselves?

The article says "it's not available for the first time in the United States thanks to Cricket."

I was about to point this out.

what is cricket here..? :/

Subsidiary of ATT. Used to be part of aio wireless, another subsidiary of ATT.

It was independent before ATT bought it, then it became a part of AIO under ATT and still is a part of AIO under ATT. They completed their full transition just this last month.

Cricket Wireless was owned by Leap Wireless. AT&T bought Leap's subsidiary, Cricket. Finally on May 18, 2014, all Aio Wireless (subsidiary of AT&T) dealer stores were officially converted to the Cricket brand and Aio Wireless ceased operation. Cricket ran only CDMA using Sprints network, but now with the buyout by AT&T, customers can either use GSM or CDMA depending on the handset they purchase.

Except don't purchase a cdma handset. ATT plans to shut down all of crickets CDMA operations within a year.

So... It's not going to be available?

It's now* available for the first time...

I would like them to sort out what major networks the device could be compatible with or not...T-Mobile selection being as limited as it is and all =D

Me too. Simple question: does it work on T-Mobile with phone text-SMS MMS 2G data 4G data LTE data

So it's the RM-996 model? Do you know if it comes unlocked?

It's the RM995 and it's locked to Cricket/Aio (AT&T?). I bought it last Friday and it's a great phone for the money!

Ah... http://www.gsmarena.com/nokia_lumia_1320-5791.php It should work with LTE on T-Mobile then, if it could just be unlocked.

You can get the RM-995 with full T-Mobile compatibility unlocked on Newegg.
https://www.windowscentral.com/e?link=https2F%2Fclick.linksynergy.co...

Cool, didn't read the reviews. Specs say only 2G for it, but reviews say LTE... Of course, it's $90 more than the cricket version. :/

That's Ok, T-Mobile plans are more expensive too. :)

Can it be used on Verizon? Anyone?

My question is will it work on at&t since they own Cricket now?

Lumia 620 from them did no problem.

If you mean the Aio Lumia 620, I disagree. I have one and it won't work with my AT&T Sim. Locked. I don't think the 620 was ever available from Cricket?

If you've had the phone for at least 4 months, they'll unlock it for you. Then it works with att just fine

That is a good question. AT&T Phones work with Cricket SIMs. But do Cricket Phones work with ATT Sims without being unlocked? Does Cricket even Unlock?


Yeah, what LTE bans does this US version of the 1320 support?

No, it will not unfortunately. I purchased it, put in my At&t sim from my Lumia 1520 (have to use adapter because uses micro vs nano sim) and LOCKED DOWN! Nothing. Bummer, given the fact that Cricket puts a cap on it's LTE data Speeds at 8mbs download, that's as fast as the phone will ever run on the download on Cricket. Meanwhile, I get 47mbs download on my At&t 1520 so that's something to consider before purchasing. And, you can't buy the phone outright appareantly??? I had to get a plan also, maybe others had different results.

GSM-based, so unless you're okay with no voice and SMS service, no.

NO it will not work on verizon and yes it will work on ATT

I would like to be a cricket

@Sam The camera has Full HD video recording.

Also available in Mexico with movistar.

My cousinw have tmobile and have horrible 2g service. Pay between $100-$180. Well I think they can switch to cricket and pay $110 for 5 lines om 500mb plans? Does that include taxes and fees? The smartphones will cost alot though, one has lumia 521, everyone else has flip phones. Posted via Windows Phone Central App

All of Crickets plan pricing includes taxes and fees. The price you see is the price you pay. 5 lines on 500MB/Unlimited plans would be $40+$30+$20+$10+$10 = $110. So yes that price is right. But any of the lines can be upgraded to 2.5GB/Unlimited for an additional $10 per month per line. You can mix and match services, not everyone has to be on the same plan. As for phones, they recently had the Lumia 520 on sale for $30. But it looks like that sale has ended :(

I'd get this phone if it weren't so big. I really like the specs and price otherwise. I was kind of hoping that someone would sell the Lumia 625 in the US market.

Whats with the asterisk sam?

It's probably clarifying that the battery lasts All-Day if you don't use your phone. :) edit: Yup. *Actual results will vary depending on device configuration and usage.


Any battery is all day if you don't use your phone.

Let me know when its for Verizon

I saw the 1320 in Claro P.R. It's been over for a couple of months already. If it had at least the snapdragon 600 chipset in it and 8.7 mp pureview camera and 1mp up front it would be great.

I heard it comes unlocked.

I have this phone on my Amazon wishlist. I can't decide which WP to get. 1320 or 925.

I have both and would vote for the 925 since it has a much better camera. Both "feel" the same, speed-wise, though.

If you want better camera (especially for lowlight shots) and wireless charging (back cover charging plate sold separately) then the 925 it is. If you want bigger screen with a slightly better processor and the ability to expand your phone storage, get the 1320. I have both and I prefer the 1320 over the sexy looking 925. Do note that the 1320 3 capacitive buttons do not light up. So when it's dark you might fumble with the buttons.

Already have this phone in the US. I got the international version

Im starting to hate my lum 1320 for its sharp edges.

The 1320 have sharp edges?. Are you sure?. I have the 1320 and I seems to not be able to find any sharp edges.

My english is not good. I meant the curve on the side flank of the phone is kindof pointed, it hurts my hands when holding it. I dont have problems with smaller phone.

New update for 8.1.... got it on my 520 but not my 920. anyone else got it?.... Don't see anything new Posted via the WPC App for Android!

are you sure it's not a language pack ?

Its not..I'm sure..proper update.. Posted via the WPC App for Android!

The 1320 is a really good phone. I like mine.

Such a great deal!!! Posted via Windows Phone Central App

My co worker liked my 1520 so much I convinced her to get the 1320!
Shared files from OneDrive
http://1drv.ms/1uNP313
I got to play with it a bit, its beautiful & incredible bang for you buck!
She loves it!

i know that 1520 has better specs.
but do you feel a lot of difference between both devices ?

Not at all, both devices run the OS buttery smooth. Where the two begin to separate is in gaming performance and the camera performance.
WP OS is incredibly well optimized. :)

The question is, the 1320 only has 8GB of internal memory. After the OS and other Nokia software is installed how much memory is left? Is it enough?

It has about 6GB left after the system files. It's enough but I recommend using an SD card to save your music, movies and pictures to.

I got a 16GB SD card, with 8.1, you can also store your apps on the SD. just make sure it is fast, like class 10 or something. I would recommend 32GB for a power user. I only got 2.5 gigs left on mine. Although, there is around 3 gigs left on the phone with some apps installed.

Mine only have 800 mb left. Now with wp8.1, i let all installs stay on sd card. Happy.

Unbelievable what you get for that price

Nice surprise! But not for me cuz I am not a US citizen!