Can't wait for the Lumia 1320 to launch in Russia? Pre-order it from Nokia soon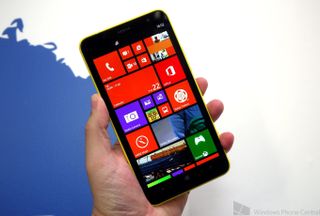 Nokia announced both the Lumia 1320 and Lumia 1520 at Nokia World 2013 earlier this month. The two Windows Phones will be launching soon in multiple markets, adding a "phablet" option to the Lumia family of smartphones. Should you reside in Russia and wish to get your hands on the Lumia 1320 before it's released, you will son be able to pre-order the device from the N-Store.
If you somehow missed the official announcement from the big day, the Lumia 1320 sports a 6-inch display (768x1020 resolution), dual-core processor, 3,400mAh battery, 1GB RAM, 5MP camera and microSD support. Not to mention you'll also be running the latest version of the Windows Phone OS.
Head on over to the N-Store for more details and to place an order.
Source: N-Store, via: wp7froum.ru
Rich Edmonds is Senior Editor of PC hardware at Windows Central, covering everything related to PC components and NAS. He's been involved in technology for more than a decade and knows a thing or two about the magic inside a PC chassis. You can follow him over on Twitter at @RichEdmonds.
Yes You can now go play with your toys :P LOLZ XD

Me too. Nokia need to release 1320 first than 1520 in India.

Yes, It would sell like hot cakes, The 1520 will sell for more than the Note 3, it may even sell for more than 50K, not for me, I am looking at the 2520

Same here, can't wait for the 2520

Thank you! Somebody had to say it.

Come on Nokia. Announce some us preorder and release dates :P

This is the main reason Nokia is failing. Huge announcement but 1 week later no launch date. My friend on AT&T is ready to upgrade his SGSII to the Lumia 1520 after I showed him the videos on YouTube. I suppose he should be grateful since I'm on T-Mobile.

The resolution is 1280x768 :)

They can't wait for the 1320 but we here in Pakistan are still waiting for Nokia Lumia 1020....

Fikr na kar :P
- Sent from my Nokia Lumia 1020

On one hand I really want to get this device because it appears to be the best device on the market now , on the other hand I'm afarid windows phone is going to disappoint. Hard to decide.

Why would it disappoint? All OS have positive and negative, if you are already looking for negatives or questioning it them you should not do it. WP is great, I have uses IOS, BB, Android and WP is my choice.

True that all phones have positives and negatives but for me Windows phones has a lot of negatives that makes it quite hard to ignore... if you're buying a low end to mid range device like the 520, 620 or even the 720 , then windows phone is great .. it performs much better than android devices in the same price category but for a high end device it becomes hard to justify it's price, especially considering what you get out of the device. Take the Note 3 , Samsung, it comes with a Pen and a handful of applications that makes use of the large screen , the same cannot be said of the 1320.. it's just a large phone.. you get an extra column for your tiles, and full email but just it .. otherwise it acts just like any other windows phone on the market . There are a few things that I'm missing in windows phone 1. Notification center .. live tiles just doesn't cut it for me , its useless especially when you don't have the app pinned to the homescreen. if you miss a notification, it's gone forever 2. Lack of customization on the home screen.. I want to be able to have more control on how the home screen looks. Changing tile sizes and choosing from a limited set of colors isn't enough . I'm not asking for any wild home screens like android. Something like Windows 8.1 home screen will be just fine ( custom wallpaper etc ) 3. Quick settings 4. Ability to turn off the transitions . I've been using windows phone for more than 3 years , and over time I have come to hate the transitions. I would the ability to turn it off like Apple does in iOS . 5. Visual cues in the setting, looking for anything in the settings is a pain . Apart from the fact that there are no icons , the list is not in any particular order. 6. Email file attachments, I want to be able to send more than just images .. What about ability to send pdf, word documents, music and other files ? I can go on and on...

I'm with you Mr Pin. WP is very close, but its not enough. And I'm severely disappointed with AT&Ts version on the 1520. I was waiting for so long and was pumped after Nokia World's reveal, just to get sandbagged by AT&T. This is going to set back WP at least another 6 months, maybe a year in the big phone arena. I love my 920 but it's not enough. Maybe 8.1 will restore my faith.

Multi-tasking like in W8.1, with apps running side by side, would be great on a large screen like the 1320/1520... let's hope WP8.1 brings it...

well said. its a unique experience but it must at least offer features now common to the mobile phone world.

It looks like you haven't used windows before. Try a 520.

Lol, I have three windows phones.. Samsung Omnia , Lumia 800 and lumia 920. I know windows phone inside out.

Then you would at least know how to attach documents in emails. Share music from the music hub, etc. This been said countless times on this site.

huh? Can you send MP3, video or pdf as file attachement to an email ?

i have a sgs 2 and i can send pdf files via email attachements, but no way mp3's, or videos

Yes you can. For videos, open video >> press ... >> share >> select email >> videos start compressing. For music, open xbox music player >> songs list >> long press >> share >> select email. PDF attachment will be enabled with the official GDR3 rollout

I have a feeling this will rly sell in russia

In Russia, 1320 preorders you!

I live in Russia and I think it won't.

Hopefully you will be able to use 2 apps @ the same time for 1520 in the not so distant future

When RT and WP becomes one.

A post that tells us nothing. Nice

Might be showing my ignorance here, but isn't the 1320 going to be available to the world minus the US? And if so, can we living in the US purchase one of these preorder phones and have it shipped here??? Thanks.

Well, you would order closer to home, not Russia. The postal service sucks there unless you pay a premium with DHL. You can buy it from anywhere in the world, just make sure it supports most of the network bands for your carrier.

Nokia should open their online store for everyone, in every country, and for every device they have. This is not fair at all.

At the very least, I wish they would sell unlocked versions of all models in each country where they are available... sort of like Apple.

I'm confused, which snapdragon is it. I thought it was a 400 series but its an S4 clocked at 1.7. The only one I know with that clock speed is s4 "Pro" dual core. Is that the processor? Edit: it is a 400 series!

price is almost $1000 for the 1520. very ridiculous price.

No pre orders for the 1520 in the uk yet

Does this stuff have nfc...some where read that 1320 doesn't have nfc....

all i want is a lumia 925 with the specs of the lumia 1520 and they can have my money..i can't buy a bigger the 5" smartphone..:(

i want a lumia 925 with the scpecs of the 1520:(..

I see Temple Run 2 with Xbox live!

Does it come preloaded with dashcam app?

It izz veery niice. Now you like it and will buy. :P (Puppetshed).

How about it coming to Canada.... or at least North America. I need the RM-995 version.

I just think that it should have IPS LCD, 6.7 Zeiss Optics and 16GB. That would've been swell.

I want it! It will be great replacement for my 620 :) CAN'T WAITTTTTTTTTTTTTTTTTT
Windows Central Newsletter
Thank you for signing up to Windows Central. You will receive a verification email shortly.
There was a problem. Please refresh the page and try again.