Lumia 1520 passes through FCC, destined for AT&T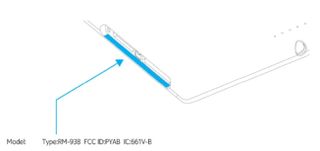 Ah yes, the FCC. The Federal Communications Commission is responsible for a lot of things here in the United States. They're primarily responsible for regulating interstate and international communications over radio, television, wire, satellite and cable. There are many bureaus within the FCC, with various offices to support those bureaus.
One office we're big fans of is the Office of Engineering and Technology (OET). The OET is responsible for overseeing the authorization of various equipment that use electromagnetic energy and maintains this database, which the public can access. That's where we come in and find out when cool products like the Nokia Lumia 1520 visit the FCC and get ready for market here in the United States. Which it just did.
It was a few weeks ago we saw RM-927 pass through the FCC. It appeared to be the Lumia 929 destined for Verizon. It will come out in early November and go for $500 off-contract. It was also notable for being the first Windows Phone device with support for 802.11ac Wi-Fi.
Today, we're looking at two devices coming through the FCC in the same filings. RM-938 and RM-940 are the devices, but are probably the same with a slight difference between the two. We believe RM-938 and RM-940 to be the Lumia 1520. What's the difference between model numbers? They're the same device, but it looks like RM-940 will include wireless charging, while RM-938 will omit the feature. Which means we'll see a Lumia 1520 with and without wireless charging. Thoughts on this approach?
This isn't the first time we've seen RM-940. It first showed up earlier this summer in some data from AdDuplex. Although at the time we didn't see RM-938, but did see RM-937. It's not unusual for Nokia to go through numbers like that when working on products. So RM-938 and RM-940 might be versions of RM-937, but further along in development.
So what else does this filing tell us about the device? We get the physical dimensions of the device. It's big. You're looking at a new smartphone that is 152mm high (about 5.98 inches) and 81mm wide (about 3.19 inches). Unfortunately, it doesn't look like the thickness of the device is in these FCC filings.
Who gets it? You already know AT&T is getting the Lumia 1520 and these filings back that up. On board we have support for LTE bands 2, 4, 5, and 17. So expect it at an AT&T store around you in the near future.
Of course we'll be live from Abu Dhabi to bring you coverage when the devices are expected to be shown. Who's getting pumped for a big Windows Phone device with 1080p display, 20MP camera, and quad-core processor? Sound off below.
Thanks for the tip Steve K!
Is it just me, or does the top image look like a slot for both SIM card and microSD? Or maybe dual-SIM?

I think the leakers have already confirmed that the 1520 will have microSD expansion

But now we know where it's located ;)

There you go again Sam illegally taking the first comment spot when you could have easily claimed first in the article post itself. #shameless.

I think the leaked photos of the 1520 already showed the location of the microSD. Did you miss that?

But apparently the 929 won't. A bit if a shame.

Are you serious? The 929 won't have a MicroSD card slot? if it doesn't then I'm stuck with AT&T,,, crap... I really wanted to go to Verizon.

Verizon can still have my money right now.

Shoot... I thought it was a stylus pocket..

Oh goody goody!! Another device I can't afford :'( #MyLife

#FirstWorldProblems
#GetAsecondJob
#SellDrugs
#Pound

#Goliveoutintheforest
#and
#ForgetPhones

What screen size are the dimensions consistent with?

The diagonal dimensions are 172 mm (about 6.77 inches). So anything under that can be the screen size, but we understand it to be 6-inches for the display.

Good question. At these dimensions, a 6" screen would be tight. The resulting bezel size certainly wouldn't match what we've seen in previous leaks, though that was only a prototype. Either the bezels are very very thin (I.e. not Nokia-like), or this isn't coming to us with a 6" screen.

When you say "not Nokia-like"... I agree, but Nokia needs to take a cue from Samsung and cut down the bezel size...

About this big :gestures:

Lets say the top and bottom bezel occupy up to 22mm and leave 130mm for the screen height
width = 130*9/16 (assuming 16:9 aspect ratio) = 73.1mm, which means ~4mm bezel on each side
result: screen diagonal size 5.9in

The screen size will be bigger than my Lumia 920 :) The entire phone..

First paragraph was...dramatic.

Only so much you can do to give life to a post on FCC filings :p

Wow! I wonder how much the unlocked 1520 version will cost.

I doubt that more likely £500-£600 odd id say as high as £650 at a push

I'll probably get it but ......i wonder what kind of phone will be released or leaked when Ms and Nokia merge???? Will a waterproof 36hr battery life 55megapixel quad core and 4k display with stylus come out with wp8.1 ??? Who knows????

It won't, don't get your high hopes too high.

Great. Another nice phone that will never get updated.

Preordering one asap when it gets available :)

You gonna get the bundle that includes a laptop case?

It probably won't get 8.1, or maybe it will get 8.1 when everyone else gets 8.5.

Looking at the size of the headphone jack in relation to the rest of the device it looks like it could be very thin - very very thin.
But that looks to be for the version without wireless charging...

Good eye. I would think that pic would be the one without wireless charging onboard.

I'm more excited about the snapdragon 800 than the display size.

Same here. Everything else is nice but the next big thing for me would be a 920 sized phone with a snapdragon 800.

Now now Sam, you can say it. We all know it: the FCC's main job is to apply censorship where they want. We've all seen the song on Family Guy =P I'm not pumped for this one. I'm much more interested in the rumored 5" one.

Long as when its available in the uk and i can use the giffgaff network to that effect im totally sold :)

Sam, if someone is pumped up for this device I see it's you :D
Please allow me to join the club. I am in as well.

Feelin like we're always six's mths late to the party with these hardware. Not to mention how late att is to update Gdr2..smh.if Verizon keeps up with this trend. Just might switch.

Don't know when Nokia will stop putting phones on at&t first. Its clearly not working

I don't get why a phone of this size has to get even bigger just to add wireless charging. I'm addicted to wireless charging on my 920, but I hate how thick the thing is.

No more AT&T for me.
Like the phone but not with a carrier.

Any thoughts on if the camera will shoot in RAW?

I hope we can watch Xbox purchased video in gdr3.

The wireless and non-wireless charging model options is pretty nice, so long as those are both going to available for the same carrier/region, wherever the phone ends up. For me personally, I don't want it to end up where the non-wireless charging model is the only thing AT&T gets and I'm left having to snap something on the back.

No, they are regional. Bands are visible on the FCC and the wireless chargin model is the global one.
Probably to get the phones priced for the subsidized model in US, like not offering ehadphones and proper Nokia box in US.

Be nice if it was a normal sized phone

Sam how did you conclude that it will have two versions with and without wireless charging?
according to what you said there should be four versions, two international (with/without wireless charging) and two for at&t (with/without wireless charging)...
maybe RM-937 and RM-939 internaional, RM-938 and RM-940 for at&t

Ok things are more clear now, read the following:
Difference between RM-938 and RM-940 is that DTM feature and WCDM1700/2100 (Band 4) will be disabled from RM-940, and RM-940 will GPRS support multi-slot class 10. In the testing reported here multi-slot class 12 has been available as worst case in all the samples. Additionally, difference between RM-940 and RM-938 is that RM-940 has only Wireless Charging interface pins in the backcover, while RM-938 has built-in Wireless Charging (WPC/Qi) loop. This HW difference was tested according to FCC KDB 648474 D03 Wireless Chargers Battery Cover V01R02
The version with the built-in Qi charging loop is expected to be the Global version, which is good news for those tired of the very finicky wireless charging case.

How does that factor in with T-Mobile? Does that mean the RM-938 will get 1700/2100 which is the T-mobile band? If it is disabled in the RM-940, does that mean it would be enabled when and if AT&T unlocks it?

I would really appreciate it if you guys had news on the 1520 everyday... even if you have to make something up, LOL. I want this phone so badly that I need something to hold me over. I even made a mockup of the phone.

I would like to laugh at you but I have just finished a mock up.

How do you like your mockup? I've made 3d mockups before (out of cardboard), but this one I only made a 2d mockup.


Lol i did the same, it actually is great at that size !!

Result of the government shut-down, lolol.

http://www.fcc.gov/shutdown-page.html

The size is right in line with the Samsung Note 2 (which is 5.94 x 3.17 x 0.37 inches) and the LG Optimus G Pro (which is 5.91 x 3 x 0.37 inches)

So, we have two versions of the phone, i'm wondering if the 1520 with wc built in is for the rest of the world and in hope it supports micro sd also ...

The two versions could simply mean that they haven't decided which to release, not necessarily that there will be two
Windows Central Newsletter
Get the best of Windows Central in in your inbox, every day!
Thank you for signing up to Windows Central. You will receive a verification email shortly.
There was a problem. Please refresh the page and try again.