Nokia Lumia 1520's Snapdragon 800 processor confirmed by Qualcomm? [Update]
By Daniel Rubino last updated
Did Qualcomm just confirm the Lumia 1520's new advanced chipset? [Updated below]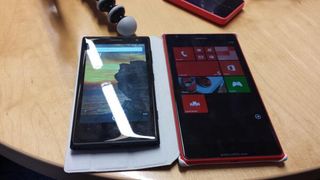 The upcoming 6-inch Nokia Lumia 1520 is expected to be announced next month and released in the US for November. While many points about the device have already come forward, it's still nice to get some seemingly solid confirmation on specifics.
In this case, the official Qualcomm Twitter account responded to a Mika B. regarding the brand new Snapdragon 800 chipset. Mika simply noted "See you in Lumia 1520 with superior 20 Mpx Camera" to which Qualcomm surprisingly replied "You are correct – and we're proud to be a part of that awesome device."
Qualcomm seemingly confirms Snapdragon 800 for the Lumia 1520
That's a pretty solid confirmation, if you ask us.
Then again, official Twitter accounts have known to be wrong many times, meaning until we see an actual spec sheet from Nokia, nothing is guaranteed.
Qualcomm's next gen chipset: Snapdragon 800
So what's so great about the Snapdragon 800 chipset anyway? For one, the processor for the camera is improved as it now supports up to a 55 MP sensor with Stereoscopic 3D. It also packs a dual image signal processor to help render photos more quickly. Having said that, Nokia and Qualcomm have worked on a customized stack for the camera drivers on the Lumia 1020 and those optimizations will likely carry over to the Lumia 1520 as well.
Other techno mumbo-jumbo on the 800-series includes a 28nm HPm ("High Performance for mobile") fabrication process, support for 4K video at 30 FPS and 2K video at 60 FPS. It also has a faster 2x32-bit 800MHz LPDDR3 memory and a new Quad Core Krait 400 CPU at speeds up to 2.3 GHz, per core. There is also Miracast support, something for which Windows 8.1 desktop and the Xbox One offer as well (and we bet Windows Phone 8.1 will too).
Finally, it also has support for DTS-HD, Dolby Digital Plus and 7.1 surround sound, which is kind of ridiculous.
Performance is supposed to up to 75% better than our current S4 chipsets.
Some caution - More unknowns than knowns
Of course, we should note that just because a chipset can support all of that doesn't mean the Lumia 1520 will support all of those fancy technologies. Indeed, we have no idea what will and won't be enabled, partially because we don't know what Windows Phone 8 GDR3 does and does not support. That's doubly so for the forthcoming Windows Phone 8.1, due early next year.
All we do know is that the Lumia 1520 will rock a 6-inch 1080P display. Will Windows Phone make use of the quad-core part? We'll just have to wait to see.
Update 8:30 PM ET: Qualcomm/Snapdragon now say they misread the earlier Tweet, denying any knowledge of the Lumia 1520. Accurate or covering their tracks? You decide.
Windows Phone Central expects the Lumia 1520 to go on sale November 8th for AT&T for around $699 off-contract. It will come in four colors, including red, yellow, white and black. A global launch is expected to follow shortly after.
Source: Qualcomm / Snapdragon (Twitter); via PhoneSeven.de; Thanks, MBaumi, for the tip
Daniel Rubino is the Executive Editor of Windows Central, head reviewer, podcast co-host, and analyst. He has been covering Microsoft here since 2007, back when this site was called WMExperts (and later Windows Phone Central). His interests include Windows, Microsoft Surface, laptops, next-gen computing, and arguing with people on the internet.
After all the leaks we've seen about the phone and GDR3 I doubt this little tidbit will make that much difference to anyone.

I guess not the marketing boss

Somebody gonna get a-hurt real bad.

Awesome! if this is all true. 1520 will be topping the charts in lots of specs category namely best processor, screen res, battery life, audio/video capabilities, camera (next only to 1020). I will have to start working on a strategy to dump my 920 to my wife as her X'mas present :-) and get myself a new phablet!

Now thats some news after a while

I want to trade in my 928 just to try it out for a little if/when it comes to Verizon. Or its variant thereof

Where in that post does it mention the Snapdragon 800?

Follow the Twitter conversation in the links.

Go for the "top" specs possible Nokia + Microsoft.! ;)

... and put Samsung + Android to shame (even if you do not need the extra juice).

I like idea of better image processing time. Would love a 1020 (1028?) with faster shot to shot times on Verizon.

More information on the 1520 variant for VZW, please! :)

I like everything about this but the size. 920 successor with a 4.5 - 5 inch screen would be ideal for me. Glad they have a large phone to compete with that segment of the market.

This phone is so much on my wish list that it might magically appear. It seems to be the phone that have it all. It might also be Nokias last flagship device, and on that note, cult.

This "Phablet" is on my to-do-list.

I'm gonna put it on my to-don't-list.

Where it said its Nokia Lumia 1520 ??? there are other processors too But Nokia Lumia 1520 is :D

How does this compare with the Apple A7?

Its only 32 bit so the a7 is automatically better :P

A7 is more powerful even with just dual cores.
A7 also have better GPU.

Yep, Anandtech has benchmarked them and the A7 is apparanetly smoking fast.

Yes A7 chip is very powerful but I tell you now if your planning on buying an iPhone 5s do not buy 16 gig. Every app that's optimized for 64bit will occupy more space on hard drive normally 50 % more then 32bit.

Not true. Binaries might be a little larger but the majority of the app's disk usage is graphics resources.

I would recommend the 32 gig regardless. I had to delete a lot of apps just to install iOS 7 on my 16 gig 4s

Anandtech did a review of the 5S. He has some performance chart that include a couple devices with the S800 and even a bay trail tablet. It appears on benchmarks that the A7 is pretty close to a bay trail. It is better in most benchmarks than the S800. What that means in real world use, I don't know.

The A7 performs better than S800 in single-threaded benchmarks, which shows two things. First - they have some ridiculous IPC, on par with Bay Trail probably. Secondly, A7 is fast... and it will smoke games for a long time to come. As far as appreciable differences, S800/Bay Trail/A7 are really the beginning of Core 2 Duo level computing in phones and tablets - that is to say, good enough.

A7 has an advantage. It could show itself in games. It may last an extra generation of OS updates than S800. But outside of gaming, it probably won't be too big of a deal, at least not yet.

A 1020 with these new GDR3/8.1 specs would be a beast! With all the added chipsets, the camera would improve a LOT!

I am looking forward to upgrading early from the 920 because it sounds like this is the first phone that supports latest hardware and is as future proof as it gets thanks to GDR3 and the chipset used

i dont see how this is solid? the kid just said see you in the new nokia, nothing about the snapdragon 800...
or am i missing something?

You're missing something.

The first post takes about the 800. The second post is the kid saying I see you (meaning either QUALCOMM or the 800) in the new nokia. The 3rd post from QUALCOMM confirms their chip will be in it. It's possible they mean a QUALCOMM chip and not the 800 in particular is in it. The flow of the conversation suggests they are talking about the 800.

I know alot of people who want to buy this phone as soon as it's released to the market

I work for Qualcomm, but have no insight into this, so I am not a crediable source. ;)
But I want to call it right now: This phone will have UbiFocus.

I found this:
"UbiFocus allows you to select your focus after you've taken a picture, giving you the choice of focussing on an object in the foreground, something in the background, or somewhere inbetween."


Looked like an interesting compititor to Lytro. Saw a live demo at Uplinq this year. Trying to find video.

Ah ok, that actually sounds pretty cool.

got this from TD: New camera tricks
Qualcomm is doing a lot of work around camera technology for the next-gen smartphones and one of its projects, UbiFocus, brings depth of field control to phone users.
UbiFocus allows you to select your focus after you've taken a picture, giving you the choice of focussing on an object in the foreground, something in the background, or somewhere inbetween.
The ability of smartphones to have depth perception could also lead to other advancements and Talluri hinted that the technology may prove very useful when it comes to gesture control in the future.

Why does it say the Snapdragon 800 supports 55MP when it only supports 21MP

The chip supports up to 55mp, the phone only has the 21 though.

What if Microsoft told Nokia to delay my future phone cause there interested in uniting windows phone/RT. They are gonna make 1 big marketplace why not start with 1 big phone.

A Lumia 1020 with 1080p Screen, Snapdragon 800, MicroSD storage, would...bee......godly!
I'm litterally thorn between the 1020 and 1520, because i want that 41mp awesomeness, but coming from a Lumia 920, the 1520 is a much better upgrade. Unfortunately i fear ill have to wait until mid 2014 for a 1020 running on these specs. Choices!

Awesome. Cause my 1020 lags sometimes.

In shutter speed yes. In everything else, mine runs fine.

Either way this will be an amazing device. Top specs for the most part and on par with top Android devices which is pretty much all that matters right now. But I have a feeling Qualcomm will announce some new snapdragon processor to compete with the A7 right after the 1520 launches and then Android will get it first. Lol

I hope they release 2 phone with same specs, but one of them a little smaller, like 4.5-5 inch. 6inch is BIG...i cant walk with 2 bricks in my pockets :)

How does this compare to a 64bit processor?

Ufufufu....can't wait to get this =3=

Where was it confirmed that the Xbox One supports Miracast?

Could you please provide a link? I still don't see any mention on the Microsoft store or Xbox.com. If this info was revealed I don't think I would have missed it as I have searched high and low for the answer but I could be wrong. The only thing I have heard them confirm is that the One supports Wifi Direct but no mention of Miracast AFAIK.

Xbox One supports WiFi Direct. For miracast Xbox One will act as receiver and Windows 8.1 devices will act as senders. It would have been cool for Xbox One to act as a sender; just imagine using on the Xbox One from a tablet while on the throne. :)
PJ

I am getting this day of release unlocking it and putting my t-mo sim card in it! ATT can suck it. i just hope Microkia gets this thing right. How about a white Xbone edition?

They could call it the 1337

Sweet!!! Cant wait... that is if i find a 64gb 1020, (that works on at&t)

yeah,.."misread". how the hell do you misread that tweet?

Hopefully it will better than SGN3 as far as specs and hardware go and xenon w/ led flash would be a nearly perfect phone

Pity the 1020 does not have the same processer.

2K at 60FPS, which means smoother slow motion is now possible, on cellphones

Unless its running RT, that horsepower is near useless

Possibilty of a upgraded 1020 too?

Misread the tweet ?? That's the lamest excuse I've ever heard

Indeed. The answer was so in context to the question that it couldn't have been misread. What is the harm in us knowing this information anyway!!? This secrecy is stupid, even Apple can't keep a secret anymore, why bother?

Is there any word on whether or not this will have a stylus like the Galaxy Note?
I love my 928 but if verizon get's a version with the active stylus like the note's I would get the phone in a heart beat.

I'm in for a 7.1 surround sound phone!

Same specs as Z1 from Sony, on a platform without the apps to take advantage of it, and several months later.

I love MS and WP, but I just cannot see this going anywhere. Even at its absolute best, WP is just playing catch up with Android's less important manufacturers. Not to mention the number of features that WP lacks compared to Android - by the time we get any of the top suggestions, smartphones will probably have gone the way of the netbook.
Oh well, I guess that never having to use google or apple stuff should be enough to make me happy. I still can't help but be jealous of Android though.
Windows Central Newsletter
Get the best of Windows Central in in your inbox, every day!
Thank you for signing up to Windows Central. You will receive a verification email shortly.
There was a problem. Please refresh the page and try again.