Lumia 435 now available from Microsoft Ireland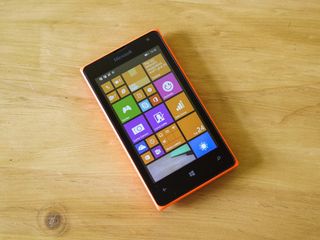 Following launches at other retailers and it's British counterpart, Microsoft has put the Lumia 435 up for sale from its Irish online store now for €79. That's a little higher than we've seen the phone for sale in other countries since launch, though Irish buyers have been limited on opportunities thus far with some pretty outrageous pricing to boot.
In a break from the norm it seems Microsoft Ireland is doing away with the duller looking black version and is only offering the Lumia 435 for sale in either orange or green. When we reviewed it we found a capable budget priced Windows Phone that offers a quality experience through the hardware and the overall experience.
If you've been holding out for one, drop by the Irish Microsoft Store (opens in new tab) right now and pick one up.
via TechBuzzIreland
Thanks Jim for the tip!
Richard Devine is an Editor at Windows Central. A former Project Manager and long-term tech addict, he joined Mobile Nations in 2011 and has been found on Android Central and iMore as well as Windows Central. Currently you'll find him covering all manner of PC hardware and gaming, and you can follow him on Twitter and Instagram.
Too much concentration on cheap phones and less concentration on flag ships, main problem is that the OS need some changes and touches, not the price of the device.

Cheaper phones sell more devices in more countries. Windows Phone needs to get as many people on board as possible. Not just nerds who like top of the line phones.

THIS. Nerds can wait. We need the general public to get on board.

While I agree,I don't think it's necessary to use the word nerd

It must be the first time I heard that here. Calm down. Everybody, including Microsoft, is aware that flagship is needed.

Do you work for them? Are you dropping us a hint? If so, is it going to be next year, because I've given them 5 years. Honestly, I've been wanting a surface phone since 2008, so my horses have been held and so have a lot of other people. Microsoft had 10 years to innovate and all of this technology should have simply been launched in 07 with the reboot because the DOJ had them locked down so all they had was time to code & create. I'm a die hard Microsoft guy, but I'm going to tell the truth about them unlike some Nokia fans which I am as well ( I'll tell the truth about them too).

How have you been waiting on a Surface phone since 2008 when the Surface line didn't even debut until 2012? Also, Microsoft and Qualcomm both confirmed that a new flagship is coming this summer.

I agree with you. All of my friends prefer to use Android instead of using a Windows phone. Actually they are not only thinking about lack of apps, also lack of some basic configurations.

Hell yeah.!!!! Only a MS suckup would claim otherwise,

There are only 2 microsoft stores in Dublin.

Maybe they are affliated selling Microsoft products I haven't seen store with Microsoft brand name but there are only few who keep all types of lumias in display

Theres none in Ireland, only online

AFAIK the only physical Microsoft store in Europe is in Berlin.

There's a microsoft store in Berlin? Where?

Dunno I went past it a couple times while at IFA. Pretty sure its a proper store.

The good thing about these new phone are: They have 1gb ram, a (at least usable) front camera and windows 10 upgradable. But I can't understand why 535, 532 and 435 don't have a clear black display.

Cause they are low end and clear black is for mid range and above

Some features have to be sacrificed to get that 1Gig RAM and front camera.

In Peru, also is now available

Wen in Ind- oh, nevermind

Wen-people of India are better of with L430.

China nukes India FTW!!!!!

Lumia 430 is the real thing.

And we are waiting for the L640 XL...a month ago...

By "a month ago", you mean a little over two weeks ago right?

Something that's more expensive in Ireland than everywhere else! Well that doesn't sound right. Oh no wait, that's totally how this country operates. This doesn't bode well for the price of the win10 flagship phone when its released here in mid/late 2016 - that timelines an educated guess folks based on historical evidence.

A phone costing €499.99 everywhere else will cost €649.99. The only good price was the Lumia 930.

Caden. I just agree... Patrick`s st0rry is astonishing, last tuesday I got a top of the range Land Rover Defender sincee geting a check for $6814 this last 4 weeks and in excess of 10k last month. it's certainly the coolest job Ive had. I actually started 8-months ago and almost straight away started making a nice over $86, per hour. pop over here~*~*~*~*~*http://www.netcash99.com/~*~*~*~*~* ♥♥♥♥♥♥♥♥♥♥♥♥♥♥♥♥♥♥♥♥♥♥♥♥♥
Windows Central Newsletter
Thank you for signing up to Windows Central. You will receive a verification email shortly.
There was a problem. Please refresh the page and try again.