Lumia 521 on offer for $130 at Walmart, selling like hotcakes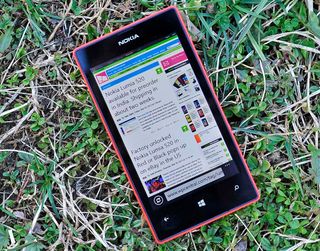 The Lumia 521 from Nokia is on sale on the Walmart website for just $129.99, but has sold out almost immediately. The deal was covered on SlickDeals with subsequent updates that the online store reported the Windows Phone to be out of stock. The Lumia 521 is proving to be a popular device indeed.
It shouldn't come as such a surprise with the low price and brand name pretty much selling the product to consumers. A Windows Phone 8 device for under $150? One word: bargain. While stock levels dwindle over at Walmart, the Home Shopping Network has once again got some units in stock and ready to ship. The network is selling the Windows Phone for $150.
Be sure to keep an eye on the Walmart website for when the device is available once again.
Source: Walmart, via: SlickDeals; thanks to Jarno and alpinestars1z for the tip!
Windows Central Newsletter
Get the best of Windows Central in your inbox, every day!
Rich Edmonds was formerly a Senior Editor of PC hardware at Windows Central, covering everything related to PC components and NAS. He's been involved in technology for more than a decade and knows a thing or two about the magic inside a PC chassis. You can follow him on Twitter at @RichEdmonds.
You remember before iOS or Android, the little Nokians running around the global virtuously impossible to wear out. While their BACK. Damn thangs running running around everywhere with Nokia's Quality build.

now we can see Colorful nokia's phones on people's hand......!!!

Buying one for my brother to get off andorid for good.

Android. More of the same. I had one. Forced to get it because Nokia fell of the map. But, Still tried my luck with Nokia N900 & Nokia E7. Never got sms to work on TMO. Nokia don't need a new phone. Just drop Windows 8 or 9 in the aluminum multiple colors choice Nokia E7. Punk

The way Nokia advertises their phones, it's actually:
THIS IS LUMIA

Well it is! With windows phone in it!

Yes but its obvious Nokia doesn't believe in advertising "Windows" phone. They believe in the OS but don't believe in the "Windows" brand.

If they didn't believe in Windows, they clearly would not have put pretty much the entire stake of their company on WP and would have double dipped like HTC/Samsung but clearly they do believe...

you obviously didn't understand what i wrote. Go back and read it.

not even microsoft is riding on the windows brand :) ...surface

Don't be troll, Samsung doesn't promote Android on their ads.

@Wandering You forget to add some superfluous exclamation symbols. It should be THIS IS LUMIA!!!!! :P

Screw Windows. We buy smartphones too last forever. Thanks Nokia for that everlasting Quality Build. TMO rank with Windows, second class.

Speak for yourself miscellaneous, I change my phone, at most, every two years.

@Sam Sabri - BWAHAHAHAAA! I envision King Leonidas kicking the competition into a bottomless pit. Brilliant!

You mean T-mobile cheap ass don't have 521 first? This is their market, with their Cheap Ass. But Nokia does put the "Q" in quality at least.

What are the specs for that phone again?

Does not matter. It's running WIndows Phone 8. Our OS is optimized to perform well on anything. Unlike that fragmented Android OS.

But. If you really wanted a list of the specs and not just to yell "OMG 512 RAM THIS SUCKS".. Here you go :)

http://www.gsmarena.com/nokia_lumia_520-5322.php

Totally agree with you ttsoldier

Here, here. Does anyone seriously think they're going to sell a Ferrari at Toyota prices? I'd take this phone and run compared to what I used to have. (BB 9700)

Dual core 1GHz CPU. 512 RAM. 5mpx rear camera. 4 inch 800-480 screen. No FFC or NFC. You could call this low spec for a smartphone, but its a decent smartphone at the price of a dumbphone. It will run WP8 just as smoothly as my 920.

They may be classed as low spec nowadays, but that's the same spec as an iphone 4

Yup. And on Tmobiles website they sell iPhone 4 for over $400. I can't get over how good a price the 521 is. I hope my fellow countrymen realize it.

It may run the OS well, but a lot of apps won't run well on it, particularly games.
There's a Phone Arena video review up on YouTube, for the Lumia 620 (that packs in the same RAM size as the Lumia 521), where the reviewer states that gaming on the 620 is compromised and laggy, since most of the best games on WP8 need about 1GB of RAM to run well.

We have one and its great, almost considering dropping my 900 for one!

How are the pictures the Lumia 521 takes? Since there's no flash are the low light photos any good?

I thought that the WalMart deal was deemed out of stock because it was too early for them to start selling it. I know HSN was allowed to sell early ( I grabbed 2 last week) but I thought WalMart was supposed to start selling may 11...?

I didn't notice dogfish54 posted it on WPCentral forums too. He should get credit for finding it. He's the OP for the SlickDeals post too.
http://forums.wpcentral.com/nokia-lumia-521/225566-deal-alert-lumia-521-24129-99-free-ship-store.html

Thanks Alpine :) I was really mad when it went out of stock - I wanted to get a frontpage deal.

I know that feeling. You know the Groupon 8X deal awhile back? I believe it was on WPCentral first. I didn't see it on SD, and I was considering posting it, but in my search to see if anyone posted it yet I came across another 8X thread. It was a brand new Verizon 8X (unlocked) for $300 and no one seemed to be interested. So I was like, for $50 more I don't think anyone cares about this Groupon deal.
Couple hours later, someone else posts it, and it's front page. I was really angry at myself. Lol.

Gah, is this enough of an upgrade over the 710, or not at all? Should I just wait for Catwalk? Decisions, decisions.

At $130 I say yes, purely for the fact that it runs WP8.

That's kind of what I was thinking. I keep seeing more and more WP 8 exclusive apps. It's making me jealous.

I would wait for the catwalk if you're looking strictly for a more powerful phone and you won't have any limitations if you get the catwalk. If you are simply looking to get a newer device and don't need a FFC and play the newer graphic intense games go for this one. The great thing is that it's so cheap you can afford to save for six months to buy a new phone then when the newer wave of phones arrive in the fall.

Tough call but I'd say yes just for the WP8 inside.

Way to go Windows Phone! xD

I got the 520 and it's excellent for the price and even the camera. Am sure the 521 is as good

Sean, how are the low light pictures with the 520? I was thinking about replacing my 710 with the 521 but I wasn't sure how good low light photos would be.

I am waiting out my contract. I was hoping someone would be unhappy with their 920 and try to sell or for a great price. No such luck as people seem really happy with it. Good for Nokia. Now I look for them to follow up in the fall with another device close to $200 off contract with a full 1gb of ram and FFC. The ram is needed for the graphically intense games. It would only cost about $10-$15 more to add the ram. The cam shouldn't be much either.

Is the 620 1GB or 512? If the prior, I think that meets your requirements.

5/6/7 are 512, 8/9 are 1024.

I saw one on Craiglist.Org for $140.00 but the screen is broken but working, and here's another one for $200.00
http://inlandempire.craigslist.org/mob/3777907125.html
http://ventura.craigslist.org/mob/3709211655.html



Got my white 920 in perfect new condition, in box, for $175 on Craigslist... Just keep looking.

I look almost daily. I'll keep looking. Thanks

I just got a red 920 from Craigslist for $200. Try downloading Craigslist deluxe lite and set an alert for your live tiles. That's how I got both my 900 and 920.

Nope. Locked to t mo but no long contract required.

Nice to see Nokia selling these phones at this price point.

Can this phone work for at&t?

Make sure you check the spec. I think it will work, but may or may not support LTE

I think WPCentral should do little more research before making bold claims.
No one knows if the phone is selling lke hot-cakes since it's not clear how many people were actually able to buy the phone from Walmart or if walmart even sold a single one. Out-of-stock doesn't always mean it was sold.
Also, Walmart phone description says this has FFC. Obviously mistake. Wonder how many people may return the phone(if anyone actually purchased one) knowing that it doesn't have FFC(and made their purchase decision based on Walmart's phone description.


HSN sold out their stock so obviously it's selling like hotcakes, at least at HSN. Unless of course HSN is also making "bold claims".

I thought the article was about Walmart, not HSN.

Is this an off contact price?

That's awesome. I'd almost pick it up as a second phone since I have an 822 and busy use it as a second phone for boosting since am on Verizon wouldn't be able to actually use it outside of wifi

521 is off contract, not unlocked

For my wife, I would (did) add $100 and got the 620... But I guess for the mass, I am happy 520 is hitting that price point.

I ordered mine from HSN the Friday before last, has anyone else ordered and received theirs? I cannot seem to get an ETA at all... =/

knowing nokia production speed, sold out doesnt mean selling like hotcakes

I would have hoped that Walmart would just keep taking the orders and ship when ready. It is possible though that they got a lot of orders from HSN too. Honestly though, I agree, these stock issues are frustrating.

Walmart stores do have them already and can be bought. They are not on display yet. Lookup the phone's UPC on Walmart.com and bring it with you so they can look it up. I bought it in store tonight.

Anyone know if/how these can be unlocked by any chance? I'd really love to get one but I have ATT.

Was in Wally yesterday. Not a single WP phone nor slot for one to be found in the TMo section. Does that count as the 510 selling out?

Wow good for the platform

http://nokiapoweruser.files.wordpress.com/2013/05/bjageadciaaqxb0.jpg

Look at this chart. 520 is already running away with the race.. I am sure it may be stock issues but there is a lot of stock being sold though.

Wow 520 already has the biggest market share in India

Yes i was surprised to see that.. 620 and 720 are doing good too... 720 was launched just two weeks back... so it looks like it will be a good quarter.

Biggest Windows Phone market share doesn't mean much does it?

Lets wait for numbers before we can even celebrate.

Now that is a really good offer!

As soon as I get some extra cash I'll get one.

wow awesome! i hope people will leave low end LAGGY androinds now, and join smooth windows phone!

No people enjoy apps a bit to much and well subsidized phones in America mean for that price people will sign a contract for a high end phone.

I agree that people don't understand that they can save hundreds of dollars buying the phone outright over the course of two years. Too bad for them.

Should grab 1 of those for my mother Inlaw she would live it.

I've seen some articles referring to the Lumia 521 as working on T-Mobile's HSPA+ 21 network, but shouldn't it work on their HSPA+ 42? Does anyone happen to know?