Lumia 620 available at Media Markt for €269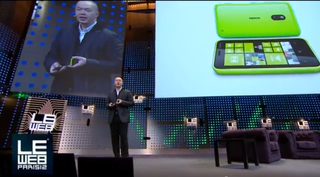 The Lumia 620 is now available at German retailer Media Markt. The Windows Phone is listed in a variety of colours, each selling for €269 when pre-ordered. The Lumia 620 was unveiled late last year to be running Windows Phone 8 and would be aggressively priced to compete with similar hardware on other platforms.
So what's inside the shell of a Lumia 620?
1 GHz dual-core Snapdragon processor
3.8 inch LCD display (800 x 480) with ClearBlack technology
8GB internal memory expandable with microSD
512 MB of RAM
5 megapixel camera
1300 mAh Battery
It's a solid price for a brand new smartphone, which will provide the owner with the rich Windows Phone experience veteran users have come to enjoy. The expected release date is Spring 2013, so it's worth getting in and laying down an order in case we experience shortages in stock just like the Lumia 920.
Source: Media Markt (Black - other variants available), via: WPArea.de
Rich Edmonds is Senior Editor of PC hardware at Windows Central, covering everything related to PC components and NAS. He's been involved in technology for more than a decade and knows a thing or two about the magic inside a PC chassis. You can follow him over on Twitter at @RichEdmonds.
Far too expensive. Should be €190 ($250) before tax - since when was tax over 40%?

as if they would apply the actual exchange rate.....lol (Lumia 920 in germany ->650€ = 865$!)
+19% VAT + preorder....-> expensive

Price seems fair to me. It's way better than the 610 so it can't be priced the same.

Here we go again.. A crap spec phone in line with a bunch of phones with better specs for free. Is there any Windows cell phone developer out there making any phones that can compete with iPhone or Galaxy S 3??? Really.. Everytime I see a windows phone with crap specs, it makes me cringe. Why is there so much focus on phones with such low specs. People like to move forward, not backwards. I'm sure the feeling is the same for people in the UK. Nokia should be working on a massive phone that kills iPhone and Galaxy S 3. Samsung did not become the #1 cell phone provider selling mediocre phones.. People line up for iPhones for the latest and the greatest.. Its very disappointing when I read about phones that don't have what it takes to compete..

R u trolling? L920 competes top range. These phones are for the budget conscious consumer. . And for the record, most of samsungs sales r in this range also. Flagship phones provide a halo effect for the real battle which is in mid and entry level phones

@jsantana: i think you misunderstood something... The phone costs 269€ without a contract! The Galaxy S3 or other high end phones cost > 500€ ... it's pretty normal to buy a phone without a contract in Germany... So don't mix up the prices... For the 269€ you get a pretty nice phone running WP8... in my opinion: pretty damn nice! Don't know what you are complaining about...

The Lumia 920 kills both the iPhone 5 and GS3 in specs. Troll somewhere else!

Comparing Lumia 620 to SGS3 or iP5 is like comparing you VS Ryan Gosling! (and don't even get me started with this cheeeeeeese Apple f*ckery, everything an iPhone does, a Lumia 920 does better.)
Lol the last post I read has this jsantana guy trolling there too. So for dear life don't feed this troll. Compulsive troll is compulsive. Go back to your herd, sheep. (or to your fleet, robot)

Let's face it, iphone is outdated.yes it is hard to admit :)


This phone will be mine tomorrow (in Hong Kong)! May sound strange, but I was dead sure in getting the 920 but put off with the camera issue.
The plan is to use this cheap phone for a while until something better than the 920 comes along from Nokia.

May I know how much you getting it at Hong Kong?

HKD $2288 which is around 295 USD. May seem much but the 920 is around $700 USD.

Get the pricing and availability right, and this phone could revolutionise the smartphone market; WP is as good/user friendly an OS as IOS, but this phone would make it both affordable for everyone, and appealing to kids. Go Nokia!! I'll have a green one btw, with a 64GB SD card lol.

Don't think the market would be revolutionized if they sell the 620 at that price. Sell it at $249, or cheaper, and I'm sure it would boost the market share of WP8 big!

Nokia crippled an otherwise great phone with a small battery. Why??

Exactly.. Why such a small battery when the competing phone HTC 8S got a 1700mAh battery?
I want a mix of HTC 8S and Lumia 620. The Gorilla Glass and battery from the 8S, and the rest from the Lumia 620

In malaysia im sure it wont exceed USD $270. No taxes at all here for all smartphones. Lumia 920 is selling for USD $650 unlocked for now.

lumia 620 here in vietnam is only $265 (no tax). how come it's a lot more pricey in Germany ? I think all Lumias are being produced in China which adds $$ shipping fee to the phones in Europe and America other than Asia.
Windows Central Newsletter
Thank you for signing up to Windows Central. You will receive a verification email shortly.
There was a problem. Please refresh the page and try again.