Nokia Lumia 620: Now available throughout the US on Aio Wireless for $99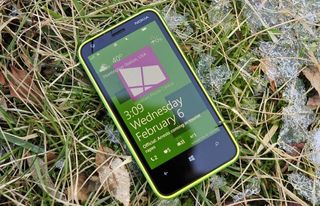 Aio Wireless is a prepaid wireless network in the United States. It's also a subsidiary of AT&T and takes advantage of the same network footprint throughout the U.S. Aio Wireless is also the first carrier in the United States to carry the Nokia Lumia 620. A device that is now available throughout the country.
Prepaid networks are a great place to save some dough if you're not wanting to deal with yearly contracts. But typically they aren't exactly known for great smartphone offerings. Aio Wireless certainly doesn't fit that mold with like the availability of the iPhone 5, but it didn't have a Windows Phone device. Now it does with the budget friendly Lumia 620 that is going for $99 on Aio.
The Nokia Lumia 620 doesn't get a lot of attention, but it's a device we do love. It was the most inexpensive Windows Phone for quite some time before losing that distinction to the Lumia 520. And it's going for relatively the same price for a limited time on Aio Wireless. What's $99 going to get you? You'll be picking up a good smartphone for those what don't need bleeding edge specs. The Lumia 620 features a 3.8" LCD display with ClearBlack technology, a 5.0MP camera, a 1.0Ghz dual-core Snapdragon processor, 8GB of internal storage (expandable with MicroSD), and 512MB of RAM.
Be sure to head to the nearest Aio Wireless near you or shop online with the links below. Before today, Aio Wireless was limited to markets in Houston, Orland, and Jacksonville. However, we're getting reports that users can get the device sent to them regardless of their location. Aio Wireless does piggyback off AT&Ts network, so they'll work anywhere AT&T does. You just might not have a physical Aio Wireless store near you yet. They're planning more physical shops for next year.
Anybody thinking of picking this up for themselves or family member? Sound off below.
Source: Aio Wireless (opens in new tab)
Thanks for the tip Jhon M!
$99 but after taxes/fees/the required month(s) of a data plan..? How about it being locked to AIO?

Update: Just checked around and you have to have 4 months of service. So $99 + 4 months at $50 a month and it's locked to AIO during that time. No deal. Just buy it unlocked elsewhere.

Sure, no contract, but the phone is locked to Aio, so you can't use it with other carriers. If you want it unlocked, you need to have service for 4 months. The cheapest plan is 55$/month (not bad for 2GB high speed data and unlimited minutes/texts). That means you have to pay 320$ to get an unlocked 620 from Aio (unless the unlock codes show up elsehwere for very cheap)

How much is the 620 unlocked at other places?

I bought one on Amazon for 205$ last month, I've seen it between 200-220 (also depending on the color)

What service do you plan on using this device? AIO is very inexpensive and has great service. Even if you need to have it for four months the service is only $40 a month for unlimited everything.

Actually the $40 is for non-smartphones. The hubby and I use the $55 a month plan and he has a 620. That said, it isn't a bad plan and you have access to genuine LTE. You can also bring over a phone from att without having to unlock it.

I'm thinking about bringing my 920's and 1020 over to them. As of right now I am being murdered by ATT monthly for four lines.

There are other MVNOs out there running on AT&T's network. Right now, they don't get LTE but since AT&T now owns Aio, I guess they do get it. AT&T just announced that they are working to solve that issue and allow MVNOs to access the LTE network, so at some point you'll probably see 40$ plans as well. The great thing about Aio and other prepaids is that you ahve no contract and can switch between them whenever you want (and if you use a number forwarding service like Google Voice it's even easier, no number porting)

Cool good to know my att bill is killing me

Well I just went to the site and I noticed you can't purchase the phone with any of the Simple Rate plans.....

Yeah, the $40 might have been an interesting option. But at $55, you have services like StraightTalk for $45 which offer unlimited data. Granted, I think StraightTalk now only provides T-Mo compatible SIMS, and I'm not sure if they get LTE. So maybe for a single person who wants AT&T compatible coverage, that might be a decent deal. But for my family of 5, we are on T-Mo for $110 total, no contract.

FYI, a little while back, the AT&T SIMs came back in stock.
http://www.walmart.com/ip/Straight-Talk-AT-T-Compatible-Micro-SIM-Card/21550826

StraightTalk also does LTE on AT&T compatible Sims too. Using it right now on a 920 and 1020.

Technically Aio data is unlimited. You essentially get 2gb of LTE but after that it drops you to 3g until the next month rolls around. They don't cut you off entirely like my previous mvno did. :-)

It should also work on AT&T, which pits it against the Lumia 520 for the same price.

I got my wife the 521, but would have much rather have gotten her the 620. Too bad a similar deal wasn't available for T-Mo. Not to bash the 521/520, but a 620 at $100 is a freaking awesome deal.

Anyone seen the screen of this next to a 520? Which is better. 520 being an IPS LCD without clear black and the 620 being a tft LCD with clear black makes it hard to make a call without seeing them side by side. I do prefer the 620's smaller size though.

The 620s screen is vastly better than the 520s. Crisper, better colors, and the blacks are actually deep black as opposed to a grey. Not a subtle difference.
http://i-cdn.phonearena.com/images/reviews/134428-image/Nokia-Lumia-520-...

Yeah, the 620 is my favorite value model.

It has essentially all the key bits that the 520 lacks:
- front facing camera
- NFC
- digital compass (so that things like Nokia CitiLens can fully function)
- clearblack display So yeah, the 620 may have a smaller screen, but that screen is of much nicer quality. All around it's a full WP experience at an incredible value. Plus those dual-shot color shells are to die for! The 520 is a great value too... but if you can snag the 620 for the same price, it's a no-brainer in my book.

No contest. I didn't have a 620, but when I compared my wifes 521 next to a Lumia 920 clear black display, it becomes apparent how the 521 could be so darn cheap. So the 520/521 is still an amazing value, but for $100 this 620 is the clear winner in my book.

Too bad we have to sign up for a plan. I would totally add the 620 to my Nokia collection if I didn't have to sign up for a new plan.

Would love to see a 5C/5S article from WPCentral, comparing it with windows phone 8 devices.

and just before the release of the 5c, coincidence ... I think not

Been $99 for a while now, nothing to do with the new icraps! :)

Can I buy this and just use it in sprint or tmobile? I prefer this phone over the 520/1.

I guess you can't buy this unless you get at least one month of plan with AIO. The first commenter said 4 months, which I think is probably wrong. But even then, you would have to unlock it to use it on TMobile, which is probably possible after 4 months of service with AIO. ( Unless you can buy unlock code from third party sellers). Sprint is a no no.

It will work on T-Mobile's base GSM & HSPA network signal since its frequency is 2100 MHZ. As stated before, no on Sprint since Sprint is a CDMA network while T-Mobile is a GSM network. In addition, Sprint has one of the worst signal coverage, at least in certain areas of Florida.

Who cares!? GTA V is out in a week! Nothing else matters.

Hopefully someone can help me with this question. I want to purchase the Lumia 620 for my son's birthday, but I don't plan on giving him the $55 plan as he's too young for that. Instead, I would like to use that plan on my wife's unlocked Lumia 920 as it looks like she'll get LTE which is something she's not getting on StraightTalk. Would that work?

This sounds like a question for a customer service rep. I would ask first before purchasing, them ask another rep just to be sure they say the same things.

Thanks for the sound advice!

youll probably still need the unlock code for the 620 for it work with the straight talk sim....but if you are getting the plan anyway you could try and request for the unlock code early

I know I was able to bring my 920 over to Aio without any problems. The Aio website has a way for you to check your imei number to see if you can use it on their network. Should be under the section about bringing your own phone.

Amazing phone for an amazing price, I thought the 520 for $99 was cheap, I am glad to see prepaid offerings of windows phone improve. This can only be good news.

I might consider this and sell off my 520. Love my 520 but my reception is horrible. Constantly dropping calls

I'd pick the 620 over my 520 of course ! I keep wondering why At&t didn't want to push this as a go phone also

Just got the 620 Saturday! Typing from it now! Love this phone.

Now I want this more over the 520 for my son. I'm on AT&t.

We picked up one for my son a week ago. I have a white unlocked one and the blue one my son has is pretty good looking. My wife was tired of Sprint's dropped calls and she was impressed with the ATT service I have so I told her about AIO. She did get android sadly since her Sprint phone a GS3 but she's been happy with the service so far.

Is this carrier locked?
can i buy this phone, put in a AT&T sim, and use it on AT&T plan?

My att bill for four phones 2 iPhones a galaxy s2 and my 920 w 2 smartphone 3gb data plans and 2 grandfathered unltd data plans sharing 850 mi s less than 240 per month to ne is not bad

only if this was for the 625 instead

Sorry to be out of topic guys but i need help. I have the 620 and I love it but it tends to get stuck on the "resuming screen" alot that I have to do the batttery pull 10 times a day. Yes I did the hard reset thing(nightmare) and it fixed it for a while but it back. It not the memory card. How can I fix this:(

Does it usually happen when going back into your text messages? If so it's quite common and happens on my 920. I find that if I am not connected to online chat it doesn't happen.

anyone knows the name of the weather app used???

That looks like the Weather Channel app. There is a Nokia version in the Nokia Collection that is quite nice. It's what I use too. :-)
Windows Central Newsletter
Get the best of Windows Central in in your inbox, every day!
Thank you for signing up to Windows Central. You will receive a verification email shortly.
There was a problem. Please refresh the page and try again.