Nokia Lumia 620: Now available throughout the US on Aio Wireless for $99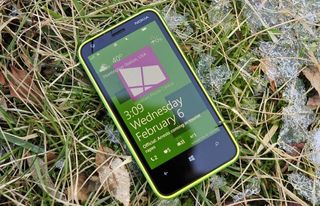 Aio Wireless is a prepaid wireless network in the United States. It's also a subsidiary of AT&T and takes advantage of the same network footprint throughout the U.S. Aio Wireless is also the first carrier in the United States to carry the Nokia Lumia 620. A device that is now available throughout the country.
Prepaid networks are a great place to save some dough if you're not wanting to deal with yearly contracts. But typically they aren't exactly known for great smartphone offerings. Aio Wireless certainly doesn't fit that mold with like the availability of the iPhone 5, but it didn't have a Windows Phone device. Now it does with the budget friendly Lumia 620 that is going for $99 on Aio.
The Nokia Lumia 620 doesn't get a lot of attention, but it's a device we do love. It was the most inexpensive Windows Phone for quite some time before losing that distinction to the Lumia 520. And it's going for relatively the same price for a limited time on Aio Wireless. What's $99 going to get you? You'll be picking up a good smartphone for those what don't need bleeding edge specs. The Lumia 620 features a 3.8" LCD display with ClearBlack technology, a 5.0MP camera, a 1.0Ghz dual-core Snapdragon processor, 8GB of internal storage (expandable with MicroSD), and 512MB of RAM.
Be sure to head to the nearest Aio Wireless near you or shop online with the links below. Before today, Aio Wireless was limited to markets in Houston, Orland, and Jacksonville. However, we're getting reports that users can get the device sent to them regardless of their location. Aio Wireless does piggyback off AT&Ts network, so they'll work anywhere AT&T does. You just might not have a physical Aio Wireless store near you yet. They're planning more physical shops for next year.
Anybody thinking of picking this up for themselves or family member? Sound off below.
Source: Aio Wireless
Thanks for the tip Jhon M!
Get the Windows Central Newsletter
All the latest news, reviews, and guides for Windows and Xbox diehards.