Lumia 620 shipping with updated firmware also has new Storage management options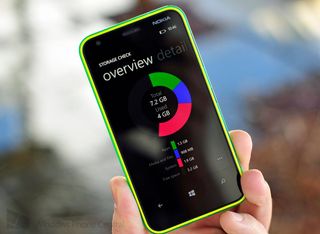 It appears that a very few Lumia 620's have already come off of the line with the latest firmware on board. That's perhaps to be expected, but it also looks like it's this firmware that will bring advanced Storage management, including the ability to clear temporary cache files in "other" storage.
Currently, most Lumia 620's are on the 1250 firmware. A few days ago, 1304 began to populate Navifirm and sure enough within the last day or so, 1307 has appeared for one device/region. It is that 1307 firmware that brings this new ability (we know only because we're on 1304 ourselves). The OS though is the same Portico 10211 as found on current Windows Phones.
New Lumia 620 1307 firmware found on Navifirm
Last week, we mentioned how the new Lumia 920 firmware 1308 also brings new Storage options similar to the ones found on the Lumia 620. That tells us that this appears to be either an OS-level enabled feature that is activated via firmware or it is a Nokia specific feature that is installed during the firmware update. At this point, it's still too early to tell between those although it's starting to look like a Nokia-fix to the problem.
Currently, users on Windows Phone are facing an "other storage" problem whereby it fills up with some bad information or files that failed to uninstall. As a result, users can lose gigabytes of potential storage space to this filled area with no direct way to clean it. Microsoft has acknowledged the problem recently and mentioned fixes on the way, of which this seems to be at least one.
A look at the new Storage Check options found with the updated firmware
With this new Lumia 620 firmware enabling this feature we can only imagine that Nokia is preparing a new firmware update rollout for numerous devices across their portfolio. Judging by what is found on Navifirm though, we still have a few more weeks to go before that begins, as many devices have not had new firmware packages uploaded meaning they are still being tested. It's also unclear if a new OS update will come with this rollout i.e. GDR2.
Source: Reddit; Thanks, Chiranjeeb J., for the link!
Daniel Rubino is the Editor-in-chief of Windows Central, head reviewer, podcast co-host, and analyst. He has been here covering Microsoft since 2007 when this site was called WMExperts (and later Windows Phone Central). His interests include Windows, Microsoft Surface, laptops, next-gen computing, and for some reason, watches. Before all this tech stuff, he worked on a Ph.D. in linguistics and ran the projectors at movie theaters, which has done absolutely nothing for his career.
Well in time. Will be getting it soon.

Please hurry up and release the update for L920 ..
I was never been this excited for a firmware update .. lol


You didn't have the focus flash proximity sensor lockup problem then. But equally exciting.

So True ~~ Lol , hope they distribute it wordwide fast

This will be so awedome, one more reason I can stand behind my 920 with confidence when trying to coax my friends into switching from iPhones and gs3's

As a big fan of WP I will be very disappointed if the GDR2 does not bring missing features in addition to fix for this other storage issue.
On the user voice site the features like notification system, multiple volumes, universal search are requested long back. Some time lines for the top requests (most votes from users):
Multiple volumes: Sep 29, 2011
Enable all Bing features for non US-countries: Sep 28, 2011
Notifications: Aug 5, 2011
VPN: Mar 3, 2011
Closing apps from multitasking view: Sep 29, 2011
Week view in Calendar: Mar 3, 2011
It has been two years since the people requested for VPN support and week view in calendar. I think Microsoft really sucks. They are concentrating more time for some shit like kids corner that no one care than adding important features that are badly missing.
Basic features like notifications, multiple volumes, closing apps are requested 18 months back.
Why did they remove FM radio feature. It may not be required in US and UK but that's a must have feature in countries like India.
I don't know why it is taking so much time for Microsoft to add these features with so many employees and so much money.
If they are going to take another 6 months for major update then it will be very bad.
If not for Nokia and their continued efforts to give the best to the consumers WP would have been dead by now.

Get ready to be disappointed. . .

+1000. its not that hard for microsoft to implement some of those things in the next update. at least custom sms. i have 3 roommates that have wp8 and we cant tell whos phone is ringing, all the 15 tones sound the same!

you have 3 roommates with WP8? I have yet to see someone using a WP8

That's because you have no friends.

I made mine. I were tweeting all your post to @joebelfiore. I don't know if it will work, if he will read. But, I think that if we all tweet some like that to him, maybe he can think like us.

How about fixing the bugs first? Like the random freeze and reboot issues?
Then you add new features/functionality, nice-to-haves ...

You have a bad hardware. Go replace it.

Hello,
The radio is coming to L920

Hey man, I were tweeted to joeBelfiore all your coment, and he have aswered me, Look at his aswers:
I have finished with this:
@joebelfiore Isn't it amazing that Nokia continues to sort out problems and push out updates. Yet MS have done nothing about it. Why??
And he have aswered me with this: joebelfiore @joebelfiore @AlexandreMDS Thanks for all the suggestions & comments. Keep in mind.. one update shipped for WP8 already... joebelfiore @joebelfiore @AlexandreMDS ... and we are working on more. We aren't pre-announcing these super early, as then folks get unhappy waiting. joebelfiore @joebelfiore @AlexandreMDS On Kids Corner vs. other... for WP8 launch we targeted a BROAD audience of "normal users" to help drive platform features.. joebelfiore @joebelfiore @AlexandreMDS ...and this is working. Ads growing awareness, volumes growing, pulls apps to#WP8. And more to come. Thx for feedback!

Typical "management" answer. This didn't come up in our focus group.
I do agree "gadget geeks" and people in this comment section aren't "normal", we aren't you know :)
But normal people don't want a decent calendar?
Normal people don't want a different volume on music playing to phone ringing?
GTFOOH, of course they do Joe, answers are weak. Excuses cost nothing. Coding the features is simple (or many of them are)
Just blinkin' get on with it MS.


not all of those user requested things make sense. the others should get implemented. some will, that's documented.

This is why I switched to Android

I was the next update to bring NEW features. This is the second update we'll be getting that's mostly aimed at fixing gaping holes in the OS.

To be honest though, that's what iOS and Android were doing for the first 3 years against Symbian. Just around that time both of the platforms really started expanding.

We need this in 7.8 :( very badly

I agree with you on most of your points. I too, am disappointed in Microsoft's timing for releasing what the public is asking for, but in my opinion, I can understand to a degree why they are focusing on other points. They still need to have some advantages that the other OS's don't have (like kids corner), those are the eye catchers...but yes, they really need to catch up with the rest of the pack. What pisses me off the most is the fact that they won't even acknowledge whether they're adding it at some point or not...why does it have to be a big friggin' secret!? If they're soo worried about not being able to stay within a credible time frame for releasing updates, then they should take a second look at who's running the show. iOS updates are religious annually, you could set your watch to them...and Android, if they hear that their users want something baked in, then they do what they can, as fast as they can to make that happen. Microsoft needs a kick in the ass, so they can wake up and realize they have officially created a fan base with Windows Phone, and they should act accordingly.

i wholeheartedly agree with this comment. microsoft is moving at an icebergs pace. i dont need to know when the updates are coming just confirmation that they are coming. i dont need to know all the details but they could give some hints as to what to expect, also there shouldnt be any reason to keep updates that are going to add bug fixes, random reboots, and something simple like notifications sounds and seperate volumes secret as thats something that the competition has already implemented. By announcing those add-ons people will become less agitated at least knowing they are coming. All im saying is that they dont need to throw all the cards on the table to keep people happy.

I agree, they should have transparency.
* We are working on X
* Release 2 will have feature Y

The question is: does it work?

It does, reduced my Other storage from 2.00 Gb to 500Mb

Absolutely need this on my 8X - got 4 GB of Other space used, which is 25% of my total space.

Same need this for my 8x as well no way do I have that much apps and songs that I should be under 5gbs hah

Sorry but this is an exlusive Nokia update and HTC, samsung, huawei can just go and die slowly...

First off, competition is good. We don't want a single manufacturer building Windows Phones - then we'd be like Apple where one company dictates the hardware. Second, we already know this feature is part of an OS-level update - they have said as much - so it is unlikely it will remain Nokia exclusive for long.

If its Nokia who have released the firmware then you should not complain and wait for the HTC firmware update, they may release it if they care.

Did you try "shrink storage" ? this will clean your system from unwanted files, and it helps me get 2G.

I have a 920 and it says my firmware is 1230.

Try having 18.48 GB taken from you.

I hope this is coming to htc 8x. 8x had as earliest the new portico update nut know Nokia is in advantage.

That's good! Although my other space is barely 2 GB =P

This firmware came with my Lumia 620, bought yesterday in India.
It allows you to clear other storage,(for me ~500 Mb) and see memory used by each app, along with memory used by mails, contacts etc
some more screenshots are here http://sdrv.ms/YO0Azv

Now that looks awesome. Looks like Nokia is providing the missing WP features instead of lazy Microsoft.
I suspect this actually may be delivered as an app through the marketplace, like the other bonus/extra settings from Nokia. Would be nice, cause otherwise we'll be waiting at leat 3 months before we get the update for existing phones.

From where did you got?? my friend ordered this phone on Flipkart, its still in Preorder status!!!

Lumia 620 is available on Nokia India Online Store http://nokia.indiatimes.com/nokia/nokia-nokia-lumia/. Don't know about physical stores though.

I got it from Nokia Priority store in Pune.

Thats very good, the application/firmware covers many things like, other,music,video, app install sizes etc etc, even office, email and contacts storage is shown.

With Regards to the 620, my Cuz has this phone and his Skype is always continuously on, so I feel all phones need the firm update, not just drips here and there.

Thanks for sharing that. It was exactly what i thought it would be. As to why MS didn't have this in the OS already is anyone's guess. I wonder if there will also be a task management system implemented too. Seeing how much ram and cpu an app is using would be great. They cud probably put this function as part of the notification system.

Hey devashish hw iz 620 ??

The phone is great, esp the screen and Camera.

Anyway Dear WPCENTRAL, you've used my Images, Credit wont hurt...

Hi there,
I manually flash this firmware thru nokia care suite, but there were no option to clear the storage..

My "other" is growing out of control and starting to take over my phone. Its madness I say!

My other is 5,3gb and growing over time...

My other is growing outside of my phone now, is starting to grow a brain and has told me about its plans for world domination

Isn't it amazing that Nokia continues to sort out problems and push out updates. Yet MS have done nothing about it. Why?? I have a 620 on ThreeUK and had no real issues with it at all except the occasional screen freeze for a few seconds. Good one Nokia

It is amazing. and that is why I love Nokia!!
I get the feeling that MS can rather hand over the WP division to Nokia who IMO can do a wonderful job

How about releasing Portico for UK unlocked phones Nokia? We're in March goddammit!

I got Portico on mine on 28.02.2013...

I had portico on my 820. Traded it in with Carphone Warehouse due to previous issues. Now have 620 with portico. Both handsets network free.

Good to see my 1st tip posted :) I m going to buy a 620 soon but i m little bit worried about the Multitouch issue...???

Using 620 here, no multitouch issues, the screen is a 10 point multitouch display, and works well, I ran all sorts of multi touch tests from the store,no problem.

Many have issues with multitouch on the Lumia 620. Just check the forum:
http://forums.wpcentral.com/nokia-lumia-620/213475-3.htm

@Daniel, have you heard anything about custom sms tones in an upcoming update???

Wow, that makes the 620 better for gaming than my 820, on which after doing "shrink storage" a dozen times I can't get my "other" below 3GB while having only 1GB of apps and games.

Please allow apps to be on SD cards!!!

Would require a core OS rewrite and will _never_ happen.. Not that it is readily available on other platforms either..

Yes! I love this option on my tab 2!

what about video editing apps, where are they?

Easy workaround the storage 'issue' is to write a few large files (like videos) to the phone in sequence. This will reduce the space used for 'other' Then remove the files again and storage will stay smaller..

With Regards to the 620, my Cuz has this phone and his Skype is always continuously on, so I feel all phones need the firm update, not just drips here and there.

Hi just bought 620 today sim free /unlocked/ Black in UK , it has 1304, on it, old phone HTC Radar, 620 is much
better,

The firmware appears to be for India where the 620 is getting into stores just now. I would not be surprised if it also limits access to downloadable music to the India region requiring a local SIM and offering Nokia Music Unlimited Subscription only.

Does anyone know what name there giving for GDR2 update yet? What is the official number of GDR2 update? 11308-11311

http://www.youtube.com/watch?v=mm-Df2a95v8 lumia 920 with storage check ready!

I actually installed the UK variant 1232.5957.1308.0004 on my Rogers L920, even though right now i dont get my LTE, the actual phone runs much better, seems like they have done some nice refinements in this release to the software, battery life seems improved once again, camera seems improved again and just the basic feel of the os as a whole seems more responsive.

I agree,msft has to fix software as needed keep patching the hell of wp8,if they can do that with w8 im sure they can with wp8,and what's the purpose of same kernel bullshit if it will still take them 3 months to fix it.. Fml

You can use SHRINK STORAGE app from the marketplace to clear storage in your Window Phone

Can't download certain games and apps at the moment, other storage is killing the memory, they really need to get this stuff sorted, I've had a lot of problems and annoyances with my Lumia820 so far, my old hd7 was solid as a rock.

Plz send the 620 to the USA

100% that's microsoft fix i believe 'because these things are OS system behavior. I dont think nokia can get access to these areas to fix it alone.

This update apparently includes flip-to-silence as well :D

Is this firmware update available in HTC too?

This is where Nokia let themselves down just like HTC. Too many handsets and not enough decent support. Why support 5 or more Windows handsets instead of two?

to hit different price points for developing markets as well already established markets.

nice option, cant wait for this.

I hope my Three branded 620 gets the update soon. Cheked this morning,nothing as yet

What a phone guys..!!! Awesome Windows Phone!! Loved it so much that I couln't stop myself from reviewing it!! Happy Owner of this phone!! Tell me if something is missing!!
http://www.hackinthus.com/2013/03/nokia-lumia-620-review.html
And what an awesome site!!! Wpcentral always keep me updated!!!

My firmware version shows the new update of 1307, but em not able to see the Storage Check option.
Should i reset my phone?
I hope this wont void my warranty...

i had successfully install whatsup in my lumia 620 but still unable to send or receive any text
Windows Central Newsletter
Thank you for signing up to Windows Central. You will receive a verification email shortly.
There was a problem. Please refresh the page and try again.