Lumia 640 first impressions: A potential star in Microsoft's lineup
The Lumia 640 is now on sale in various markets around the world, with the latest to include the UK and other European locations as well as India.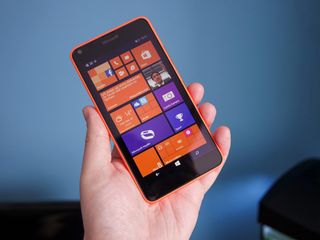 We first saw Microsoft's newest mid-ranger at Mobile World Congress at the beginning of March and though the time spent with it was brief, it left us impressed.
Now, we've got our own Lumia640 for a more detailed look. So let's get into it.
First, to recap on the main hardware specs:
Windows Phone 8.1 with Lumia Denim
1.2GHz Qualcomm Snapdragon 400
5-inch 1280x720 IPS LCD display, 294 PPI
1GB RAM
8 GB storage, microSD card expansion
8MP rear camera
1MP front facing camera
2500mAh removable battery
Weight: 145 g
Size: 141.3 x 72.2 x 8.85 mm
The version we have here is the UK retail release, so it's the single SIM, LTE variant. The Microsoft Store is the first place to buy from, but other carrier and third-party stores will be offering it too at some point.
The first thought is that this is indeed a successor to the Lumia 630/635. The body has a similar look and feel to it, albeit bigger, but it's an iteration on the previous model's design.
For a mid-range offering, though, the Lumia 640 is instantly impressive. The 720p display is sharp and colorful. The camera, while we've yet to really test it out, seems pretty good. 8MP is a step up in resolution from the 635 and it comes with an LED flash this time around.
Other things we like, then. The bump to 1GB of RAM, as is now seemingly standard for Microsoft, is welcomed. As is the addition of the front-facing camera, something else its predecessor didn't have. And for a 5-inch device without a Full HD display, that 2500mAh battery is sounding pretty tasty. It's 300mAh more than the Lumia 830 which has also has a 5-inch display at 720p, and we've never had any complaints with battery life on that.
We've a really good early feeling about the Lumia 640. It fixes some of the things we didn't like about the Lumia 635 and brings some great new features to the table like Lumia Camera 5 on a non-pureview device. We've not had long with it, but it has the potential to be a real star in Microsoft's device lineup.
And however small it may be in the grand scheme of things, the black buttons with the orange we've got here looks fantastic.
Expect a lot more on the Lumia 640 in the coming days as we put it through its paces and work up a full review. In the meantime, drop by the Windows Central forums and join in the discussion!
Richard Devine is an Editor at Windows Central. A former Project Manager and long-term tech addict, he joined Mobile Nations in 2011 and has been found on Android Central and iMore as well as Windows Central. Currently you'll find him covering all manner of PC hardware and gaming, and you can follow him on Twitter and Instagram.
How did that 'edit name' option get in the About section??

Is that supposed to bring Lumia camera 5 to all non pureview devices? Or else why does the 730/735 miss it??

Microsoft and Nokia have this habit of creating segments by not providing some software features even if the hardware supports it. So my guess, nope 730/735 won't get lumia camera 5.
Microsoft didn't provide EQ for L520, 720p recording for L535, glance for L930 ( i don't believe the display memory shit)

Hope some of those change in Win10...at least notification light support in it will change (for my 735 definitely will) :)

Definite, eh? I'm not convinced.

Does the lumia 640 have glance screen??

Yes it does. Watch the video and you will see it.

well hoping for it definitely...but seriously why the hell they would even release a phone with a notification LED and then that LED is not working and later they said that Win10 will support notification LED on non-supported phones...clearly a sign that it will be coming :)

It is my guess that MS does not think that Camera 5.0 features will work well with lower resolution cameras. So they have decided to put a cap at around 8MP or more. If it is a pureview camera, you will get to see the difference even more clearly. Plus, when 730 was launched they had no plan to bring camera 5.0 to non-pureview devices. But as time has gone by they have realised that non-pureview devices too can benefit from it. Finally, they do need to differentiate their mid-segment phones from the entry level phones.

Its where you name your phone.

If u had windows 7 on your system, it is simple to change your device name. Try it all the best.
Connect to PC it detects automatically opens a window select the option and change the device name windows phone to your selected name. That's it.

You can do it with the Windows Phone app on Windows 8/8.1 also.

You can rename it from my computer, right click and select rename. I think it should work even on XP.

Update 2.. I really wonder what brings to the table.

Why get help section in settings is still the nokia link?

Because it didn't get moved yet? Kind of a non-issue really.

Is the screen the exact same as the 830?

Any word on when the 640XL comes to ATT? I am waiting to buy 2 of those.

Really curious as to what ATT will be pricing this at...

Is the 27th confirmed? I want an XL already.

Another WP mid range phone trundles into the Market Place only to bow out a short time later as meekly as it entered.
If Microsoft did fashion they would be trundling out hosiery and corsets for the over 55s ie very practical but nothing to set the libido aflame on a cold winters night

Did you use one of these yet?

Nope not going to neither

Don't knock it till you've tried it. Besides, while it might not ignite your inferno, it might ignite some sales. Which is what we need. Far more than a single elite level phone.

Fighting a losing battle with some people. This is a great phone. Microsoft needs to figure out its complete lineup, but if there was no 7xx line right now, it'd probably be easier to see where this fits.

Yeah, not sure how realistic it is to keep seven different series (400 up to 1XXX), with variants in some series. Couldn't they limit themselves to like 5 unique models ranging from $50 to $500 and call it a day?

They definitely need to par down on all these model numbers and simplify. Definitely would help on manufacturing and production costs..

@coldfilter: So just talking out your ass. Got it!

Trying to delete that mental picture. I agree with the sentiment. WP devices have become boring. I can't get excited about 1GB RAM, a front-facing camera, and a flash in 2015, sorry. I understand this device will be well-received by poor people (aka "emerging markets") so I guess that's good for the platform, but it's boring nonetheless. Ho hum.

Those specs at the price is what's fantastic and since its Windows it's much another than an android phone. Yes Microsoft need a sexy new flagship. I really wish McLaren came to life.

Depends what you class as boring. This will likely outsell every Windows Phone around. That's an exciting prospect. Flagships won't sell to the masses. This will.

but people think flagships it's what sells...... and that's why Microsoft should make one. and you know that's the truth /s

Flagships don't sell to the masses? Galaxy S3/4/5 and iPhones haven't done too badly......I tried the 930 last year, too chunky, then tried the 830 which is a nicer form factor but too slow...the 930 specs in the 830 body would have been ideal for me. The 830 struggles with pacier games...in 2014/15...acceptable for a sub £200 phone but not one which cost over £300 when it first came out. This looks like another competent WP, at a very good price. I'm sure there are lots of potential WP buyers out there looking for something a little spicier.

I think you're misunderstanding what I'm saying. The majority of phones sold are not flagships. Sure the Galaxy and iPhone do well but a Windows Phone flagship isn't going to sell anything like those. If Microsoft launched three flagships later this year the 640 would outsell all of them combined.

Yup, sadly. We already saw this with the Icon, 1520 and 1020. Neither made a blip on the phone market.

You mean *Windows Phone* flagships don't sell to the masses. The iPhone, Samsung Galaxy, Moto's Droid line up, and LG G3's do just fine.

You are correct but only up until the IPhone and Galaxy S flagships. LG sold 10 millions smartphones in one quarter, thats not alot lol Moto did less. Flagship devices are hard to sell without marketing and brand recognition. Something microsoft has ZERO of. They can learn a thing or two from samsung. So far they're the only ones matching Apple with marketing.

+1520 has the might of the iPhone 6/6+ and 1520 is two years old. WP flagships haven't sold well in the past but MS as we know is working on that with W10. Those waiting for a new flagship device should sit tight as I'm sure a McLauren on steroids is coming. 630/635 should sell very well. MS needs to stick with the XBONE promotions especially into 4th qtr holidays.

I have a Lumia 625 and my microSD card just died, I read in a Microsoft support article that having microSD cards is not safe, since cards like this can sometimes get their controllers damaged and keep in the dark forever. This can be caused due to a peak in voltage, or to malicious software. I even think the NSA has developed a secret virus to wipe out microSD cards at people from which they don't like, I think I'm not a bad person, but perhaps a hacker took that secret virus and hacked my phone and killed my microSD card. Only God knows. I live in a emerging market (Mexico) and I love my Lumia 625 and I wanted to upgrade to 640, but after what happened to my microSD card this time I'm going to buy something better, something which has at least 64GB of storage. That's even less than what some smartphones like Samsung Galaxy S6 have (128GB). Bye bye forever microSD cards.

I would have to agree, unfortunelately. And then they AGAIN limit access to this phone series by carrier.

The reason why the 640 was even made, was because the 635 was a big hit. BUT missed the mark due to the 512mb RAM and lack of Front Facing Camera.

640 or 730? I am really confused

Better design and oled display- Lumia 730
More value for money- Lumia 640 :)

and what about Lumia 730 or Lumia 640XL.? Price doesn't matter for me... so what you would suggest

640XL , 730/ 735 all have Carl Zeiss optics which the 640 doesnt !

If price doesn't matter then why are you buying a midrange?

In India the price of Lumia 730 is Rs. 13,460 and Lumia 640 XL is announced at Rs.15,799, there are people saying the price of Lumia 640 XL is over priced so I made my point that I am ok with price.

730 is what I would pick, the form factor and AMOLED display is amazing, Plus a better ffc. Glance is the only thing that 640 offers over the 730. 4.7" is the perfect screen size for me, neither too big nor too small.

And Rich capture is there in 640 with a bigger sensor though. Plus GDR2.

The things you mentioned will most likely come in a future update, on the other hand I can't say the same about the screen quality.

Is that real Denim or just the false Denim we still have on our 830's in the USA?

Another rubbish phone ... Yawn

If it weren't for phones like these, windows phone 8 or 8.1 would have died long back

Another rubbish comment... Yawn

It is whatever you want it to be. Labels do not matter.

*stares at you* Oh Dani, I love when you speak like that. it's funny people use alot of bullshicrap labels on phones. so I agree labels do not matter ;)

Daniel what's your pick between Lumia 640XL and Lumia 730.? I am bit confused. One has better display PPI one has 13MP camera..

Yes it is. Find me an android phone with these specs for a low end price. In fact most Android phones don't even have 720p screens for less than 200.

It most certainly is a mid range device.

There is no range. Once you realize that you will find its not the phone that bends, but your mind. Unless its an iPhone, they really do bend.

This makes for an excellent motto

Still waiting for that POWER RANGER ;)

"Forgot that midrange, i want that POWER range"

How often do you see the resuming screen?

Im sorry man, the phone can have the best hardware on earth. But the avg buyer wont give a damn when a youtube app wont work like its supposed to. My interest in win phones has dropped waay too hard. I just wish something news about youtube comes up before my next buy. Its getting tough to be an admant supporter here. Edit: Im being misunderstood here. The apps right now are a blessing, but they're going to get worse with the updated apis by google. It's really going to hurt the avg guy who buys a win10 phone. It tarnishes the image of a stable growing platform. Keep in mind my comment was in future tense.

Have u tried metrotube or mytube? They work way better than the YouTube app on android.

I hope you've been keeping up with the news. Cause the latest youtube api's are going to cripple our fav youtube apps.

As it seems, you don't keep up with the news! A developers of Webrox (Tubecast) said about youtube's APIv3, that their app (tubecast) is already supporting about 90% of the new API and they can easily make it full compatible, which by the end user's perspective means that you won't notice a single change in the app, so stop spreading fear and just enjoy the experience :D

Man, that's such a relief! I didn't see any article here regarding this and win central is also the place where I heard of the API changes so I figured any updates would be posted here. Must've missed something maybe., thanks!

Yep, it seems like you missed an article.. :P http://www.windowscentral.com/here-what-new-todays-big-tubecast-update-y... *The text within the '' '' with blue color

You're nuts...of all things to bawl about, you choose a youtube app? We might have 3rd parties...but all of them work way better than the official one does on android/iOS...
And please don't talk about having the 'official' tag, that is jst lame when we are talking abt YouTube...
If you're talking abt other crippled 3rd party apps I will agree... But YouTube...really man???

Read the reply to another comment just above this one. Cant repost the same comments.

Official YouTube & all other Google apps won't be on Windows Phone anytime in the near future. Blame Google for that, not MS.

I don't blame MS. But just cause it isn't their fault doesn't mean that the app situation is getting better. We lose a few gain a few. At the end of the day we are back where we started.

If you said snap chat I'd understand. But YouTube is not a problem on WP.

Plus you can watch videos in the browser anyway (for music, apps like myTube are much better though). I think YouTube is the least of the big name app problems.

Then wait for YouTube news and stop making unwarranted comments.

I never and never will understand a person who neglects the phone just because one APP. Like people who say" No clash of titans on windows phone I dont want it". "No youtube app" I dont want it. I mean seriously ? I know that fist sentence goes for 10-14 years old but youtube app? Really? There are plenty good ones and even m.youtube.com is enough seriously.

So you know how the things build up slowly. You may not be as avid a user of youtube as me. A good youtube experience matters more to me than to you maybe. There are a lot of apps that aren't available on this platform. Some inhibit me from staying in touch with my social circle in the way I prefer. If you're goin