Lumia 640, Lumia 640 XL will launch on AT&T, T-Mobile and MetroPCS in the US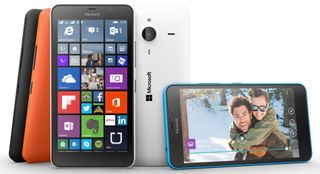 Microsoft today announced that the Lumia 640, Lumia 640 XL will be available through AT&T, T-Mobile and MetroPCS in the US, offering some choice for consumers as to who they wish to use with their shiny new smartphone.
The Lumia 640, announced today at Mobile World Congress 2015, will sell for less than $200, while its phablet brother, the Lumia 640 XL will be priced at $245 phone with dual-SIM LTE on board (the dual-SIM 3G version is even cheaper at $210). For the specifications available they're not bad prices at all.
Availability information is expected to hit sometime in the near future. For everyone else, numerous carriers and retailers will partner up with Microsoft to launch the new Windows Phones.
Get the Windows Central Newsletter
All the latest news, reviews, and guides for Windows and Xbox diehards.
Rich Edmonds was formerly a Senior Editor of PC hardware at Windows Central, covering everything related to PC components and NAS. He's been involved in technology for more than a decade and knows a thing or two about the magic inside a PC chassis. You can follow him on Twitter at @RichEdmonds.
Picking up the T-Mobile 640 XL

Just wondering if all the colours will be available or if Microsoft will do that weird one colour on one carrier thing? But that price for everything offered is awesome.

Microsoft Blue at the Microsoft Store? That'd be cool.

Not cool for the majority of customers outside the U.S. without Microsoft stores. Unless available through online store.

btw so you, Microsoft does not control what colors end up on what carrier. The carriers pick the colors, and many of the time is comes down to price per device when they buy in large quantities. sucks I know -_-

Does it matter? You can change the color... the housing covers are interchangeable on both of these phones.

I was about to jump ship and get an android phone to get a bigger screen phone on T-mobile ... now i just have to hold out a little longer ... i wonder how far along this phone is .... the 640 XL witht he big screen would be a better choice for me as i have found my self doing basic editing in mobile WORD lately.

the 640 xl will be available starting this month globally. no telling when tmob or att ACTUALLY start selling it

If I had to assume, I would point to Mid April. Maybe even a Build 2015 release here in the US. *that's with high hopes lol

I thought Tmobile is only offereing the 640, not the XL

Yay for these awesome phones

I'd like to applaud Microsoft and T-Mobile for bringing more Windows devices. Looking forward to 10.

It's about time they bring a Phablet to these shores. My co-workers been dying to get a phone larger than 4.5inches.

What is the screen size of the 640XL?

The 640 XL is 5.8 inches.

But does it have a removable battery expandable memory

Please let the TMo 640 XL have Wi-Fi calling. My L810 is sorely missing that since support was axed early on.

Pretty sure it will. All T-Mobile (contract) devices since the iPhone 6 have Wi-Fi calling.

That's not true! The HTC M8 for Windows doesn't have one.

The Lumia 925 has it, so I wouldn't see why not. ;)

the Lumia 521 and 635 both have a wi-fi calling app so i would think new phones would too.

The 640 XL is good the one I would buy as an Extra Windows smart phone if it were a Verizon Windows smart phone. it Apprears Verizon will get a Different Microsoft brand Lumia smart phone and it or they will be annouched later. A microsoft exec said Microsoft will put out a Flagship smart phone. Like Apple it will not use mobile world congress to debut it's Flagship smart phones that will replace the Nokia lumia brand 920, 1020 and the 1520.I hope microsoft does not wait till Windows 10 is ready to do so because Windows 10 for smart phones is moths away from Release to Market for it's OEM partners Samsung, HTC and others.

.Verizon may only want a flagship, but it will be on AT&T, and T-Mobile

I agree....all i want is a nice cheap replacement for my windows phone, yet Verizon has NOTHINGGGG. I really hope they annouce something soon

Will definitely be upgrading my 920 to the 640 XL

Regret buying this 830 two days ago... That XL!

It's an "affordable flagship", What else do you want? lol

I want everything the XL has. Haha

When is 640xl available in India?????

Finally a new phone worth buying on T-Mobile network. Although I do miss the Lumia 925.

Yeah... Finally a winphone on T-Mobile that will pull me out of Android. Posted via the Windows Phone Central App for Android

http://m.att.com/shopmobile/cellphones/microsoft/lumia-640xl/_jcr_conten... Already on att site..

What I want to know is whether Microsoft actually said the $245 price it I'd that came from a currency converter. Euro pricing includes a minimum 20% sales tax, North American pricing does not include sales taxes. 219 Euros comes in at $197.50 USD if sales taxes are removed, not $245.

Price was specifically noted to be before taxes and subsidies, so the $245 number is correct.

I could hardly wait for Lumia 640XL Tmobile, with the price and specs, it's so sweet.

Ditto! Might ditch my L925 for it.

With the 6xx series upgraded.. What's gonna happen with the 7xx series..? 640s are better now compare to 7xx mid range devices in terms of specs..

Eventually 7x series will end up with better specs and all devices will be MS branded.

Yes, probably.. but 640 is nearly the same specs as 830 without the dedicated camera button.. planning to upgrade my 720 to 830.. now I'm confused with what MS about releasing their phones and number coding units.. Can't tell if it is an upgrade or downgrade.. And its a different story with 640 XL..

2,3,4 are generational numbers.your 720 is the 2nd gen of the 7 series phones. the 830 is the 3rd generation of the 8 series phones. this 640 and 640xl are the 4th generation of 6 series phones. They are the first 4th gen phones in the Lumia family. so they will be close, equal to orbetter than the higher specced phones of previous generations. eventually there will be 4th gen versions of the other series - 740,840,940 etc that will be better specced than the 640. 720 to 640xl or 830 is an upgrade. 640(xl) is close to 830 because it is a generation newer. 830 is still better than 640 but not by as much of a gap as to the 720

Thanks, got your point! It's just my phone feels outdated.. And I know its outdated.. But this phone still works perfectly after using for almost 2 years and dropping several times.. The battery still lasts 2 days of average use with glance always on.. Still captures photo better with same price or higher range of android devices.. Can't decide if I want an 830 'cause 830 is so sexy.. LOL.. and one thing is keeping me not to avail 830 is that MS would release an 840 or better mid-range phone..

This is exceptional.....microsoft is listening...
What if we have capacitive windows button on each phone..
Write Lumia on front and Microsoft on back...

You can tell now there is a strategy in place that MS is executing and W10 flagship is not far behind.

Good to hear they have a strategy! ;-P

What about wireless charging

not at these low price points

I'll hold onto my 925 (which I'm selling) an keep usin my 1020 (on tmobile) an save funds for whatever is to come later this year with windows 10 (if anything that is)

Wish Verizon would get the xl

Man, I'm tired of this exclusive crap. Verizon has no Lumias in store, and the sales people are trained to hate the software. Microsoft needs to fix that relationship,asap.

That's more on Verizon's end than anything else. They've always treated MS products like a footnote. They are all about that Android first.

Wish Verizon would get anything low to mid-range... not looking forward to purchasing a flagship phone (currently on 8x) off contract again to keep unlimited data when the 5xx or 6xx phones would work for what I use them for.

What happened to the cdma lumia 735 Verizon phone that should have been out by now?

Don't know what happened to it... the only Windows phones Verizon lists are the HTC One M8 and the Samsung ATIV SE. There isn't even a Lumia option at the moment for Verizon sold through their store.

Let start by saying i love Windows phones but i would be careful when buying one from tmobile because there lack of support for windows phones

Great news! I just hope the dual SIM does not mysteriously disappear from the specs in the carrier variants... and fear they will.


... Verizon customers gets the shaft... As usual...i don't get it.

It's time to leave Verizon and come to T-Mobile best decision I made GSM is better supported and u have more options

Again, stupid limited carrier availability will hurt these new phones before they even launch. Very disappointing.

I doubt it will be so limited. I've seen the 635 on virgin mobile some other smaller carrier even though they never announced it.

Actually, after Windows Central announced it was coming to Virgin, I checked out their website. They had it up front and center on launch day, at least.

So I assume their is no CDMA capable phones being announced by Microsoft today then?

Definitely getting that 640XL can't wait to get off this 635. The 640 XL basically has everything I want 3000 mah battery, pureview camera with flash and a 5mp front camera. Can't wait for tmobile to give a release date

Agreed. I'm still using an 810. The 640XL is what I can reasonably afford and be happy with. The camera should be awesome.

Excited to see and finally on T-Mobile USA. Awesome.

I think they look pretty sweet and the specs seem to have been well thought out by MS. Personally ill wait for the 1520 successor

Im so done with the 810, I'm thinking of just switching . . . . To a 640.

Wait not Verizon??? Verizon sucks.. jumping to AT&T.

I'm hoping these devices will knock down the price of the 635 soon. Be nice to grab one for a Windows 10 tester for $20.

So basically it's a very slightly downgraded 830 for half the price.

Microsoft is serilouly hurting their own highend market. These entry and mid level phones do not show the truely rich experience that their highend phones offers and Windows phone's reputation will be known as a slow OS. They did this to Windows Mobile years ago and they're doing it again with Windows on phone.

Can't wait for 640 to come to T-Mobile, cracked screen on my 521, time for a replacment

Other sources are saying the XL WON'T be on T-Mobile. Which is it???

I feel sorry that the Sprint affiliates ONLY JUST GOT the 635. Poor Sprintophiles.

why ms is omitting the hardware keys with soft ones those not look good in screen they are ugly with a black strip they should bring the hardware keys it brings a windows feel in a lumia phones... Particularly high & mid range lumias....

I. Want. This. Phone. Now. Posted via the Windows Phone Central App for Android