Microsoft reveals the Lumia 640 XL affordable-phablet Windows Phone with a 5.7-inch HD display
Barcelona, Spain – This morning, Microsoft has announced a second new Windows Phone for their budget range of devices. Following on the heels of the 5-inch Lumia 640 is its bigger brother the 5.7-inch Lumia 640 XL, which also includes a 13 MP rear and 5 MP front-facing cameras.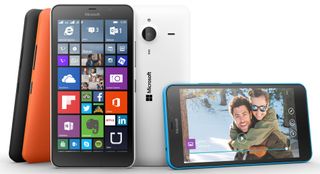 Launching this month in various markets worldwide, the $245 (219 euros) dual-SIM LTE Lumia 640 XL from Microsoft looks to bring robust hardware at an affordable price to those who want a smartphone with a large display. Coming in a variety of colors, Glance screen, and 1 GB of RAM, the Lumia 640 XL appears to be a substantial replacement for the aging Lumia 1320.
Lumia 640 XL Specifications
Windows Phone 8.1 with Lumia Denim
Windows 10 Ready
Colors: Matte cyan, orange and black, as well as both matte and glossy white
Qualcomm Snapdragon 400 (MSM8226), 1.2 GHz quad-core processor
5.7" HD (1280x720, 16:9) IPS LCD, 259 PPI, Glance screen, Corning Gorilla Glass 3, Sunlight readability enhancements
1GB RAM
8 GB internal mass memory + up to 128 GB Micro SD & 30GB free OneDrive cloud storage
Rear camera: 13 MP AF, 1080p @ 30 fps video (continuous autofocus), Flash: LED, Lumia Camera 5.0 (with Dynamic Flash, HDR)
Front camera: HD 5 MP wide angle, 1080p video
Connectivity: BT 4.0, microUSB2.0, Micro SIM, A-GPS+GLONASS, BeiDou, DLNA, Screen cloning with Miracast, WLAN 802.11 b/g/n/
Sensors: Accelerometer, Magnetometer, Proximity, Ambient Light Sensor, SensorCore
Battery: 3000 mAh (BV-T4B) removable battery
Weight: 171 g
Size: 157.9 x 81.5 x 9.0 mm
Microsoft has effectively ditched the Lumia 13xx series for affordable phablets and replaced it with the 'XL' designation. This change is a wise choice by Microsoft, as the Lumia 1320 was always a tad confusing with the 'higher is better' series designation set up by Nokia.
The Lumia 640 XL is a solid device with relatively impressive specifications for a $245 phone with dual-SIM LTE on board (the dual-SIM 3G version is even cheaper at $210, or 189 euros). The best part is it goes on sale this month in various markets.
To sweeten the deal, like the Lumia 640 Microsoft is Microsoft is tossing in a one-year subscription to Office 365 Personal, which includes Word, Excel, PowerPoint, Outlook and OneNote on the Lumia as well as on one PC or Mac and one tablet. The subscription comes with 1TB of OneDrive storage and 60 free minutes of Skype Unlimited Worldwide calling per month.
With a 13 MP rear camera, 5 MP front-facing camera, Glance Screen, SensorCore, 1 GB of RAM and being ready for Windows 10, the Lumia 640 XL is an intriguing phone from Microsoft. The dual-SIM LTE version will indeed make this a viable device for emerging markets and those on a budget who want a quality, large-screened device.
Stay tuned for our hands-on with the Lumia 640 XL and more coverage of Mobile World Congress!
Daniel Rubino is the Executive Editor of Windows Central, head reviewer, podcast co-host, and analyst. He has been covering Microsoft here since 2007, back when this site was called WMExperts (and later Windows Phone Central). His interests include Windows, Microsoft Surface, laptops, next-gen computing, and arguing with people on the internet.
These are pretty incredible, especially for the price! Plus, AT&T and T-Mobile support confirmed!

Agreed, pretty awesome phones. Really liking the matte colors, and CYAN!

Happy about cyan color being back too.

640XL can potentially kill off L1320, L730 or even L830. It has the best value among all mid to low end phones. I hope that MS will stock ample supply for it.

I would still like a phone with build quality like the 830. Hope Microsoft brings out an upgraded 830, maybe SD 610 processor, before I renew my contract in a few months time. Posted via the Windows Central App for Android

Don't have camera button.... But I will buy it as soon it come to market

These cheap plastics will get worldwide praise and sell much better than the new iPhone.

720p? Asus Zenfone 2 is 1080p for $200 Posted via the Windows Central App for Android on my Oneplus One

Everything I've read says the 1080p version of the AZ2 is $439.

Nope, that's 1080p 4gb vairant. The 1080p 2gb variant is $300.

The 2GB variant is only 780x1280...


No, the 720p version is 5 inch and will be priced under $200, the 1080p one starts at $200 Posted via the Windows Central App for Android on my Oneplus One

I feel bad for nokia Lumia 830 users. :(
In fact I was gonna be one this month. Now confused. 640 or 830?

Still get the 830, better build, camera, and qi

Is ATT support LTE for sure?

Glance screen support is just what I was wanting in a budget Lumia :D

I want this asap it comes to India!

Awesome phone if its priced 15k

I guess the 15k you are referring to is Indian currency! Always specify..there are about 192 countries man!

I said when it comes to India so Rakesh will obv mean indian currency.

Ohh I missed that! I was rushing through the comments..

Yeah, he asks about whether the price of the mobile which is around 15000 rupees?

Yeah, he asks whether the price of the phone is around 15000 Indian rupees with all the stupid the tax, etc...?

I'm buying the 640 XL replacing my ativ s

This phone is going to be replacing a lot of phones, such as my 920

OMG! Ativ to Lumia 2015 is quite the upgrade! Congrats!!!

Same! Sick of Ativ really like 640 xl

Replacing my 620! Posted via the Windows Central App for Android

Love the colours.Will we be seeing 1520 overtaker soon?

With that Snapdragon? Not really...

1530 likely next year or the fall when Windows 10 is complete.

I'm also thinking it will become Lumia 940xl.

Cyan ftw!! =) might drop my 920 for the XL

just logged in to say, im loving d hammer on your avatar

CYAN is coming back!!!!!!!!!!!!

I'm still running Cyan as Denim isn't available for my device yet. ;-)

I would buy a denim-colored Lumia...

Nice phone specially at that price, Should be a great competition to Moto G Gen2 and other handsets in that range

What I want to know is whether Microsoft actually said the $245 price it I'd that came from a currency converter. Euro pricing includes a minimum 20% sales tax, North American pricing does not include sales taxes. 219 Euros comes in at $197.50 if sales taxes are removed, not $245.

Sold, just give me the date I need to be standing in front of AT&T's doors. No contract, screen size I can read and work on. Yeah, it's not flagship but, as a long suffering 920 user, I'll happily take it.

Wonder if there'll be a case cover option for Qi charging. Still one of my favorite options from the 920.

Feeling like an idiot for buying the 730.. Now the question, go for this or wait for W10.. Damn you Microsoft, give me an exchange for free..

Yikes, this is cheaper too.

There wont be any other affordable phablets if that's what you're asking

Yeah, was so hard not to pull the trigger on an 830 but, glad I didn't.

That was Nokia this is Microsoft!!

I know, just trolling around.. :P

So I guess they probably gonna name the L1520's successor as L940 XL?

Hopefully, the 940XL will come with a 5.7" display also. Finally, we will get a pocketable phablet.

Agreed. As much as I love my L1520, the size is a bit too large. 5.7" is the perfect size for a phablet.

I'm also guessing it will be name Lumia 940xl.

Getting a T-Mobile version. Great price for a phablet and 13mp shooter. Will definitely be a great back up device too.

Finally,i can replace my L521 on t-mobile with a great midrange windows phone and hopfully in CYAN! tired of t-mobile WHITE phones!!

Name confusion will arrive soon... Why not 1330/1340?

Cos a lot of people look at the number 1330, thinking it is "bigger" than 730/830/930 thus should be superior but it isn't. Many people don't get that the numbering system is not one giant number, but three separate digits. Gotta cater to the lowest denominator.

Eh the 1320 is bigger ..... a lot bigger ;)

But its brains are inferior to the other phones and that's where it counts. ;)

This is Microsoft now. All the Nokia designs and naming mess should be cleaned up. MS should quit making all the 512MB phones without front camera immediately. I like all the MS low end lineups from 435, 532, 535 to 640/640XL. 640XL will be super hot, especially for business. L1320 should be discontinued.

I think 640 XL makes sense as a name, but it should be only a bit bigger and not be a completely other phone than the 640. This is also confusing...

No 4g? Enough of the budget phones already

Actually, it has dual-sim LTE

Read before making a comment.

Do they get wireless charging?

So it's much better than L730 at least for those who like big screen

I definitely favor the "XL" naming scheme over a bunch of random ass numbers. There shouldn't be a separate number for a bigger phone. 640, and 640 XL sounds much simpler, seeing as people already refer to XL meaning a larger size. Why do you think Apple named it the iPhone 6 Plus and not the iPhone 6042?

Wonderful Microsoft. MS has finally nailed it with right specs at right price point in Lumia640/XL. Perfect!
Let's hope Windows 10 exceeds expectations. More features and functionality is always welcome but I hope the core apps design deviation will be fixed before the final version ships(at least for SKUs supposed to run on phones and phablets). #BringBackMetroModern #BringBackPivotCentricLargeTypographicHeaders #PutAllMenuesInElipsesAtBottom #AchieveMore

Every Microsoft Lumia has been getting it exactly right. The Microsoft Lumia 640XL is better than the Nokia Lumia 830 and yet its $100 cheaper.
Imagine the flagship. Can't wait!! I think I might get the XL just cuz its so attractive.

Ah so nice to see a post with some common sense!!!! Kudus to you :)

iTotally agree with you. I want the #BringBackPivotCentricLargeTypographicHeaders and the #PutAllMenuesInElipsesAtBottom and as much as possible iDont like the burgers because its lessfunctional for me.

THIS is an affordable flagship, not the 830! Can't wait to see the cams in action!

830 has a Pureview camera (OIS, low light imaging). This doesn't. No clearblack display too.

It has clear black display.and camera with Zeiss optics.So picuture quality will be almost same as 830 if not better than 830. Source: http://www.gsmarena.com/microsoft_mwc_2015-review-1220.php

With Lumia 730 price, I'd choose this!

i see daniel name in the phone ;*) .....he became famous

oh my god..its a great deal.lot more features for the price. 5.7" HD screen 13+5 MP camera, one-year subscription to Office 365 Personal, 1TB of OneDrive storage and 60 free minutes of Skype Unlimited Worldwide calling per month. I can't wait to buy MY 640XL soon.

Nice phone but not really a successor for my 1320

Are you kidding me??? i'm upgrading my L1320 to L640XL, just waiting for the release and if Microsoft can put in a exchange offer like before, i'm buying it the first as i bought my L1320

that cyan 640XL making me think i should sell my 830 and get 640XL

Worth upgrading to from the 920?

If you can't afford a flagship. Then definitely. Its a pretty big step up.

these 2 phones will surely boost up the market... i'm confused which one to get, i wasn't expecting that much low pricefor the 640XL... :)

I'd buy this on the spot if it is available at the exact same or lesser price in India. Beautiful phone meets beautiful specs at a beautiful price.

How about a single sim variant??

Ya, seeing no sim message would get annoying.

So good to see cyan is back

Yawn wake me up if they ever release a top spec phone for those that want one.

Say no so subscription office, more like conscription office. Does it come with regular office for phones?

A couple of interesting things from this: Green is gone and Cyan is back They are using the x40 name for phones shipped with WP8.1 (rather than reserving it for phones shipped with Win10) My opinion on this device (based on the spec) is that it could have done with a pureview camera. The 830 looks like a better buy in this price range (unless you really want that extra screen size). I really hope we will be getter a Lumia 940 XL (aka 1540/1530) in the near future!

It has clear black display. Source: http://www.gsmarena.com/microsoft_mwc_2015-review-1220.php

I currently have a Moto G 2nd Gen and I love it, but if I could get the 640XL for around £170(ish) then I would really like to try it out. I love lumia cameras and with this being a pure view I'm sure it will be brilliant! Posted via the Windows Central App for Android

Just realised, the camera isn't pure view. All the same though, this camera will be excellent regardless. Posted via the Windows Central App for Android

Ah that also explains why it doesn't have a camera button

Wish I hadn't gotten that L535 with touch issues. :(

When XL down under, and approximate price after taxes? Now got the 630 replacement. Unless one with snapdragon 210 comes along before this one hits the shores!

Only thing missing is a dedicated camera button (really comes in handly) and Clearblack Tech but at 720p it shouldnt matter really. This is the proper upgrade I've been waiting for from the L620. The 630, 635 & 625 just didnt offer anything but 1GB ram

I know that the Zeiss optics and Xenon flash are reserved for high end devices... I'm wondering if the Lumia 640 XL come with PureView technology since it has a 13MP camera?
Does any variant have ClearBlack display?

It has clear black display. Source: http://www.gsmarena.com/microsoft_mwc_2015-review-1220.php

Snapdragon 400 is great since it will allow for "hey Cortana" hands-free function.
I'm surprised the 640/XL don't ship with Windows 10 Technical Preview - these phone models SCREAM developer phone.

Snapdragon 400 does not have hey cortana support. Only the 8xx line has it

Seems like clear black display is missing on both Lumia 640 and 640 xl

640XL has NFC.not sure about 640. Source: http://gadgets.ndtv.com/microsoft-lumia-640-xl-2461

Will check that out, thanks.

Looks like there will be a 940 XL instead of 1540

Should be upgrade for me from my 920 as well wonder what the UK pricing will be if 200 pounds then I'll get it off contract straight away. I hope it gets out sooner rather than later

My successor is released now #L620

I may raplace 730 for 640xl

Definitely different seeing "Microsoft" on the phone.

Does it have clear black display??

L1520 Nokia telefon modelleri içerisinde özellik ve kullanım seçeneği olarak en iyisidir.Diğer hiç bir model onun yerini şu anda tutamaz.Nokia'nın şimdiye kadar en iyi ve kapsamlı yaptığı model L1520 dir.Teşekkürler Nokia.

Congrats to people going to get it, really a great value device.

Omg the 640/XL both impressed me. I'd happily buy the XL! Can't wait to see what Microsoft will show us in the future in the high end tier.

I always wonder, how mobile companies decide model number of mobile phones... Like Nokia 1320/720/ 920/ 640 etc, Samsung : i8252/9060 etc etc

It does HAVE ClearBlack, for those who asking. "Display technology: ClearBlack, IPS LCD", check here http://www.microsoft.com/en/mobile/phone/lumia640-xl-lte/specifications/

Wow, the lineup for Windows 10 on phones is shaping up. The 640XL is a compelling device and with the add-on services, it makes the 1320 look like an afterthought and even the 830 looks much less appealing. *I've just bought an 830 to test Windows 10, whoops! Credit to Microsoft for having the balls to clean up the model lineup from the ground up even though it creates a more confusing picture at the low end. They're fixing all the hardware shortcoming complaints people had and they're doing with new models that are fit for Windows 10 and beyond rather than re-releasing and upgrading existing devices which would likely create even more confusion among carriers and stores alike. Can't wait for the flagship lineup, imagine what a 940XL would be like or even a 1040XL - lol!

The demo on this device , the person says its full HD not just HD , hope its right But Microsoft did it right with that price and for the 640 also

For those of us phone-band impaired does dual-SIM LTE mean is could technically run on Sprint's network if they choose to carry it? (I am technically inclined, honestly, but I always overlook some aspect of either the phone or carrier's signal).

Nope. Sadly sprint uses a CDMA network. These are GSM phones

This is NOT going to support "hey cortana" since it doesn't require only the sensorcore thingy but the snap 800+ too, right?

Why now?? I just purchased a L730(December 25, 2014). Irritated and confused with Microsoft's policy. This won't allow a particular model to be successful(I am looking at Lumia 535). Damn it.
But if it helps Microsoft to gain market, idc!

Don't worry, the 730 is still a great phone! :D