Microsoft Lumia 640 is the second most popular Windows Phone in the U.S. right now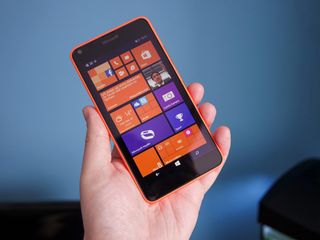 This morning, AdDuplex, a partner with Windows Central and deliverer of cross-app promotions for Windows and Windows Phone devs, has released their August numbers for Windows Phone. The data is collected 5,000 apps running on all the Windows Phone in the global market and reveals current trends within the world of Windows mobile.
Considering that the last Windows Phones released on a wide-scale are the Lumia 640 and Lumia 640 XL, there has been little momentum recently. Pooled with Windows Phone 8.1 effectively being in a holding pattern as we wait for Windows 10 Mobile, this month's numbers are a little less exciting.
However, the Lumia 640 is finally making inroads into the small Windows Phone market, particularly in the US.
Lumia 640 races to #2 spot in U.S.
It was only in last month's AdDuplex stats (July, 2015) did we see the Lumia 640 for the first time in the US. The phone entered in the #10 spot, but just 30 days later it has achieved #2 with 8.8 percent of all Windows Phone in usage besting the old Lumia 521.
The Lumia 635 is still king at 31.4 percent, and we now have some numbers for some of the older flagship phones:
Lumia 1520 – 2.9% (U.S.)
Lumia 1020 – 3.0% (U.S.)
Lumia 928 – 3.2% (U.S.)
Lumia 920 – 4.0% (U.S.)
Unfortunately, the Lumia Icon was not broken down and is likely in the 22.9 percent 'Other' category.
Is it strange that the Lumia 920 is still ahead at 4 percent when compared to the Lumia 1020 and Lumia 1520? Probably not. The Lumia 920, in our opinion, is still the quintessential Windows Phone. Besides being heavy, it was the best all-around device that appealed to the masses. That is the is the kind of magic Microsoft needs to repeat with the upcoming 'Cityman' and 'Talkman' flagship phones and argues for a non-niche approach to the market. Solid all-around specs and nothing completely off-putting. The Lumia 1520 was seen as too large by many and the Lumia 1020 a bit extreme for most consumers.
The Lumia 640 is a well reviewed and received release from Microsoft, and although it doesn't save them, it does keep their foot in the race until this fall. No word on the Lumia 640 XL, unfortunately. Seeing as that phone is only on AT&T and is still new-ish, we may see some more details next month.
Windows 10 Mobile 1 out of 30 devices
Microsoft's Windows 10 Mobile is still in the preview/beta stage being a part of the Insider program. Still, it should not be unforeseen that passionate Windows Phone users would opt-in to test the OS. This month, the nascent OS hits 3.3 percent of all active Windows Phones resulting in a 1-out-of-every-30 devices running the new operating system.
Considering how easy Microsoft makes it to enroll in the beta program this is likely the result Microsoft wanted. Windows 10 Mobile is still a few months out before general release so we should see this number increase steadily.
Globally, Microsoft and Nokia devices still make up nearly 97 percent (96.81%) of all Windows Phone sold, a slight increase of 0.06 percent over last month. White-label devices like BLU are only having a marginal impact on a 0.02 percent increase for 0.77 percent of tall total Windows Phones.
India likes the 640 XL
Early numbers seem to suggest the Lumia 1320 replacement – the Lumia 640 XL – is picking up some steam. Although only a 0.4 percent increase, over last month the large budget phone is at 3.4 percent for all Windows mobile devices in that country. Matching that increase is the Lumia 525 (3.3 percent) and Lumia 730 (8.1 percent).
The current most popular Windows Phone is still the Lumia 535 at exactly 20 percent.
The good news, if any
The AdDuplex numbers only reflect percentages within Windows Phone. As a result, they do not reveal much about the overall mobile market and Windows Phone's place in it. However, they do show that newer devices like the Lumia 535, Lumia 640 and Lumia 640 XL are appealing to users in certain markets. In other words, their absence would be bigger, more alarming news.
Having said that, we have no idea what Microsoft's sales targets were for those devices, making context difficult.
For now, at least, those budget phones are keeping a foot in the race for Microsoft, but their opportunity for a comeback are dwindling by each quarter. Their best bet now is for Cityman and Talkman to hit all the right notes for consumers, global availability, and great word-of-mouth.
Rumors claim Microsoft has a big launch event in NYC for October
Selling points like Continuum, a Surface-like pen for the Cityman, and the Windows Hello iris scanner could cause some needed waves in the industry. Throw in the positive reception of Windows 10 so far and Microsoft could have some momentum going into the fall. Energy is what they need.
Microsoft's Cityman and Talkman flagship Lumia phones and what you need to know
Let's see if they can execute a great Windows 10 Mobile launch, something of which many people remain skeptical.
AdDuplex will publish their full numbers on Tuesday, August 25 in a blog post on their site: blog.adduplex.com.
Daniel Rubino is the Executive Editor of Windows Central, head reviewer, podcast co-host, and analyst. He has been covering Microsoft here since 2007, back when this site was called WMExperts (and later Windows Phone Central). His interests include Windows, Microsoft Surface, laptops, next-gen computing, and arguing with people on the internet.
The Lumia 928 is such a great phone.

Only thing that bothered me was the buttons and the creaky body on some devices.

Hope so Microsoft considers having a successor to the discontinued 830!!! Maybe at IFA berlin or October event .!!!

I only expect two devices this year: cityman/talkman.

no, of course not, those are just internal codenames. Likely 950/950 XL.

950/950 XL or 940/940 XL?

Happy to be a 640 User but i am having a flash issue. Anyone ever faced that? The camera flash lits before the snap is taken thus giving a dark image. So flash is of no Use except being used as a Torch.

Yep as per rumours its seems on that front at the moment ! Hope so,something is out of box .!!,, fingers crossed ;)

There is one in the works.. That was uncancelled.. Code name sanna.. Will either be called 840/ 850. :)

Saana is actually the '550', replacement for 640.

Why is it the replacement for the 640? Is there no 650? Or are the 540/640 going to be blurred into one product line?

Maybe there will be only one 650, that would be a phablet? 5.7" ?

MSFT really need to sort out their naming convention. Good grief!

Nokia started with insane amount of model numbers. MS is going to slim it down..

Well we're going to be stuck with the 928 for a long time since it looks like Verizon is not going to offer any flagship Windows phones.

Verizon is getting out of the contract business model. I pay $300 a month for 4 devices and 8 gb of data. Three of the oones are off contract. The Verizon Network is superior in Atlanta than anyone. So the family does not want to leave verizon. By switching I will pay $80 for 12 gb and $20 per phone or $160 a month. Saving $1680 per year. How many phones can I buy with the savings? The question is will Verizon certify these phones on their network? Maybe the delay in the release is working throught the certification with the carriers. Seems like the new phones will be sold through the Microsoft Store, not throug Verizon.

Superior? How about how Verizon drops calls quite often in the Buckhead area... Granted it is on a verizon iphone 5s (work phone - no choice). My 635 on AT&T never goes out of service.

Here's hoping that flagship phones will be launched this october as more and more lumia fanatics are tired already of waiting.

But meanwhile, Lumia 640 has been out-of-stock at MetroPCS stores in Massachusetts for 4 weeks now, yet it was selling like hot cakes..! and we wonder why it still has only 8.8% marketshare..

Such an awesome device at low price. Should be selling like hot cakes.

WP7 still being used? I kind of missed it. Samsung Focus, HTC Surround/Titan II were the ones' I had.

I still use my Focus Flash around the house I loved that phone...

The Focus Flash was amazing!

Unfortunately, no one should be expecting Windows 10 mobile to sell well in the US. That dream is over.

It's hard to know the end of a story before the first page is even read. Let's give it a chance first.

Yes but we already read the first two books in the trilogy. Just sayin'.

Well, with most trilogies, the third book is usually where all the best things happen. Just sayin'

Just like the iPhone. The first two iPhone models did not sell. It was only after the release of the iPhone 3 and the scene with 'the phone stolen out of a bar,' Apple started selling the iPhone in large numbers.

What alternate reality did you come from? Because in this one the iPhone sold like crazy right from the beginning. We can be Windows Phone fans but let's not alter history to conform with our wishes.

Let's hope the new flagships can match the popularity of lumia 920 Posted via the Windows Central App for Android

+920 Me and every 920 and most 1020 owners are more than ready to upgrade.

If that is your bar, it is quite low! At least your expectations are in check! Posted via the Windows Central App for Android

People like cheap phones and people like flagships. Now we know why those were two of the three categories chosen by Microsoft for future phones.

That's awesome that the 640 is second popular even though it's only been out for some months in the US. I think it's going to be interesting to see how things play out over the next few months. I really feel like the 640 hit the spot as a midrange/budget.

Totally, I actually went from a 1520 to the 640 when it came out because I needed a smaller phone and chose the 640 over the 830 since its 'almost' the same phone under the hood and crazy affordable. I actually can't believe this phone is only $80 from the Microsoft store easily the best value in a phone on the market and love that I don't have to fret over protecting it because if I drop it and it break I just go buy another one :)

Isn't it almost the only available Windows Phone in the US at the moment.

Yes/No. It's also a bit irrelevant. These numbers are not saying it is the second best selling Windows Phone, which would make your observation interesting. These are active Windows Phone users, which is why the Lumia 920 is still at 4%. If we were to look at what the #1 best selling Windows Phone is for August, I'd bet it'd be the 640 because yeah, there just isn't much choice. But that's an entirely different analysis from the one presented here.

How do they determine what is considered "active"? Would my old 920 that I turn on once a month and use on WiFi only, since it doesn't have a SIM, be considered active? Posted via the Windows Central App for Android

If they use an app that hooks into AdDuplex then it shows up. This works similarly to how browser use statistics are generated (devices visiting participating websites have their model/browser ID reported).

So to answer your specific question, your 920 would be counted if in that one use you used an app that AdDuplex tracks.

If the apps that are used to get these numbers are being launched on your 920, your device would be considered active.

Basically. Except, if you have AT&T, it's only available as a Go-Phone. The 640xl and the lame 635 are the only on-contract phones you can get your hands on. They stopped with the HTC M8, 830, and won't even offer the 640. I simply don't understand the complete inconsitency between Microsoft and the carriers. It's sad that you can walk into a Verizon store and there are more Blackberries you can look at than Windows Phones. I am the mobile admin at my company and we do Windows Phones. I'm not buying the 635 for my users and people generally don't like the size of the 640xl. That leaves me no options at the business level. AT&T won't let me buy 640's from the consumer go-phone side and charge them to our business account. It's absurd. If MS is willing to write off billions in this tech field, they should be willing to spend more to advertise and force carriers to actually SELL them. I hope Windows 10 makes a difference and that Verizon and AT&T (really, the only relevant carriers in the U.S.) can get on board with the new phones. Otherwise, we're going to have to bail on the platform.

@Matt-WP, I'm sure if you got in touch with Microsoft and explained the situation, they would be more than happy to help.

Microsoft can't force carriers to sell anything. They will just laugh and walk away. Microsoft has no leverage in mobile. Posted via the Windows Central App for Android

Well if all the mentioned features comes right of the box and fully working, and dont need updates..... Then it would be awesome

So proud to own this amazing mid-range phone!

As expected. It's a real value-for-money phone! 540, on the other hand, seems like an unnecessary addition to the line.

Agreed ! Made no sense to launch

In other countries is the 520 the popular one

520 will always be the top Windows Phone! Posted via Lumia 520 XL

Right till the ram requirements of wm10 became a reality

Probably the only phone which sold like a true Nokia

That phone ticked most of the boxes, albeit a front camera and flash. But there was Lumia 620 for those who wanted those.

Im surprise that 830 didnt make it.

In the US, that's AT&T's fault and no one else's. I think there was an article on here that said that it is going to EOL, if it's not there already. Not surprised that a phone that wasn't really given the chance to fly didn't end up flying. That aside, it was also quite overpriced for what it was bringing.

There's just no real evidence to suggest the 830 did any serious numbers globally.

Cause it was always heavily overpriced. It was neither affordable nor a flagship.

AT&T tried selling the device, they even had a Fitbit promotion to try selling it. Everyone here wants to place the blame on the carriers when a WP device sells poorly, the same thing happened with Verizon and the Icon. At some point, the realization must be made that Americans just aren't into Windows Phones.

Fair points, but I also think it was a bit overpriced for what it was offering and that possibly has/have a hand in it too. The Icon life was too short. If Americans aren't into Windows Phones, why can you still buy a 635 even though it's a year old?

Because it is like $50. The most popular Windows phone is

American are into iPhones and Galaxy because those are the two most advertised phones everywhere.

Yes. Microsoft didn't market it well. It's a gorgeous phone. Microsoft's Portugal general manager uses one, while he could obviously use a 930. I really love the 830, too bad it didn't go well. Here hoping for a similar good looking Cityman.
Lumia for life.

The 830 is still generally available in the USA at the moment, but it's no-longer being manufactured. I own 2 of them (got tired of waiting for the 735 to land in the US) and they're solid, comfortable phones to use. However, from launch -- the 830 has been burdened by an unrealistically-high selling price -- considering the merely adequate screen and chipset; admittedly, the phone's only "affordable flagship" feature is its ZEISS PureView OIS camera. If it had been marketed at a sub-$300US price-point consistent with its other features, the 830 could have provided strong competition for the horde of Android devices in that price range. Even so, the very awkward placement of its single SIM renders the 830 impractical for use in several global markets; In the US, the AT&T version (RM-983) also still lacks a current version of Denim 8.1 software which could allow Microsoft to push Windows Mobile 10 when released. It's not hard to find pushcarts and lunch wagons which are better managed than Microsoft's Mobile Division has been over the past 5 years; I hope that Microsoft has the will & the where-with-all to overcome the significant damage to the Lumia brand during the Stephen Elop-era...

The 640 numbers might have inched a little higher if TMobile would actually advertise it. Was in a couple TMo stores yesterday, and there is now NO sign of anything Windows Phone. Microsoft really needs to figure out a way to direct-sell carrier-unbranded phones that support all frequencies for the type of cell radio(s) in the phone.

The cityman and talkman have universal gsm radios. So it shouldn't be to difficult for business and budget class phones.

Wow, universal GSM radios! Welcome to 2011. Posted via the Windows Central App for Android

Lumia 640... I'm loving it. Just picked it up the other day, can't believe for only $70.

I picked up one that was open box at Walmart for $50 a few weeks ago to run Windows 10 on. Great deal, the device is solid.

The most surprising thing is the amount of people who are still on 8.0. Considering that 8.1 update is free, available worldwide since ONE YEAR and adds a lot of improvements (also it's bundled with Cyan firmware update). Let's say there are 60millions of Windows Phone users, 11,8% still on 8.0 = 7million people.

The only reason I can think of that the 920 is ahead of the 1020 is because the 1020 was released while many of us were stuck in a two year contract on that phone. Then, by the time that the two years ran out, the 1020 was already seeming a bit old and we were (and many still are) holding out for the next awesome Windows Phone. I still am using my 920. It's a brick, but it still looks like new, despite having no case throughout its nearly 3 years of extremely regular use. My wife was fortunate enough to still be in a contract when the 920 came out, so she ended up being the lucky one in our household getting a 1020 after her Samsung Windows Phone's battery died and the phone just refused to charge the replacement battery. She loves it, and we're both looking forward to the next generation this fall. We just hope that the camera's abilities at least *somewhat* match the 1020... I am *still* in awe of the photos we take with the thing, even in just point and shoot mode.

Are you a dude? (honest/serious question) BR.

Oh & by the way, also an owner of the 1020, was so pissed when Goldfinger & then McLaren prototypes were canceled, been waiting for soo damn long for a true successor. I don't think we'll ever see one (too niche), all we can hope for, is that Talkman/Cityman/Surface_phone get "close-ish" IQ-wise, & improve in areas where post-processing held back the 1020 (shot-to-shot time etc).

Picked up a Lumia 640 from the Microsoft Store last week.Awesome phone :) This will hold me over until AT@T releases a WP10 flagship.

3 percent of 3 percent: sorry had to get that out

2.5% at last count, actually.....

At current esitmates, there are ~5 billion devices active. Using your numbers, 3% of that is 150,000,000 units. 3% of that is 4,500,000. I fail to see how 4.5 million of anything is something to mock unless we talking grains of rice.

Check out the 640 on Walmart's website. "Nokia Prepaid Disturbed Smartphone". What is a Disturbed phone?? Lol

LOL, I don't know what happened there. The T-mobile one doesn't show that, why does it show that for the AT&T one?

hee. likely some WP-hater. :)

Of course it is,you can grab an unlocked black Lumia 640 on Amazon for only 115

The Lumia 640 is actually on the list of the 50 best selling products in my country. (41). It's higher up than the iPhone 6 plus.

all the 920, 925, 928, 1020 users are going to upgrade once 950s are out! :) it's going to be quite an impact! i hope it lures more people into buying a WP :)

Count me in for the 925, I've been ready to upgrade it for a year now.

Well, to paraphrase Daniel's words, I'd love to get a combo "large and extreme" phone (a 1520/1020 combo)...how about it Microsoft?

You can get a Nexus 6 now. Same sized screen as the 1520 but smaller and more compact with a camera better than the 1020. The price will be coming down even more soon and it actual has apps. Not to mention it has the best support of any device, default encryption and good battery life. Posted via the Windows Central App for Android

"However, they do show that newer devices like the Lumia 535, Lumia 640 and Lumia 640 are appealing to users in certain markets." Double 640

The 920 was good but had the most horrendous battery life of any portable electronics device in the history of civilization. I'm exaggerating of course but the battery life on that phone was a serious negative. While the 1520 market share is small it's rather high on the list of windowscentral users.

The 920's battery life wasn't that bad when it came out. It was certainly better than the 930/Icon.

yeah, but it was one beuatiful piece of solid phone to hold :)))

Guess the Microsoft branding is paying off well considering the phones they released so far are already the most active. Maybe people are starting to realize that they actually make phones now and may give them a shot. Let's hope they're impressed. Posted via Lumia 520 XL

The 600 series of phones has been good for Windows phone. Probably because they have been so widely available especially in thr prepay market. They just work and have wonderful prices. I hope the new high end devices do great. But the note 5 has really been playing its siren song. Might have to apply for a loan.

Lumia 640 should give a bit better margin then the 520/630. A custumers' company just got 20x Lumia 640. And yes, great phones for the money.

I woonder is Windows 10 will provide a mechanism to encourage the enterprise to integrate Windows 10 mobile phones into their hardware integration. If Windows 10 is continually updated for security and capabilities, especially for the enterprise market, wouldnt that give the CIO's a reason to integrate Windows 10 mobile phones into their enterprise?

It seems that Nokia vs MS brand didn't affect US/Europe Market at all. 640 and 535 continue to sell just like any other Nokia phone.

Yeah, all of those worriers worried for nothing really.

Microsoft provides even better hardware than Nokia.

Possible impact of 940/940XL is highly overrated in this article. 1020 and 1520 were niche devices because of hardware, 940/940XL would be niche devices because of OS, that is established as a niche OS (there were much more optimism about it in 2013 than in 2015 ). 640 should be pefreshed and threre shoud be "proper" 830.

Just picked up a 640 for my son, at $79 its a great value. I like it better than my 830.

920 for life...of battery.

You're more likely to be gay than to have a windows phone in the USA haha

Oh, what a mature joke! /s

Just go to eBay and u can watch the 640(xl) fly off the shelf. Nevermsrp is the seller..its where I got mine.

I've seen those unlocked 640XLs on E-Bay for $200 bucks. I am tempted to buy one since I can't get one on T-Mobile. Does it work fine?

Before buying, you have to check to see with RMs work with T-mobile. I don't know which ones do off the top of my head, but check out B&H Photo Video to see one that works. Not all of them work so it;s very important to find that information before buying.

Yes, works fine, dual sim 4g, I'm using cricket wireless.

Glad to hear the 640 is doing so well, since it seems to be an overall well liked phone. However the difficult to find status for the 640 (for T-Mobile) and the drought of new windows phone releases is sadly staying my patience. I love my Lumia 920, but seeing as the screen currently looks like a kaleidoscope and performance is often iffy, I have briefly considered getting an android to fill my mobile needs. For now however I will wait patiently, hoping my phone can pull through more towards the end of the year.

I have found my own at Walmart, have you tried that? Also, you can buy it from T-mobile directly through the website and/or calling. I haven't been in a T-mobile store to see if you can get it from there or not.

I have a 520. I like it but I want a 640XL. When is it going to be released on T-Mobile??

T-mobile has never said that they will release it.

Continuum is niche, pen support is nothing new especially considering Galaxy Notes have it built-in. 18MP and OIS are getting common nowadays. There seems to be no strong selling point for Cityman I'm afraid.

Especially considering the Galaxy Notes, pen support built in to the OS and not only in a few kludgy apps is very new.

Pen support has been built into Android for a few years now. The Galaxy Note just adds features. Posted via the Windows Central App for Android

The 640 is a solid device for its price point. I bought one as a replacement to a broken then lost 830. It will definitely due until new devices in October. As for 920 rank, not surprising at all. Stellar phone. Can't wait to see what replaces it.

Cheap phones are the most popular. Go figure.

Cheap does not guarantee sales, though. Well-reviewed cheap phones, OTOH, help.

speaking of 640. my front menu wont load. :( WTF? It just started happening whe ni woke up. IT just says loading, and thats it.

Have you tried shutting off the phone, removing the SD Card, and rebooting the phone? If it works without the SDCard, try to pop it into a PC and running a checkdisk on it. I wrote about a similar issue on Android phones a few years ago.

Congratz to the Lumia 640 for its success in the U.S!

My 1020 will still hold me over.

Man I thought my Lumia 920 weight was spot on. I wish more phones would be that same weight. I'm tired of lets go thinner and lighter! All that makes me do is drop the phone quicker. Sigh...

The 640 is by a country mile the best budget phone they have produced to date in my opinion. I do not know of one person who has been disapointed by it. Admittedly I only know of 3 people so truth be known my sample is small however looking at the phone its a sweet phone and does not feel budgety if thats a real word.

Sorry to say but as a Windows Phone loyal user, I neither want any flagship phone, nor i want a more beautiful and cool UI in the form of Windows 10 mobile. All I need is the both quality and quantity of apps. I just want to get rid of the feeling of being ALONE and DEPRIVED of most important apps and being at the lower quality end as compared to android/iOS (e.g. Facebook). Imagine if whatsapp or viber were not there in windows phone! Then could it be even worth full to be installed on a single mobile phone? The first question which comes in the mind of a new buyer and his/her circle is " how the decision of purchasing a Windows is justified if it lacks such a huge amount of popular apps and games in its store?" The only reason to use a WP is its different UI than old boring android and iOS. But Microsoft please seriously workout to reduce the price we pay after selecting WP UI as we are all alone on this planet.

Your pproblem is going to be solved with Windows Mobile 10 when Android and iOS apps will start flodding....

nice news . love this site

And I'm one of the people that has a 640 on T-Mobile. Awesome phone, the only thing that is not are the apps which is where my Nexus 5 and my android and ios devices win. My first windows phone and I like it

Lumia 640 - Microsoft's only market in year, entry level affordable phones.... Windows Phone, the cheapest phone you can buy that has a only a fair selections of apps...

I am passing on Note 5 and what ever iPhone coming in different body for windows flagship this year...

"Bought L640 for playing games...web browsing, editing videos & images....as my 920 heats up terribly....but 920 is still my favourite.....and yeah 640 is an awesome device...."

Happy to be a 640 User. By the way, anyone faced Camera flash issue in 640?

As it should be. The Lumia 640 is a very good phone for its price. Thank you AT&T GoPhone! I got mine for $80! I also went to Ebay to grab the glossy cyan battery cover. Much better than the stock black. The only things that are underwhelming on it are the camera, and the fact that you can't install maps on the SD card. I do have a big problem with that because that is the flagship feature of using the HERE suite. But, the world keeps turning, this battery is very impressive, and the Snapdragon 400 is sufficient and efficient. Then again, coming from the 920, which in the last few months I have to have charging every 6 hours, any battery would be an improvement. I don't know if it was all the updates, and I'll always have a special place in my heart for that phone. It reached the point where video playback wouldn't stay in sync with the audio, and sometimes the device would just get hot while idle. I drove a hand-me-down 1989 caravan that would do that, lol, so I guess maybe it was the old Chrysler of phones. It made for a great handwarmer though, so it had that going for it. :).

Good to see (the Force is strong with this one) L920 hangin tuff :)

I had the Samsung ATIV S Neo until a recent camping trip resulted in it being dropped onto a dirt road and having the screen shatter. My contract was up with Sprint, so I picked up a used Lumia 640 on eBay and moved to StraightTalk prepaid. The 640 was so cheap and affordable, when a nice SIM-compatible flagship Windows Phone 10 launches this fall, I will be ready and able to pay out of pocket.

One common tredn in India and the US: where you restrict the supply of a model through one carrier or seller, you stand to loose. 640 XL is only on AT&T and does not show up in top 10 in the US. On the other hand in India 640 is sold ONLY online via flipkart and is not there in the top 10. In order to have more sales, MS must not get tied down by any operator or reseller for selling its phones. If someone threatens not to sell a particular model if it does not get exclusive rights, then so be it. you will still sell more.

Look like Microsoft just wants market share for now. Does not care where there are located. This strategy will comeback to bite them big time!


How about MS in Philippines? I love lumia 640xl..

Long time WIndows Phone user. I recently sold my Lumia 925, a great phone, but AT&T's lack of update support killed it for me. I did pick up a Lumia 635 and more recently a Lumia 640. The 640 is so much better, actually an all around a terrific phone. I wanted the Demin update on my Lumia 925, but after havining it on the 640, I updated to Windows 10 almost right away. The 640 under Windows 8.2 only supports 3 tile columns -- too small. On Windows 10, it does support 2 tile columns, but given the screen size and resolution, the tiles are very large. Windows 10 Mobile runs well on the L640, but a few missing items really limits my enthusiam. First off, the Lock Screen lacks the weather app intergration of Win8.1. I also have an iphone 6 that I switch out periodically, and I really miss having useful information on the lock screen. There are a few Windows phone weather apps that will update the lockscreen under Win10, but not as cleanly as MSN Weather does. My other issue with Windows 10 desktop and mobile is that Microsoft neutered the Money app, which no longer supports integration of brokerage accounts. I am wondering why, because the even Windows 8.1 desktop app no longer functions as it did before, the function to intergrate brokerage accounts comes up blank when you try to add an account. Microsoft giveth and Microsoft takes good features away.

Long time WIndows Phone user. I recently sold my Lumia 925, a great phone, but AT&T lack of support killed it for me. I did pick up a Lumia 635 and more recently a Lumia 640. The 640 is so much better, actually an all around a terrific phone. I wanted the Demin update on my Lumia 925, but after havining it on the 640, I updated to Windows 10 almost right away. The 640 under Windows 8.2 only supports 3 tile columns -- too small. On Windows 10, it does support 2 tile columns, but given the screen size and resolution, the tiles are very large. Windows 10 Mobile runs well on the L640, but a few missing items really limits my enthusiam. First off, the Lock Screen lacks the weather app intergration of Win8.1. I also have an iphone 6 that I switch out periodically, and I really miss having useful information on the lock screen. There are a few Windows phone weather apps that will update the lockscreen under Win10, but not as cleanly as MSN Weather does. My other issue with Windows 10 desktop and mobile is that Microsoft neutered the Money app, which no longer supports integration of brokerage accounts. I am wondering why, because the even Windows 8.1 desktop app no longer functions as it did before, the function to intergrate brokerage accounts comes up blank when you try to add an account. BTW, "Hey Cortana" is not available on the L640, the option is not listed under settings. Microsoft giveth and Microsoft takes good features away.

640 is junk, obsolete after less than a year, just garbage. Look lets get real here, nearly all windows phones are made for the Indian/Asian market as they are cheap rubbish with half decent functionality, and it's also no surprise that 80% of Microsoft support staff are based there so they practically give them away in India. Just look at the ridiculous market share graphics above, India gets it's very own segment as that's how big a market it is for Microsoft. 95% of all handsets sold in India are dual sim LTE models, do you see Crapple or Shamsung make dual sim? No windows 10 for the 640, no more hardware support, apps disappearing, xbox music losing functionality and the list goes on. This is/was my third Windows phone and also my last, sick and tired of Microsoft "improving" everything by making it worse, it's all a con, they bought Nokia just to get the key staff needed to work on the surface models and now that is almost complete they've dumped Nokia again and all to avoid non-competes in Nokia staff contracts. Windows phone is a joke and so is Microsoft for even bothering to be concerned about the average consumer when they really just want to stick to business/enterprise.
Windows Central Newsletter
Get the best of Windows Central in in your inbox, every day!
Thank you for signing up to Windows Central. You will receive a verification email shortly.
There was a problem. Please refresh the page and try again.