Lumia 640 with Wi-Fi calling now available from EE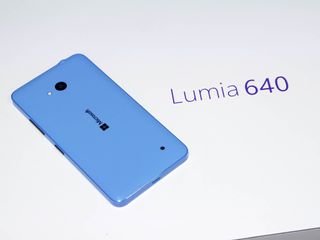 EE announced last month that it would bring Wi-Fi calling to its handsets, starting with the Lumia 640. The phone is now available to purchase from the carrier, with the cyan color variant available exclusively at EE. For those interested in Wi-Fi calling, the carrier states that the feature will be available for pay monthly customers initially. The feature uses the phone's dialer, negating the need to download any additional apps.
The Lumia 640 can be bought for no upfront fee when paired with a 24-month £16.99 4GEE plan, which includes 500 minutes, unlimited texts and 500MB of mobile data each month. 4GEE Extra plans, starting from £19.99 a month, are also available.
Interested in the Lumia 640? Be sure to check out our review of the handset:
Microsoft Lumia 640 at EE (opens in new tab)
Waiting for US release. What's taking em so long?

Same - 920 is slowly going down hill...

Same. The Blu Win HD LTE is looking better and better.

I am also very tempted to just buy the Blu Win HD LTE. Giving them till the 14 to release the phone or at least announce the price and date

I ended up buying the Blu Win HD LTE and absolutely LOVE it! Getting lots of compliments on it as well.

Does BLU have any apps of their own preinstalled for it? Does it have a glance-like feature?

Actually no. It's pure Windows Phone. Sort of like Android on a Nexus. That was sort of a selling point for me to be honest. Not that it's hard to remove apps or anything, but i remember when I had my Lumia 635, it had to spend like 20 minutes during setup to install all of Nokia's "bloatware" apps. Also, because it's direct from Microsoft, there is NO carrier branding or carrier bloatware. Don't get me wrong, there are a few great apps like Mix Music or lumias camera editing app I miss, but like most, Id rather start with a clean OS and add stuff myself, then have things pushed on to me that I don't want.

What's wrong with US?
Why phones are not available over there?
In UK all Lumia variants (435,530,535,635,640,640XL,735,830,930) are widely available as unlocked (use in any network) phones.
Prices are competitive.
For example 435 = £25, 535 =£69
640 = £119 (plus top-up of £10ish).
Advertisement is good as well. I have good feeling about 640.

I know, right! I bet they're going to try and make some grand entrance...my 820 is barely hanging in. It's been a good 3 years...

Wow how do you manage keeping a phone for 3 years!?

Haha I kept my L800 for almost 4 years, just changed it two weeks ago with the L640. L800 is still operational athough it does have a few small quirks such as the need to press the screen to be able to press the end call button. Not having the possibility/need for mobile data plans really reduce the need to upgrade a smartphone.

There's a difference in build quality. ;-)

Buy the BLU... it's better imo

Seriously, my 1020 has seen better days. I was hoping to have a 640 until a new flagship came out, but at this point why bother? Not sure if this is a Microsoft thing or a carrier thing, but c'mon already.

Ive got the L640 XL (from Microsoft store) and am on an EE pay monthly plan. Any thoughts on when this may be enabled for the XL?

For now they state that you can only use wifi calling if you buy a Lumia 640 from them. So you can't even use wifi calling on their network if you bought a Lumia 640 somewhere else.

Any news on when the 640 XL LTE model comes out in India?

I would 100% recommend this phone... Came from a 625, didn't really enjoy that phone to be honest. This is a major upgrade.

Nice, beats having a separate app and have your texts and call logs amalgamated in that app. For me personally, the notion of paying calls and sms either with your tariff allowance or credit when using your own Wi Fi internet connection just doesn't feel right (would never use free public Wi Fi and wouldn't recommend it). No matter how much you try to justify it. As your already paying for your own internet connection and line rental for the landline. However at the end of the day, only profits matter above all else unfortunately.

It's for people with no reception

any chance of a dual sim variant being available to buy in the UK?

is this phone available to try in any store in the UK. Want to check out size and feel before buying.

Or go on ebay there's a seller who has the cyan shell for those who want your 640 in that colour

Still waiting on tmobile or even a unlocked model at the Microsoft store.....

Me too!!! It's killing me how long is taking!! Grrrrr! >:o

And me too. Wish MS products could simply announce a day before release ... enjoy following the development of early OS stuff, but not the half-year tease of a product like a phone.

Or you could get the Lumia 830 for the exact same price on contract (free with 500mb data for 16.99 pm) on EE

Microsoft Should release 640 unloked like moto G in USA ASAP

No idea why they haven't released it on PAYG

If any of you are irriatated with the Nokia 640 never releasing in the US (because it's pretty much never coming... lol) I highly recommend the Blu Win HD LTE! I can't speak highly enough about it.

Do you miss the glance screen or the gorilla glass? What about the screen sensibility, the autonomy of the battery and hardware (snapdragon 410 and adreno 306)?

I've never had/experianced glace other then seeing it on a Lumia at the Microsoft Store. While it seems like a cool feature, it also seems gimmicky (similar to how Samsung galaxy's have air gestures to quickly glance at things) and most likely kills your battery faster. The battery being non-replaceable is fine with me. Most phone manufactures seem to do it now, and honestly... with my track record id most likely end up buying a newer phone in a years time before the battery died completely. I have a 4 year old iphone 4 that still holds a whole days charge, so I'm guessing most people will upgrade their phones long before they experiance battery issues. I don't know how the rest of the world works, but I cannot stand how US carriers lock people into 2 year contracts. I can't use a phone for more then a year tops. And if your smart, 9 times out of ten you can sell a year old phone for about 60-80% of what you paid for it to purchase a new phone. Most people just stick it into a drawer and complain why new phones cost so much. As for the hardware, it's supposed to be a step up from the Lumia 640, so I have no complaints there. Everything seems snappy to me. The screen sensibility seems fine. I wouldn't mind being able to turn it up a little, but then again, I do have a screen protector on it and I'm guessing that that interferes a little.

Ok man, thank you very much.

When will this phone be available form a US carrier? we have been waiting months now!

Just thought I'd add to the "when the heck is the USA release" chorus. First Microsoft can't get a halo phone out for years, now it seems they can't even achieve timely and widespread release of the bread-and-butter midrange models. It's always "next year in Jerusalem" with these guys...

Want the Tmo version with dual SIM... Never gonna happen... But it'd be nice...

Available everywhere but the states.Pick up the slack microsoft.
Windows Central Newsletter
Thank you for signing up to Windows Central. You will receive a verification email shortly.
There was a problem. Please refresh the page and try again.