Lumia 651 Windows 10 Mobile handset appears on Microsoft Mexico website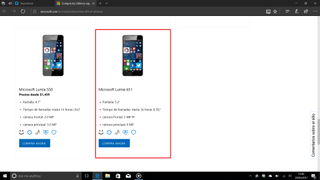 File this one under "probably a mistake", but it appears a new Microsoft Lumia handset has been listed on Microsoft's own website in Mexico (opens in new tab). References to a Lumia 651 have been spotted, and is basically identical to the Lumia 650 but with a slightly bigger screen instead.
The Lumia 651 reference appears on Microsoft Mexico's own directory of devices that are available for sale. It's listed alongside the Lumia 550, 650, 950 and 950 XL. It's its own listing too, and appears to have a 5.2 inch screen, according to the product details.
For those curious, here are the only details the listing provides:
Display: 5.2 "
Calling Time: Up to 16 hours (LTE) 1
Front camera: 5 MP FF
Main Camera: 8 MP
Could Microsoft be planning to release a slightly improved Lumia 650? We think it's unlikely. This is probably an error on behalf of whoever is in charge of listing products on the Microsoft Mexico site. The listing is seen here on Microsoft Mexico's "devices" page. It'll likely be gone soon if it is an error, but if not, we could be in for an interesting next couple of weeks.
Thanks for the tip, everyone!
Windows Central Newsletter
Get the best of Windows Central in your inbox, every day!
Zac Bowden is a Senior Editor at Windows Central. Bringing you exclusive coverage into the world of Windows on PCs, tablets, phones, and more. Also an avid collector of rare Microsoft prototype devices! Keep in touch on Twitter: @zacbowden.
The error is the name. This is the long awaited "Surface Phone". (that's sarcasm)

i would buy it as a second device if it had better CPU (snap 6xx)

I fell for that inking too but if you look up closely the color of inking icon is different from say the cortana icon which means it does not support it.

Yeah. I was wondering the same. It doesn't support inking. Logo isn't blue.

I would like to buy this 'mistake', everything can be the same, only upgrade to 2GB RAM ;)

And Snapdragon 625 please.

Yeah. I'm not sure, but that would mean it could support Continuum? Would need USB C though

Yeah it would be a great device with 625 + USB C + continuum + that Design!

IIRC, the Continuum standard doesn't actually require USB-C. It can work, albeit in a more limited fashion, with micro-USB.

They don't say Windows Ink is supported, if something is supported, the icon is blue. Windows Hello is blue for the Lumia 950(XL), but it is greyed out for the 650. The same is with Windows Ink.

I've travelled a long way from home to Mexico this week. Coincidence?

I think Zac Bowden is not getting topic for windows central.. So full of misleading off topic chaos creating article.. When Microsoft announced Lumia line is dead.. How can he make an article with lame excuses?

They're not anymore lumias, they even remove the lumia section from their website in some countries

Is it removed in your country?

As far-fetched an idea as it is, a new Lumia being produced, it's equally far fetched for me to think why would the person in charge of listing products on that website bother making up a handset.
For the lolz of having Windows Central take the bait and cover it? ... Well, maybe that isn't such a far-fetched idea. 🤔

If they do ever make a new Lumia phone, it better support continuum - even if it is mid range. They can use the SD6xx series processor instead of a SD4xx one

ANY updated hardware would be greatly appreciated. My entire family is ready for an upgrade from various WP models but don't really have anything to purchase.

this is why I went back to Andriod(Axon 7), though I recently powered my 950xl back up casue i miss the buttery smoothness and flow of the home screen. By not having some intern hardware, those like me simply seek something new and different.

To be sure Zac, why don't you buy one, open it up and see the date of manufacturing?

my one sister moved to android i suspect the other may move once she feels she needs a new phone. at the moment her 950xl works for her. new models would be nice my mom is sticking with her 1020 until it dies

I upgraded my 1020 to wm10 insider preview after the interop unlock, it work well, don't understand why MS didn't update this phone

Someone has seen Elvis today at a 7/11.

Why would Microsoft release a new phone? The lumia 550, 650 and 950 perfectly covers the market . What is far more important is their good support for Win10 mobile and they do an admirable job at providing it with timely updates . Now I hope no burning platform syndrome at Microsoft like scrapping the Lumia line before the surface ultra portable is released and successful .

To maintain consumer interest. I recently switched back over to an Axon 7 because there is no successor to the 950XL.

Switching to a crapdroid phone shows little commitment anyway to win10 mobile .

For business, a lot of them use the 640 as work phone

2 GB RAM and you have a customer.

Probably Russians fooling around 😛

I thought Microsoft could only use/license the Lumia name through 2016.

No that was for the name "Nokia"

I think it's a mistake, this is the current webpage for Mobile devices in mexico. https://www.microsoft.com/es-mx/movil/ two months ago there's no mobile devices page in mexico. Greetngs from mexico

Just imagine if someone sneakly wrote 'Surface Phone' just for fun. What would be the consequences?... :)

I`ll probably be downvoted here but believe it or not I actually tried my surface pen on my L925 during in insider build last year and to a certain degree it actually worked, it could have just been recognising it as a finger though but I doubt that, I now have a L650 and would probably buy the L651 if it was released! (with 2gb ram)

I'd buy it if it had a sd400 or above

Pre-April Fools website hack...move along ...move along

Yes still there, now too.