Report: Nokia Lumia 720 to receive double-tap to wake with 'Black update too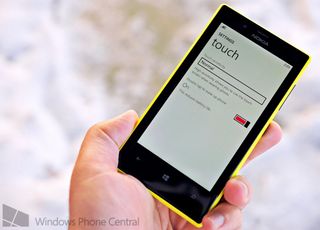 Two days ago, we reported on the Lumia 625 grabbing the double-tap to wake feature with its Lumia Black update. The new option allows people to literally double-tap the display, when off, to wake up the phone making one-handed usage easier.
Another phone that is lacking that feature is one of our favorites: the Lumia 720. Now, a Vietnamese user has received the Lumia Black update on their Lumia 720, claiming that the update has brought double-tap to wake, in addition to all of the other features. A video was also posted giving a 'review' of the revamped 720.
A discussion has broken out in our dedicated Lumia 720 forums about this new feature along with that video, so you're encouraged to jump in.
Our Lumia 720 has not yet received Black and some reports have suggested early February.
The Lumia 720 will go down as one of our favorite Lumias due to its near perfect design. Granted, it could desperately use 1 GB of RAM instead of 512 MB, but from the camera to the display, it's a great little budget phone. Hopefully it will get this new feature, in addition to continued support.
Learn more from the thread:
Video: Facebook group: WPCAS (Vietnamese Windows Phone fans)
Daniel Rubino is the Editor-in-chief of Windows Central, head reviewer, podcast co-host, and analyst. He has been here covering Microsoft since 2007 when this site was called WMExperts (and later Windows Phone Central). His interests include Windows, Microsoft Surface, laptops, next-gen computing, and for some reason, watches. Before all this tech stuff, he worked on a Ph.D. in linguistics and ran the projectors at movie theaters, which has done absolutely nothing for his career.
Its too good to grab the black in Lumia 720...fabulous

but when black update gonna release..???

my one friend have nokia lumia 720, cyan one, she likes it too much, she is a nice chick, she will be happy to hear that, she likes instagram and she likes to perfect 365 app, she likes to drink vodka on saturdays, she likes to take shower without clothes, she is old enough to buy alchohol from shops, shes nice

@halamadridkimi... Your comments are the greatest!

haha... nice description of that female.....and being nice apart.... is she gorgeous???...say hi to your (our) friend...

No offense, but are you trying to find a date for her?

You should have glance screen already ¬¬ They will be introducing notifications on glance screen though and coloured night mode :)

any idea??? whether 520.. will be having it or not...525 can hav den y not 520.. lets hope for the best..

It's possible since the Lumia 520 on AT&T has it already.

Are you saying that Lumia 520 with amber update has glance screen?

We're talking about double tap to wake, not Glance.

My mistake, I thought both the features were interdependent.

max. chances are their that they will be providing double tap to wake up feature.. because if they wont then why are they taking so much time to release it(gdr3+lumia black update) OTA.. something must be cooking in their minds.. we can only say this "u never know what's inside NOKIA's phones and in their minds.."

Confirming. The Black update was just released for some Lumia 520s and it has the DTTW feature. screenshot: http://i.imgur.com/p4k6a0S.png

i'm almost in tears :') To mention 720 is a big thing, and to further say it's getting all these pending features? Black update is finally something i'm looking forward to! Such 720 much black so update wow

I don't know which is sadder, the fact that the 720 is getting the black update this late, or that I just found out I can do this on my 1020. FACEPALM!

If you have the 1020, why are you sad about the 720?

My sister has the 720, but I keep the phone up-to-date for her. We have been waiting for the update.

Hope I get it on my 620 :-o

The Lumia 730, together with the Lumia 930, is the my most wanted WP!! Imagine the same body, with 4,5', HD display, 8,7 pureview camera, 1g ram, dual SIM (for developing countries like Brazil). Perfect phone for almost everyone.

Yeah, and costing R$ 2.000,00.

It's also available on the 625 (as confirmed by my brother, with one).

Pretty sure my first sentence of this article...says that.

I hope they bring this to Lumia 520 too!

And the T-Mobile version of the 925 is still yet to get the update :/

Yeah T-Mobile suck for that

I'm still waiting myself. Maybe we 925 owners will get the black update by the time 8.1 comes out

Wish this feature will come for the 520

Nothing on L920 CV :( Im almost flashing Black here.

NOKIA NOKIA NOKIA
a proud Nokia Lumia 720 owner...

Yes, I am with you. Can't wait for this awesome update !

https://www.youtube.com/watch?v=RgcmXuqJcPA update Lumia Black on Lumia 720 ( ROM China )

Wohooo! I can't wait to get Lumia Black! Proud owner of L720...

https://www.youtube.com/watch?v=RgcmXuqJcPA update Lumia Black on Lumia 720 ( ROM China )

I have a 1020 which has had it since birth...but my 720 is getting it and I'm excited??

Awesome, both by parents own a 720, very good devices with long battery life and good camera.

620 please. My power button was pressed too much:'((

L920 has double tap too since Lumia Black

In fact, since Lumia Amber.

I hope my 620 gets it too.

The L720 never gets even Amber update here (Cambodia), WTH

I suggest u go to the nearest nokia care centre and update your phone. Takes your phones backup first.

It's never released in the first place, seems like the only option is to flash ROM of another country
http://www.nokia.com/global/support/software-update/wp8-software-update/...

I just want black on my 521. Don't particularly care to have this feature as I can unlock my phone one handed anyway.

Plz bring this feature to 520!!!

Is there any hope for 620

I'm glad that I bought this phone and thanks to Nokia for responding to our queries. I knew this "double tap to wake" feature will come eventually and it did. Waiting for the update.

Desperately waiting for BLACK update for my L720 :) Hope NOKIA will release it soon.

My Lumia 920 received the "Black" update a few hours ago!! Fantastic! Rotation lock and quickly closing apps by holding down "back" button is just so basic but an absolute joy to have. Thank you Vodafone!

I can't understand what's happening, three months ago Nokia conversations said that the Lumia 720 won't get this feature because it doesn't have the required chip?

These are screenshots from my L720. It is running gdr3 with preview for developers. This option appears just for a while and then disappears. http://i.imgur.com/omJkWcP.png during the loading http://i.imgur.com/bqTHzv2.png after the loading

Dude i as well my other friend having 520 have the same thing!Damn it mahn

Fingers crossed for Lumia 620.

Fuck this.And y leave 520 when it's largest selling wp?

I was excited when double tap came along for my 810. What a worthless piece of junk. I call it Quadruple Tap. If that. The sensitivity of the tap force is in a very narrow range. Too little force, nothing. Too much, (the logical default), nothing. I now just use the power button, again, all of the time. Which sucks being on the side, of course. Why not just use the Windows "key" on the front like Android does? ONE tap, there you are. Oh, wait, but now I have to slide up the lockscreeen. Android, you can have it or not. This is one of the reasons I often hate my WP.


yup..720 is having double tap wakeup feature with black update!!! just got the black update.. ;)

Finally with BLACK UPDATE, now it is easy to close an app in WINDOWS PHONE too. :)
Windows Central Newsletter
Thank you for signing up to Windows Central. You will receive a verification email shortly.
There was a problem. Please refresh the page and try again.