Lumia 735 now available at Carphone Warehouse, more exclusive colors on the way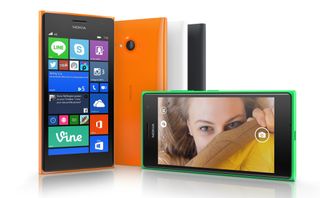 The Carphone Warehouse has today announced that the Lumia 735 is now available for purchase in-store and online. The retailer has also detailed some exclusive colors planned for the Lumia 735 and some other new Windows Phones from Microsoft.
The Lumia 735 is available through Carphone Warehouse in green, orange, black and exclusive blue (the latter is arriving later this month). This particular handset can be purchased on plans from £17 a month, or £199.95 if you prefer not to be tied down.
The Lumia 530, 630 and 635 are already available through the UK retailer, but the company has confirmed that exclusive yellow will arrive some time later this month for all three Windows Phones. Prices will set purchasers back by £8.50 a month (£89.95 SIM-free), £10 a month (£109.95 SIM-free) and £13 a month (£149.95 SIM-free) respectively.
What would be your choice of color?
Exclusive Nokia Lumia colours coming to Carphone Warehouse
London, 1st October 2014: The new Nokia Lumia 735 is now available in Carphone Warehouse stores and at www.carphonewarehouse.com.
In true Nokia style, the latest range is ideal for those wanting to stand out from the crowd, available in a range of vivid colours.
Nokia Lumia 735
The Nokia Lumia 735 comes in three striking colour variations including green, orange, and a Carphone Warehouse exclusive brilliant blue, as well as black. The Nokia Lumia 735 can be purchased with no upfront cost from £17 per month or £199.95 SIM free with the blue available later this month.
Nokia Lumia 530, 630 and 635
Also coming later this month, the Nokia Lumia 530, 630 and 635 will all be available in yellow exclusively from Carphone Warehouse, alongside the current green, orange and black models. The Nokia Lumia 530 is available from £8.50 a month or £89.95 SIM free, the Lumia 630 free from £10 a month or £109.95 SIM free, and the Lumia 635 is available from £12 a month or £149.95 SIM free.
All of the Nokia Lumia range is equipped with excellent cameras which take brilliant images in a stunning amount of detail. Functionality is just as impressive thanks to the brand new Windows 8.1 software which comes with Cortana, the brand new voice controlled personal assistant.
For more information on all the handsets, please visit: www.carphonewarehouse.com
Windows Central Newsletter
Get the best of Windows Central in your inbox, every day!
Rich Edmonds was formerly a Senior Editor of PC hardware at Windows Central, covering everything related to PC components and NAS. He's been involved in technology for more than a decade and knows a thing or two about the magic inside a PC chassis. You can follow him on Twitter at @RichEdmonds.
I would love to check out the blue!!! Wondering how it looks!!!

Yeah definitely! Maybe finally a Color my girlfriend would like. Though I'm not from the UK.

When the denim update will be available for Lumia 630

It should start from this month I guess.

It is of course Coming Soon™

I had heard b4 it was coming on 8th October for few devices.

No... It was update 2 not one... Update 2 is for preview users....

I think we have to wait till next month....

I don't even have cyan for my Lumia 925 on DP so denim is a long way from now.

I feel your pain, still waiting on Cyan for th 925. :( soon, maybe.

And we don't even have a date unfortunately. Amazing long time to wait for an update. I hope Microsoft recognizes the issue and makes some changes since this is pretty bad. And similar we don't have a good date for 730/735 availability either.

I finally have Cyan on my 925, on Three in the UK. Hopefully it will be available soon on your network.

I'm still waiting for the cyan :|

Nice to have blue and yellow options, well-done CW. I hope same applies to 730

730 will not be coming to UK officially, Just the 4G 735. Unlike the 630 that had a 3G and a dual-sim version (as well as the 4G- 635), the 730 is only dual sim varent. Stores like CW dont stock dual sim phones unfortunately (unless they are very cheap one off). If you are after a dual-sim 730 (which does not support 4G btw) your best bet is to buy from another contry or websites that sell phones from abroad.

There is a single-sim 730.

735 is the single-SIM model and 730 is dual. It doesn't work like 630 and 635.

Thanks mans550. You saved me waiting in vain ;). Personally a dual sim is more useful to me than 4G, so I might be getting it on my next trip across the border. Strange that it won't be offered in UK though.

Unexciting times for WP until 2015...

Rich, since you're in the UK, try using hotukdeals.com.
You would have discovered that the 735 is available on pay as you go upgrade for £129.95...
http://www.hotukdeals.com/deals/nokia-lumia-735-payg-upgrade-carphone-wa...

In fact, WPCentral miss no end of amazing deals because you all fail to use the resources out there.
For example, the Lumia 1020 64GB edition was available for £120 on O2 Refresh a couple of months back. That is far more of a story than most of the things on WPCentral....and could also have got more handsets into the hands of us consumers (which given the market share situation is so important right now!).
So yes, before you publish such articles, at least try and check to see if there are cheaper options available (the 735 is available on pay as you go for £169.95 from CPW. All their phones are unlocked, so why buy the SIM free one at £199.95?!)

I did not know that PAYG phones bought from CPW came unlocked. Thanks for info

With very very few exceptions, yes, they are all unlocked. Just check before you hand over the money....but this has been the case for years (and is confirmed every time those deals come up on HUKD).

All phones from Carphone are unlocked, pay as you go or contract, they're all sim free.

I think that from wpc's perspective, the big part of this story is the exclusive colors... not the price. Yes, they cover good deals from time to time, but from what I've seen it's usually US deals. In this case, there was a press release and everything.

Fair play....though in my opinion, a news story about a phone in blue for £200 is far less interesting than the same phone being available for £129.95...
Price is always king - it's why I have a black Lumia 1020 64GB for £120 all in rather than my preferred yellow (which wasn't available on the same deal).
I guess my point is that with such good offers about on Windows Phone devices in the UK, WPCentral need to start talking about them. It's the price that is king...not the colour.
(P.S., why does my phone keep autocorrecting UK spellings with US ones. Color for example should be colour! Annoying)

Exclusive colors are interesting to all of us globally. Sales are interesting to only the one market, and usually only on a very temporary basis. There are plenty of ways to find the best pricing, but new colors will generate a lot of interest. Unfortunately they didn't release any pictures so it's kind of moot anyway of course...

Very bad that Nokia stopped the yellow color... It was great to see...I had seen in India so many using yellow color...

I personally hate that banana-yellow colour...

Yep. The green and orange fad needs to stop.

More like the new red, or cyan, or yellow.

What about the 830 that's what I need to know. I want to know when they will have demo units in store to see what its like

Hmm, gotta say the blue sounds interesting... would love to see it. I wonder if they'll use that blue for future models as well.

For anyone wanting one - DON'T purchase one SIM-free, buy it PAYG with a £10 top-up for £160 all-in. All CW's phone are unlocked anyway!

Anyone could see the Blue Lumia 530 announced for the US? Is there in the Oficial site.

£129 launch price PAYG upgrade is a steal, and finally a WP alternative to the Moto G. Hopefully by January it will be PAYG (new sim) £110-120

I got the green one last week. Would love a blue back cover or cyan as they call it

I doubt it will be the same a cyan... probably darker and very saturated is my guess.

Cyan, red, and yellow should always be color options not just lame carrier exclusives. Nokia's orange and green obsession has become tiring.

Hahaha orange is the new black

I picked up an orange 635 from CPW at the weekend to use while my 1520 is away getter a new screen. I dropped it and the glass cracked The 635 was cheaper than the new screen for my 1520!

Do they offer international/US shipping? Posted via the Windows Phone Central App for Android

Remember the good old times of the 620? You can choose between black, white, cyan, purple, magenta, yellow, lime green, orange and the dust+water resistant grey.

Remember when Microsoft thought they could charge whatever they wanted because they were Microsoft?

I thought this was a 735 article? Maybe I didn't read the title correctly. On second glance I did.

i want a gray or crimson lumia. look at xperia colors! they look classy and professional. bubbly colors may be an eye candy, sure. but i prefer darker hues.