Lumia 800 now available at Orange France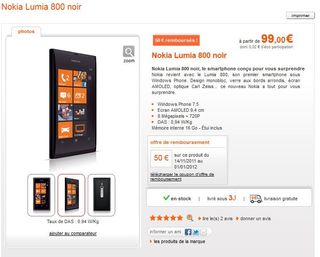 Orange France now has the Nokia Lumia 800 in stock and is taking orders. You can get one delivered to you in 3 days, starting at 99€, including a 50€ rebate. The rebate deal runs from 11/14/2011 to 01/01/2012.
The stunning Lumia 800 has a one-piece design complete with Windows Phone 7.5, 3.7" AMOLED screen, 1.4GHz CPU, 16GB storage, 8MP camera with Carl Zeiss optics, and a 1450mAh battery.
Source: Orange France; Via: MonWindowsPhone (Thanks for the tip, Gilles!)
Windows Central Newsletter
Get the best of Windows Central in in your inbox, every day!
No Front face camera and No 4G and no micro SD? sorry i rather get Samsung Focus S way better. Only drawback on focus S is no MicroSD which is fine has long it is 4G and FF Camera and also thin phone and super Amoled screen.

Is 14,4 mb/sec not fast enough for you? Who needs a front facing camera? A pure gimmick. Who needs a micro SD? You have 16 GB internal... do you want to put your entire **** stash on there? Besides.. the Nokia has a Clear Black Display Amoled, which is pretty good as well.

The Nokia Lumia 800 has nearly the same dataspeeds than the Focus S.AT&T fools you... they call HSPA+ 4G but it actually still is 3G

@thenet...Really? I didn't know that the Focus S was being sold in France.

Jesus Christ, stop beating that dead horse

There is a phone for everyone it is just a matter of waiting....this might not suit you ok,,,we have heard it al before..

If it wasn't for other countries releasing phones this site would have next to nothing to report on that is hardware based.

Go troll somewhere else then.

This is a fantastic site and very engaging too. Excellent work! That's not really much coming from an amateur publisher like me, but it's all I could think after enjoying your posts. Not like other site. You really know what you're talking about too. So much that you made me want to explore more. Your blog has become a stepping stone for me, my friend. Thanks for the detailed journey. I really enjoyed the posts that I have read
mb5-858 exam //70-659 pdf //70-682 vce //
Windows Central Newsletter
Thank you for signing up to Windows Central. You will receive a verification email shortly.
There was a problem. Please refresh the page and try again.