Lumia 930 listed on Flipkart, Indian launch imminent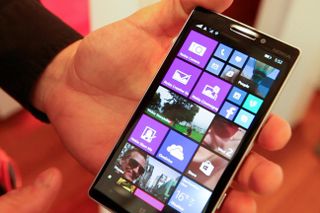 Good news Indian WP fans! It looks like the Lumia 930 is set for an official launch in the country soon, as Flipkart has listed the device as "Coming Soon."
WS Retail will be selling the handset, and while there isn't any information on the pricing or availability, it is likely we may see a launch sometime later this month.
Want to be notified when the Lumia 930 goes live on Flipkart? Head on over to the site from the link below to register your interest.
How many of you will be picking up the Lumia 930 once it launches in India? What do you think the device will be priced at in the country? Share your thoughts in the comments.
Thanks Rajat for the heads-up!
Source: Flipkart (opens in new tab)
Windows Central Newsletter
Get the best of Windows Central in your inbox, every day!
Harish Jonnalagadda is a Senior Editor overseeing Asia for Android Central, Windows Central's sister site. When not reviewing phones, he's testing PC hardware, including video cards, motherboards, gaming accessories, and keyboards.
Greatest news ever.. Please come soon.. Waiting #930

Indeed it's a gud news , but thinking to keep 925,if 930 is round INR 33k then I will go for 930

Probably gonna be priced 40K Rs

Yep between 40-50 easily ..!!! Intial is greater but later falls off

It will cost less than 1520. Right now 1520 costs in the range of 38K. Anyways when is the exact date for launch in india?

No Money Man.. The Ad will be "after all, it doesn't fit my budget"

Fake Nadella keep the price low

It's the real one @Aashish

Whoa!!!
Look who is here??!!!
:P

That be why it a flagship

Waiting since to fund the best replacement for my lumia920

I don't think 930 is best replacement for 920

Really? 2.2ghz quad vs 1.5ghz dual, 20MP vs 8MP.. I could go on

Still isn't. The 920 isn't just specs and camera. Its a whole other thing. The 930 doesn't appeal to me at all. Nada.

Agreed. The 930 is too little too late, imo. Is hard to recommend it now when there are other spec monsters on Android.

Do u people still judge with paper specs in this day and age? 920 is unique and iconic, while 930 is too generic to become a real replacement if u were one who really loved the 920 with your heart.

Thumbs up! Its the prestigio kind.
Here in India if I want to buy/ 2nd hand pieces 920, 1520, 925, 1320, they are not availabe at large scale. Cause of the tagmark achievement of prestigious and personal phones.... No one sells it. But if you want any other apart from this, they are sold like butter.. Lol

If you "really" want best replacement go for 1520, else i would advice stay with 920... L920 still rocks

The only reason why I don't want to buy the 930 is due to lack of Glance screen!!!

I'm quite sure that Nokia's engineers (employed by MS) will come up with a Glance screen / sleeping screen solution eventually, also for 930. They just can't utilize the same approach as with the other models.

Yes but we would like the real thing thank you very much

I think its a hardware thing. So probably no solution. They'll have to create new new glance technology from scratch which won't happen imo.

No they wont. Icon has been out forever and still no glance. Same phone.

I'm waiting for it for the past 93 days. I'll pre book once flipkart changes "Coming Soon" to "Book Now"

I wanna wait for the mid range codenamed superman..!! Probably 720 or 820 successor ...!! 930 far off my pocket

It will be something abt 48,999 ₹....

No !! Its expected to be 36k+taxes. So less than 40k. Besides, same specs phones (not same camera though) like nexus 5 cost less than 30k. I do realise the differences, and Inspite of that it cannot cost more than 40k.

Should be 35k. That's the ideal mrp

I agree here, as lumia 1520 is below 40k too..

Hi! Long time no see.... So did you clear jee advanced? my medical counselling is going on right now :)

yep some sources confimed that it will cost around 36-38k

Expansys Finland also delivering 930 already (black and white)m

Good news waiting....for you 930.

*) Editing a post seems to give double comments. Well, what can you do. Maybe I just can't use this text editor.

I'm quite sure, it will be priced over 47,000.

It wont be that much! Somewhere between 35k to 42k..

nope. some sources confimed that it will cost around 36-38k

930 is available to buy in Croatia for 4000kn.

It would be great if it was ₹4000 in India! But unfortunately, $1 = ₹59.77 :( So it will cost us ₹36000 to ₹37000!

Finally!!!
930, you are late though!

I wanna buy 930 but I don't want to get upset l. I'll wait till McLaren. Then will decide what to buy.

I prefer the 1520. It costs just 2-3k more on flipkart and has glance, external SD card support+6"screen.

Does it fit in your hands? Will you be able operate the Lumia 1520 with only one hand? It's so big! It's a phablet and Lumia 930 is a phone! :p

For sure. Nowadays it has become a standard to use phablet. It is a perfect head turner, especially the Lumia 1520. My friend has a 1320 but I like the design of 1520 much more. Moreover, movies, photos and games look so big and beautiful. I like the 930 too but I seriously need to have a phablet.

Ya, you are right, however! BTW, I too had a fixed desire for the 1520 when the 930 wasn't known. But now, it's all Nokia Lumia 930 for me!!

I'm sure it will be too expensive, will stick with my 920 for now!

It will be priced cheaper than Lumia1520

wtf.why they dont lunch 930 in all country in one day !!! cant w8 anymore

Wow good news...then the wp8.1 rollout announcement will be there that day..,,

Will Nokia store in India throw in some buy back offer?? If so, I might consider exchanging it for 520 if it costs

Guys which will be the worthy successor for L920? Should I go for the 930? I am confused... Any drawback in 930?

It depends on how you define 'worthy successor'. If a spec upgrade is what you are at, then the 930 or 1520 should be obvious. If you mean in terms of packing new innovations and tech, then you might have to wait till McLaren or the next crop of phones are announced. I personally am not inclined or enticed to upgrade my 920. No other phone announced had aroused so much interest like the 920 has. It still has great hardware and WP still kicks ass on low end hardware so it won't be a limitation for older chipsets in terms of performance unless they radically bump up the specs, which is unlikely to happen anytime soon.

Lack of Glance screen and SD expansion are the two major drawbacks for many.

Already 32gb is available...thats enough for above normal plus 15 gb free onedrive....

You shouldn't buy expensive phones when you're confused. Me, I'm not confused, I want the 930.

Any news on the update release?
In INDIA

All over Europe..the Lumia 930 is launching,..that is great,,very happy for all...I LIVE HERE IN NORTH AMERICA..no launch is scheduled for up here in the north (at least nothing I have heard)..why is it we are always last for flagship phone to come here to the north (if it comes at all )...anyway..i am still hoping it does launch up here(live in Canada )

You got the Icon months back in US..Its literally 930 only!!

He said, he lives in Canada and not the USA! The black variant of Lumia 930 is already up for pre-orders here (on Expansys Canada). Check it out! If you need other colours then wait! Lumia 930 will be available globally withing July!

930 did not appeal to me in terms of the design...specs are good, but design seems old and iPhone 4 like....so I took a 1520 for 39k...I expect 930 to be priced around 35k...it will definitely not be more than 1520 as Nokia willingly dropped a screen having display memory(which is used for glance screen) to reduce costs...also no expandable memory...so if it is priced more than 40k, then it would be a waste

sure. they knows more than you. so they will costs 36-38k for the phone

No glance in 930. I don't know if it matters to you. But for me its a deal breaker. Also I like the 920/1520 design. If you want big screen go for 1520 or wait for McLaren

Wish I had the budget but I promised myself ill use my 920 for 2 and a half years.. Another 16 months to go :/

And still waiting for cyan update for my 1520 in Holland any idea when it comes out ???

Yeah..When Holland wins the World Cup..Mind you that could be 4 years later also!!

Just hoping the launch of these handsets in more and more markets shakes loose the final update to 8.1 and Cyan firmware. I think the latter will solve some lingering problems with my 920, though it has been acting nice lately. I am interested in the 930 as I think the screens size is just the right size, but I am a little wary of another phone without expandable storage. The 1520 is a little on the large side, and the price too high presently. I got my 920 when the 1020 was introduced and prices dropped, so maybe it will be the same here. Unfortunately, I have to buy things off sim free, so no chance to hold one before hand.

No... It isn't a true flagship considering much more powerful processers have popped up and devices running on them should be available soon ( I mean for WP segment) may be the McLaren would be a perfect one.... Lets see....

MS has slowed down Nokia, these phones are rolling out real slow

Thailand ppl download wp8.1 for your Lumia 625

I love windows phone but I won't spend 40k for immature platform

Then go get an iphone which is very mature for you

Yeah right, iPhone has no file manager, no sd card support, only a tiny 4 inch screen, LCD instead of amoled,... And I could go on....

Good news :). Hope WP8.1 will be released for other phone too on the same day.

Still no solid news for the UK. This is poor marketing

Flipkart's Windows Phone App seems pretty stupid. Type in Lumia 930 and it shows up everything from headphones to power banks, everything EXCEPT the phone Lumia 930. Had to go to the website to see it.

Finally! But most important is its release date for Pre-orders. I would like to pre-order it rather than buying it after its shipment. It may be priced around ₹35,800 to ₹37,000 - not more than that (at least on Flipkart), I'm sure about that! I have been gathering more and more info. about this phone since its announcement. Can't wait!!!!!

It will definitely be priced lower than the Lumia 1520. How can a phone which is equally/better specc'd than 930 in every way be cheaper? I think 1520 is available at 38k these days, so 930 will be (should be?) at least a couple of thousands cheaper.

Bought my 820 via Flipkart and the price dropped 5K in 3 days after I bought it... This time I will wait couple of months

Then you won't get the FREE Wireless charger worth ₹4,500! And in the Europe some retailers have reduced its price to about €499 from €599!! So, the Indian retailers might also reduce its price to about ₹30,000 to ₹33,000! (For pre-orders only)

Awwwyyeeaaahhh! FINALLY! Can't wait! Which color are you guys planning to get? I haven't been able to lock down a color yet. :(

The black is too black i.e. no white aluminium border! The white is to plain! The green looks too shiny and glossy! Hence, ORANGE is the best! At least for me :P I'm going to buy the orange one. If you see the reviews and hands-on videos, you'll notice that most of them feature an orange version because it looks cool!

I'll wait for Nokia by Microsoft branded phone ;)

I want as an upgrade to my Lumia 720..

Yep. If they are willing to trade old models for this, I might go for it.. But I really really unsure if its worth spending 20k plus for a wp. What's the use of sna When half the apps have not utilized fast resume.

Got the Lumia 625...pretty balanced phone and great value for money

Nice phone..... Like the colour and design. Wish they had cyan as a colour option to though :|

No thanks picked a 1520 and loving every bit of it.

When is the exact date for launch in india?