Are the Lumia 950 and 950 XL victims of the Surface's success?
A few months ago my wife and I watched a movie about a time-traveling law enforcer who was chasing an elusive time-hopping bomber through time. At the conclusion of the film, our time-traveling hero finally came face-to-face with his nemesis.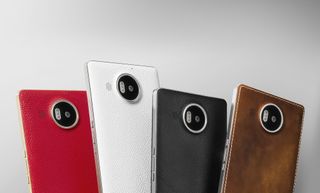 In a mind-bending paradox, he found that his enemy was actually his future self. As his twisted future self arrogantly pontificated about how he had become what he was, the "present" self adamantly rejected the notion and declared he'd never become what he saw before him. He then shot and killed his future self.
He became the instrument of his own demise.
In good company
On October 6th, 2015 Microsoft introduced an impressive repertoire of high-end first-party hardware. HoloLens brought us augmented reality and wearable holograms. Band 2 debuted with an improved design and curved display. The Surface Pro 4 is the thinner, lighter yet more powerful tablet that can replace your laptop. The Surface Book, Microsoft's "ultimate laptop", also doubles as a detachable digital clipboard.
It was among this high-end repertoire of Windows 10 hardware that Microsoft launched the Lumia 950 and 950 XL, its most powerful Lumias yet.
"A" game
Though these Lumias had their start under Stephen Elop's regime, the esteemed Nokia design has benefited in part from the "Panay touch" that brought us the Surface. The Lumias 950/XL borrow liquid cooling from the Surface. This innovation is a first for any mobile phone.
The phones also sport iris scanning, a technology not yet found on the industry leading iPhone or Samsung Galaxy devices. Both Lumias, through Continuum and Microsoft's Universal Windows Platform, can also become your "PC" with a wireless (or wired) connection to a larger screen, mouse, and keyboard.
The aforementioned combination of features found only on the Lumias 950/XL are accompanied by a powerful pack of the usual specs. From a high-resolution screen, generous RAM, leading imaging technology, expandable storage, a USB type C port and more, these devices rival anything the competition has brought to the table. This isn't just fan talk. Microsoft ensured that these specs are comparable to or surpass those found in even the month old iPhone 6S Plus. Which Apple won't likely update until Q3 2016.
The best yet
As with any company, the next iteration of Redmond's devices is certainly on the roadmap. That's just good business. Rest assured when Apple launched the iPhone 6S/Plus this year, Cupertino was also prepping the iPhone 7 for a Fall 2016 debut.
Apple fans knew this. Millions of the Cupertino faithful eagerly purchased "the best iPhone's yet" when they launched this September. Moreover, some of these fans had been waiting only a year for this upgrade, having been among the record-breaking millions who purchased the iPhone 6/Plus in their debut weekend last year.
As I shared in "The Lumia's 950/XL are Microsoft's colorful iMacs", Windows Phone fans have been waiting for 1-3 years for a new high-end smartphone that matches or surpasses what the competition offers.
With the Lumia 950/XL, Microsoft has delivered on that. And for those not blown away with the devices' aesthetics, the phone's removable back covers provide users the option to utilize an assortment of attractive 3rd party covers.
Putting off for tomorrow
Ironically, many fans have decided to pass on the best Lumia's yet in lieu of what they are certain will be better devices next year. This certainty of a better device "next year" is nothing new of course. In tech, one thing is certain.
This reality is inescapable and leaves many users who always want the latest and greatest chasing the wind. "Next year" will always be better.
Inaction speaks
Actions speak louder than words. The opposite is also true. A lack of action can speak volumes. The wrong message can be derived from what is done or not done.
The Lumias 950 and 950 XL are for the fans.
So what message might an industry of consumers, journalists, investors, rivals and others derive from a fan base that may be unresponsive to the debut of Microsoft's first-party Windows 10 Mobile phones? "Meh." And that's not good. It's actually pretty bad. Let's look at Microsoft's mobile efforts through the lens of the industry.
Most industry pundits and consumers see Microsoft's 2.7% representation in the mobile arena as a floundering, barely visible effort that consumers and developers have rejected, and many journalists and bloggers have written off. Apple's and Android's 97% domination of the market has already declared Windows Phone's demise in the minds of many.
Despite the doom and gloom, however, one hope remained.
Windows 10's debut on PC was well-received. With 120 million installs in 3 months, increased store engagement and revenue for developer's part of the Universal Windows Platform is off to a great start.
Impressive sales of the Surface Book and positive reception of the Surface Pro 4 are the layings of a solid foundation for Windows 10 first-party (and OEM) hardware. The Band 2 has also been a well-received first-party hardware from Redmond.
It's within this context that the phone, the most critical component of Microsoft's mobile efforts and the other part of the Universal Windows Platform strategy, exists. And it's this most critical component that has, ironically, received the most criticism.
The Lumias 950/XL are debut devices positioned to showcase the debut Windows 10 Mobile OS. For a company with little consumer, developer, industry and media support of its mobile efforts, the fan base's rejection of Microsoft's best first-party phones to date, at such a critical time, will likely send a clear message to the industry.
The masses will likely interpret Windows Phone fans' ambivalence toward these devices as a rejection of Microsoft's floundering mobile platform.
Consider. The industry can clearly see that the 950 and 950 XL boast high-end and competitive hardware with unique features and functionality. Considering that many fans have endured using 1-3yr old hardware to date, updated competitive hardware that takes advantage of unique capabilities of the new OS would seem desirable from the perspective of an observer.
If fans shrug these devices off at the critical debut of the new mobile OS, objective onlookers such as consumers, journalists, investors, rivals and the like, may perceive that as a rejection of the OS and an endorsement to finally write the platform off.
Victims of their own success
So why are many fans giving the new Lumias the cold shoulder? Among the reasons submitted, the prevailing reason seems to be that the devices aren't what some fans expected from the company that brought us the Surface. They want the rumored "Surface Phone". The Intel-powered, Continuum-enabled, "PC in your pocket" that they are confident Panos Panay and team will bring.
Ok. I feel you. Me too.
Herein lies the problem. The Surface line has not only inspired OEMs. Its sleek design and intricate hardware and software synergy has also inspired Windows Phone fans.
These Windows 10 devices that transcend a fixed form, powered by Continuum and are receptive to multiple input modalities like touch, pen, voice, keyboard, and mouse have seared an image of Windows Phone's future potential in our minds.
Do you see what I see?
A Microsoft first-party Windows 10 Continuum-powered "phone" purposed as the PC in our pockets, in our estimation, should boast Surface-like looks and power. Ok, so that's not the Lumia 950 family. So let's say Panos and team had their run of Windows Phone over the past year. Would we have the "Surface Phone" instead of the Lumia 950 family this Fall? Probably not.
You see the Surface isn't only awesome because of its awesome hardware. The way that awesome hardware works with the relatively mature and great software is what makes it awesome. Note that maturity is specific to the tablet/laptop form factor and use case scenarios that are less app dependent than a phone.
The click of the N-trig pen to initiate OneNote (and now Cortana) works seamlessly with how we use the device(s) in tablet (clipboard) mode. The easy click into the type cover preps us for productivity in laptop mode. Now Windows 10 on PC is mature enough to make various input modalities and the way we use a Surface is truly amazing.
Windows 10 on phone isn't there yet.
Again, if Panay had full run of the Windows Phone project last year, there would likely have been a disconnect in the progress of the hardware in relation to the progress of the software. We've seen Windows 10 Mobile. It's getting there.
What we want
If we envision how we anticipate using a "Surface Phone," multiple input modalities come to mind. Touch, voice, keyboard and mouse we have on an immature yet to be released Continuum-powered Windows 10 Mobile. What we don't yet have is pen. I believe pen input has an even greater place on a phablet than on a Surface for everyday scenarios.
As the primary computing device that is always with us, I imagine the pen will have a front row seat on a Windows 10 Mobile phone. I envision the application of pen support beyond apps like OneNote or art apps. I see an OS with interactive live tiles that are responsive to pen interaction in varied ways. Combined with Continuum, a "Surface Phone" will be a digital notepad as well as the "phone" that will replace your tablet and become your PC.
At any rate, my point is this, Windows 10 Mobile is not quite ready for a Surface-like experience on phone. Even if Panos Panay were in Elop's "seat" last year, that likely would not have changed things.
The Butterfly Effect
I laid out the following timeline in my previous piece.
If the Lumia 950/XL sell well, that will create an impressive surge in Lumia sales for Q4 2015. This surge will likely lead to higher Store engagements and developer revenues for the quarter. This data will provide powerful talking points for the Universal Windows Platform to encourage developer support for the likely activation of the app Bridges around Q2 2016. By Q3/Q4 2016 Panay's "Surface Phone" may surface and benefit from initial ported iOS and Android apps courtesy of the Bridges. By Q1 2017 OEM partners may begin building high-end Windows "phones" inspired by what Panay delivers in Q4 2016.
What's the catalyst for this Windows 10 Mobile ecosystem boost? Successful sales of Microsoft's debut first-party smartphones, the Lumia's 950 and 950 XL (ideally with broader distribution), during the debut of the new mobile OS upon which much hope has been built.
Additionally, Alphabet's (Google) Android's assimilation of Chrome spells trouble. A 2016 introduction and 2017 debut of a unified Android/Chrome OS (the world's most popular mobile OS) will likely draw developer's attention ever further from Windows.
Sadly, in waiting for the Windows "phone" we envision and feel we deserve, we, like the protagonist in the movie I opened with, may end up "shooting" ourselves.
I could be wrong. Time and how these devices sell will tell.
Get the Windows Central Newsletter
All the latest news, reviews, and guides for Windows and Xbox diehards.
Jason L Ward is a columnist at Windows Central. He provides unique big picture analysis of the complex world of Microsoft. Jason takes the small clues and gives you an insightful big picture perspective through storytelling that you won't find *anywhere* else. Seriously, this dude thinks outside the box. Follow him on Twitter at @JLTechWord. He's doing the "write" thing!