The Lumia 950 and 950 XL are Microsoft's 'Colorful iMacs'
"You've got to remember even the Apple regeneration started with colorful iMacs. So let us first get the colorful iMacs. I think with what we're doing with Lumia, we're at that stage. I want to do good devices that people like, and then we will go on to doing the next thing and the next thing." – Nadella 7/14/15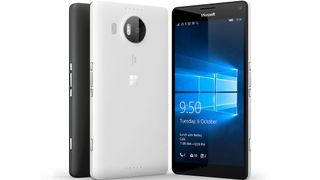 Microsoft's CEO Satya Nadella made the humble acknowledgment above that Microsoft, concerning phones, is in a state of regeneration.
In his candid comparison to Apple's regeneration that saw the Cupertino company rise from near ruin with the help of the bold, colorful and reimagined iMac. He communicated that Microsoft's new Lumia's were positioned as a similar stimulus for Redmond's mobile endeavors.
Much has been said, both positive and negative, about the Lumia's 950 and 950XL. In the final analysis, however, these two high-end, premium smartphones are exactly what Microsoft and Nadella positioned them to be. These competitively designed devices are for Windows Phone fans.
2012 - 2015, It's been a long wait
Let's step back for a moment and take a practical look at where we are today. Three years ago Windows Phone fans purchased the Lumia 920 in droves making it arguably the most popular Windows Phone to date. My wife was chomping at the bit for one. So as one of her Christmas gifts that year I bought her a white 920, wireless charger and all. One of the things that prevented me from moving from my HTC Titan to a black Lumia 920 was the ATT contract that had me bound for several more months.
Once freed from my contract in the Summer of 2013, as some of you, I moved on to the next high-end Windows Phone. The 41 MP Lumia 1020. A few months later, via a Microsoft Store promotion, I scored the Lumia 1520. This 6" powerhouse flagship is popular among the phablet-loving Windows Phone faithful.
That same year, my sister-in-laws like many Windows Phone fans on Verizon, grabbed the Lumia 928. Early 2014 brought us the Lumia 930/Icon, which was essentially a 5" 1520. Finally, the HTC One M8 graced shelves mid-2014. And well, as far as high-end Windows Phones go, that was all she wrote.
Sadly, those six sporadically released devices were also sporadically distributed. Not a single one of those phones was released across all carriers. Furthermore, some carriers like Verizon abruptly stopped caring and stopped carrying the devices it did sell.
So it has been over a year since the last high-end Windows Phone was released. And about three years since the most patient of fans, sporting 920's, have had a flagship to brag about. In this time, we have seen flagships from Apple, Samsung, HTC, LG and others in the hands of family members, co-workers, fellow commuters, and happy looking people in TV spot after TV spot.
With Microsoft's focus on the low-end over the past year, it seemed to many that Microsoft had forgotten about its loyal fans. As a Windows Phone fan, industry watcher, writer and husband to a Windows Phone fan I have heard the cries, "When will Microsoft make another high-end Windows Phone?"
Folks, we have our answer. It's the Fall of 2015 and Microsoft's premium Lumia's 950 and 950 XL will be released this year. And again, these devices are for the fans.
Ask, and you shall receive
Windows Phone fans have asked for a high-end device with specs comparable to the latest and greatest representatives of the Apple and Android camps. Well, not only did we get one device. We got two. Now I know that different OS's run differently on different hardware. And Windows phone has a reputation of not needing the highest specs to run smoothly. But hey, as a fan I, like you, want to be able to say to the competition, my phone is every bit as powerful as your iPhone or Samsung Galaxy. And guess what. With the Lumia 950 and 950XL, we can say that.
Swipe to scroll horizontally
| Category | Lumia 950 XL | iPhone 6s Plus |
| --- | --- | --- |
| OS | Windows 10 Mobile | iOS 9 |
| Screen Size | 5.7 inches | 5.5 inches |
| Screen Resolution | 1440x2560 (564ppi) | 1080x1920 (401ppi) |
| Screen Type | OLED | IPS LCD |
| Processor | Snapdragon 810 64-bit octa-core | Apple A9 64-bit dual-core |
| RAM | 3GB | 2GB |
| Internal Storage | 32GB | 16GB/64GB/128GB |
| External Storage | microSD | — |
| Security | Windows Hello iris scanner | Touch ID fingerprint scanner |
| Rear Camera | 20MP ƒ/1.9 PureView camera, triple-LED flash | 12MP ƒ/2.2 iSight camera, dual-LED flash |
| Front Camera | 5MP, wide-angle lens | 5MP, screen flash |
| Battery | 3340mAh removable | 2750mAh non-removable |
| Charging | Qi wireless, USB Type-C port, Quick Charge | Lightning port |
| Height | 151.9mm | 158.2mm |
| Width | 78.4mm | 77.9mm |
| Thickness | 8.3mm | 7.2mm |
| Weight | 165g | 192g |
As you can see in the table above Microsoft's premium Lumia's have comparable or superior specs compared to the rival's flagships. With Windows Hello biometrics and Continuum, the Lumia's even pioneer territory the competition has yet to adopt. Ask and it shall be given.
What about the app gap?
What about it? No, I'm not being cynical but let's look at this in context. First and foremost, these Lumia's are for Windows Phone fans (and enterprise). Most fans have been holding on to aging 920's, 1020's 1520's, 830's, 930's, etc. for the past one to three years.
Even considering the recent loss of some key apps, the core fan base (though we want more mainstream apps) values other aspects of the Windows Phone experience above some apps we may not have. I'm personally still disappointed with the loss of my banking app. But whether it returns or not I enjoy Windows Phone too much to switch camps. And naturally the enterprise has little use for SnapChat.
Now that is not to say that there is no concern for a more vibrant app ecosystem. This is the point where the app Bridges come in. As a reminder, these Bridges allow developers to port easily their Android (Astoria), iOS (Islandwood), web-apps (Westminster) and Win32 apps (Centennial) to Windows 10 as Universal Windows apps.
Though all of these Bridges are not yet active, I believe Nadella's strategy is that next year's devices (which will likely target a broader audience) will benefit from the work yielded from these tools.
However, the current position in Nadella's strategy is key. He recognizes that there is a large base of fans that are excited about Windows Phone. However, until now there hasn't been a device for this committed base to be excited over. For any platform to succeed the excitement of the fans, need at least one flagship device through which that excitement can be harnessed. We now have two devices.
The colorful iMac
Nadella, I believe, is expecting that the 1 to 3 year-long pent up demand Windows Phone fans have had for high-end Lumia's will result in a greater rush for these devices than that experienced when the 920 hit the shelves. As I shared in an earlier piece, this could likely generate the largest surge in Lumia sales to date. (With wider carrier support it could be epic.)
For Q4 2015, the quarter in which the devices will be released the data for Windows Phones (when released in the new year) is likely to look very positive. The surge above in Lumia's running Windows 10 Mobile will likely be accompanied by excited fans engaging the Windows Store in great numbers. Consequently, analytics will likely reveal a respectable number of app downloads to Windows 10 Mobile devices. There may also be increased revenue to developers during this quarter as a result.
Whether that pattern endures or not (which we hope it will), these will be powerful talking points to the industry, consumers, and developers for Microsoft's Universal Windows Platform. As Windows 10 on PC has yielded 6x more store visits and a 4x increase in developer's revenue, a similar ecosystem boost on mobile will validate Microsoft's strategy.
This positive messaging in Q1 2016 will likely be on the heels of the push for the Bridges. With a message of increased engagement across its ecosystem, Nadella is likely betting on developers being more inclined to invest in porting their apps to Windows 10.
Will the next Lumia's or Surface Phone be better?
Yes, the next Lumia's or Surface Phone will be better than the 950 and 950 XL. The devices after those will be even better. So goes the cycle. The thing to remember is that Microsoft is retrenching to be more competitive in mobile.
By this time next year, we will likely see that Panos Panay's team will have honed a deep synergy between more sophisticated "phone" hardware and a more mature Windows 10 Mobile platform. We may even see practical uses for an N-trig pen on Windows phones by then. I believe that Nadella is also anticipating that by Q3 2016 the Bridges will have begun to yield a richer and growing app catalog from which the new devices will benefit.
Due to this app growth coupled with the Universal Windows Platform, Continuum and Windows Hello biometrics next years Windows "phones" (as I shared previously Nadella is positioning Microsoft devices beyond the "phone") will likely be positioned more competitively to reach the masses.
Lumia's illuminating the way
If my above analysis is correct aggressive consumer-focused ad campaigns for "phone" are not likely to be seen until at least Q4 2016 (if at all). Why? Because the current Lumia's are for the fans and our particular behavior keeps us informed with the latest and greatest from Microsoft. Redmond doesn't need ads to reach us.
Next year's devices may be a different story. If they are indeed going to be aimed at the masses, we may finally see the ad campaigns we've yearned to see. With the impressive install rate of Windows 10 on PC, "The phone that works like your PC" may prove to be an effective campaign slogan.
Attempting to reach the masses now with expensive ad campaigns, before the Bridges have an opportunity to address the greatest chink in Windows Phone's armor would be counterproductive. Some who convert may find that their favorite app is not available on Windows Phone and could be quite vocal with their discontent.
Now with Microsoft's Surface strategy being applied to the "phone", we may begin to see, by Q1-Q2 2017, hints of OEM's building high-end Windows "phones" inspired by what Panos Panay and team deliver in Q4 2016. If the inspiration that the Surface inspired among OEM partners is any indication of what could occur there is a reason for hope.
But this all begins with Microsoft's "colorful iMacs."
Your Lumia 950 or 950 XL
As the colorful iMac marked a historic shift for Apple, the Lumia 950 and 950XL may mark a historic shift for Microsoft in mobile. Redmond is showing innovation and progress in all of its other business sectors. The industry for the first time in years seems galvanized by what Microsoft is bringing to the table. From the HoloLens to the Surface Book, the industry is giving Microsoft cool points normally reserved for Apple.
It is at this point in Redmond's story that they have presented fans their "colorful iMac's" - the Lumia's 950 and 950 XL. Now I know there are challenges like limited carrier support. But the question remains, "should you buy one of these Lumia's at this historic juncture?" I can't answer that for you. But if you're a fan, I'll offer Nadella's words,
These fan-focused devices are good devices. Do you like them? I do. And I plan on being a part of the beginning of what's next.
Get the Windows Central Newsletter
All the latest news, reviews, and guides for Windows and Xbox diehards.
Jason L Ward is a columnist at Windows Central. He provides unique big picture analysis of the complex world of Microsoft. Jason takes the small clues and gives you an insightful big picture perspective through storytelling that you won't find *anywhere* else. Seriously, this dude thinks outside the box. Follow him on Twitter at @JLTechWord. He's doing the "write" thing!