Surface Book pre-orders have been 'huge' so far, according to Microsoft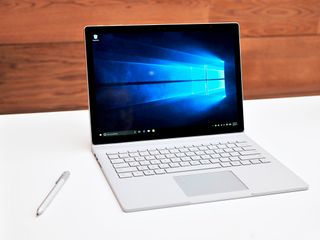 Along with the Surface Pro 4 tablet, Microsoft's Surface Book notebook officially goes on sale today. While the company is not offering any hard numbers yet, Microsoft hints that so far sales of the Surface Book have been high.
According to a Wired behind-the-scenes profile on both the laptop and Surface leader Panos Panay:
The article also talks about the secrecy surrounding the Surface Book, which no one outside of the Surface team itself had seen until nine months ago, when Panay finally revealed their latest hardware product to Microsoft CEO Satya Nadella and other team members.
Indeed, Wired states that while the Surface Book was shown to third-party partners and retailers before it was officially announced earlier this month, those folks didn't know about the display's ability to detach and work as a stand-alone tablet until about a month before the launch.
The article even has Panay talking about Microsoft's cancelled Surface Mini tablet, with him stating, "It was like a Moleskine . . . It was awesome." Indeed, he used his own Surface Mini to write an email about what he thought the Surface team could do to make "the ultimate laptop" about two years ago.
Pre-order the Surface Book from $1499 at Microsoft (opens in new tab)
Source: Wired
Windows Central Newsletter
Get the best of Windows Central in in your inbox, every day!
So far, things look promising for the new device! Hope it really takes off!

And hope the mini makes a comeback! We need a butterfly keyboard to make that thing awesome.

the Surface 3 can be regarded as the Surface Mini

Not by me. 6"-8" with as close to no bezel as possible is "mini" to me. (And I want my 4.7" flagship, back!!!)

bullshit .. it costs more than the average person makes in a month.. Microsoft is a finished company. now I know for sure..

Heh. Posted via the Windows Central App for Android

These devices aren't aimed for "average people" Posted via the Windows Central App for Android

This is true it's for hard core PC gamers and business people

Hard core gaming you say? Posted via the Windows Central App for Android

Or people that do have the money and want an alternative to Apple with Windows installed. Price points HAS NOT stopped Apple's growth of their stuff. One can make an argument that Lumia don't warrant price comparison with Apple, but you can't argue premium comparison of Surface versus MacBook.

I wouldn't say gamers, but graphics and enterprise professionals will adore this thing. The Surface Book is targeted towards people already used to paying thousands of dollars on a machine. It's just like Apple, honestly: Microsoft isn't racing towards the bottom, they've carved out a nice little niche at the top. (Which makes sense: Racing to the bottom would further step on the toes of OEM partners more than they have already)

They sought to out-apple apple on this one and I think they did. they really "brought the thunder."

i guess Apple is finished too since its products aren't targeted the "average" person. That would also apply to BMW, Mercedes, Gucci, Rolex, etc. The luxury market can be very profitable even if the average perain can't afford them. Microsoft still has plenty of partners making lower end laptops and tablets for the average person.

The luxury market is where the biggest profits are. Those people are not looking for a deal or waiting for a coupon.

my current laptop (HP Elitebook 2760p) after customizations costed me $2500 so these kinds of laptops are geared for a niche market. Enterprise customers (like me) will do a lease agreement so that it doesn't cost too much upfront

Unlike Apple, Microsoft is not reliant on hardware sales. They make the majority of their profits off software.

They are priced exactly the same as the Mac Book Pro. According to your logic Apple should have closed a long time ago.

Hope and looks like it will! :) However, from the reviews it does sound that unless one is really in need or burning desire to get it (which I can understand as it does seem awesome already), one is better off waiting for Book 2. Posted via the Windows Central App for Android

Well on that like of thinking it's always better to wait for version 2 over 1

As you saw I anchored my comment by reference to the reviews (see e.g. the Verge/Tom Warren review) and qualified my comment by linking it to a person's need and level of desire to just get the latest gadget, even if it is clearly in need of a little bit of refinement. And yes, it almost always better to wait for version 2 over 1 and seems to be so here too; however, waiting e.g. for version 4 or over version 3 (I am sure you know what I am referring to) had must smaller gains. And it may well be that waiting for 5 over 4 will have even smaller returns.

Lets hope this thing beat the MacBook crap out of it

It's a bit expensive. Would the prices drop anytime soon?

Nope, and why would they if it's selling well with the current price..

I lol'd. It was just announced and you ALREADY expect price drop.

Well Lumias 950 do not even have release dates and their price already dropped in the UK :D

becuase Lumia 950 hardly sells and per this article, MS is able to sell every surface book they can make. Isn't that justificatino enough for what you ask?

First of all the smile at the end should have hinted the irony of my comment (even without the smile it was pretty clear). Then again if we want to talk about it seriously, lumia 950 will probably sell very well in EU countries (UK is an EU country :P ). For example UK marketshare as of May 2015 is: windows phone 10%, iOS 37%, Android 53%. https://public.tableau.com/profile/dallin8725#!/vizhome/KantarWorldpanel... By this I do not mean to compare surfacebook with lumia at all, but the price cut is not due to low predicted sales in the UK, it was just too high and they revised it (and it still costs more than if paid € or $).

That was a price adjustment, not a reduction.

If you buy just the components, NVidia chipset/card, Intel processor, Solid state drive, RAM, high resolution screen with dual digitizer, keyboard, that hinge, etc, I can assure you, you will be over $1k. Now add the body, the design cost, Manufacturing cost, part procurement cost, Distribution cost, and if there is room left, profit. I don't see how this is expensive. These companies need to keep at least 25-30% profit margin so that they can cover the cost of warranty returns/repairs, promotions, free giveaways, etc.

I'd be surprised if the BOM you mentioned was over 1k. $100 GPU, $300 CPU, $100 SSD, $150 display. That leaves the hinge? With the sentiment, though, I agree. R&D is expensive, and they need to recoup their cost. The BoM is almost certainly not over $1000 but the cost of developing after including R&D certainly isn't cheap. They aren't just taking retail parts, there's quite a bit of engineering involved in getting everything to fit. Posted via the Windows Central App for Android

I don't know what laptops you've used in the past but there is also a keyboard, memory, battery, digitizer, pen, wireless nic and probably hundreds of other little parts that add up.

probably in a year, right before the surface pro 5 and surface book 2 are announced. the surface pro 3 prices dropped by up to $300 in the month prior to the launch.

@raytiger these prices are very competitive. You have to compare the Surface Book to the HP Elitebook, Dell Latitude, Fujitsu Lifebook, and Panasonic Tough.

The biggest takeaway from this article was, "A few machines away, another machine works on a prototype of a new phone." If Panay and his team puts the same efforts into a phone, we are in for a real treat.

I was just about to post this comment. Yeah buddy. I'm gonna feel silly for getting a 950XL and then turning right around getting the next phone but my 1020 is just too long in the tooth.

Same here. I'll just add to the collection.

I agree, I got really excited when I read that. I really want a Windows Phone, but I'm wondering if I should wait a bit, see if "this prototype" phone becomes the mysterious "Intel phone"(Surface Phone) If so then I'd be inclined to wait for that to arrive. Having said that I'm very tempted by the 950XL.

Like the 99% of everyone in here

Still a massively well kept secret, if journos knew a month before the event. The detach was still the best thing I've ever seen from a surprise point of view.

Agree, that surprised me in a magical way!

i strongly doubt that even Satya Nadella was unaware of this.
if that's true, he's a bad CEO.

The Surface team is a proven one now, most CEO level people wouldn't micromanage them (mostly for lack of time). He'd give them a percentage of profit to innovate and wait for something close to the vision. I'm sure there were updates on the line and he probably knew they were working on a laptop, but the details were left for the presentation so that he could judge it as a customer as to whether this was the way to go.

I don't know how many large companies you've been on but CEO's are usually not that much involved in designing products.

He wasn't unaware, if you read the WIRED article, you will see that Panos showed the "executives" at a retreat the whole thing, and they were all blown away. But after that they kept it under wraps. They said they did presentations with with their partners and other parties where they disabled the feature to remove even, removing the key from the keyboard so they wouldn't be tempted. The whole article's pretty amazing.

If only they worked on a phone that would have been super cool. We need to pump Panay a bit more.

Trust me he works on the phones after 950/950xl

Just got to that line when he sees a CNC milling a phone prototype. Imo that's the best evidence we're going to have a surface phone! And it's gonna be class!

are you sure he can handle even more level of pump?

Just a few more hours and I'll have my Surface Book. Haven't been that excited for a new device in a while.

Are there any exchange programs ? I want to trade my MacBook for a Surface Book .. They did something like this with the MacBook air for a Surface Pro 3 previously.

yes you can trade your Macbook laptops and get $300 off the new Surface Pro 4

I thought that only applied to those purchasing OEM PCs and laptops?

US only, right! Numbers are high? Realy?

No reason they wouldn't be. Windows desktop is a different beast entirely from the phones in terms of popularity.

Numbers aren't U.S. only, as it's available for preorder in a bunch of countries.

Sure, 'Huge', 'A bunch'. Why not call it that?

What a good way to start this morning! Good news

Good news. Rooting for MS and the third ecosystem. This is the long game. Hopefully It slowly but steadily turns to mobile converts as well. Make it So

For as long as I have used MS products, for as long as I have waited for the tide to change in our favor, for as deep as their new devices touch my soul and the reveal inspired a new MS. I lost hope on that "third ecosystem" and after much deliberation and patience... have ordered an iPhone. Maybe in a few years, I will be able to come back and embrace what MS on mobile should have been all along. In the meantime, my 1520 will sit on the nightstand and run Win10 Mobile for continual testing in a wi-fi only state. Maybe in a few years, I will be too heavily invested in the Apple ecosystem to validate a return. Mobile convert to the wrong direction due to lack of choice, lack of faith and tireless waiting, wrong direction for all the right reasons.

Ok, I don't know you, but in all honesty... this comment is pathetic. The Drama is strong with you, young one. Get over it.
Throw the 1520 away, pay more for an iPhone and realize how many issues those have as well...
But don't come here and look for sympathy.

@arwars. An ecosystem is not a cult.... Eash. Quit being so overly dramatic.

You MUST tell me when in Greenland?

Surface Book 4 delivered!!!

Nadella would have cancelled it if shown earlier.

Huh? That's an odd thing to say.

Please release surface products in India!!!!! U got fans in India! We don wanna use Mac shit!!

well if this is true, time to hire more chinese to make them as fast on how they are selling.

No need to hire them, just capture them and put them in chains with some bread and water, so we can have our useless first world gadgets (just preordered my 950)

Just setup Windows Hello on the surface book, Super FAST!!!

I feel you bro but luckily I still have some albeit not faith but some stamina left. I work in NGO and Apple are not the kind that helps people but MS is, especially good old Gates. I like that so I'll keep hanging on just a little while longer.

Well duh, some people actually have good taste.

Did anyone else make the mistake of doing a pre-order with Best Buy? It's launch day, and my store has received 0 units! I should have gone to the Microsoft store.

I love where microsoft heading, but i kinda disappointed of what can surface book to offer compared to macbook pro in term of video editing, i tried to edit 4k video sample and without adding additional effect on it still have embarrassment lag compared to macbook pro that $200 cheaper than surface book, i don't know why though. Posted via the Windows Central App for Android

Well first of all which specced version did you try?
You can't just base it on one unit alone and not to mention you haven't said which versions you're comparing.

I'm happy to read that the Surface Book is garnering such positive interest. Hopefully, this interest carries over to the phones.
Windows Central Newsletter
Thank you for signing up to Windows Central. You will receive a verification email shortly.
There was a problem. Please refresh the page and try again.