Lumia 950 and 950 XL get yet another price cut in the UK Microsoft Store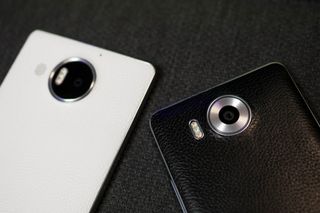 There's never been a better time to get your hands on a Lumia 950 or 950 XL if you live in the UK. Both phones have seen yet another price cut on in UK Microsoft Store, bringing the 950 down to just £249 (opens in new tab) and the 950 XL to £339 (opens in new tab).
The cuts represent quite a bargain compared to the original going prices of both handsets. The Lumia 950, for example, started out at £450 when it launched in the UK in December, while the 950 XL was started priced at £530.
As noted by Neowin, it's likely these are permanent price cuts as well, as the Microsoft Store typically displays a special tag for promotional discounts. In any case, it's as good a time as any to pick up either handset if you're in the market.
Dan Thorp-Lancaster is the Editor in Chief for Windows Central. He began working with Windows Central as a news writer in 2014 and is obsessed with tech of all sorts. You can follow Dan on Twitter @DthorpL and Instagram @heyitsdtl. Got a hot tip? Send it to daniel.thorp-lancaster@futurenet.com.
-£200 in less than a year

That is cheap, a 950 for £249 is an exceptional price for what is still a high spec phone, not much more that they were charging for the 830 not so long ago.

Does it still get super hot? 950XL

All phones get super hot, depending on what you are doing with them.

No, all phones doesn't get super hot depending on what you're doing. All phones get warm but not Super hot.

Yeah, all phones get warm. The 950 series too.

My does not, through regular use. When charging it warms up, also if doing some intensive stuff. But, my daughters iPhone 6s gets as hot, or hotter with heavy use. Be aware also, that they may still be offering a year of Office 365 and a display doc. The camera rocks on my 950xl. One thing I would advise, get a Mozo back cover. The only annoying downside is the fact that finding a tempered glass screen protector that fits nice, is tricky. That said, the £2.99 ones on eBay are not too bad.

Ok cool, thanks for your feedback. I will keep that in mind.

Yes it does, when using it on heavy tasks like gaming, etc warm during normal use, not much though

No. Intially it used to....but since the au update, the phone is quite cool. Do remember heavy graphics makes it quite warm but never very hot.

My 950 gets pretty hot with intensive use. Charging while playing music can do it. It happens that it will fit in the air conditioning vent and that will cool it down nicely. Posted via the Windows Central App for Android

I'm actually laughing at my own misfortune, bought a second hand 950 with light use for £200 yesterday, £20 to get it unlocked and £21 for the red mozo, a fresh new phone with warranty etc for only £9 extra if I wasn't such a Microsoft/also bargain fan

Oh I forgot to mention a £8 Nillkin tempered glass screen protector too!! I've saved £1 overall! Haha

£200?! You can't have been searching too hard!!
I'm currently debating whether to pay £100 for a pristine/boxed and I think unlocked 950. The problem being that there are just so many good Android's in the price bracket....and also, Microsoft's decision to delist non age rated apps is just lunacy (would remove some of my most used apps!) Posted via the Windows Central App for Android

I actually truly thought that I'd won a 950xl on eBay, that was why I was so happy with the deal, when the box arrived, I had to double check and realised that I'd rush-purchased and totally f*cked up, so basically, this phone has had my life in all aspects

I almost went to android actually, I was nearly in for a blackberry priv, but those things go seriously high in Price still

If this is a permanent price reduction than the original price was pure profiteering, this certainly needs investigation and those whom paid full "whack" must be refunded.

Why? I'm happy with the phone and I was okay with the price I paid for it when I bought it MONTHS AGO!
It's not like the phone dropped to £250 within a week of being on sale. We are months down the line with a phone that didn't sell as well as hoped so the manufacturer likely has surplus they need to clear.

Why? All tech gets reduced in price and early adopters pay the premium of being "first"
As for profiteering, last I looked Microsoft were a company that has the sole intention to make money, they aren't in it for a warm fuzzy feeling.

Wow, are you new to buying & selling / commerce in general? Literally every shop on the planet has a higher price on new goods to maximise profits, with sales offered over time to drive sales and turn stock. Eventually it will become a clearance item with minimal profit. A can of coke costs something like 10 cents, but I'd be charged $3-5 in a café. Is that just business or 'profiteering' that demands refunds?

Said no iPhone buyer ever.

Lumia 950 is am excellent phone. For the price the UK is getting it I'd say lucky to you! If the price comes down that much in Australia then I'll buy me a spare 950. Love it!

Same here... I'd paid AU$768 through Optus, but would love to get another one for the wife. If it could drop down to the $500 mark I'd snag another one

unfortunately i already switched to android :( yesterday... Moovit, waze and even microsoft apps work better in android. I wish microsoft would invest in their phones platform at least half as much they do on their desktop platform and other mobile platforms (for example, garage apps...) Windows mobile got potential... Posted via the Windows Central App for Android

Was playing around with OneDrive, Groove and Cortana apps on a friends Galaxy S6 yesterday. No thanks. I'll stick with Windows 10. Android on Galaxy S feels like a child's toy OS. The apps I played around did not make good use of screen real estate. Is there a way to zoom the display out as everything was way too big? Couldn't find that option in Android like we have had in Windows 10. Samsung's skin is very ugly like something designed for a Kindergarten class, but the apps are not well designed either. Performance was not consistent either, sometimes things would move very quickly and at other times the OS would lag badly. The notification bar at the top of the OS is comically cluttered as well. Tons of utitlites running to try to manage performance of the device (as my friend says it often overheats and shuts down automatically). Other than simple app availability which is understandable I don't think there is any real advantages to Android over Windows 10. The MS apps on Windows 10 are much better since UWP.

If the 950XL gets down to about $200 US ill bite.

Just a little more and I'll get the 950 as an extra phone. Posted via the Windows Central App for Android

I recently brought my Lumia 950 XL unlocked from Amazon £249.00 well happy coming from a Lumia 930

This will have a know on effect on amazons prices. Keep on checking it on Amazon and you may get an even better deal!

That 950 price point of £250 is very tempting as a current Lumia 930 owner. The expandable storage & replaceable battery on the 950 are both plus points.

I spent $300 on a used one a few months ago. I figured that the price would be dropping ($399 at MS) but I was tired of waiting for Microsoft to upgrade my 830. Now that they have, I'm thinking of selling the 950. When the 830 dies, I don't expect to get another Windows Phone. I have been a huge fan for years. I have excused and overlooked all of Microsoft's issues because I loved what Windows could have been. But it turns out that I loved Windows far more than Microsoft loved me, so I will take my broken dreams and suckle at the Google teat along with the bulk humanity. Posted via the Windows Central App for Android
Windows Central Newsletter
Get the best of Windows Central in in your inbox, every day!
Thank you for signing up to Windows Central. You will receive a verification email shortly.
There was a problem. Please refresh the page and try again.