Lumia 950 and 950 XL now available from the South African Microsoft Store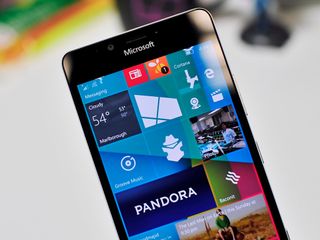 If you happen to call South Africa home, it looks like you can now pick up Microsoft's latest smartphones, the Lumia 950 and Lumia 950 XL from the Microsoft Store in the country.
Prices for the latest flagship Lumias are a bit on the expensive side when compared to other markets, with the 950 XL coming in at R 11,499 (roughly $800) and the 950 at R 10,599 (around $734). Still, if you live in South Africa, you can head to the links below to grab your choice of the two, where Microsoft is currently throwing in a free screen protector to boot.
Check out our Lumia 950 review
Thanks to James R. for the tip!
Dan Thorp-Lancaster is the former Editor-in-Chief of Windows Central. He began working with Windows Central, Android Central, and iMore as a news writer in 2014 and is obsessed with tech of all sorts. You can follow Dan on Twitter @DthorpL and Instagram @heyitsdtl.
That's very pricey...! But very top of range spec phone though! However theirs still that win10 app problem, because when u buy a phone of that standard and price you kinda expect to get everything in your hand but sadly the win10 ecosystem is not quiet ready yet to compete on the software side. But very nice spec phone.

I think the windows 10 core system running as one OS across devices shows a progressive and growing win ecosystem. And most of the popular and mostly used apps are available in the Windows Store anyways. And by way of more recent Stata on the windows 10 OS (as in one OS), it is turning out to be a hit, and the mobile edition will consequently also follow that route in all probability. And the specs are quite phenomenal.

Yes keyword *probability* it is still a journey ahead :)

Woohoo!!! Too bad I just got a Lumia 930, but it's exciting were finally getting the Lumia 950 and 950XL in South Africa!!!!

Nothing wrong with a Lumia 930. You will also get Windows 10 for your phone too :-)

Glad to see Microsoft still cares about us

Actually it's more our networks - MS actually had a Windows 10 launch event in Bryanston, JHB. So yes, I would say they do. Plus, I'm pretty sure all major private corps and government use Windows PC's, not to forget personal windows pc. And I'm pretty sure lots of people are upgrading to Windows 10 - have u seen the ads for new laptops, tablets, hybrids and desktops from stores - the majority of them are windows 10 - so, again, I can't see how you think MS is "starting to" care.....

I'm talking about how people overseas managed to get their 535's replaced 2-3 times from their Microsoft stores but I couldn't even get mine replaced once from my Microsoft store.

I'll take a leaf out of Americans books and say, too expensive. Thanks Zuma

I'm guessing Vodacom will get it first and Cell C last

It was already in MTN's brochure but no one knows when they will get stock

Hello. Countries in Africa could benefit hugely from Continuum, so I am very surprised a Display Dock is not being included.

Imagine spending 11.5 grand on a phone!

Unfortunately, it doesn't matter what flagship device it is these days, the cash price for flagship devices are usually above R10 000.00 (ahem..Xperia Z5 & Premium; iPhone 6S; Galaxy S6) ...just saying

Its expensive, but still cheaper than some other brands with lesser OS' launched here....

I sure hope the prices drop for Christmas, definitely too expensive at this stage. Unless they throw in a dock or some other goodies to sweeten the deal.

And in Brazil we don't even have a date for the launch. Microsoft Brazil is the worst of all

Hahaha, stem saam! Comment of the article so far!

Nee wat tjom, dis maar wat my L1520 gekos het amper twee jaar terug. En hierdie hardeware is vir seker beter.

It is a whole 1K cheaper via orange: http://store.orange.com/za/search/?q=lumia+950

yes, but then if you need to return the phone, it becomes an issue. I bought my 930 through orange. the first one overheated terribly, so sent it back. took 2 months to get the replacement.

Awesome device, but expensive. Going to wait for the 550.

That's the cheapest yuckiest one

You should go for the Lumia 640 - it's still beats the newer 550

Am thinking via Vodacom, Telkom, cellc, mtn will have them on contract for around R400-550 X 24 months.

How much would you have liked it to be lets not even consider the spec that's on par.

I got my Note 5 for R12 000. With a fast wireless charger and screen protector. The Lumia 950XL is the less premium device with poorer app selection. It only costs R500 less. It's expensive alright. Hope the price drops on the next 6 months. Posted from my Note 5

That is just way too expensive.

Have preordered the XL from MTN for R600 a month. Very lucky the launch of the phone coincided with my upgrade time.

Y didnt u go for telkom it was gona be like 400 a month 600 is too much

I was put off by the need to do a new application, all the credit checks and wait in hope it will be approved. Easier to upgrade. Only ID required.

You have any idea when we will be getting our phones from MTN? I pre ordered mine as well but the lady had no idea when they will get it.

I still want a lumia 1520 tho its hard to get it

Look at the 950XL rather. Slightly smaller, but in my opinion you won't be sorry

Too expensive maybe i can try cntract not prepaid

Currently driving the L925. I think it's a beauty and the performance is a marvel on win10mo.

The 925 is a great phone with a very nice look . But Microsoft don't manufacture it's main board anymore so if you need a repair it's no longer possible . My 925 just died and I replaced it by a 640 LTE dual SIM. Very happy.

Although I love my L1520 it has a number of issues. Most frustrating is the "phantom tap" issue found all over the world in different markets due to a hardware flaw - or so they say. Can't wait to get my hands on a 950XL.

so thats what that is... just got 950xl, not to bad, one hell of a camera

Got my 950 XL 2 weeks ago. Very happy with the phone. I've experienced a few small niggles and one or two bigger frustrations (e.g. Facebook app that is extremely slow to update). Also, few nice easter eggs too e.g. one handed use functionality. And that W10M look is just beautiful. I can upgrade again in November of this year...which I'm hoping would see me able to one of them new Surface phones.

South African accent sounds like a New Zealander talking under water

You really have no clue what a South African accent sounds like.

Are we Paying some kind of tax for zuma's plane on this?? That is very expensive. Oh well, I have my 1520 which runs windows 10 insider preview very nicely. so i'll just stick with my trusty old 1520

No, we're paying because the Rand tanked under zoomer.

My 1520 has picked up a battery draining issue of late...4 hours max on a single charge doing nothing. Yours ok?

Mine does fairly well. Battery keeps me normally a day. That is with normal usage. Have you checked in battery saver in the setting menu to see what is using the battery? As of now mine is saying: system used 14.6% display used 72.7% wifi used 1.7% and mobile data used 11% in 24 hours

Mmmmm, I can't see my usage according to those categories. I only see which apps are using the battery with an "In use" and "Background" indicator/bar graph. Are you running W10M? I'm still on WM8.1 Denim.

A free screen protector? Yipee, way to go Microsoft! Who needs those useless Continuum dock and other goodies other countries get anyway. :-( Although the L950 appears in the latest MTN brochure, they say it will take another two weeks to get stock. I also just popped into the Orange street store, they also say in a week and a half.

Mtn direct just called me and told me they have stock of the black 950 but i wanted the 950xl and they dont have any

Why don't you want them? Continuum doc suits my job it's a must have.

Hope the band 2 comes to South Africa as well

The Lumia 950 and Lumia 950 XL available in Iceland now .

That's nice....but this thread is about South Africa

I'm sticking with my 1020 for a bit longer. Nothing wrong with my 2yr old and waiting for Wp10

can someone tell me where i can get a continuim dock from, looks like it has to be ordered on line
Windows Central Newsletter
Thank you for signing up to Windows Central. You will receive a verification email shortly.
There was a problem. Please refresh the page and try again.