Lumia 950 and 950 XL pre-orders live at Harvey Norman in Australia with free 200GB microSD card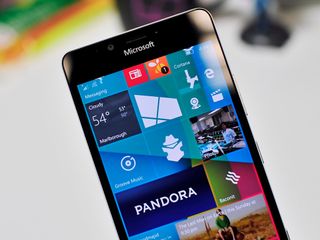 We've seen pre-orders for the Lumia 950 and Lumia 950 XL go up in the past on many other retailers worldwide, but the one that is now available from Australian retailer Harvey Norman includes a nice bonus. It is throwing in a free 200GB microSD card with each pre-order of Microsoft's newest phones.
The listings don't offer a timeline for when this promotion for the microSD card will last, but this is a very generous offer, and will definitely come in handy if you store a lot of videos and photos on your phone. The Lumia 950 is priced at $998 AUS without a contract while the Lumia 950 XL has a no-contract price of $1127 AUS. Both phones are scheduled to ship to customers sometime in mid-December.
Thanks to Alex for the tip!
Windows Central Newsletter
Get the best of Windows Central in your inbox, every day!
Do the Phones support 200 GB MicroSD Cards?

Wow.. Whats the Max an Android can support? Any idea

Probably depends on the Android phone, there's like 1,000 different ones, many which have bad hardware.

2Tb but... can't install apps there LOL

Up to 2TB microSD, I think.

They can support upto 2TB MicroSD cards, although these are yet to be made.

It's the same bonus that's going on with the LG V10.

Whaaaaaaaaat!
Screw MS middle east :(

Are you buying in Dubai? Is it available there in the MSFT store?

Now that is an awesome bundle...not sure about the price though.

That's Australia, in general

Aud has tanked relative to USD, that's about par for Australia now. Would have bought one of these and the SP4 if they were sold for last years' prices.

The Australian dollar is so unaustralian right now.. Letting everyone walk over it ...

Woah! I think I'd rather have a 200GB MicroSD card than a Continuum Dock as a bonus. Decent SD cards at that size are expensive.

Opposite for me... I have heaps of SD cards (64 & 32) from all the sales, so I'd prefer the dock

Hmm. Im waiting for telstra to announce if they are getting them. Im not paying that much outright. Subsidised phones for me:P

I read somewhere telstra will only have th XL. Optus both, vodaphone none

Good thing I want the XL :)

50 months interest free! ;)

Harvey Norman normally sells overpriced products. So when the card is free, you have actually paid for it.

But that's the price of the Lumia 950 even at the Microsoft store, so it isn't over priced. It's market price. Maybe they had heaps of SD cards and like hey let's bundle it, sell more phones and right off the memory card

I've seen it cheaper elsewhere but whenever I've researched those places they always have bad reviews. The cheapest I've seen is $833 at Android Enjoyed but I've read bad things about them too.

Now that's how you do it. Preorder some and get another item free

Well the phone in Australia is insanely expensive so they need a good bait for the sell good for them

here's the math
a 200gb micro sd card is $134 http://www.amazon.com/gp/product/B00V62XBQQ?psc=1&redirect=true&ref_=ox_... $998 AUS = $722 USD
$1127 AUS = $815 USD Price for Phone only without micro sd work out to
Lumia 950 = $772USD - $134USD = $638USD
Lumia 950 XL = $815USD - $134USD = $681USD

But isn't the prices advertised of the Lumia 950 in the U.S. without tax? If so then it is very similar pricing

You are forgetting Australia adds 10% tax to anything sold here. so $998 AUD to usd = 722.12 USD Phone price in America $598 USD. $598 + 10% Tax = $657.80 USD. $722.12 - $657.80 = Difference of $64.32. USD That difference is what all companies charge to ship anything to Australia. Also microsoft charges the same price themselfs here and dont offer anything with it.

Yeah, it was ridiculous before they dropped the price ($1100 for 950) but tolerable now

That sounds a lot more helpful than the Continuum dock, however I found a good deal on a 128GB micro SD card so I'm good for extra storage!!!! But yeah those phones sound expensive in Australia!!!!

The phone will be the biggest flop of Lumia history.

Like you are the biggest flop here. Get out troll!

Awww....the tiny little fanboy got hurt........so sweeet....

Hey lady... if you don't like Windows Phones, or Lumias, then why the f*** are you here? Yeah, thought so...

I have a 925. I love wp. But I tend to Agree sadly.

He says this on every post. I'd recommend getting a job so you don't have to post all day on a website.

That's a horrific price even considering the exchange rate and what not.

That's Harvey Norman for you!

It's cheaper than what Microsoft is selling it for in their online store when you account for the free SD Card. Without accounting for the free SD Card, the price is pretty much the same as you would pay directly from MS's AU store. Technically this is a pretty damn good deal, especially if you have an interest free Go Mastercard From Harvey Norman like I do. This deal is kicking my arse because I just bought a new PC from HvyNm and really don't want to add more onto my card before I start paying interest.... But Damn!

Oh, well that's good then.

Yeah I got suckered into it and got one. When it arrives I'll be selling my 930 & my old 925. I'll miss my 930. Best phone I've had yet.

a 200gb micro sd card is $134 http://www.amazon.com/gp/product/B00V62XBQQ?psc=1&redirect=true&ref_=ox_... $998 AUS = $722 USD
$1127 AUS = $815 USD Price for Phone only without micro sd work out to
Lumia 950 = $772USD - $134USD = $638USD
Lumia 950 XL = $815USD - $134USD = $681USD

Should read Lumia 950 722 - 134 = 588 USD not 772 so even better ☺

Did they say 2TB micro SD card or just 2TB external storage? I wish they let us use the external hardrive...it would be awesome.

The phones support the microSDXC standard. The current largest capacity card is 200GB but the standard itself supports up to 2TB, so the phones will support any size up to that as it is released. The phones also support USB OTG, so you can attach an external hard drive. You just need the appropriate cable or adapter for USB-C and you're good to go.

Why you all hating on Harvey Norman!?! They are selling the 950XL cheaper than what you would pay direct with Microsoft plus they are throwing in a SD card

Good combo w/ 200gb sd card but still not dual SIM.. so, still a no go for me :(

Dual Band? Surely you mean Dual SIM as it is a Quad Band phone and supports the latest Dual Band WiFi protocols...

You are right, paulomalley - I was referring to dual SIM

Wait... What class is the card?

There's only one SanDisk 200 GB microSD card so you can look up the specs. If you want the best speeds then you can't currently go above 64 GB. The card will not be fast enough to support 4K video, hence I'm going to use it in my Surface 3 and I've bought a couple of 64 GB Extreme Pro cards for the phone.

I recall paying nearly $700 for HTC 8X on a plan for what the 950 brings to the table,Windows 10 ,continuum, 3 gig ram. Although expensive it is a step towards having a mobile PC with connect ability in your pocket .

:""""""""( why this not in india!!!!!!

No dual sim by the look of it.... Is anyone going to sell the dual sim variant of these freeking phones? Bit depressing missing out on the pre order deals atm :(

Do it old skool... Take one Sim out and put the other one in

They both need to be active 24-7...

Why do you need dual-sim? Just curious

I have carried around 2 phones, (one for work and one for personal use) for the past 15years... There have been dual sim phones available in Australia for a long time but none have ever been "high end". Finally I have an opportunity to carry just one phone which is capable of taking great photos of my kids and handle all of my business needs.

Fair enough, I was thinking for travel but business use makes sense too. My company used to just use call diversion to my mobile, which meant I could control when calls were sent to me and I didn't have to worry about giving back a SIM or phone. I guess it would be different if you're in a client-facing role as call-diversion costs can be brutal.

Very True.. For me, it would have to be constantly on call diversion.. I am on call from Sunday to Saturday for work. Then there is the cost of having two chargers in my work vehicle, two chargers at home two chargers in my car.... I also spend alot of time away from home, so I need to carry two wall chargers in the work vehicle for use in Hotels. That's 8 phone chargers that I need to have at any given time... Lol, It's getting a bit much for me!

Looks like the only option is to buy it from overseas, just like this one - http://www.bhphotovideo.com/c/product/1192642-REG/microsoft_a00026457_lu...?

Probably not lilely in Australia as the second SIM slot is generally only capable of 2G support and no Carrier in Australia actually uses a 2G network anymore... Secondly, the biggest carrier, Telstra don't support Dual SIM phones on their network... Period... Sure they CAN work but Telstra won't support it because of all the headaches it causes...

I'd love some sort of SP4/950 bundle, with docks...

As a WP7 fan who has bought every Lumia flagship from the beginning, I'm sticking to Android. I bought my 1520 for iirc $800 or $900. It's just too expensive for a phone that doesn't even have the apps I need. Microsoft should've been aggressive with pricing, not trying to milk profits from WP fans. I hope the phone launch sales flop badly so the MS is forced to lower prices significantly. I might end up buying one in a few months when they're about $700ish. The resale value on Lumia sucks too making the higher price even harder to accept.

Yeah, I'm still hesitating on the price... I was expecting these to come in at $700-800, and was quite shocked when the 950 came in at $1100. Thankfully, it's dropped to $1000 BUT it's still more than I paid for my i5 SP3 in January! It really sucks that the AUD has tanked so much this year... I'm going to wait for a couple of weeks to see what sort of deals are on offer, as the preorder and first-week deals are usually the weakest or non-existent.

With 4K video recording at 4 times the required storage space compared to 1080P, you will certainly need an appropriate sized SD Card. About pricing in AU, Microsoft has certainly jacked up the asking price for both the 950 devices considering the exchange rate, for example the 950 sells in the US lower 48 for $549 that's around $915 AUD not $999 which is what Microsoft is asking here in Sydney. And in the US, Germany and the UK they throw in a free DOCK as part of the deal _ BUT NOT FOR AUSSIES!!!!

If that US price is ex tax then, with 10% tax added, it's basically the same price as in Australia. As for the 4K video, the 200 GB card that Harvey Norman are offering is not fast enough, so you'd have to record to the phone and move the video later. I'm a .NET developer who is looking to get into Universal App development and I was considering creating an app that will move the video files automatically in the background.

Still waiting for Telstra to decide if they can be bothered to sell it.. Getting a straight answer out of Telstra is like trying to wallpaper fog, impossible...