Lumia 950 and 950 XL will go on sale in Thailand on Jan. 22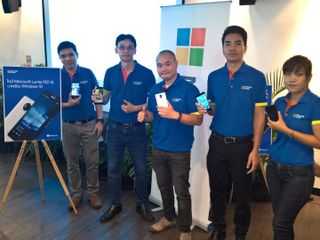 Microsoft's latest flagship smartphones, the Lumia 950 and Lumia 950 XL will enter another country later this week. The company has revealed that Thailand will begin selling both Windows 10 Mobile smartphones on Friday, January 22.
Both phones will be sold in a number of retailers in the country, including IT City, Jaymart, Banana IT and TG Fone. The 5.2-inch Lumia 950 will cost 20,700 baht (about $570), while the 5.7-inch Lumia 950 XL will be priced in Thailand at 23,300 baht (about $642).
Thanks to Ryujingt3 for the tip!
Source: Microsoft Lumia Thailand (Facebook)
Windows Central Newsletter
Get the best of Windows Central in your inbox, every day!
That's good. We can finally get hold of one

Ξέρει κανείς τις τιμές στην Ελλάδα ???

I think Γερμανός already has them...

My wife is Thai, we go to Thailand most summers. WP was surprisingly popular there due to Nokia and Nokia stores in most shopping malls. I used to see people with Lumia phones all over Thailand. In summer of 2015 I was in Thailand for 2 months and did not see a single person using a Lumia while there.

I live in thailand and still uses windows phone. l have Lumia 640 but here everyone is behind iphone,samsung and oppo phones now.

Well, Nokia Shop was changed the hands to M-LINK and due to the population of cheap Android smartphone (like ASUS ZenFone, Samsung, or something like that). As a Thai citizen. I'm not surprised at all because of their silence from marketing campaigns and not so interesting devices.

@player piano, wouldn't it be better to go in the winter? We go every two years usually. Would love to spend 2 months there, even better would be two years. Just need to find a US company willing to send me.

I am a teacher so I have summers free. But yes winters would be better, I did go last year for winter break but for just 2 weeks. That is barely enough time to recover from the jet lag. Still, a great place to go anytime of year.

nice. We usually go for 3 weeks at a time but yeah, the jet lag is almost unbearable especially with small children. Have you learned Thai yet?

Also, Lumia 550's price announced for 4,390 Baht (about $122). And Microsoft Thailand offers a free Display Dock if you purchase during January, 22th - 31th.

IT City says the display dock is only free if you pay a deposit first. Interesting.

Mmmm, interesting... Maybe, it'd be out of stock in that time.

550 supports continuum???

Why r those lumias sell a lot more expensive in Asia compare to US?

Taxes and exchange rates in each countries.

In America, tax is added later. In Thailand, prices include tax.

And the 5 people in that photo are the only people that will ever touch one of those phones. I have a 950XL because I'm an admitted fan boy. But W10M is still a bugging beta mess and I don't see anyone coming from iPhone or Android to get one of these. Honestly, no one in their right mind would do that.

I agree that those phones are not up to par. The iPhone is huge in Thailand and I've only seen the budget ones in peoples hands in Thailand.

I agree. Thailand is a lost market for WM.

Thailand lost market not because of Apps..Nobody likes the interface too...The only way they can catch up by providing launcher support and also with more apps. Its pathetic to see that only kasikorn bank has the official app.

No one here mentioned because of apps, and then your argument is based on apps and UI. I think MS failed to recognize and support a somewhat thriving market for WM in Thailand compared to most other countries.

I actually really like the UI. There is an official DTAC app but it's really just a web wrapper. I also have all the apps I need too. Definitely agree that more official apps are needed. At least we got a Kasikorn app, even if it lacks features from the iOS and Android versions.

Earth is a lost market for WM.

I don't want to believe it but it might be true.

Isn't Thailand a lost country on it's own. I never hear anything about Thailand except for..you know..

Thailand is an amazing place to travel. You will find the nicest of people and the best foods.

I agree. I've lived here now for about ten years or so.

I guess I will be the sixth person to own one then. ☺

No marketing >> no users >> no apps !!!

No apps>>No users>>No marketing

I'm using Lumia 640 LTE for awhile now and I live in Thailand.There's one thing I believe that windows 10 mobile is the last chance for MS to proves how far windows phone can go and MS is running out of time.If in this year 2016 MS can't do something to support their customers especially"app gap" windows phone will reach to the end in this fall.But CEO of MS already know and plan to leave WP behind they're planning for the Surface phones.I'm quite sure WP will end soon.

I also live in Thailand and I have a 640XL. I far prefer Windows Phone but, as others have said, iOS and Android reign supreme here.

Sadly, most probably right. But I still want it.

Is the free display dock confirmed? I couldn't find anything about it. Hoping to get a 950XL by the weekend.

Yup, confirmed. From Facebook page of IT City.

Only at IT City? Or all other supported brances (TG Fone, Jaymart etc,). Thanks. Ian

All shop, not just IT City. But IT City announced it on company's Facebook page.

Awesome! Thanks for replying kittananj. Now I just hope I can get a case to go with it.

Every one from the picture: (soo sad, i wanted to hold an iphone but im stuck working in a microsoft store.) *smiles very little*

It's a shame that still no word on availability in Singapore yet, despite the fact that Malaysia, Philippines, Thailand... Either has started or is going to sell these phones. 3 and half months of waiting and yet no news is ever heard. I have already decided not to purchase Lumia 950XL, not interested any more with such long waiting

Has anyone managed to get one in Thailand yet? IT City has no idea. I went to Siam Paragon today and IT City said it was coming this afternoon but cannot buy it. JayMart said it is coming tomorrow. I called IT City in Mega Bangna and they said the phone won't arrive until the 26th and has to be reserved. What is going on? Has anyone managed to get one? Microsoft seem to be making it so hard for us.