Showdown: Lumia 950 versus Nexus 5X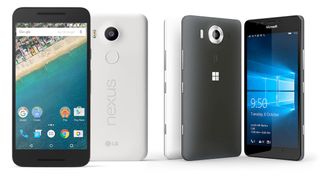 While the Lumia 950 XL vs. Nexus 6P is a battle where the fighters have nearly identical specs, the differences between the smaller Lumia 950 and Nexus 5X are a bit more pronounced.
Swipe to scroll horizontally
| Category | Lumia 950 | Nexus 5X |
| --- | --- | --- |
| OS | Windows 10 Mobile | Android 6.0 Marshmallow |
| Screen Size | 5.2 inches | 5.2 inches |
| Screen Resolution | 1440x2560 (564ppi) | 1080x1820 (423ppi) |
| Screen Type | OLED | IPS LCD |
| Processor | Snapdragon 808 64-bit hexa-core | 1.8GHz Snapdragon 808 64-bit hexa-core |
| RAM | 3GB | 2GB |
| Internal Storage | 32GB | 16GB/32GB |
| External Storage | microSD | — |
| Security | Windows Hello iris scanner | Nexus Imprint fingerprint scanner |
| Rear Camera | 20MP ƒ/1.9 PureView camera, triple-LED flash | 12.3MP ƒ/2.0 camera, dual-LED flash |
| Front Camera | 5MP, wide-angle lens | 5MP ƒ/2.2 |
| Battery | 3000mAh removable | 2700mAh non-removable |
| Charging | Qi wireless, USB Type-C port, Quick Charge | USB Type-C port, Quick Charge |
| Height | 145mm | 147.0mm |
| Width | 73.2mm | 72.6mm |
| Thickness | 8.2mm | 7.9mm |
| Weight | — | 136g |
That's not to say that these are radically-different phones — they're just targeting different segments. Where the Nexus 6P and Lumia 950 XL are both going for big and powerful, the Lumia 950 offers a slightly scaled-back version of the bigger phone, while the Nexus 5X shoots for even more-scaled back and affordable (starting at a mere $379 unlocked).
But they're still relatively close, with the Lumia 950 eeking out a victory in battery capacity and coming to the party with a screen with more than 75% more pixels (thus requiring more RAM to keep things running smoothly). The Lumia 950 also brings what should be a technically more impressive camera to the party, but we'll have to put both phones through their paces before we can crown any victors there. The Lumia 950 will at least take larger photos, so there's that.
The Nexus 5X is an interesting phone, seemingly created to quell the cries of Nexus 5 fans who felt scorned by the positively enormous Nexus 6. And so it comes forward as an improvement on the Nexus 5 of two years prior, sporting a similar size and similar screen but improved internals, cameras, and performance.
But it runs Android 6.0 Marshmallow, while the Lumia 950 runs Windows 10 Mobile. The two are very different takes on the same concept, with Live Tiles and launcher widgets occupying the same mental space with radically-different approaches. Once inside apps the differences aren't all that stark, though Android's Google Play Store does offer a much broader selection of apps that the Windows Store can claim. It's an odd position, with Microsoft making nearly all of its flagship software products available to Android users, while none of Google's services have officially come to the mobile Windows platform.
That's not to say that Windows Mobile can't succeed without Google's apps on its platform, though it certainly wouldn't hurt. Microsoft offers a competitive product for nearly every consumer Google service, and they're all available for Windows Mobile users. Though the lack of Google support is emblematic of the problems facing Windows phones as a whole — without the right apps, customers don't buy, and without customers buying, developers aren't going to make those right apps. It's a vicious cycle.
But with phones like the Lumia 950 and Microsoft's deep pockets and even deeper bench of talent, this might just be the best shot yet for Windows in the mobile space.
Lumia 950
Surface Pro 4
Surface Book
Microsoft Band 2
Derek Kessler is Special Projects Manager for Mobile Nations. He's been writing about tech since 2009, has far more phones than is considered humane, still carries a torch for Palm, and got a Tesla because it was the biggest gadget he could find. You can follow him on Twitter at @derekakessler.
Eeking out? Classic sign of a writer who doesn't read!

Hands on, how hard is that?!

Lumia 950 is a clear winner

Really? Please, tell me the real-world thermal differences between the two. You don't know, do you? Also, how does it go if the liquid cooling solution corrodes or cracks from a drop and leaks into the rest of the phone?

What a non sense. Liquid cooling corrods cracks.. :P

What, you think a cooling loop can't develop a leak?

I'm certain the likelihood of the liquid cooling developing a dangerous leak that could affect the condition of the phone is just as likely as anything else in the phone breaking from a drop.

That might be the INTENT, but we've seen new tech struggle with quality control in the past. As Microsoft's first liquid cooling phone, I can't help but have some concern.

Valid point, man...we'll have to see =[

Is it AMOLED or OLED? You have it as AMOLED for iphone 6s comparisson but OLED here.

AMOLED is just a sub-category. They are all still OLED. Besides, I doubt there are any phones with a PMOLED display out there, so it's fine to call them just OLED. Your desktop PC is still a PC.

What's the difference between the 2 displays?

PMOLED = Passive Matrix, cheap and easy to make but power hungry, they're also more complex to code for from what I can remember due to how the screen array is addressed. AMOLED = Active Matrix, almost all modern displays are these now. More power efficient and can scale to larger screen sizes. They use a interim capacitor to maintain screen power instead of a battery. You still see PMOLED displays in the lower end or for small electronic devices but rarely on smart phones.

W-oled is superior but only available on LG TVs. I don't think it's been miniaturized yet.

No problem, isn't that why they're making phones bigger? lol ;p

Thanks for the clarification! I though AMOLED could only be used in the morning and would become PMOLED in the afternoon. ;-) Posted via the Windows Central App for Android

Thanks for clarifying it.

When i saw no microsd for the nexus i just stopped reading...in 2015 no sd for a phone, come on!

Sorry to break it to you but that's becoming a trend. IPhone and latest Samsung Galaxy phones

Only Lumia gives you SD card up 2TB, wireless charging, QHD display, 20MP OIS camera, and the ability to work like a PC. Not to mention a bigger battery than any other phone, that's removable and a replaceable shells. There is a not a better quality phone on the market that you can design an app for.

Lol HTC has the same thing in the One M9, 2 TB and all

What a trend, if you are using continuum and need more storage for that.

So is a trend to hangout in front of stores for weeks before release like a bunch of hobos...#Ridiculous

You forgot "dirty" or "unclean". Not my idea of prioritizing vacation time.

Balderdash, I say...hooey. They shall not win this day...idk, I just wanted to say that in old-timey speak, not really directed at your comment. Sorry =D

But have they 16GB internal memory?

Probably because they don't want to pay MS Royalty fees for it's FAT and EX-FAT patents, at least that's one of the reasons from the rumours.

$379 vs. $549 is a huge difference in cost of phones which makes it obvious Google is targeting the low end with this for an unlocked phone. With that it would be crazy if the 950 didn't have higher specs at $170 more. Both good phones and great to have solid choices. Posted via the Windows Central App for Android

I agree with you. Though it has some more specs than Nexus but it should still be at least $70 cheaper

I don't know. The 32 GB nexus 5X is $430, which still makes it $120 cheaper but, for that money you're getting a 2K display, an extra GB of RAM, wireless charging, SD card support, a higher resolution (and probably also) higher quality camera and a bigger capacity removable battery. It's still rather expensive but I don't think it's unreasonably priced.

Since the AMOLED screen uses a Pentile matrix, the effective resolution is actually less than 1080p. LCD screens have 3 colors per pixel (RGB) and Pentile AMOLED has only 2 (RG or BG). So, it has to borrow the missing missing color from a neighboring pixel. At such high resolutions, you can't really see much of a difference, but a 1080p LCD is techinically sharper than an 1440p AMOLED. AMOLED has better contrast ratio, which kind of makes up for the lower fidelity.

The 32 GB nexus 5x cost $379, not $420 Posted via the Windows Central App for Android

http://www.androidpolice.com/2015/09/30/prices-nexus-5x-nexus-6p-across-globe/

Since I cannot edit my comment: I made a mistake; 2K IS basically 1920 x 1080. The correct term would be QHD. Also, I forgot; 950 has continuum for those who care about it.

Here are the correct resolutions: 1K (also known as FHD) = 1920 x 1080 2K (also known as UHD) = 2560 x 1440 4K = 4096 x 2160 HD is 1280 x 720 just so that you're aware

I thought the same at first, but turned out I was half-wrong and half-right https://en.wikipedia.org/wiki/File:Digital_video_resolutions_(VCD_to_4K).svg https://en.wikipedia.org/wiki/2K_resolution It seems that 2560 x 1440 is actually called 2.5K, which is still a kind of 2K, and that 1920 x 1080 is sort of 2K too. It's all very confusing to be honest, so I think using its exact name, QHD, would be the best solution.

@eddlang, I would never really on Wikipedia as a sole source If I were you.

Just to be sure, I used Britannica online and sites such as PCWorld

I know plenty of "low-end" Android users and none of them are going to spend $379 on a phone.

Well, there are low-end Windows Phones to compete with low-end Androids such as Lumia 535, 640, and 735

I should say "affordable flagships" instead of low end. Posted via the Windows Central App for Android

Man...love the way how the latest windows phones are battling good against other flagship devices... The old flagship devices remind me how outdated the windows phones were in the market then (psst 930 and 1020's crippling processor) Waiting for L950 impatiently...

But there is no fucking apps in windows phones

Be optimistic there are apps on the Windows Store (W10M) If you've made this comment because you're still using Windows Phone 8.1 (or even WP7) then go get a life and update to W10M

W10M hasn't even been released yet, genius. Most people aren't going to upgrade to beta software that's meant to give Microsoft feedback.

And there it lags each and every time....

I see those lags every time I touch an Android device. such lags...

The best similarities they have is that first, they both look not-so-beautiful and second, their bigger counterparts are much more appealing.

showing the picture of nexus left but information in table on right is bit confussing. For me - Lumia is a winner. I just hope that developers will finaly start to develop quality apps for windows

The Lumia 950 and 950XL absoultely destroy, pulverize the specs of the new Nexus and iPhones. Oh and the back plate is completely changeable on Lumia with whatever design/style/material you like.

How about the nexus 5 vs the l550? At 179usd....now that's interesting to me

The Lumia 950 is better in every quantifiable way imaginable, yet you'll find people who want them priced similarly...

Also you need to consider Windows Continuum! That featrue alone is worth in 100's of dollars! Continuum can be enabled via Display Dock

I guess targeting more consumer by reducing prices will do a lot better. More sales will bring in more revenue and more market share will bring in more developers. Once developers arrive you can take you revenues from those apps.
In the present scenario I don't see someone coming to windows phones be it developers or consumers.
With the price difference between the two noone would mind the specs I guess.

Well windows phones do have better task managing than any other OS. For eg my Lumia 720 it has 512MB ram and 1GHz Dual core processor. Still i play Asphalt 8, DH4, HOC, beach buggy racing, Cloud Raiders and many more all together in my phone! Though i can open only 10 apps at a time but i open upto 7 of these heavy games, and guess what MY PHONE NEVER HANGS, LAGS, RESTARTS and OPENS UP SMOOTHLY and best part it is the battery barely drains upto 15% in usage of an hour and the phone has so many apps!! And CORTANA works like charm. This is Task managing of windows phone! Now lets talk about Android phones:
I have this 2GB RAM ,2GHz processor Octa core processor and as i open asphalt 8 then DH4 then farmville my phone lags like anything i have to go to task manager to again and again stop the ram usage even though i have just 6 Games in entire phone, no app at all( there were some useless apps preinstalled i uninstalled as much as i could) and so barely having any apps to use this is our SHITTY ANDROID OS which is only popular due to no. Of apps ot has and the app transfer feature otherwise it is so ugly, not neat OS, speech engine sucks specially GOOGLE NOW, I have to at least fake my accent to level of showing off like i am some NRI and came to india for first time. And battery drains like hell is wrong with it( the battery has no problem) it has do with task management of the OS. People complain about apps that they barely use once a month for windows phone. If this what is having smartphones which one would you choose? Nexus or Lumia 950 which has 3GB RAM and 1.8 GHz Hexacore processor now!! Just 6 times the ram and 3 times the processing with Continium and Universal apps compared to my phone!! See it yourself!

I very much want to stay with the Windows Phone platform, and the phones announced today are very compelling. I want to stay in the ecosystem where my data moves with me, seamlessly. And yet, although "most" "major" apps are available for WP, none of niche apps ever are. I work at a University, and of course their mobile app is only Apple and Android. Disneyland - only A & A. Any stupid kids' app - standalone or that goes with a toy (think Lego Mindstorms) - A&A only. Waze helped me find new routes to work, and now it's been deprecated to remove voice navigation. While WP is fantastic for business and the work I do, it is miserable for my personal life, and I'm tired of settling. I guess I'm throwing this out there to see if there's any reason I shouldn't jump OSes. These new Lumias are awesome, but they sure don't help me much outside of the office. Gotta replace the 920 someday soon.

It's like you don't know that Project Islandwood exists.

"I guess I'm throwing this out there to see if there's any reason I shouldn't jump OSes." The only reason that I can think of would be the possibility that developers might start developing universal apps, since desktop and mobile windows app platforms are finally and truly unified, but it's still just a possiblity. Nothing is certain and universal apps might not succeed either. Only time can tell. If you're really tired of waiting, then there is no reason why you shouldn't switch. No one has the right to hold it against you.

They're close in some areas, but quite different in others.

Taake photos with the new lumias i acbt wait to ser how the shoot looks

Anyone who thinks the 950 isn't a seriously badass phone has their head up their 4th point of contact. I'm ditching my S6 Edge and going all in with it. Thanks Microsoft! Posted via the Windows Central App for Android

More like vs the Nexus 6P with that price.
Apps still win though and Nexus wins again Posted via the Windows Central App for Android

5.2 inch screen size, so no. Rather compare to 950 XL.

The back of the Nexus 5x is very ugly.

exactly my thought here as well. that protusing camera....
Windows Central Newsletter
Thank you for signing up to Windows Central. You will receive a verification email shortly.
There was a problem. Please refresh the page and try again.