Lumia Cyan update reportedly rolling out in Thailand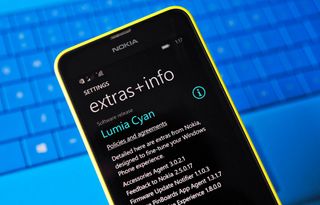 If you're using a Lumia handset in Thailand, start checking your device for the Lumia Cyan update. While there isn't an official confirmation yet, we've been hearing that the update is being rolled out in the country, starting with entry-level handsets like the Lumia 625.
Last week, Microsoft India tweeted that users in the region would be receiving the Lumia Cyan update sometime in the second week of July. Several markets, including Spain and Finland, have already started getting the update as part of a pilot program.
The Cyan update is set to bring a host of features that include an updated Creative Studio app, Bluetooth 4.0 LE support, ingrained display controls and much more.
What are you looking forward to the most in the Lumia Cyan update? To know when the update would be available in your country, be sure to follow our topic page.
Thanks Guy for the tip
Get the Windows Central Newsletter
All the latest news, reviews, and guides for Windows and Xbox diehards.
Harish Jonnalagadda is a Senior Editor overseeing Asia for Android Central, Windows Central's sister site. When not reviewing phones, he's testing PC hardware, including video cards, motherboards, gaming accessories, and keyboards.
I don't get it. Why is there like 95% Indian users on this site?

Cause Indians are kind of awesome.

Because we are developing country :D

There are 100crore indians in our country and another 100 crore around the world... :P wherever u go indians are already there :)

Population, Plaseno. Population. :D

Just like you will find air everywhere We the Indians are also everywhere.

Maybe they know a good phone when they see one?

Coz wp is pretty popular here and hence large user base which in turn leads to more members in a windows phone forum

Easy there, tiger. I'm part Comanche.

As Russel Peters would say "We are endless supply" :D btw still Cyan not updated on support page for Lumias

Plaseno -- don't worry about it mate. If it makes you feel better, there are loads of Indian people in Thailand ;-)

Because we use windows phone :):):)

Because android and ios users are a bunch of cowboys!

Agreed. Getting so annoying!

Plaseno due you pkay cloud raiders? I think I might have raided you

nope never played that one sorry ;)

Because... Windows Phone is hugely popular in India.. We are starting to get tired of buggy and stuttery android.. We enjoy our privacy you know.. Something that Google simply does not provide... And we got tired of ads and commercialisation.. (IPL anyone?) So hence, here you have a big bunch of people who use Windows Phones and simply love it..

Indians love nokia n make a very important user base of wp

dont worry man,u will be seein INDIANS everywhere around the world soon! we r takin over gradually!

And also Philippines (yeah, I live there) is still waiting...

920 is waiting.. Oh wait...

Yeah man we are in the second wave.In the first wave there is Lumia1520,1020 & 925.

Anyone from Thailand to confirm this news?

Yes, that's true. Sadly, only Lumia 625s get the update for now.

Iam using Lumia 625 only but still I didn't got any update !

But... but... but...'Murica... :(

Is Cyan is Windows phone 8.1??

I got Cyan. Heaps of it in the cupboard. Cyan pepper that is. The wait is painful

Thank you for your kind comment, more than half the world are waiting.

At least you got news that you be getting it at the second week of July. Some places have no or incoherent news.

Actually, more like a 10th, not really half.

Truth: It can be found in this comment.

Nice, so few WP phone owners = such a small piece of the world population.

Actually, I didn't mean by half of the world population, I'm referring to regions.

Could have worded it better then. ;)

Nothing yet. And people say droid and iphone are bad for updates.

Android, yes, iPhone no, they only have one phone they gotta worry about

And the whole world goes settings > phone update lol

Yep, I did, ..well, I'm not the world, but like a sheeple, I did.

I did! I just can't help it. :p

More like settings > scrolling > god where is that damn setting > scrolling > ah, finally... > phone update

+520 someone please sort it out.

Lol this was more accurate one

The truth has been spoken.

Use cortana instead. "Open phone update setting". Wham!

I see what you did there xD

I did while sitting on the toilet 4 times in a row. I even tried changing my region to Thailand. Silly me!

He's not alone when on the toilet?

I too have checked update in toilet and by changing region to Thailand

It's the best place to check for updates... But my leg started cramping after 40mins.

Somewhere around second week of July

For all models or For just some devices?

Obviously for some devices Lumia 1520,1020 & 925 are dam getting it who knows Nokia may surprise us.

Yeah i know but keeping in mind the situation of nokia and Microsoft i dont think the will surprise us.

I am not sure which Lumias will get the Cyan update but 1020 and 1520 are surely in the list.

Still Cyan not release in India

Wonder how long AT&T is going to make us wait. Lumia 1020 here, and I pity those with 920's on AT&T.

@SwimSwim, why do you pity those with the 920 on AT&T? I'm one of them.

Look up the story for Amber update.

That OS update bricked some HTC devices on tmob and it was pulled for a short time. While they may have taken a while longer, it didn't brick your device. Black was released by at&t very quickly.

Hoping by end of July we should get the update

Ah the year of the Amber update on ATT... Lol. I ended up flashing my 920 with the French version; here's hoping its different this time. +1520

India abhi bhi intezaar me hain..

InShaAllah hum logon ka intezaar July mein hi khatm ho jayega

Come on July first week is gone. Hope it comes by this week in India. W8ing eagerly

Yea I check for updates like every 1-2 hours

Same here. Be it store or phone updates I check them hourly :D

Hourly? To u gotta be kidding,I think you mean hourly once you're awake

Pilot update is like testing the update before the final launch. Checking on small number of devices.

When it will be available in middle east?

For those who ask about rolling-out in other countries: 1. Soon; 2. Ctrl+C; 3. Ctrl+V Ctrl+V Ctrl+V Ctrl+V Ctrl+V Ctrl+V, everywhere Ctrl+V.

Any news for Philippines? -920

I have been checking My HTC 8 X for weeks now knowing there is no WP 8.1 update yet. But, You never know, thats why. Keeps me busy.

I hear it'll seem faster when installed ;)

It'll seem better after the Cyan update

Indonesia in waiting list

I've been reading about this Bluetooth 4.0 LE crap since the amber update.

Odd that an update is on Sunday, but good news either way.

But it is still Saturday in some parts of the world

Some? More like most parts of the world.

Here in India still its Saturday

Is it confirmed on Sunday i.e. Tomorrow?

July and no date's have come forward for U.S carries.This is going to be one slow rollout.

Any news about HTC and their release of 8.1?

Maybe if I change region to Taiwan I will get it sooner :D

Unless and until HTC don't release for your region you won't get it :( instead keep checking for the update on your device and on wpc :) update can happen anytime :)

when updates for lumia 920 Indonesian region . impatience

Keep on checking the update in setting you might be the next to get cyan

Oh another article about updates for Nokia phones & not a single peep out of HTC. Come on HTC my 8x is waiting on a firmware update as well.

Its great that places like India, Thailand, Finland etc are getting 8.1 aka Cyan now, but what's taking Canada so long MSFT? We're right beside you :P

HTC should get their stuff together... 8S and 8X are waiting!

1520 seems update to Lumia cyan after 930 launch

Am using developer purview will I get cyan??

yeah ... you will get it for sure

Oh....Cyan is so close ! Can't wait

Me & my 1520 are waiting.. Hope it solves the long irritating touch/click problem which seems limited to this model only.

Battery life as well. +1520

Rolled back to the official commercial release, happens less often now.

India,Phillipines,UK,Middle East,Indonesia,Canada,Pakistan,Ireland and Georgia..i hear.. are waiting.. Any dates???

Meh. No one from Thailand is here. And they suddenly have the update

Indian always appreciate Nokia devices!

Cambodian? It's like 3% (WP) to 97%( Android+iOS)! I rarely see people hold a Nokia or WP devices. Some people even say WP users are dumb :@ and I'm the one who've been treated like that, anyway I just love WP. I'm a Cambodian too

Waiting for Cyan on my L1020 and 1520 :)

Do let us know when it's available in Malaysia!

What about Thailand neighbor Malaysia?

India people. Just be patient.

Oh, we're waiting for Cyan on our devices. 2x920, 1520. All running Dev Preview so far. Sweden will probably gate it late even thou our carriers don't give a sh!t about the updates. They don't even touch them.

Are you seeing battery drain on 920.

I do. My 920 last around 5 hours when using 3G continuously then 8 hours with regular usage. =(

Ffs. Charging battery and its red hot.

Same here. I get really poor battery..

I just hope the Cyan update would fix this. My 920's battery last a whole day before updating to devs preview.

I doubt it. Ive had battery replace 3 times now. There is either cheap batteries or a serious hardware fault. it would be better to charge phone in off mode, otherwise we are just toasting batteries

Update: Seems in my case a pop3 email account is jammed on sync.

how to update to cyan if you're running on dev preview ? un-enroll PFD ? then ?

be more patient bro, still waitin'

I must say that considering the length of time 8.1 preview has been around I'm a bit disappointed in the time it is taking for Cyan to be released. Bit that's Nokia for you I suppose. Anyone who once owned one of there Symbian phones will surely remember how painful the update process used to be

More painful on wp. Rebooting, data migration, update, reboot, update migrate reboot. Etc

And its around 13 times the same creep.

Nope, I disagree. Windows Phone updates are a lot less painful. For instance there was no backup facility for Symbian, therefore no automatic restore.

Cant find a restore on wp. Otherwise I would roll back to 8.0

I live in Thailand. Nothing yet for my 1520...

Looks like there will be no cyan update in the first week of July in India...Its already Saturday ...So let us hope MS rollout cyan update from the starting of second week...

Apples success lies partially in steadiness. M$ goes up and down, left an right. Never sure.
Why rebrand a successful brand?
Why make it part of that uncertain changes.
Bravo.

Do I need to change the region ,its currently on usa to enable cortana ,now do I need to put the real region for update ? Posted via Windows Phone Central App

Well if u live in thailand and has 625 then u r ready to go....if not wait for the update..

If not, move to Thailand and purchase a 625. Then you'll be all set.

You dudes don't die for 8.1 becoz coz me, cortana is not comming this year and that is the very interesting subject I enjoy in preview for devloper.......

Waiting for official rolling in india

Oh come on! Why can't those on dev preview just all get it!

Ok, India seems to love WP alot;-)

When MS release wp 8.1 next week in India will it be for all the model starting from 520 ?

I'd like to know where in India all these WP are, as I recently spoke a well known Mobile shop owner and who says its all about Samsung & Apple in the Gujarat...no one wants to know Windows

Come meet my friends circle here at Mumbai, in group of 10 people 8 have windows all on dp 8.1 :) all waiting for cyan

Would love to come down to Mumbai...stuck in London I'm afraid

Threre are more than 20 states in inida aprt from Gujaraj .buddy... Don't consider only one friend opinion :)

When will update available for india..?

When will India get the update....Don't comment just posting a Comment...To Comment...

That is where many have mistaken

Waiting since forever, sometimes even worst thoughts comes in my mind like will I ever get it for my 525

Still waiting for Black in Mexico...

Waiting for black????...0-o

Do u ever check for updates!! Black!! Stone age!! Waiting for 8.1 in Pakistan.

When we will get 8.1? with this cyan update or cyan is just a firmware update?

Cyan is just a firmware but it obviously comes with the 8.1 OS.

Bored freekin waiting for it tbh, talderons soon was about as accurate a guess as Joe blogs, my inside tip is windows 9 is soon, why the crap Microsoft cant do a decent job of advertising its update schedule and keeping its users informed is simply baffling, this update is the same as all before it.. A shambles

I thought Bluetooth 4.0 was already bundled with Lumia Amber update, so why is it listed again as a new feature in Lumia Cyan?

Because thats the only way MS can list some kind of featurelist if they try to lie, or otherwise said to distort the reality.

Hey friends! Please vote for my idea if you like this.
http://windowsphone.uservoice.com/forums/101801-feature-suggestions/sugg...

When would it come to India ..... Waiting....waiting......

Antarctica is waiting....

I'm actually pretty close to Antarctica, in Tasmania, Australia!

By changing phone region to Thailand can we get that update

When Windows 8.1 n this cyan update ( just confused if both are the same or different ) coming to Pakistan??

Both r diff but will come along . U Pakistanis always need help

stop being a jerk... u r not a superman either

Mars is still waiting for Lumia Black. Please hurry up guys ~

Go and get it from Jupiter

I purchased a unlocked 1020 online,live in Caribbean and mine shows Singapore country variant,guess i gotta wait until that region gets cyan to update mine right?

They are not the same. One is a firmware update, another is an OS software update. Cyan should ideally happen first to ensure optimal user experience on WP 8.1

You'll get all the updates together...like the three updates you get for the dev 8.1

Nokia Lumia 620 is eagerly waiting

Is there a link to check the status of Cyan rollout around the world, like what Nokia did with the Amber and Black updates?

Waiting for official drivers by nokia for all sensors..

Still waiting here in INDIA

Some say update wil be rolling out on 10th in INDIA

Waiting for Cyan :( My 920 is facing serious issues with 8.1

And it will face the same issues even after cyan. There is no way it will solve all your issues, especially if you didnt describe what kind of issues you had. Do you expect mindreaders working in Nokia, so your non-disclosed issues are mindread and be fixed?

Start to chk for updates tonite in India may b u wud b surprised .

I said u wud b surprised tha dz NT mean u WL gt an update .

But its official will be in next weak any day.

Omg and heere in Netherlands still waiting to update 1520 with cyan how much time do they need when will we get a date when it will be released grrrr it's taking to much time I gues no one knows

Waiting with my Android phone Posted via Windows Phone Central App

I wonder when African countries will be considered for the update

Think it's worth flashing to a CV from the rogers rom?

If you all are that desperate, just download the Dev version....no different to the real deal

The will b many differences for sure . If not more few for sure .

Don't do it m, we are getting massive battery drain on 920.

Nokia's site doesn't even have a cyan update page like they did for the black update

Thrz both like Nokia now friends . I feel sad thnkn tha thou .

They told me to speak to Nokia

I got it in in Thailand with a Thai Lumia 625. You need a device from Thailand, changing the region will not work. For my 720 no update yet.

India-we are waiting and just listening. Lol.

Damn what the hell is going on here. All the news about other country's rather it's about a new phone or software updates. Where is the US involvement with this kind of news.

What is Greece wating for ?

More help-money from IMF.

Malaysia is waiting also :)

What about the USA? Anyone know when it is coming out for the Midwest?

Well.......I've updated my L920 to developers preview windows phone 8.1......2 months before......
They've launched more updates to fix bugs and battery improvement........the device is pretty awesome...full featured.....with file manager......
So we just don't need to craving for cyan update......

Vinod, is your IE working smoothly? I mean when the last of the IE is closed, it does not fade smoothly. It just bothered me a lot when the install was fresh. I am kind of used to it now. :(

Yes.....smooth.....and after upgrading to wp8.1.....i never used UC browser......bcz IE11 is full featured....

Waiting for my Lumia 920. I hope with Cyan update Internet Explorer is smoother. I am currently on Developer Preview.

Waiting update for 1520 in Korea

Still no update for my Lumia 920 RM-821 apac Thailand 319.

Wow, that's fast... There was coup d'etat, and seems that everything working fine there... That's good

I have lots of Indian friends in my workplace.

That's nice for you. Do they ask you when cyan is going to be released all day?

I guess they wont be asking but instead all of them would be checking their luck with the update

I have no idea which country to switch my phone region to just for WP8.1.Think im gonna try Afghanistan lol

I heard changing region won't help. Just be patient and you will get it eventually

Dears, Cyan firmware update and Windows phone 8.1 will be released after iPhone 8s is available in the market. Be patient ☹

Funny.. This only affects at&t customers lol

Thai 1520 here, no cyan.. .

Looking forward to it. Oh wait, I have the 810 on T-Mobile.

Nokia's gonna shit update bricks very soon here in India :p

Cambodia? We're next to Thailand! Nokia, Y U NO rolling the update for Cambodian?

Bc very next moment another country would come come up and say we are next to Combodia

I'm waiting for that day, the day cortana will launch in Hindi

Sorry to say bro but you would have to wait long enough

When will come to India..

Even SUNDAY passed but no CYAN UPDATE. WTH Nokia & Microsoft!! 520 Pakistan.

Can I get the official update?? My Lumia 620 running on 8.1 preview for developers

why region by region!!!??

why region by region?;///

India is also in luine....when are you coming..."ATHITHI DEVO BHAV"

It has not shown up in new zealand yet for my nokia lumia 625

Waiting for update to my 620 India...........:)

Waiting for official rolling in Malaysia