Lumia Denim rolling out to Lumia 630 and Lumia 630 Dual SIM in India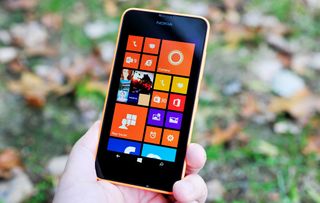 Microsoft has started rolling out the Lumia Denim firmware update to owners of the Lumia 630 and Lumia 630 Dual SIM smartphones in India, among other countries in Asia.
This is just the latest expansion of the Denim firmware to smartphones in one of the biggest markets for the Windows Phone devices. Vodafone Australia announced its Denim rollout for its Lumia 630 last week, and a number of countries in the Middle East had the Denim firmware download for that smartphone become available last week as well.
In addition to India, Microsoft's support page shows the Denim update is now available for the Lumia 630 and/or the Lumia 630 Dual SIM in Bangladesh, China, Hong Kong, Indonesia, Malaysia, Mongolia, Nepal, Sri Lanka and Vietnam.
Source: Microsoft (opens in new tab); Thanks to Aakash for the tip!
Windows Central Newsletter
Get the best of Windows Central in your inbox, every day!
Well, in the US you say when AT&T or Verizon?? Correct yourself :)

Verizon already has released it.

I was speaking in general, sir. I know Verizon has already released it.

wen usa sounds better :) Next time no more "in" just wen usa

When will we get TP update ><
Btw any lumia devices have notification LED? 730?

No,bro,, no notification led in my 730 is there any option for that

It has led but no provision for it in OS. Wait for win 10., it'll be activated.

730,735,930. There was an article in The Verge. If you want a link, scan the comment section of leaked screenshots of win 10 for phone, someone gave it there.

What the hell is the hold up with ATT? If their only goal is to lose customers thay are doing it pretty well. Can Windows Central put some pressure on these deadbeat carriers by writing something about this massive update delay and constant blocking by carriers to fast update rollout???

I have denim for months months now on my Lumia 630

Size is about 250 -300 MB. Downloaded it yesterday in my Lumia 720. Feel free to ask me for any queries

She is good. But expected a little more

Little more what. Describe it khul ke.

For eg. It opens Brower when I ask her about when will Liverpool vs Swansea match will start

Ayee. Ye wali ni, touch karne wali.

I expected to receive voice output

Did you see Hey Cortana towards the bot to of the settings menu?

how much time does it take for the update to show up in the phones software update section? currently showing up to date . . .

Abe time lagta na aane ko.. XD

Haan itni doorr se aaegana.

Bhai win 10 pending pada h ! Toh denim kaise update karu (remove kaise karu pehla update Jo pending h ?

Recovery Tool download kar aur original os download kar, kuch 1.68GB ka hai,data sab delete hoga, aur fir se new software aayega, fir check for update kar toh ye aaj wala denim aayega official....

Hey, so I have a Lumia 630 and it's not showing the denim update.. It says that my phone is up to date... But in extras + info it showed Lumia cyan... What's the problem here ???

hey, i had set my region as US on my L630 and have been using Cortana Beta . If i update to denim, will Cortana still be available as beta with American accent or will it become Alpha version with British accent?
will i be able to use apps such as tetralockscreen which are only for US?

hi bro, yeasterday i update my 630ds to Lumia Denim, but i am unable to hide navigation bar please help regards vzee

Are you using WP10 OR WP8.1?

Finally completed the row

Tell them to send denim for 520 again,there are some bugs

The bugs ate my notifi centre.

Nd tell them to send CD of Lumia denim to his house xD

India mein saare ho gaye na..?
(shayad 530 reh gaya,pata ni)
Sabse pehle shayad yahin poore huen hain Denim ke updates.
Wen in India waale ab chup.

Nahi chup hone wale yeh "wen in India" wale log. Dekh Lena :D

Saaare bhaar ke logg he karten hain aajkal. Mazak bane ke rakh diya hai hamaara.

Baat sirf "wen in India" Ki nahi hai. Aise aise sawal karte hain Ki man Karta hai maar daalun apne apko :D

jo bhi ho, "wen in India" padhke bhot maza aati :D Inke "seems faster" se toh bhot aacha hai. Sorry Daniel :p

Bhai vo baat ni hai.
Ye haamri besti katen hain. Aurr kuch ni.

Haan pata hai bhai. Waise Ho kahan ke aap?? NRI ho?

Who me..? Nopes non-NRI. Hoping to be one soon.

530 has already received denim update in India

And, it'll receive an OS update to fix the touch issue completely.

Is anymore devices left in India ?

Can someone from WP central ask ATT where th heck is Denim on their Lumia 1020 and other WP8 devices? Every country except the US already has Denim on 1020, whats the holdup?

It doesn't do anything that big though. Have patience bro.

It's true that Denim doesn't enhance anything on 1020 or 920, but the OS update is held up as well. Older devices will get new features at the OS level. Only the 1520 on AT&T has the update, and that went live almost a month ago.

FINALLLLLLLLYYYYYYYYY!!!! :/

If I have installed pfd and installed windows 10 .. Will I be able to get that update in Lumia 730.. When it rolls out??

You'll get it , but probably will fail to install

I believe you have to use the Microsoft restore program to reinstall the latest public versions, and then check for updates to make sure you have the latest firmware and OS updates. The builds on their servers aren't always updated right when the OTA updates are available. You might lose some of your data if WP8.1 doesn't recognize it.

Same question here . Am using l630

Also ask wen in Holland and Belgium for the 1520...

730 already comes with denim :|

Its a different version.. U need to chk first :)

You are only missing out the mobile data toggle. I know it is a big deal. It should be rolling out soon.

What about denim update for Lumia 730?????

Denim is already installed on 730 :|

OMG, when MS will finally release Denim for anyone with a Lumia 830 here in America???????
This device was announced alongside with the Denim and the Lumia Camera 5 and after 6 months we still can't use it!!!!!

That's what I'm talking about !

AT&T is probably just going to wait for Windows 10. Frankly I don't think that's such a bad idea.

With the speed ATT is going at you'll be lucky to have Windows 10 on your WP by summer 2016. Microsoft needs to put an end to this BS of carriers blocking and delaying updates; considering the app situation on WP with bank apps Vevo and others pulling out its not like a lot is going for WP these days, so the least MS could do is provide on time global update rollouts.

What about my l630 . Am on 10

I'm waiting for AT&T to roll out the updates for older phones like the 920 and 1020 that don't benefit from the Denim upgrade. MS said the Denim update on those devices will be in name only, so why not roll out the OS update? The 1520 was updated almost a month ago, but no other Lumia devices have been.

While MS has decided to screw older device owners by not providing cool new features in Denim, you still need the firmware update for the OS update to work flawlessly. At this stage the only problem is ATT, since Denim for the 1020 has rolled out globally already, wish MS would just cut the carriers from the update process completely, its not like anyone needs those leeches.

It's a similar situation with the 920. Most if not every other country offering the device has the update available. AT&T was usually one of the first to roll out the updates and India was the last. I definitely agree the carriers shouldn't be a barrier to the process. They should be told here is the update and you have until this date to report bugs before we release it to the public. That has to be what Apple does. I can't agree that MS is screwing over older devices. There are a lot of new features coming with the OS update. The only update I want from Denim that I won't get is the faster camera boot time. I can wait for "hey cortana" and moment capture until the next flagship device is realeased later this year. Denim gives you 3 improvements and 3 new features. The OS update gives you 4 new features and 4 enhancements (source). At some point older devices are going to miss out on some features regardless of what platform it is. Android has to be the worst at it. The Denim update isn't necessary to run the OS update. I was using the developer preview without any issues except that Cortana wasn't reading my texts. It seems like that is a sporadic issue that isn't device specific. No solution was found so I went back to the public release. It initially happened before the WP8.1 update, so it isn't specific to this update either unfortunately.

:D Well, ... i'm out of words. Just happy :D
Hoping to meet Cortana soon! :D

Denim update for Lumia 630 is also available in Belgium now.

Too bad I updated to W10 TP before I could install denim

I am very glad to install my Lumia 630 dual sim in Bangladesh.......Audio equalizer problem is solved.....but glance screen option is not my phone....Is there any solution for this or any alternate way like glance screen????

I think it hardware dependent and Lumia 630 will never have glance screen.

You mean you have a working equalizer now?

Glance is a hardware. Needs a special type of screen glass to be built.

Guys no update is showing up in the phone for my Lumia 630 single sim India? What am I supposed to do

Bro first uncheck the dp then check for the update ...u will be getting it ...

Wow!!!!!
Finally denim is on my phone
Thanx to Microsoft

What am I missing here? Any settings problem?

Africa no where to be found

I saw the map... Aftrica is still there

Are we there yet? (Denim everywhere)

I had this on my 630 the very day windows 10 for phones was release to insiders

Had to turn off PFD ... Downloading update now :) L630 .. Microsoft keeps its word :) Impartial treatment (at least for lumias )

At Last.... The text doesn't support my expressions!

not able to get the update after switching of the preview for developer ,,, as showing "your phone is up to date" pls help me out ???

Ya I am also having the same problem..
Pls help

Guys it's showing your phone is up to date I am not in pfd still then

Its showing" phns is up to date" was in the tp of wp10 but rolled back to cyan through lumia software recovery tool, !

Prathmesh..U r having a single sim lumia 630?

It doesn't have any connection with the single sim and dual sim for both the handset denim have been released....but unable to install...as the global server also shows 630single sim have the denim....

I think the account with which the phone is linked has to be changed

How about update 2 ? When it will release??

Bhai Pehle ye toh download kar.

Hey I updated my phone denim update for lumia 625 but I did not get app folders

You have to make folder by yourself, just drag one app over another on you home screen.

My Lumia 630 says phone is up to date, no Denim yet. I cahnged my region to India(from US), but still no update yet. What's the problem? What should I do? Should I wait a day or two more?

Ya ppl who had installed windows 10 tp are all having the same problem plz find out a solution for that

True. I hv also installed WP10 TP. So, not getting Denim update. All the users who installed WP10 need to roll back to Cyan through windows recovery tool than can be updated to Denim.

That's not the case. I had installed Windows 10 and rolled back almost a week earlier. Am still not getting the update.

If you change your region doesn't allow you to get you an update....

actually i'm in India. I changed my region to US just to get Cortana. Now I thought, to get this update, I needed to revert those changes. So I changed back to India. Should I change back to US to get the update? Is this an issue?

i was on cyan and using Cortana by changing region to US, i got the update notification two days ago. i didnt change the region, you just have to be patient. but i havent updated yet in fear of losing Cortana Beta.

It looks like they forget about lumia 630 single sim variant. I have same problem, I also tried with Nokia care suite it also says Phone is up to date.

I hav installed Windows 10 TP and update got downloaded but didn't install. :(

Do denim update comes if my 630 is in windows 10 technical preview

had to turn off PFD and checked update. i think you have to be on win 8.1 to get the update installed properly. i also had installed the TP long time ago but after 2 days i rolled back to 8.1 Got it installed finally .... somewhere around 150 to 200 mb i guess it is definitely faster. (seriously faster !!) the color saturation problem is now fixed, EQ available advanced option on project my screen static ip on wifi.

Stll says phone is up to date

i dont have any pfd but still my mobile shows uptodate in india can some one help me

waiting waiting and waiting

If someone is on 8.1.1 pfd....then how to update in lumia denim?

Not getting it on my phone, using w10 for phone preview.

I searched online but couldn't find any solutions

It's more than 12 hours, no update yet..... WTH is wrong? O.o

Ya exactly what's wrong with this
Plz wc post a solution for this

Can I update by changing the region as update is not available in my region?

I'm waiting for denim to come to Lumia 630 DS CV in Portugal

Only L730 is pending in India.

no updates for L630 till now

I'm using Lumia 630 and on checking for denim update it show phone is up to date
I have installed preview for developers denim
I have tried untick the option and restart , still shows no luck
Plzzz anybody out there help me.

I don't think its possible to roll back to cyan.

My Lumia 630 not showing any software update

But Till Time I Didn't Get Denim Update For Lumia 630 Single Sim

But in my dual variant of 630 get that denim update in morning...

Please notify me when someone get the same for 630 single sim denim update.

I have single sim variant.. No updates

Seriously. Just make one Article for India and update it.

Same here... I did not get updates for 630 single sim

Ya I think single sim phones have not yet revived the update so we will have to wait for some more time

Why isn't there an option to hide the navigation bar in Lumia 630 ??!!! It was my most awaited feature !!

It hasn't come with the denim?

No...sad news...hope they'll include that ...

Microsoft has again cheated to indian users of Lumia 630 dual Sim. Provided Lumia denim update but there is no options like Double tap to wakeup. Apps corner is not working. Microsoft is again failed in fulfilling the promises....

Still I haven't receive update

Microsoft update page is still showing cyan for single sim.

http://www.microsoft.com/en-in/mobile/support/product/lumia630-dual-sim/... http://www.microsoft.com/en-in/mobile/support/product/lumia630/softwareu...

So no update available from microsoft

I am facing a peculiar problem,i enrolled to developer preview programme but due to unavailability of wifi my version sticked to .400 version. Now every time when i switch on net it shows notification of availability of new version & connecting to wifi. I unticked the developer preview programme & soft reset the phone for 5 times but with no change. Anybody has any solution?

I checked in the morning..it was showing cyan nd now its changed to denim.

I updated my phone to WP 10 preview and now i can't see update of denim, please anyone help how do I get new FW version

I changed my region from India to US for Cortana .now I changed it back,to India ... Will,it effect my phone from not getting Lumia denim... My phone is Lumia 630

Where is the Lumia Denim for Lumia 630 Single sim variant in India????????

Yes still no update for L630 single sim but Microsoft site is showing denim released for L630!

I talked to microsoft support centre and they told me that it has been released, however, is not getting reflected due to some server issues.... Also, they mentioned that we'll get the update latest by this weekend... fingers crossed... Let me know if you've any questions...

yes just now i got the update! I'm downloading it now!! Thanks for info :)

I updated my L630 in India yesterday & i feel its not smooth as it was before. When i exit from any application the animation dont work perfectly.. it shakes. also accelerometer sensor has become slow. Other new features like cortana, start screen folders & equilizer are good. To get Cortana Alpha the speech language has to be set to English (United Kingdom). Also i had an application "Video Tuner" before but now when i want it again, the store says its not available for your phone.. Confused here. Not so amazing experience of Denim here, It looks good, it has more features but it ruined the good experience for me. For now i think, cyan was better for my L630.

ok mine is single sim..still no update found..showing ur Phone is up to date.

Single sim devices haven't yet got the update so will have to wait patiently for some more time until the update comes

Yes we have to wait..but i don't know why they published that denim released for L630!

Just now got denim update for my L630 single sim! check out guys!!

Mine is dual sim But still no update available

If u installed PFD in ur phone then u have to roll back to cyan for getting update!

Can anyone tell this...tht when updates comes to LSRT's ...after some time of OTA's or together with OTA.?

Finally update is here for Lumia 630 single sim for India

my dual sim still says up to date :(

have u installed pfd in ur phone??

then u have to roll back by using "Lumia recovery tool" in ur pc!! Link for Lumia Recovery Tool : http://go.microsoft.com/fwlink/?LinkID=525568

But FW version is still Cyan

Use recovery tool n then check for update!

Guys the update is now live go denim now

got the update on single sim L630

Thanks Microsoft. Updated to denim on my Lumia 630 single sim

Seems faster
Atleast now I can say that with denim
Loving it

Hi Team, I have updated with my Lumia 630 Daul SIM with Denim in India and facing the below issue. The data connection is not visible to turn it off. It showing as it is connected but not able to connect to interet. Everytime I have to restart my phone. Even restart also taking so much time. earlier it was taking very less time. Please suggest what to do. Or how to uninstall Lumia Denim. Thanks Kasipathi

Facing same issue for last two months. Windows call centre says other than me no one else has complained to them. Reinstalling complete software at Nokia care also has not solved the problem.
The only way to resolve the issue is to remove the external memory card.... Please try this and let us know.
Regards, Arvind

Still doesn't got an update to my l630 dual sim....it shows error like "we couldn't check your update" plz solve this issue

Wonderful, the Denim update for my Lumia 630 Dual Sim made the thing totally useless. I can't accept calls because people are sent right to voicemail. Apps crash and are slow to load. Phone occassionally freezes. Bluetooth audio has started stuttering. WiFi won't connect after being out of range for a while and turning it off and on again also is impossible, it just keeps loading. I can't understand how Microsoft can release such a buggy (major!) update that makes the phone useless.

I don't know where I should be posting this but LUMIA DENIM for Lumia 630 is already available in the Philippines. Just came up last night.

can we expect denim update for dev previews ? I have 625 with dev prev

I am updated with lumia denim but my Nokia lumia 630 do not show hey cortana in setting...what should I do??????? plz do help

Set language to English(India), and voice to English(UK). Cortana will work.

Hi any pls tell me when will I get denim for 638 in India....
All are waiting for wp 8.1 update 2... But am still waiting for denim