Magnify Beta gains Feedly support, plus details on the future of myTube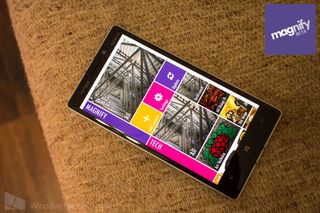 We've been covering Magnify Beta (formerly FlipMag) and myTube for quite some time. Today both those apps are picking up some nice updates that you'll want to check out. While the update for myTube isn't that big, we do have some exciting features about the future of the app on Windows Phone 8.1 and Windows 8.1 that you'll want to hear about. Let's see what's happening with this RSS Reader and third-party YouTube client.
Magnify Beta
Head into the Windows Phone Store and you'll find version 3.1.1.0 of Magnify Beta sitting there. This update introduces and fixes the following:
Added optional sync and backup with Feedly.
Transparent tiles for WP 8.1
Better support for adding wide range of custom feeds.
Reorganized Settings page.
Misc. bug fixes.
Fans who use Feedly will be very pleased with the latest Magnify Beta update. Of course transparent Live tiles ensure that this app will find a place on your Start screen if you're rocking Windows Phone 8.1.
Download Magnify Beta from the Windows Phone Store.
myTube
One of our favorite YouTube apps on Windows Phone has been updated to version 1.5.1.0. This isn't a big update for myTube, but we've got some exciting news after the changelog. Here's what you get in this version:
Transparent Live tile for Windows Phone 8.1
Small change to comment loading
We've anxiously been waiting for the transparent Live tile option for myTube and now it's here. You'll need to click 'pin static tile' in the settings and you'll then select transparent. The comments also been change slightly in order to load faster and more reliably. Cool stuff, but now we're going to tell you about the future of myTube.
We've teased a Windows 8.1 version of myTube for quite some time. However myTube developer Christopher Blackman (@Ryken100) is also working on a Windows Phone 8.1 version of the app. It'll be a Universal Windows app when it comes out. It'll share everything with the Windows 8.1 version of the app, including pages. The pages on the phone will have the same layout you get when you snap the app to the side of your screen on Windows 8.1.
He's having to rebuild the entire app in WinRT since Windows Phone 8.1 no longer supports background audio in Silverlight. WinRT has some issues when using ScrollViewers, meaning the custom panorama Christopher built for myTube on Windows Phone will no longer work. Which means we're probably going to be getting a new UI when the apps roll out this summer. Either way, we can't wait to get myTube for Windows Phone 8.1 and Windows 8.1.
Download myTube from the Windows Phone Store.
Thanks for the tips everyone!
Great News. Mytube is the best YouTube app on any platform. Love how it had background Music so you can do something else while streaming your favorite channels.

I often hear a glitch when switching to (audio only) background mode in myTube. Anyone else having this issue?

It cuts out for about a second or so. No biggie for me.

Metrotube is better one...easy interface

I used to agree, its still the better looking app but you cant beat better features. Once I had to reset my phone and I thought I had to rebuy Metrotube (it appeared this way). I figured I might as well try something else. That's when I discovered Mytube. It does everything Metrotube does and more. Also important: its faster. And you can customize Youtube enough to make it look good. I plan to replace Metrotube on my Surface as well once Mytube is out. Hopefully they'll also bring background music to Windows 8. Cant get that to work with Metrotube, only inferior youtube apps appear to have this much needed feature. But those apps dont play half the content on youtube...

Does Metrotube have transparent live tiles for 8.1?

I just downloaded mytube...its awesome... better then metrotube.

I disagree....for a better youtube app, check out newly released ONETUBE. The best UI on all youtube apps. Makes me remember Microsoft's YouTube app. Hands down the best on WP and ohh, it's free.

What makes it so great? Does it run in the background? What does it do that the other apps can't?

Did you read the app description before posting this comment??

I did. Seemed rather generic. But I was downloading the app as I wrote my comment. I hoped you could give me some pointers on what to look out for. What makes it better for you than MyTube?

It's got some weird spacing, that's for sure.

Need to hear more about how WPC loves transparent tiles. Joke of course.

Need to save videos in the videos folder....

Great news!. Although I'm currently using Nextgen Reader for my Feedly needs but it would be nice to try Magnify.

With the latest version, Magnify is stable and awesome. I use it many times every day. myTube is so inventive and cool that it's hard to praise it enough. Works great, and has a super easy UI. Two great apps for the WP platform, MS should just pay them and make them "official".

I'm down for either Hyper on WP8.1 or mytube on W8.1

I met Chris at RIT when he gave a presentation in Windows Phone dev class. Awesome guy! His work is amazing.

Love myTube. What an awesome developer. Responds to every mail and keeps the app constantly updated. Google can go f themselves and their official YT app.

Still freezes the phone when watching full HD videos on WiFi. Anyone else experiencing this issue using mytube?

I have yet to encounter this issue on my 1520. What phone are you using?

Never had this issue on my 920.

Good news, I love MyTube, the design is clean and gorgeous. I love the transparent tile and being able to only listen to the audio stream from a video as well. This is an app for which I gladly paid.

I happen to think that this is one of the best WP apps. Would love to see this on win8 RT. Would be nice on my Nokia tablet

Universal myTube sounds cool! Will definitely support it by paying the 2€ if it'll still cost that. Hopefully it'll still look as awesome as it looks now with the 'custom panorama'. Ps. I'm really digging the 'W8.1 snap layout is the same as WP8.1 UI' part. It just sounds like a huge merger. Especially if you add Xbox One to the mix.. XO & W8.1 layout identical, support for touch, keyboard and controller (keyboard and controller would work with the same confiq), then XO Snap & W8.1 Snap & WP8.1 layouts identical and confiqurations for touch, keyboard and controller.
It just sounds cool.. hopefully MS won't miss the oppirtunity and will make W8.1 apps super-easily compatible with XO. Would be such an awesome feature to have Mytube working seamlessly on all three..

MyTube still crashes on launch for me in 8.1. It's the only app that does this for me and I tried reinstalling and it didn't fix the problem. I thought I heard a hard reset was the only solution, but I'm not doing that. Guess I'll wait for the WinRT version

The Feedly support is great news for Magnify but just yesterday I accepted the invitation for the Nextgen Reader beta. Damn! Decisions decisions decisions :-)

Finally MyTube for my Surface 2! I hope he doesn't change the UI drastically.

MyTube is just too epic! Hope he makes this app super sleek and beautiful ! Beat the competition!

Installing Onetube now and I must say downloading videos and playing in the background is a nice touch. Nothing different from mytube other then free and interface. But free is always a plus
Windows Central Newsletter
Get the best of Windows Central in in your inbox, every day!
Thank you for signing up to Windows Central. You will receive a verification email shortly.
There was a problem. Please refresh the page and try again.