Mail and Calendar for Windows 10 adds new features, but just for Insiders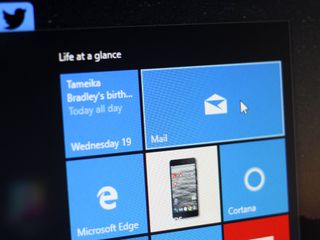 If you are using Windows 10 and are part of the Insider testing program, you should be able to download a new version of the Mail and Calendar app. It adds a few new features that should be made available for non-Insiders in the near future.
Here's a look at what's new (opens in new tab) for Insiders:
Drag and drop attachments into your email messages
Print week view in the calendar
Turn off the message preview text in the message list
Get rid of junk email with right-click Move to Junk
Let others know "I'll be late" directly from meeting notifications
The new version number for the app is 17.6769.40152.0. Again, this update is just for Windows 10 users on the Insider program, so if you are using the standard version of the OS you can stand down.
Download Mail and Calendar from the Windows Store (opens in new tab)
Sweet, drag and drop, that's useful! Zachary Bowling - ZAD Apps

are there two versions of this app ?

I am an insider (lumia 1520) but it doesn't show the update, rather an install option.

FAST RING only I supposed (the Redstone branch)

Just open store > your profile (your photo) > downloads and updates > check for updates

Sure took them long enough, lol Sent from my Toaster Oven (Lumia Icon)

Please add search button to calendar. It's been too long.

Have been asking for this since long long time!!

Yes Posted via the Windows Central App for Android

That and the ability to create a Folder from the app, this is pretty basic.

Does the Archive function works by now or it still doesn't do anything? (Gmail account)

Not working for me too (outlook.com account)

Let the updates keep coming...... Posted from my Lumia 1520 high on Windows 10 Mobile

Still not able to send emails from aliases... Have to use the web app for that... Sigh. Rather than that, great mail client :D

I got an update to Mail and Calendar on Windows 10 mobile as well, not sure what's different though

Mail content alignment fix please

Nice update. MS is making it harder for me to jump ship and get the Galaxy 7 this weekend. LOL

I guess, you're wrong :-)

I might be. The Galaxy reviews got me leaning to the dark side.

If I'm not wrong.. This app is used by general public too not just the insiders,.... Ohh.. Wait.. W10M has not launched yet :P

550, 650, 950, and 950XL have all been released to the public.

And what about older lumias 5XX, 6XX, 7XX, 8XX, 9XX and others OEM.

I was talking about the Legend Nokia phones :-) not these microbeta phones :-)

The legendary 1520 and its phantom touch or the 920 accumulating dust under the frontal camera were just flawless /s

I think phone app also got i updated

These are all great additions, but I'm stilling waiting for select all option in Windows 10 mobile.

That's there. If you press the select button a 'select all' box appears at the top left.

Can't believe I missed that addition. Haven't really used Mail on my phone for a while apparently.

Didn't received the update

1520 on W10.164, any reason why the update wouldn't be showing the UK? I'm on release preview ring. Thanks

My keyboard freezes for few seconds when I reply email. This update did nit help. Any other solutions? Lumia 950

Why doesn't this show up in Release Preview ring? Isn't this just what it was added for on PCs? Since not even the cumulative updates are released ahead of time on the Release Preview ring, as it stands now it's just useless on PCs.

I'm on Release Preview on my phone, and I seemed to get the recent Skype/Messaging update with Mojji's etc. about a week after those in other rings. I think it's a middle ground between the other insider rings and GA, so could just be about a week behind Sent from Microsoft Band

I think that was the same time as the public release of the update, though.

Microsoft I believe is working hard at trying to perfect their apps and os. Problem is where are the new wave of apps from other developers. They should come on board...this ship is starting to take off.

Oh my god. Drag and drop into a app. That...is something special. I sound sarcastic. But, it was seriously lacking, and needed to be implemented sooner.

Yayyy.. Drag n drop.. Finally Posted from Windows Central for Windows 10

Nice list, but please add tasks too!

Well, progress. We can now drag attachments into an email. But how about dragging them out again? These are basic things that should have been there from day 1. But on the upside, at least they are adding things, unlike the Windows 8 mail app which just sat there with no updates...

As long as email formating is broken, I don't care what features they add. The basic feature is broken.

I just want categories first.

Looks like they removed or broke not marking emails read when filtered with "unread" and switching between emails.

Does anyone else have issues with Gmail, where you open an email on the mail program on PC, or just mark as read, but it takes forever (like literally hours) for that email to show up unread on Gmail.com, even if I manually sync the windows 10 app? Going the opposite direction works fine.
I suppose I should take this to the forums. Posted via the Windows Central App for Android

Haven't read every single comment so somebody may have mentioned it already, but the animation when you send an email seems new to me.... When you send an email the message slides up subtly and fades out. Pretty sure that's new in this latest version. Sent from Microsoft Band
Windows Central Newsletter
Get the best of Windows Central in in your inbox, every day!
Thank you for signing up to Windows Central. You will receive a verification email shortly.
There was a problem. Please refresh the page and try again.